Watch this exclusive Seeking Alpha Video about how the "Arctic Pig" affected energy and grain markets this past week.
Weather forecasts and OPEC policies dictating energy prices
The biggest cold wave in years hit the Midwest and Texas with historic cold earlier this week, with feet of snow across parts of the Midwest and Northeast. Ski resorts out west that were suffering from drought received their best snowfall in months with more than 3-4 feet from Tahoe to Snowbird, Utah, and much of the Pacific Northwest.
It is very rare that natural gas wells in the Gulf are hit by frost and oil refineries shut down, but the combination of La Nina and warming over the Arctic pushed down the Polar Vortex (Arctic Pig) for the first time since January 2018.
With OPEC deciding to beef up production again and the Arctic Pig retreating, my feeling turned less bullish the energy complex on Wednesday for clients who subscribe to my various newsletters.
Major cold hits Texas refineries and causes freeze-outs of some natural gas wells
Yes, it is true, natural gas prices early this week jumped some 32,000 in the cash market in Texas, and gasoline and heating oil refineries shut down from the cold. This was the main reason for my bullish attitude in heating oil and cautiously friendly attitude in natural gas the last few weeks.
However, usually, these events are short-lived to the market.

This was a record winter increase in local natural gas prices in Texas.
Natural gas prices (UNG) had a knee-jerk reaction and a short squeeze earlier this week, but as the weather warms deeper into the month, the odds of any additional major rally at this point is unlikely.
Natural gas traders (BOIL) will be watching whether another Arctic Pig (Polar Vortex) can move south during March or April. We are slowly eating into natural gas supplies but still have enough. There is no squeeze given the warm first part of the winter.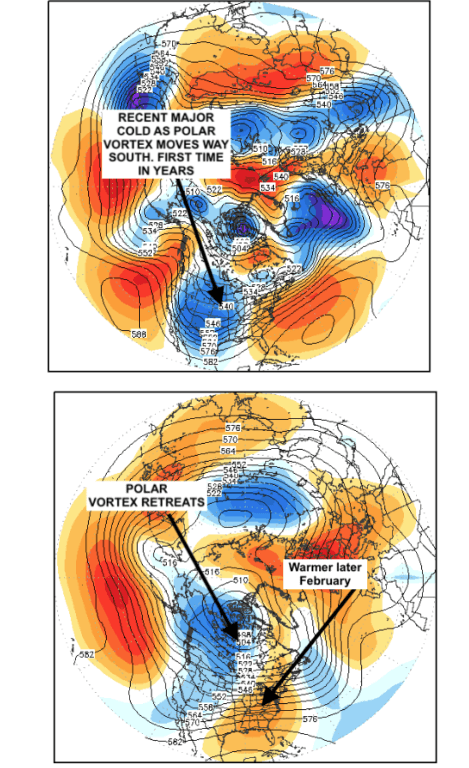 Source of maps: Stormvista
You can see how the Polar Vortex moves back north later in February.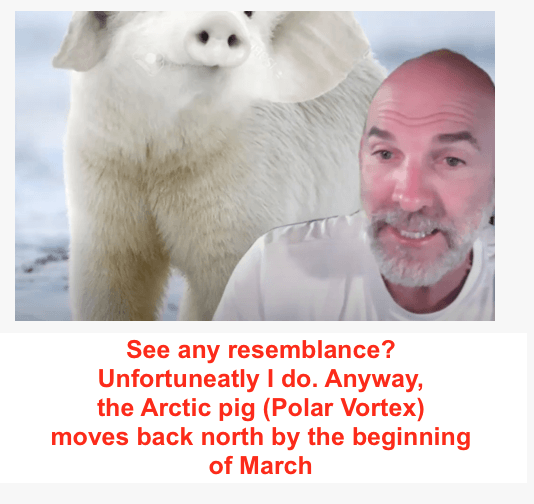 Source: Bestweatherinc.com Weather Wealth newsletter
The Arctic Oscillation Index (AO), which I was lucky enough to predict weeks ago is going back positive again. When this happens demand for heating oil and natural gas tends to weaken. The top map shows the blue line and the negative AO index this past week and extreme cold. The 2nd map shows the AO index moving north again deeper into February and early March.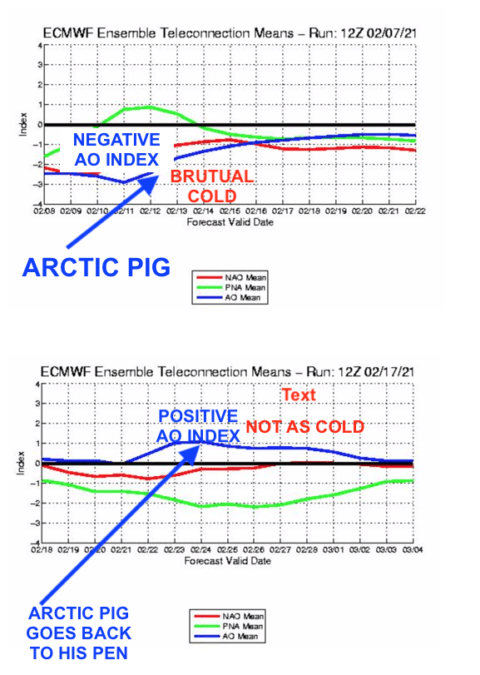 Source: WSI and bestweatherinc.com
With respect to crude oil (USO), heating oil, and gasoline, the spike in oil from cold weather is often short-lived as well. The last time we saw a major weather-related rally in refined oil products on the weather, was the infamous Hurricane Harvey event back in 2018.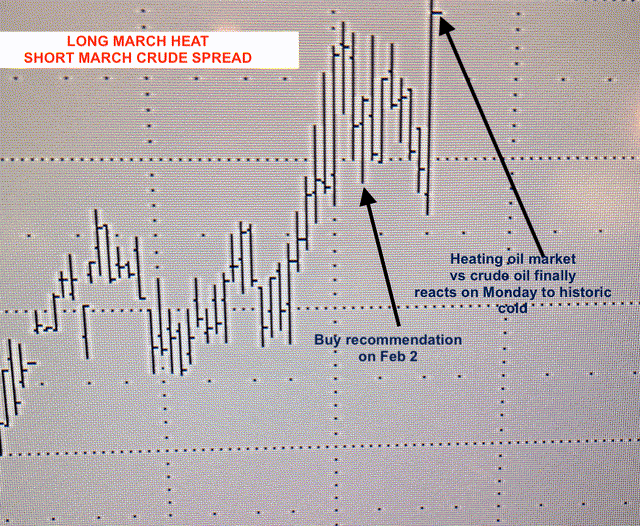 Here is an interesting piece below that discusses the fundamentals in the energy markets.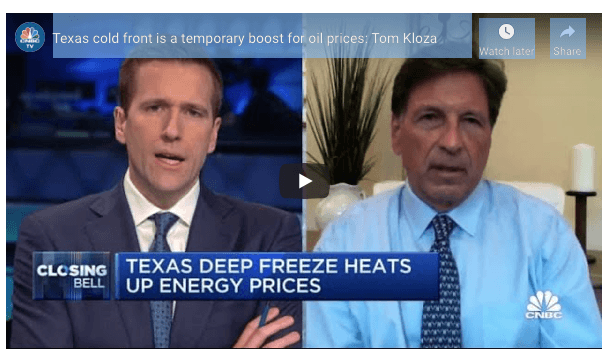 Arctic Pig could jeopardize global wheat production
We are also watching the effects of the Arctic pig on global wheat production. Not only did Colorado to Kansas and N. Texas suffer one of the worst winter freezes in years, but some areas of Russia's wheat belt could also suffer some damage in the coming days. However, it will not be until we get into the spring growing season that the full extent of the damage will be known.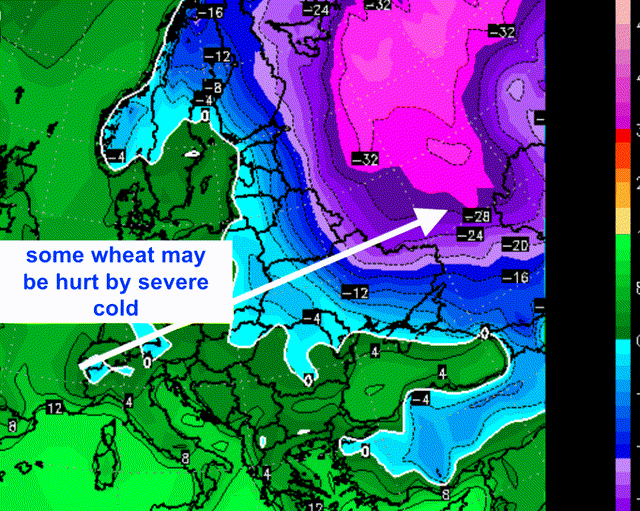 Conclusion
Several weeks ago on Seeking Alpha, I became bullish on natural gas prices and the ETF (UNG). We saw close to a 20-25% rally in this ETF before the slightly bearish EIA report on Thursday. While it is possible the Arctic Pig could come south again sometime in March or April, the odds are fairly good that the high in natural gas prices and potentially heating oil are in for a while. Next week's EIA number could see a near-record draw of potentially 350-400 BCF's for the natural gas market. Hence, it is likely that before then, some kind of rally will ensue once again prior to this number.
Traders will pay very close attention to weather forecasts and whether or not March will turn cold after a week or so of warmer weather in the eastern U.S. Subscribers to my newsletter have seen some very profitable winning trades in the energy complex lately and will receive frequent updates, often 2nd guessing the competition.