The previous time I touched upon an exchange-traded fund focused on emerging markets with a basket of securities capped at some specific number was in December 2020, when I wrote a note on the iShares Latin America 40 (ILF).
A similar fund from BlackRock has recently grasped my attention, namely the iShares Asia 50 ETF (NASDAQ:AIA). I have completed my typical research routine when it comes to ETFs, checking the sector and country mix together with relevant macro and some other parameters worth examining, so I can conclude that this fund might be an interesting option to benefit from the Chinese and South Korean economic expansion together with the global economic recovery overall this year.
Investors who would like to have a larger exposure to Asia with more markets included in the portfolio should take a look at more diversified funds, for instance, the iShares MSCI All Country Asia ex Japan Index ETF (AAXJ,) or create a portfolio from scratch using country-focused ETFs and balancing them according to their own preferences. However, it is worth mentioning that AAXJ has a clear drawback: an expense ratio of 0.7%, 0.2% higher if compared to AIA.
Of course, AIA has a few nuances, including unsatisfying risk dispersion and an overweight position in Chinese equities. All these deserve a much deeper inspection that can be found below in the note.
The top line
To begin with, I am not a huge fan of indices that are capitalization-weighted. I am also not a fervent opponent of them, but this approach certainly bears advantages as well as disadvantages. For example, it helps to gradually increase an index's exposure to market-darling names and dispose of chronic loiterers, but it also inevitably makes a benchmark more expensive and more vulnerable to a valuation reset.
The S&P Asia 50 Index, the one AIA tracks, is a benchmark that uses a float-adjusted market cap as a key parameter for weighting. The index has no specific restrictions related to a level of economic development in the country: both emerging markets and advanced economies are welcome. No, you will not find Japanese equities in the portfolio despite the fact the ETF contains "Asia" in its name. This can be easily explained by the fact that S&P Dow Jones Indices that created the S&P 1200 index family has a separate benchmark for Japan, namely the S&P/TOPIX 150 (Japan). Also, there are no Indian equities among the holdings. For an investor who is looking for an Asia-focused ETF with a portion of AUM allocated to India, the above-mentioned AAXJ is worth considering.
The ETF has exposure to only four Asian markets: China, South Korea, Taiwan, and Singapore. Its investment in Singapore is minuscule since four SGX-quoted stocks (including three banks and one telecommunication company) account for just 3.4% of the portfolio. Thus, their impact on total returns is only marginal. On a side note, a more thorough analysis of the Singaporean equities and the country's economy overall can be found inside my recent article.
Chinese equities dominate the portfolio with a 37.2% weight, followed by the South Korean stocks that account for 25.4% of the AUM.
Investors should not overlook that the index methodology allows multiple share classes to be included (page 4):
...All publicly listed multiple share class lines are eligible for index inclusion, subject to meeting the eligibility criteria.
That is why there are both the common and preferred stock of LG Chem (OTCPK:LGCLF) in the AIA portfolio. The same applies to Hyundai Motors (OTCPK:HYMLF) and Samsung Electronics (OTCPK:SSNLF).

Created by the author using the AIA detailed holdings and analytics dataset
Besides, this explains why despite following an index composed of 50 companies, AIA has 53 stocks in the portfolio.
Three stocks have double-digit weights that, combined, exceed 43%: Tencent Holdings (OTCPK:TCEHY), Taiwan Semiconductor Manufacturing (TSM), and Samsung Electronics. Is that an acceptable level of risk dispersion? Well, it is quite the contrary. What would happen if Tencent's share price fall off a cliff? Will, for instance, the robustness of LG Chem (a 1.27% weight with preferred shares included) save the ETF from a sharp correction? Certainly not.
Sector exposure
AIA is exceedingly overweight in IT (a 36.5% weight) and financials (a 21.3% weight). Most of the IT players in the fund are Taiwanese and South Korean, while only one is Chinese and Hong Kong-listed - Xiaomi (OTCPK:XIACF).

The share of the AUM allocated to communication stocks also exceeds 20%. Consumer discretionary is the last sector with a double-digit weight (10.8%). At the same time, the fund's footprint in utilities and energy is only marginal, as both have weights slightly south of 1%.
Chinese stocks driving outperformance
Rapid economic recovery in China that followed after the coronavirus outbreak abated was a hot topic in 2020 and still remains such. The iShares MSCI China ETF (MCHI) was on a tear in the last 12 months, largely outpacing the S&P 500 (SPY). The iShares Emerging Markets ETF (EEM), the fund I typically use as a benchmark to compare EM equities' performance with single-country focused ETFs or stocks, also received a major boost from rocketing Chinese shares.

That partly explains why AIA trounced the U.S. stock market.
Taiwanese and Korean equities were also anything but weak.

Commenting on the 2021 prospects of emerging markets in its January 2021 World Economic Outlook Update (see the full report), the International Monetary Fund said that:
Considerable differentiation is expected between China-where effective containment measures, a forceful public investment response, and central bank liquidity support have facilitated a strong recovery-and other economies.
However, the real GDP growth rate was trimmed slightly, by 10 bps to 8.1%.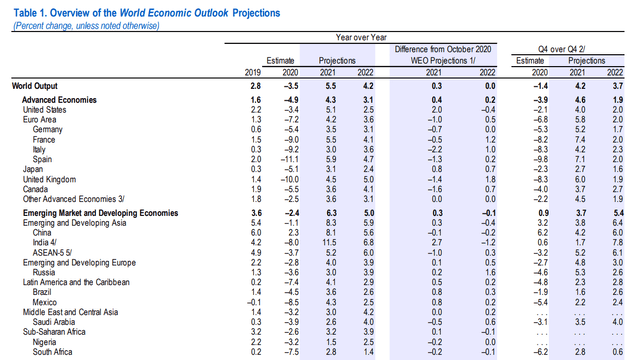 Page 4 of the full report
Anyway, this rebound is fully supportive of the strong performance of the Chinese equities this year.
Remarks on the South Korean economy
South Korean economy, an advanced one according to S&P DJI and FTSE Russell and a developed one as of MSCI's classification (I discussed that in the article), is due to recovering this year. The IMF is expecting its real GDP to rise by 3.1% after only a 1.9% contraction in 2020.
The South Korean won was performing nicely in 2020, even despite the March sell-off. It pared all the losses and ended the year on an up note. However, 2021 has been less successful to date. Anyway, there are bullish analysts (see the two last passages with the pundit commentary) who expect the currency to remain robust this year.
I am also not expecting the won to depreciate sharply and thus harm AIA's total returns.
Final thoughts
It should not go unnoticed that most of the Asia 50 index constituents trade over-the-counter in the U.S. (and some even on the grey market) and have anything but comfortable liquidity. In this sense, this ETF significantly simplifies the process of investing in major Asian players.
2020 was a blockbuster year for China-heavy AIA since the sharp economic recovery in the country was fully supportive of the stock market gains. Another catalyst was, certainly, a steep increase in internet trading by the Chinese retail investors. The retail trading boom in South Korea also was a potent stimulus.
AIA has spotty annual performance (for example, in 2018, it was down ~14%, while SPY dipped by only ~4.6%) but it did not translate into subpar cumulative returns, for example, five-year.

As you can see, the S&P 500 is far behind.
I would not say that AIA is a Buy for the dividend, as the standardized yield is currently only marginally north of 1%. Even assuming interest rates are rock-bottom, this is too low.
In sum, I am moderately bullish on AIA.
Editor's Note: This article covers one or more microcap stocks. Please be aware of the risks associated with these stocks.