Following the recent FreightCar America (RAIL) article, today we will be looking again into a half old school, half "new wave" company. We will be looking at Solar Integrated Roofing Corporation (OTCPK:SIRC).
According to the company's investor presentation, Solar Integrated Roofing Corporation specializes in the installation of solar panels on the roofs of residential and commercial properties in southern California. In addition, through acquiring relevant companies for diversification purposes, the company has also gained exposure to the roofing repair and replace services as well as battery storage and EV charging solutions. We consider this bundle of provided services to be significantly positive for the company from a synergy creation standpoint.
Business fundamentals
As mentioned above, the company operates in southern California but plans to expand to northern California as well as Arizona and New Mexico through the acquisition of roof installation companies. According to the company's presentation, they target small, clean companies at 1.5x of their EBITDA. They mention the example of McKay roofing business, which is the roof repair and replace segment of the company, which was acquired for $1 million and generates $5-6 million in revenue per year.
In our view, the current shift in the U.S. toward clean energy can be read as tailwind to the expansion of this company. Moreover, the existence of solar energy producing incentives regarding rooftops is considered as a major positive. From 2020, the State of California requires all new homes to have solar panels installed so they produce some of their electricity needs themselves. More specifically, the so called "solar mandate" is directed towards both single family homes and multi-family homes that have up to three floors. The capacity of the solar system installed should be enough to meet the annual power consumption of the building as it is estimated by its floor area. One can easily grasp the magnitude of these numbers if he considers that 80,000 new homes are built in California each year. The company recently entered a preliminary deal to acquire Enerev, a solar solutions installation company operating in southern California for a combination of cash and stock.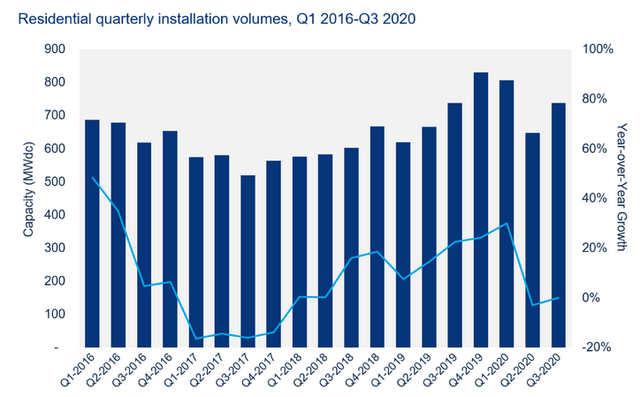 Source: Wood McKenzie Q4 2020 Solar Market Insight Report
Regarding New Mexico, which is an area that the company plans to expand, the U.S. Energy Information Administration tells us that it has only 5% of its total energy produced by solar panels, only 20% of which (i.e. 1% out of 5%) is produced by homeowners. The State of New Mexico recently passed a bill that mandates that 100% of the produced energy in the state will come from renewable sources by 2045. This strategic policy in combination with the already existing home solar power incentives, such as solar rebates, tax exemption, state tax credit etc., is anticipated to boost solar panel installations of new homes in the state.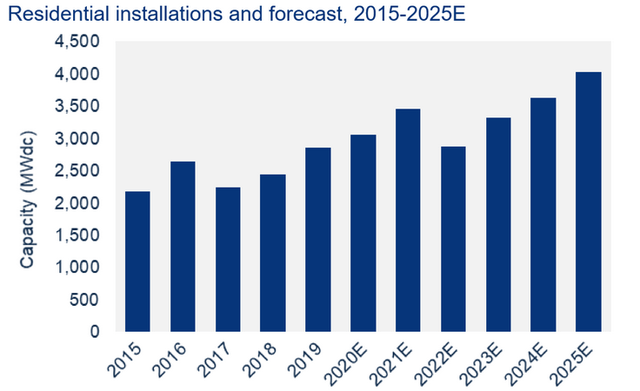 Source: Wood McKenzie Q4 2020 Solar Market Insight Report
Moving into the energy storage segment we can also assume that things will be bright here too. For years, the major concern regarding clean energy was firstly its installation and gear cost and secondly the unavailability of energy storage solutions. This resulted in much energy being lost and profit margins narrowing. However, with the technological advancements in the energy storage sector in combination with the mass production of renewable energy producing gear (i.e. solar panels) both of these hurdles are no longer there. There is a very strong synergy link between solar panels and storage capacity and that is why the State of California being the champion in residential and non - residential storage market growth is no surprise. Energy storage deployments are expected to be north of 4.3 GWh in the U.S. by 2024, according to Wood McKenzie Solar Market Insight Report.
Another synergy is between solar panel energy production and electric vehicle charging facilities. The latest trend in the adoption of the electric cars as the new normal is no joke. Again, the State of California will ban new gasoline consuming cars and light trucks by 2035. The synergy here is that not only this measure, within the general EV adoption climate of course, will create more demand for EV charging stations, but at the same time will create increased demand for solar panel installations. The reason is of course the anticipated 20% - 25% increase in power consumption by electric vehicles.
Recently, the company signed an LoI to acquire Pacific Lighting Management, "a diversified energy services and electric vehicle charging station solutions provider to large commercial and government customers." This deal, if finally goes through, is anticipated to bring the company into the world of government contracts, which in our view is definitely positive.
Company fundamentals
Given that Solar Integrated Roofing Corporation is trading OTC, there are no quarterly reports available. However, we were able to source some financial data by looking at the recent stock offering the company announced (but took back at the end of January 2021) in October 2020. From 2019 to 2020 revenues almost doubled while profit margin increased by 4%. In the third quarter of fiscal 2021, the company announced a record high of $5.2 million in revenues, representing a 130% YoY growth. We also dug a little deeper as we should with an OTC stock, and found that revenue recognition standards are the ones that they should be. During the year ended February 29, 2020, the Company issued 46.6 million shares of common stock for total cash proceeds of $845,167.
Conclusions
Overall this is a nice company to invest into. It is actually an OTC traded stock, but they have already submitted their documents for uplisting. The relevant business climate is at its best with clean energy initiatives gaining traction worldwide and being transformed into mandatory legislation. What we liked the most about this company is the synergies that they provide between their core segments. Solar panels, roof top repairs, energy storage and EV charging solutions are four different lines of income that create a multiplying effect when combined together. Although we cannot ignore the fact that Solar Integrated Roofing Corporation is still an OTC traded stock as well as the risks associated with it, we also cannot but accept that in our view, the moment it gets listed, it is a Buy for us.