REIT Rankings: Data Centers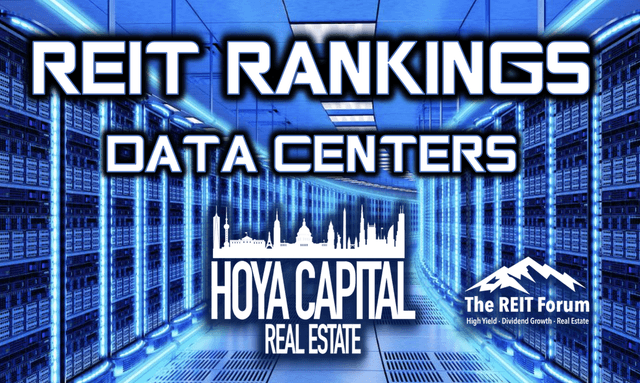 (Hoya Capital Real Estate, Co-Produced with Colorado Wealth Management)
Data Center REIT Sector Overview
Within the Hoya Capital Data Center Index, we track the five data center REITs, which account for $115 billion in market value and own nearly 600 data centers: Equinix (EQIX), Digital Realty (DLR), CyrusOne (CONE), CoreSite (COR), and QTS Realty (QTS). While not included in the index, business storage operator Iron Mountain (IRM) also operates a relatively small portfolio of data centers while Colony Capital (CLNY) is also undergoing a strategy shift towards entirely digital real estate assets.

As is common across most real estate sectors, the companies providing the behind-the-scenes infrastructure and real estate are not "household names" compared to their more consumer-facing tenants. The companies synonymous with cloud computing - Amazon (AMZN), Microsoft (MSFT), Google (GOOG) (GOOGL), Alibaba (BABA), Oracle (ORCL), Salesforce (CRM), and Snowflake (SNOW) - are among the largest and most critical tenants of these data center operators, and have become even more critical tenants in recent years as a growing share of leasing activity has accrued to these "hyperscale" tenants which have increasingly dictated the terms of leasing agreements and pricing.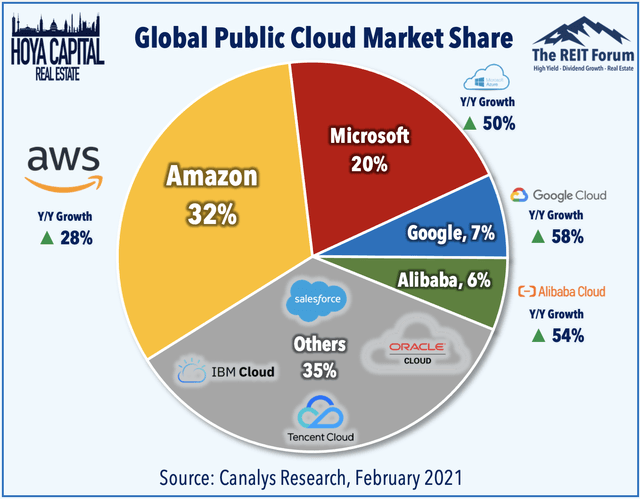 Data Center REITs were the best-performing REIT sector in 2020, riding the "work-from-home" tailwinds that powered a surge in cloud spending, but the post-vaccine sector rotation has pressured these high-flyers, which are now roughly 15% below their recent highs. Recent earnings reports were solid but not spectacular as a strong end to 2020 was offset by conservative guidance for 2021. Leasing activity - the most closely watched earnings metric - surged to record-highs in the fourth quarter, eclipsing the prior record set in the second quarter, powered by robust and growing demand from the hyperscalers which continue to lean heavily on these REITs to build capacity.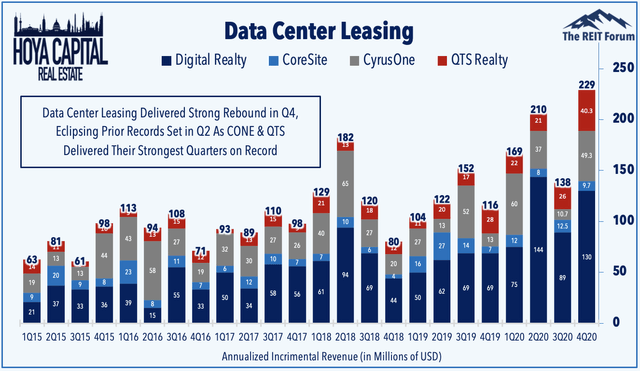 As an ever-growing share of leasing activity is accruing to a shrinking quantity of increasingly powerful tenants, data center pricing remains increasingly competitive and is likely to remain so for the foreseeable future. We focus on re-leasing spreads as the closest comparable to the "same-store NOI" metric common to other REIT sectors, which is a key forward-looking indicator of underlying pricing power and on supply/demand conditions. Re-leasing spreads - which averaged about 1.0% in Q4 - indicate that pricing power remains "soft but stable" following some concerning trends from 2018-19.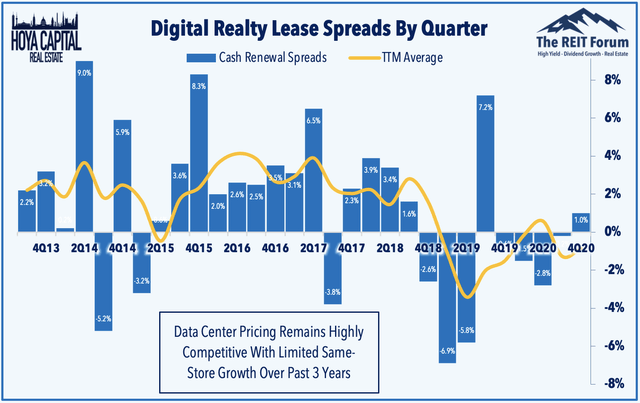 Data center REITs were one of the few sectors to record FFO growth in 2020 and all five REITs reported full-year FFO growth that was above their prior guidance, led to the upside by EQIX, QTS, and CONE which each reported full-year growth of around 8%. Forward guidance for 2021 was softer-than-expected, however, as these REITs see an average of 4.4% growth this year as a bounce-back in growth from DLR and another strong year from EQIX is expected to be offset by a moderation in growth from CONE, COR, and QTS. While growth rates have moderated, we believe that valuations appear quite attractive after the post-vaccine pull-back with data center REITs trading at historically modest premiums to the REIT sector average.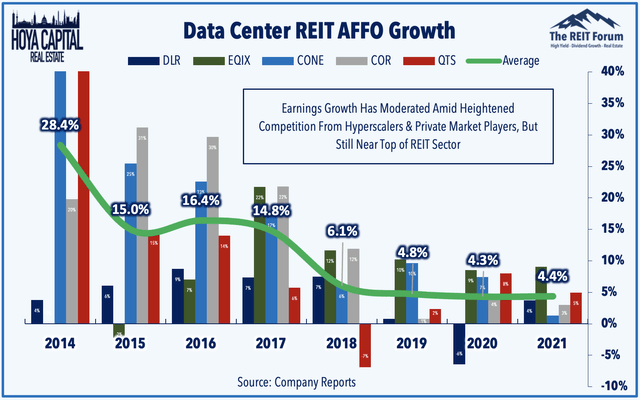 Data Center REITs Performance
Data Center REITs have lost some of their shine of late as the post-vaccine sector rotation and solid-but-unspectacular earnings results have sent each of the five data center REITs lower by 10-20% from their 2020 highs. Data Center REITs are one of just two property sectors in negative territory this year with returns of -3.7%. By comparison, the Vanguard Real Estate ETF (VNQ) is higher by roughly 5% while the S&P 500 ETF (SPY) has gained 4%.

This pullback comes after two strong years of outperformance. While competition has intensified, data center REITs have continued to ride the secular growth trends associated with the boom in outsourced IT spending, and the coronavirus pandemic has only further amplified these trends. Data Center REITs were the top-performing REIT sector in 2020 with total returns of more than 20%, far outpacing the broad-based real estate indexed. These five REITs are among the best-performing REITs across all sectors since 2015.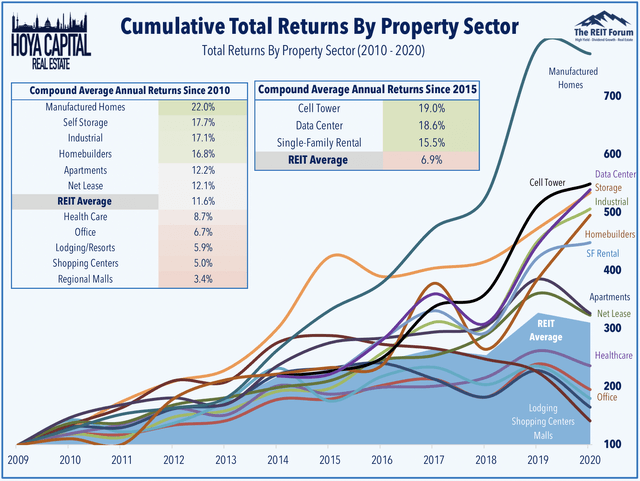 Dividend cuts were a major theme across the REIT sector in 2020 as 66 of 170 equity REITs reduced or suspended their dividends. Data center REITs were not only immune from the wave of dividend cuts last year but instead led the charge in dividend increases in 2020 as all five data center REITs raised their payouts while QTS and EQIX have added another increase in early 2021. As discussed in our recent report Dividend Boosts Lift REITs, 23 equity REITs have already raised their dividends through the first seven weeks of 2021 and we expect this year to be a historic year of increases across the sector.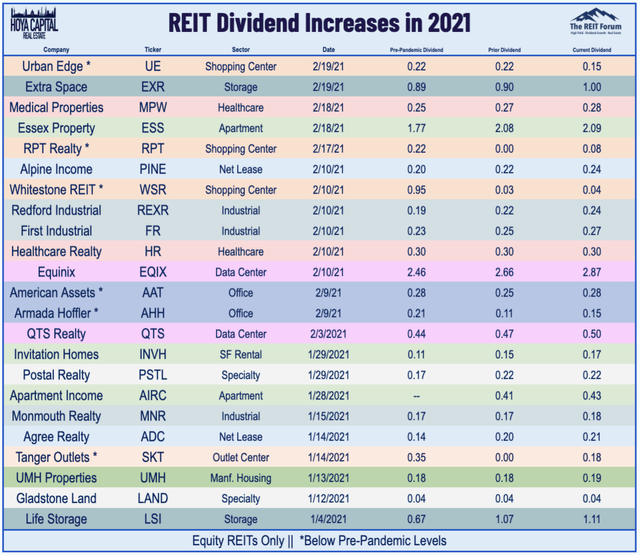 Data Center Competitive Landscape
Data center REITs operate in three primary lines of business: wholesale, colocation, and interconnection. The value of each data center is largely a function of its position along the internet backbone, the physical fiber-optic network that links every connected-device across the world. Properties within the backbone, or more precisely at the "intersection" of various networks, are able to provide higher-value network-based colocation and interconnection services, which command higher rent-per-MW and generally have significantly higher barriers to entry due to the inherent "network effects." Properties on the periphery or those lacking a critical mass of interconnection tenants typically provide more ubiquitous enterprise-based wholesale services, including storage and cloud-based software applications.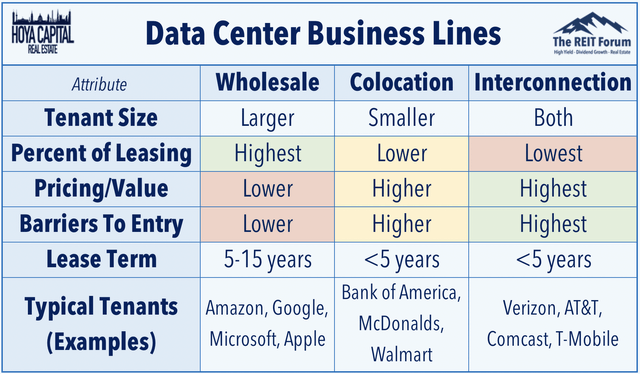 Responding to the mounting competitive threats, data center operators have turned to M&A to regain some degree of pricing power, with a particular focus on the higher-value interconnection-focused facilities. Interconnection, which relies on "network effects," can translate into a competitive advantage owned by REITs that new entrants have difficulty replicating. Equinix has the highest "quality" portfolio of network-dense assets followed by the smaller CoreSite. Digital Realty significantly expanded its interconnection and colocation business through its Interxion acquisition but remains a mostly wholesale-focused entity. CyrusOne, QTS, and the majority of non-REIT data center operators focus primarily on more competitive wholesale assets.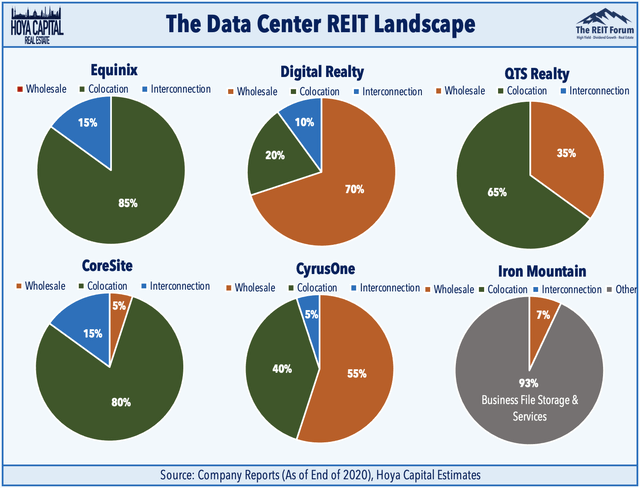 Through consolidation and internal development, we believe that data center REITs continue to make the right moves to fend-off the competitive threats from their ever-more-powerful tenants. While their "big-tech" tenants are literally some of the largest companies the world has ever seen, the size and scale of these REITs are nothing to scoff at either. Data Center REITs own roughly 30% of investment-grade data center facilities in the US and command roughly a fifth of data center capacity globally.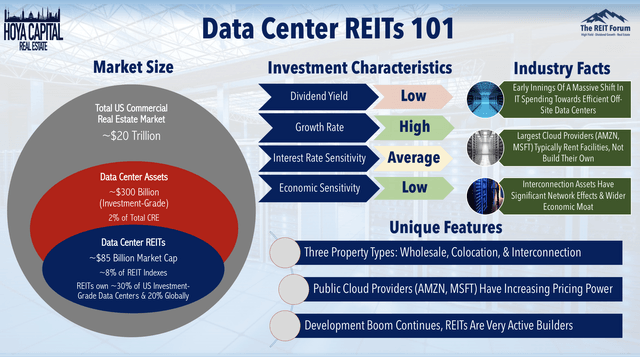 Data center REITs are classic "growth REITs" that pay relatively low dividend yields but have achieved very high FFO per share growth rates over the past decade. Data center REITs comprise between 4-12% of the broad-based "Core" Equity REIT ETFs and comprise roughly a third of the Pacer Benchmark Data & Infrastructure Real Estate SCTR ETF (SRVR) and the Data Center REITs & Digital Infrastructure ETF (VPN), which owns a blend of data center REITs, cell tower REITs, and other REITs and non-REITs along the real estate technology value chain.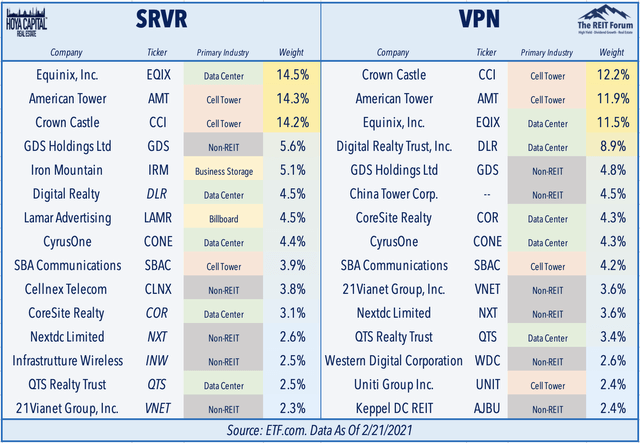 Data Centers 101: Inside The Cloud
Housed in windowless buildings surrounded by massive generators and cooling equipment, data centers provide the critical infrastructure - power, cooling, and physical rack space - to a variety of enterprise customers with different networking and computing needs. Data centers enable high-speed networking and house millions of terabytes of mission-critical data for thousands of individual customers. "Cloud companies" have invested enormously over the last five years in enterprise cloud services and building out network capacity, primarily by leasing massive quantities of space from these data center REITs.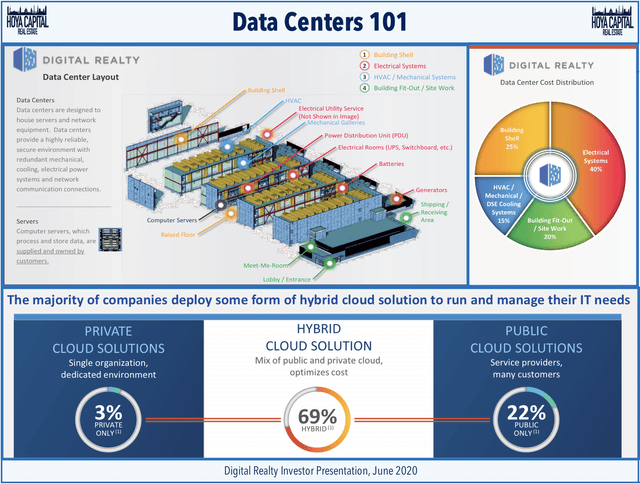 While certainly a short-term "win" for these REITs, these public cloud offerings are increasingly winning business from larger corporate customers that may have historically deployed a more traditional hybrid cloud solution that involved these clients renting space directly from these data center REITs. While Digital Realty only projects out to 2021, we see hyperscale players commanding a growing share of total data center traffic and processing power and that more firms will work more exclusively in the "public cloud." Digital Realty expects half of all data center servers to be operated by just a half-dozen hyperscale tenants by 2021, up from 25% in 2018.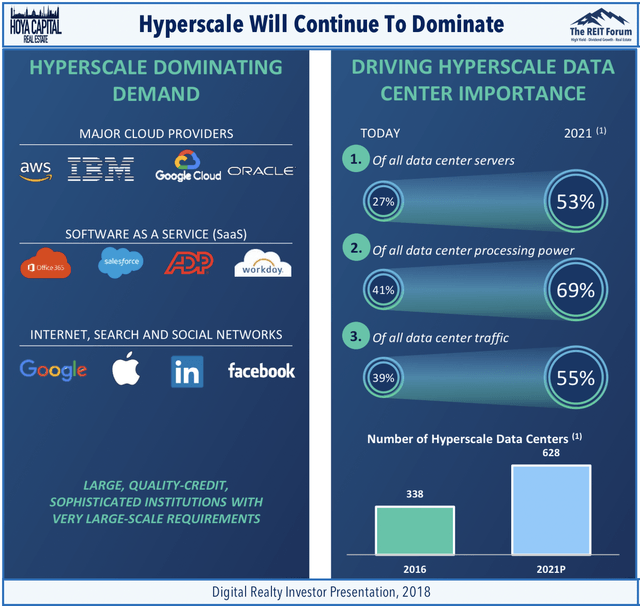 Major players on the hardwire-side include Intel (INTC), Advanced Micro Devices (AMD), Nvidia (NVDA), and IBM (IBM), which collectively provide the majority of networking equipment utilized by data center tenants. Outside of these five REITs, other companies operating in the data center ownership space include a mix of international, private, and "c-corp" entities, including Zayo Group (ZAYO), Switch (SWCH), Rackspace (RXT), Flexential, Cyxtera, TierPoint, and Cologix. As we'll explain in more detail below, consolidation continues to be the modus operandi of these REITs.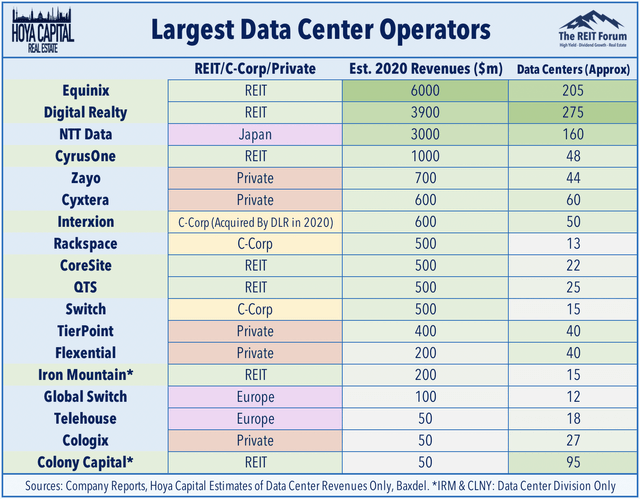 Data Center REIT External Growth
With flat-to-negative "same-store NOI" growth rates, external growth continues to be the modus operandi and primary driver of growth for these companies as Data Center REITs have been relentless developers and acquirers over the last half-decade. After cooling in 2019, the development pipeline has shot up to new record-highs in 2020 despite the pandemic. Supply growth remains a continued headwind and while development remains fairly disciplined and responsive to demand, it's still unclear whether there are any meaningful barriers to supply growth in the wholesale segment that could lead to a positive inflection in same-store pricing metrics in the medium-term.

The historically large REIT development pipeline has represented a source of "shadow leverage," and as forecast, with the lone exception of data center REITs, most REIT sectors have put a "pause" on breaking ground on new development projects since the start of the pandemic. After eclipsing all-time highs at the end of 2019 with a pipeline valued at nearly $50 billion, the overall REIT development pipeline ended 2020 at roughly $35 billion, which was the lowest level since 2014. Office, hotel, and apartments saw the largest declines in construction activity while data center REITs continue to plow ahead with new projects. Data center REITs now represent almost 15% of all development activity within the REIT sector, the highest on record.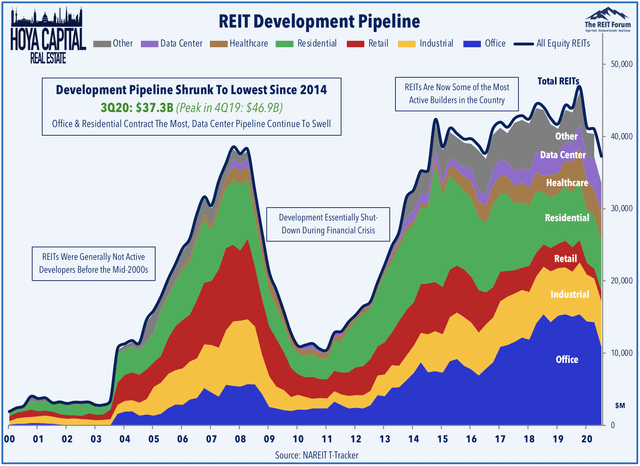 Consolidation remains a continuing theme in the data center sector as these data center operators attempt to fend off mounting competitive pressures, but these REITs took a breather in 2020 following several years of robust activity. Digital Realty's recent acquisitions of Interxion and Telx - and roughly 30% expansion of shares outstanding to fund them - have pressured the per-share metrics, but these deals are expected to take several years to be accretive, and we ultimately believe that these were strategically important acquisitions that will add significant value.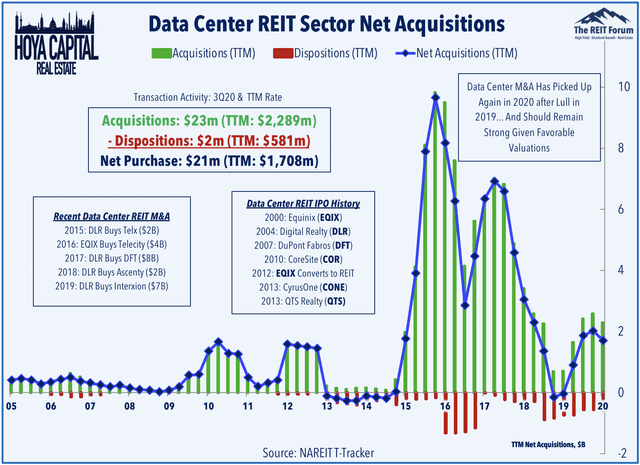 Important for the prospects and effectiveness of external growth, data center REITs are some of the most well-capitalized REITs, operating with some of the lowest debt ratios across the sector. In our recent report, "The REIT Paradox: Cheap REITs Stay Cheap", we discussed our study that showed that lower-yielding REITs in faster-growing property sectors with lower leverage profiles have historically produced better total returns, on average, than their higher-yielding and higher-leveraged counterparts.

Data Center REIT Dividend Yields
As noted above, all five data center REITs have increased their dividend in 2020, one of just two REIT sector that can claim that distinction. Still very much a "growth-oriented" sector, data center REITs pay an average dividend yield of 2.4%, which is below the REIT sector average dividend yield of around 3.3%. Data center REITs pay out just 53% of their free cash flow, however, leaving ample capacity to increase dividends or reinvest in growth.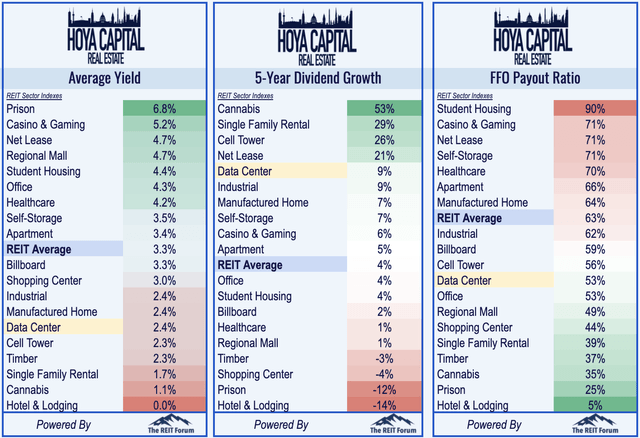 Within the sector, we note the differences in yield for these five REITs and an estimation of their approximate payout ratios. CoreSite yields a sector-high of 4.0% followed by Digital Realty at 3.3%, QTS at 3.0%, and CyrusOne at 2.9%. Equinix remains the most "growth-oriented" REIT, paying a yield of just 1.6% but retaining more than 60% of free cash flow.

Two of the five REITs offer preferred securities including a suite of four preferred issues from Digital Realty (DLR.PC, DLR.PJ, DLR.PK, DLR.PL), all of which are standard cumulative redeemable preferred securities with an average yield of roughly 5.5% and trade at modest premiums to par value. A suite of two issues from QTS Realty (QTS.PA, QTS.PB) are also listed, the latter of which is a convertible preferred while the former is a standard cumulative redeemable security that has a yield of roughly 6.6%.

Data Center REIT Valuations
Following the vaccine-driven sell-off over the past quarter, data center REITs are now trading at historically modest valuations premiums to the REIT sector averages based on FFO (Funds From Operations) metrics. Data center REITs trade at 23x forwarded FFO, which is below their 5-year average of around 28x. The sector appears more attractive using valuation metrics that incorporate recent and projected growth rates, as data center REITs have achieved 8-9% FFO and dividend growth over the past five years, among the highest in the REIT sector.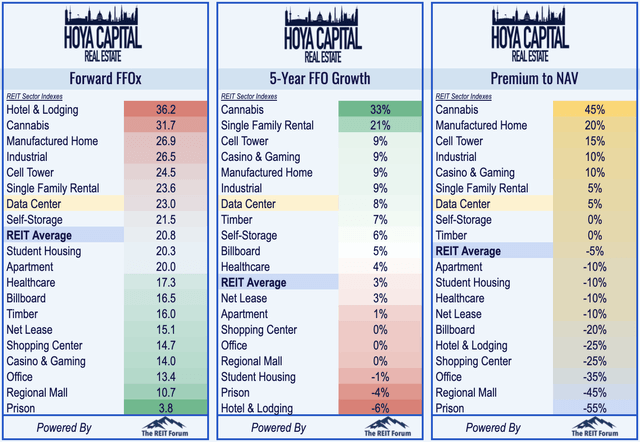 Bull and Bear Thesis for Data Center REITs
Below, we outline five reasons that investors are bullish on data center REITs.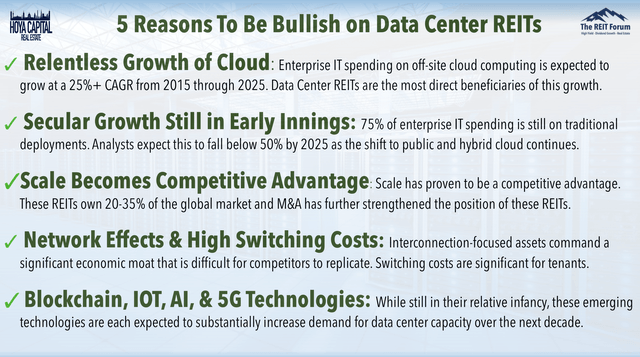 Below, we outline five reasons that investors are bearish on data center REITs.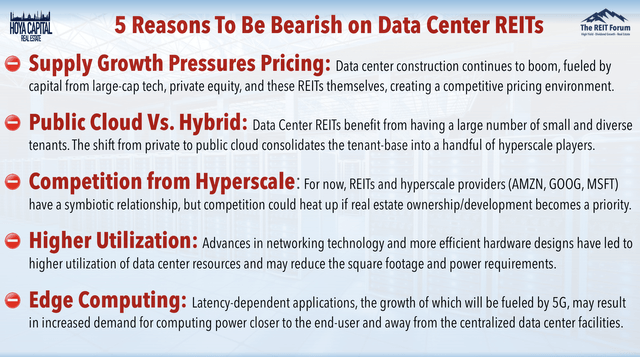 Key Takeaways: Outlook Becomes Less Cloudy
With muted pricing-power amid stiff competition from the hyperscale giants – Amazon, Microsoft, and Google – future growth won't come as easy in the 2020s as it did over the prior decade and will require continued operational execution. That said, data center REITs continue to make the right moves to fend-off competitive threats through consolidation and internal development, resulting in FFO growth near the top of the REIT sector in 2020 with another strong year expected for 2021. Data center REITs are one of the "essential" property sectors - along with housing, cell towers, and e-commerce/industrial - that have been the lone areas of reliable growth within the REIT sector.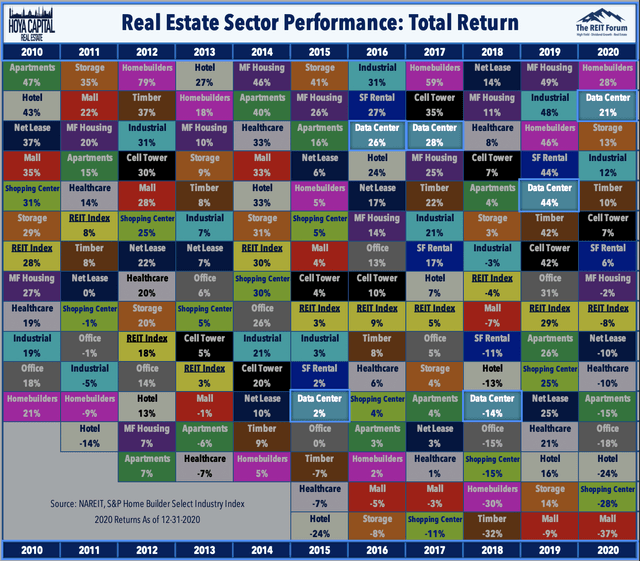 Emerging technologies including artificial intelligence, the "Internet of Things," and autonomous driving continue to be on the horizon, but the pandemic has accelerated demand for the "core" business of data center REITs: enterprise cloud computing. While growth rates have moderated amid ongoing competition from the hyperscale giants, valuations appear attractive with data center REITs trading at historically modest premiums to the REIT sector average.
If you enjoyed this report, be sure to "Follow" our page to stay up to date on the latest developments in the housing and commercial real estate sectors. For an in-depth analysis of all real estate sectors, be sure to check out all of our quarterly reports: Apartments, Homebuilders, Manufactured Housing, Student Housing, Single-Family Rentals, Cell Towers, Casinos, Industrial, Data Center, Malls, Healthcare, Net Lease, Shopping Centers, Hotels, Billboards, Office, Storage, Timber, Prisons, Cannabis, Real Estate Crowdfunding, High-Yield ETFs & CEFs, REIT Preferreds.
Disclosure: Hoya Capital Real Estate advises an Exchange-Traded Fund listed on the NYSE. In addition to any long positions listed below, Hoya Capital is long all components in the Hoya Capital Housing 100 Index. Index definitions and a complete list of holdings are available on our website.