Blue Bird Is An Undervalued Electric Vehicle Manufacturer Going Back To School With $100 Billion Of Federal Contracts In Its Grasp
Summary
Blue Bird Corp. is the leading school bus manufacturer in the US that has developed an electric vehicle solution already available for large scale commercialization.
With schools about to open up again, BLBD will face an explosion of pent-up demand for electric school buses.
BLBD is significantly undervalued relative to EV peers and even more so as a reopening play.
Biden's 500,000 electric school buses in five years plan is a great opportunity for BLBD's school bus niche.
We think a narrative shift comparable to the contract that moved Workhorse's valuation to $4B+ could move BLBD multiples higher.
Blue Bird Corp. (NASDAQ:BLBD) is an undiscovered powerhouse in the electric vehicle (EV) space. We believe it's the best EV value in the market today, and is set to dominate the upcoming EV school bus manufacturing explosion. BLBD is the leading independent designer and manufacturer of school buses in the United States, with over 150,000 buses in operation today. BLBD is also the market leader in alternative fuel applications with its propane powered, electric, and compressed natural gas-powered school buses. We view BLBD as the immediate front runner to capitalize on the school bus electrification plans of the Biden Administration. With child safety of the utmost importance, we believe BLBD's decades of experience in manufacturing buses and its extensive relationships with school boards, give it a powerful edge against competitors.
Blue Bird Is Valued Way Below Its Electric School Bus Peers
The following table shows BLBD's valuation relative to electric school bus peers and Workhorse, a key benchmark for valuing federal electrification potential.

Source: SEC filings
On a revenue multiple, BLBD is significantly undervalued relative to peers. The three noted electric school bus peers are valued on future revenue and largely unproven business models. Unlike its peers, BLBD has a proven fleet of reliable vehicles, along-side electric buses already being commercialized. As opposed to speculating on growth in future years, we suggest investing in BLBD, which is not only profitable, but already controls 77% of the EV market.
To date, BLBD is and remains the #1 electric school bus manufacturer in the US. On 12/9/20, BLBD announced it had delivered its 300th electric school bus, more than every other company combined. As noted on page 8 of BLBD's 7/21/20 investor presentation, an electric school bus currently costs $350K vs. $100K for its diesel fueled one. Although the 3.5x premium appears pricey, the operational and maintenance costs are lower compared to diesel. With federal mandates now enacted, subsidies will cover the lion's share of the cost.

BLBD has also achieved a leadership position in propane fuel school buses. As BLBD's CEO, Phil Horlock, stated in the Q420 earnings call:
Our leadership position across all of these fuel types, but particularly in propane, where we achieved a 76% market share and the electric at 59% share, indicates that our strategy is working, and we look forward to continued strong growth in this area… Importantly, our electric bus share in the United States was a substantial 77%.
And from the Q121 earnings call:
Fiscal year-to-date, we now have 107 electric buses either sold or in our firm order backlog, and that number is up 24% from the same time last year. That's really nice growth in a down industry, and it's just the beginning for electric vehicles.

That covers all school bus configurations, Type A, Type C and Type D. No one matches our breadth of EV products and market leadership in the school bus industry.
BLBD has a 20-year history of profitability, and a reputation for safety. With children's safety playing the most critical role in the decision-making process, we think BLBD will be the obvious choice for schools and districts. An example of bus safety gone bad, BLBD's competitor Proterra's entire fleet was taken off the road in February 2020 in Philadelphia due to mechanical issues - the third fleet issue identified within a year.
President Biden's Plans Are Golden Opportunities For Blue Bird
Biden's election victory over Trump was a big victory for BLBD. Immediately after inauguration, Biden instituted his "Back to School" reopening pledge. We believe this provides a near-term margin of safety for getting school buses back on the road, and for BLBD's business to accelerate forward again. Horlock stated on 2/10/21 in the fiscal Q121 earnings call:
When schools are closed, buses aren't being ordered. The good news is that when schools are open, it's business as usual, with school bus orders being placed. That's great for us to know as we move forward. Following the recent holiday break, however, we have been seeing more schools resuming in-classroom teaching, and that's led to increased quarter activity for our new buses.
Schools Reopening Puts A Spotlight On Blue Bird's School Bus Sales
As stated in this article, Biden wants to open most schools within his first 100 days in office. Biden called on Congress to direct at least $130B to schools, and $350B to state and local governments to help prevent school layoffs. Teachers remain on track as the next in line to receive a COVID vaccine after essential workers. We think the clear path forward will make for an aggressive buying season for EV school buses as early as the fall.
At its current valuation, we believe BLBD provides ample margin of safety on the legacy school bus business, with multi-bagger upside on the inevitable conversion to electric.
Biden Plans on Replacing The Country's Entire Fleet of 500,000 School Buses To Zero Emission Buses
As stated in the Biden-Saunders Unity Task force PR:
We will reduce harmful air pollution and protect our children's health by transitioning the entire fleet of 500,000 school buses to American-made, zero-emission alternatives within five years.
This plan fits perfectly for BLBD. Its school buses are Buy America compliant as they are manufactured at two facilities in Fort Valley, Georgia. It takes away a risk factor for BLBD, as it says in its 2020 annual report:
The school bus market does not have "Buy America" regulations, so competitors or new entrants to the market could manufacture school buses in more cost-effective jurisdictions and import them to the United States to compete with us.
However, electric school buses do have Buy America regulations, that we think will insulate BLBD from a significant wave of competition.
Regarding this plan, BLBD's CEO, Phil Horlock, made several comments in the fiscal Q121 earnings call on 2/10/21:
With more than 500,000 school buses on the road. That's an addressable market of more than $100 billion in the years ahead, as we move along the inevitable journey to zero emissions.
In December of 2016, the US Department of Energy awarded BLBD with $4.4M, the largest amount, to accelerate the development of electric school buses. BLBD delivered their first all-electric school buses in 2018. We believe this early record of success, safety, and testing, not only puts BLBD significantly ahead of competition, but makes it the obvious choice for reliable commercialization and ensuring child safety.
Horlock's statement below says that BLBD is focusing on the electric vehicle segment:
we're excited with the comments made by the new administration on supporting electrification of 500,000 school buses that transport our children every day. We're significantly increasing our focus on resources in the electric bus segment where we are the market leader as customer interest and percentage growth in zero emissions vehicles is outpacing every other segment of our business.
It seems that school buses are easier to electrify than other types of public buses. This article from 2/10/21 titled "How to Electrify the Nation's School Buses", makes this point. It states:
As the logistical challenges of electrifying the nation's city bus fleets continues to stymie transit agencies, a the new U.S. Public Interest Research Group ("USPIRG") report reveals that the electric school transportation vehicles, with their comparatively simple schedules and routes, are actually "ready to roll" right now.

But that impressive yellow fleet is notoriously dirty; fewer than 0.6 percent of school buses run on clean power, and 95 percent of them run on diesel, which is associated with increased rates of cancer, respiratory illnesses, cardiovascular disease, and even deficits in academic performance.

"We shouldn't be putting the health of our kids at risk when we don't have to," said Matt Casale, Environment Campaigns Director for USPIRG.
New Jersey has already earmarked $100M on its own for the electrification of its vehicles. We think this is a sign of things to come as Biden solidifies federal spending budgets.
With our nation's children health and well-being top of mind for Biden, we think electrification of school buses is a logical step forward. We also believe having a trusted and reliable manufacturer will be of equal value to Biden and will make BLBD the obvious choice to capture a significant portion of the $100B-$150B in federal contracts.
The Narrative Shift as the "Workhorse" of Electric Buses Has Multi-Bagger Potential
2020 was the "year of EV" with many electrification hype stocks surging by 5-10x. One such stock was Workhorse, as shown in its one-year chart below: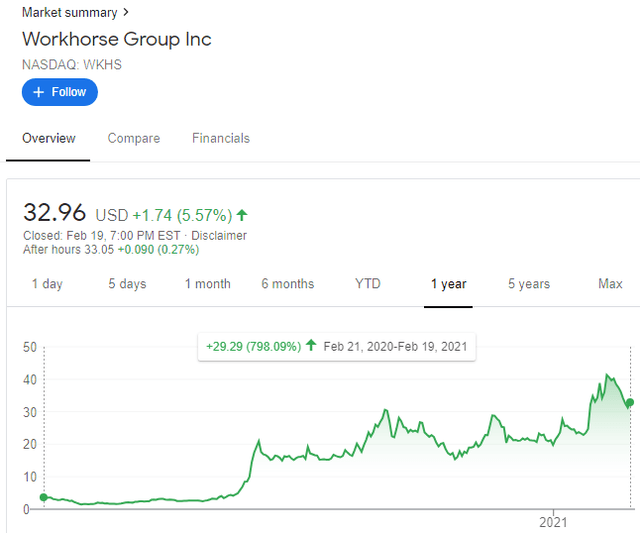 Source: Google Finance
The movement came on speculation of an USPS Request for Proposal ("RFP") that aims to replace 200k delivery vehicles currently in circulation, titled "Next Generation Delivery Vehicle ("NGDV")". Regardless of our views on Workhorse's ability to win that bid, we think BLBD provides the best risk-adjusted bet to the Workhorse and traditional investing crowd alike.
Firstly, the contract value for school buses is significantly higher. At a minimum cost of $200k per vehicle and 500k buses in circulation, the contact has a value of at least $100B, over 15x higher than the $6B NGDV. We believe investors would be best served to think of the opportunity in exact terms to the NGDV RFP. The federal government has informally launched a $100B+ RFP for the electrification of its school busses. However, we think the lack of a formal RFP process actually makes this contract significantly more desirable in expediting the path to commercialization. Rather than waiting on a formal bidding structure, we believe the government will allow school boards to maintain their individual purchasing decisions and avoid significant red-tape as a result.
Secondly, BLBD not only has a decades long history of producing reliable buses in a timely manner, it already has electric buses on the road! We believe this makes BLBD a far less speculative electrification option than Workhorse.
Finally, BLBD's legacy business is already profitable and has far more visibility for EV profitability.
We believe the investment marries a high degree of certainty on the legacy business that's yet to fully rerate from the pandemic, with significant upside to electrification potential. We believe a narrative shift commensurate to the one argued by Workhorse bulls has the potential to move BLBD higher by several magnitudes. We find this to be a very compelling opportunity, particularly for a business trading at a much lower valuation than Workhorse, despite more visibility into a federal contract with 15x the value.
Blue Bird Is Ramping Up Its Electric School Bus Capacity For Anticipated Increased Demand
On 10/6/20, BLBD released a PR stating that hundreds of Blue Bird electric school buses are deployed throughout the US. It has deployed electric buses in over 25% of all US states, including cold climates like North Dakota and New York, as well as hot areas like Texas and Georgia.
We think the pre-emptive commercialization of these vehicles across many states and climates creates the perfect set-up for BLBD to meet the flurry of demand, particularly on short notice. On 9/10/20, BLBD announced it ramped up its electric bus production capacity to 1,000 units annually, to meet anticipated demand. However, we believe this is just the beginning, as per Horlock in the Q121 earnings call:
Now, when it comes to our capacity, we can scale up pretty easily. The 1000 units I talked about before were very much it was school buses in mind, but we have a lot of [Indiscernible] capacity. And we're able to ramp up very easily with well over that number when we get the demand for it.
If the Biden administration is serious about replacing the 500,000 school buses to electric within 5 years, BLBD will need a lot more capacity. For example, if it reached a production capacity of 10K school buses per year, that would give the company $3.5B in annual revenues for its electric school buses.
Additionally, BLBD is expanding its electric bus offerings. Horlock stated in the Q121 earnings call:
In this regard, I'm pleased to announce today it's our intention to offer Blue Bird electric chassis to the class three through seven truck market.
BLBD is also expanding its electric bus capacity in Canada. On 2/4/21, BLBD announced the addition of a new wing at its Dummondville, Quebec plant. The announcement states:
Micro Bird's expansion will allow for increased production of electric vehicles and alternative fuels, thereby consolidating its leadership position in North America. Girardin and Blue Bird are the only ones to offer a full line of electric and alternative fuel school buses.
Blue Bird is Leaner than Before, Springboarding Both the Legacy and EV 2.0 Businesses for Years to Come
In 2018, BLBD launched a transformative initiative to reduce manufacturing inefficiencies, improve quality controls, and reduce complexities among others. This was illustrated in their Q318 earnings call slides. The initiatives have taken over $50M of costs out of its system since that we believe are underappreciated as a launching board moving forward.
Said Horlock in the Q121 Earnings Call:
By the end of the first quarter, we substantially completed all of our plant upgrade actions necessary to ensure we can build as many vehicles on a single production shift that we used to build on two shifts. That's great for efficiency, quality and gross margins, especially as industry volume recovers. As a reminder, we have now delivered more than $50 million savings from these transformational initiatives since we started 3.5 years ago.

…In summarizing our operating achievements in one word, I would say that we have momentum even in an industry significantly impacted today by COVID-19. Costs are down, average selling price is up, alternative fuel mix is higher, and we have exciting new growth opportunities ahead with electric vehicles and chassis..."

With the leaner structure in place, we believe the market is significantly underestimating the cash generation opportunity for BLBD, particularly with $100B+ of federal contracts up for grabs in the very near term…
Conclusion
The Biden administration has been a blessing for BLBD. We believe it will accelerate BLBD's electric school bus manufacturing program significantly above what the market is currently anticipating. BLBD is already the market leader for electric school buses, having deployed them in 25% of US states. We believe a near-term purchase order from a large school board or district could launch BLBD to 2x or even 3x its current value as the market rerates the company to a level commensurate with its opportunity.
Given the importance of children's safety, we think BLBD's long standing reputation with its school districts will make it the candidate of choice in the $100B+ race for school bus electrification.
This article was written by
We provide deep research and valuable information on small cap stocks to hedge funds and high net worth individuals. We specialize in the technology and healthcare sectors. We have an over 80% success rate, see our reports at whitediamondresearch.com. See the 3rd party verified return on each of our bearish reports over the last 24 months at: https://breakoutpoint.com/as-summary/white-diamond-gvmtg/To inquire about becoming a premium subscriber, send a PM here or email us at research@whitediamondresearch.com.Follow us on twitter @whiteresearch.
Analyst's Disclosure: I am/we are long BLBD. I wrote this article myself, and it expresses my own opinions. I am not receiving compensation for it (other than from Seeking Alpha). I have no business relationship with any company whose stock is mentioned in this article.
Seeking Alpha's Disclosure: Past performance is no guarantee of future results. No recommendation or advice is being given as to whether any investment is suitable for a particular investor. Any views or opinions expressed above may not reflect those of Seeking Alpha as a whole. Seeking Alpha is not a licensed securities dealer, broker or US investment adviser or investment bank. Our analysts are third party authors that include both professional investors and individual investors who may not be licensed or certified by any institute or regulatory body.