Since publishing our last article on Apple (NASDAQ:AAPL) back on January 5 the stock has underperformed the SPX and NDX by around 7% and the NYFANG index by 14%, despite its huge fiscal first-quarter earnings beat. The stock's weakness since its earnings release on January 27 has confounded many analysts but it is not uncommon for overvalued investment darlings to fall even when sales and earnings soar, such is the nature of buying at extreme valuations. We continue to see Apple's share price weakening even as the company's profits grow, particularly as some of the enthusiasm surrounding the stock's appeal as a substitute for bonds is tested by rising Treasury yields.
Reversal Pattern Triggered
We think some insight into Apple's short-term share price outlook can be gained from its recent price action. After reaching a new all-time high ahead of its Q1 earnings release the stock failed to hold on to gains, subsequently breaking below key uptrend support from the November low as well as the March crash low.

Source: Bloomberg
The fact that the bearish break has come in spite of widespread bullish retail sentiment and a hugely positive earnings surprise should be taken as a reason for caution. We continue to see a move back down to the USD100 pivot area which marked the breakout in response to the earnings release in July. Such a move would represent a further 21% decline from current levels.
Q1 Earnings Were Unequivocally Strong But Already Priced In
Apple's Q1 earnings figures were incredibly strong with net income coming in at USD28.8bn, up 29% year over year. This means that in the final quarter of 2020 Apple's profits represented over 10% of all SPX profits, while for the full year they represented 6% of all SPX profits. The problem that Apple holders have, however, is that equity prices are not driven by current earnings but by expectations of earnings, including expectations of earnings far into the future.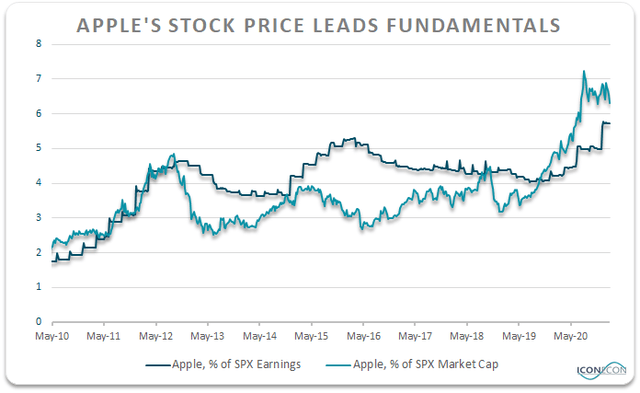 Source: Bloomberg
Apple's market value as a share of the SPX has shown a strong tendency to lead changes in its share of earnings as the chart below shows. The run-up in Apple's relative market size from early 2019 to mid-2020 foreshadowed the rise in its share of total earnings. The recent share price weakness suggests investors have already priced in the recent earnings outperformance and are now showing some concern for future growth prospects.
The Law Of Large Numbers Will Set In
Despite the recent share price weakness Apple still trades at an 8% premium to the SPX in terms of its trailing PE ratio, currently at 34.5x, and a 28% premium in terms of forward PE, currently at 29.1. While Apple's high profit margin is often seen as justification of a valuation premium, the weak outlook for growth from such a high base suggests it does not.
Notwithstanding the ongoing growth in services and wearables income, iPhone revenues made up almost 60% of revenues in Q1, bringing in almost USD66bn. While up 17% year over year this figure is up only 7% from the previous peak seen in Q1 2018, a growth rate barely in line with inflation despite massive increases in selling prices. On a trailing 12-month basis iPhone revenues remain below their Q418 peak. Largely thanks to stagnating iPhone sales, EBITDA is no higher than it was in 2015 on a trailing 12-month basis. Apple is already becoming a victim of its own success as a lot of people already have iPhones and they tend to last a long time.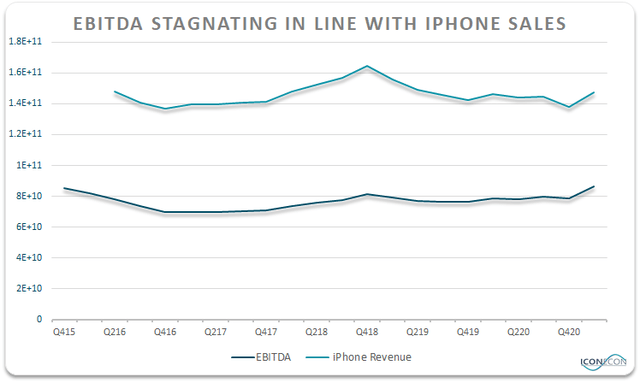 Source: Bloomberg
We fully expect Apple to continue growing revenues and profits, but we do not believe extrapolating one quarter's earnings report provides a good measure of the sustainable growth rate. With 2020 earnings roughly 6% of total SPX earnings, Apple will almost certainly face the impact of the law of large numbers. Extrapolating recent growth rates over the long term results in unfeasible outcomes. For instance, Apple's profits are expected to grow at 10% per year over the long term, according to Bloomberg.
If SPX profits grow at their trend growth rate of 4%, this would mean that Apple's share of total SPX earnings would rise from the current level of 6% to 18% by 2041. Even at 7% growth Apple's share of total SPX profits would almost double to 11% by 2041. Historical precedents do not bode well for such growth outperformance.
The following chart shows the correlation between the total sales of the largest companies in the U.S. by market cap over the past 20 years and subsequent sales growth. On the x-axis is the combined sales as a share of GDP of the top 10 U.S. companies by market cap, excluding energy companies due to the volatile nature of their sales. On the y-axis is the combined annual sales growth of these companies over the subsequent 10 years relative to nominal GDP growth. There is a strong tendency for sales and profit growth to fall as a company's size increases relative to the size of the economy.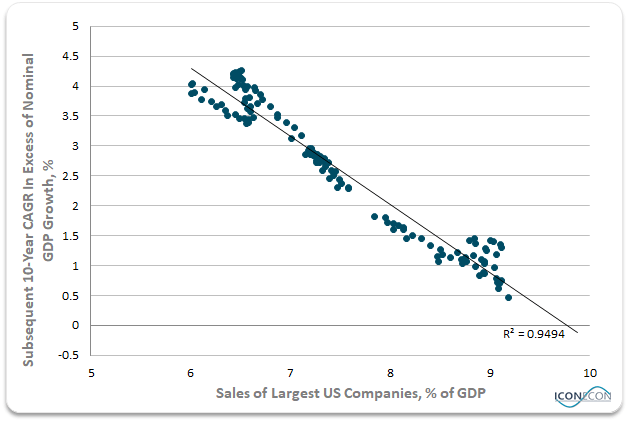 Source: Bloomberg
Rising Bond Yields Present A Major Headwind To Valuations
Throughout the decline in government bond yields over the past year investors have seen Apple's stock as an alternative to government bonds due to its high profit margins and scope for dividends to rise over the long term allowing cash flows to exceed those from bonds. The ongoing rise in Treasury yields is beginning to undermine Apple's appeal as a substitute to government bonds, triggering a rise in the required dividend yield.
Apple's trailing dividend yield of 0.64% compares to a 2.00% yield on the 20-year UST and a 2.71% yield on Apple's bonds maturing in 2041. This means that in order for Apple's stock to outperform its bonds over the next two decades investors will require dividends to grow at roughly 2.0% per year and the dividend yield remain at current low levels. The trouble is that even a small rise in the required dividend yield as far out as 2041 could wipe out years of dividend income.
For instance, even if dividends manage to grow at 7% over the next two decades, a mere 1 percentage point increase in the dividend yield from 0.64% to 1.64%, either due to a rise in bond yields or otherwise, would result in a capital loss equivalent to almost all of the excess dividend income received over the next 20 years relative to Apple's bonds. If this sounds difficult to imagine, keep in mind that 1.64% is roughly where the dividend yield was as recently as mid-2019.