TOPICUS COM INC (OTCPK:TOITF), also known as Topicus.com, is a stock that not too many people know about since it only recently went public due to a spinout or "spinoff" from Constellation Software Inc. (OTCPK:CNSWF). However, let's take a closer look at this new stock to see if it's worth buying.

Business Overview
Topicus.com acquires, manages, and builds vertical market software ("VMS") businesses, mostly in the Netherlands, but also in 12 other countries across Europe. These businesses generally provide mission-critical software solutions for their customers.
It serves many types of businesses, including accountancy, agriculture, associations, automotive, central and local government, education, facility management, finance, healthcare, hospitality, legal, manufacturing, mobility, real estate, and retail vertical markets. The company currently has 100,000+ customers and operates both Topicus and Total Specific Solutions, as you can see below.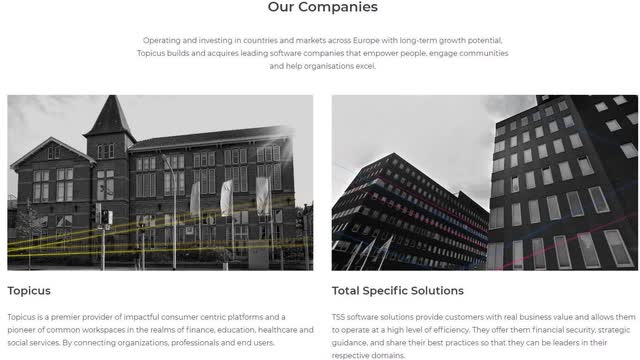 Source: Topicus.com
Here is a screenshot from Topicus.com's filings which outlines the company's business strategy.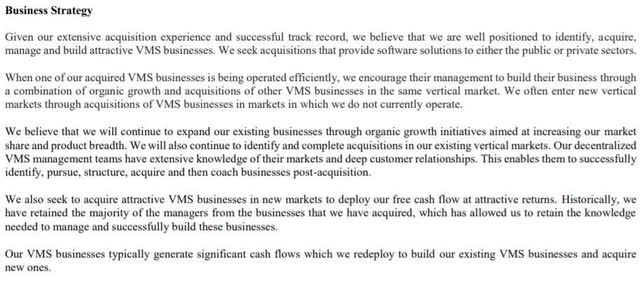 Source: Topicus.com Long Form Prospectus
Topicus.com's strategy is to focus on acquiring businesses with growth potential, while building and managing them. To a lesser extent, the company also grows organically. This strategy has allowed them to generate significant cash flows and revenue growth.
Its revenue consists primarily of software license fees, maintenance and other recurring fees, professional service fees, and hardware sales. For the year ended December 31, 2020, "maintenance and other recurring" contributed to 71.6% of revenue, "professional services" contributed 24.2%, "licenses" was 2.9%, and "hardware and other" was 1.25%. We like that most of its revenues are recurring. You can see its revenue breakdown below.
Please note: All numbers are in Euros unless otherwise stated.

Source: Topicus.com Q4 2020 MD&A
You may notice in the image above that its overall organic revenue growth is only 2%, but it has been able to grow nicely through responsible acquisitions. We say "responsible acquisitions" because Topicus.com has managed to achieve 18% year-over-year revenue growth through acquisitions without taking on lots of debt, unlike some other acquisition-heavy companies.
As you can see below, in the past 2 years, TOITF has done a good job at growing revenue, earnings, and cash flow. Revenue grew at 17-18% a year for the past 2 years, cash from operations rose from ~ €83M to €151.9M, and earnings grew from €47.5M to €63.7M. Net profit margins have also stayed stable at around 11-13%.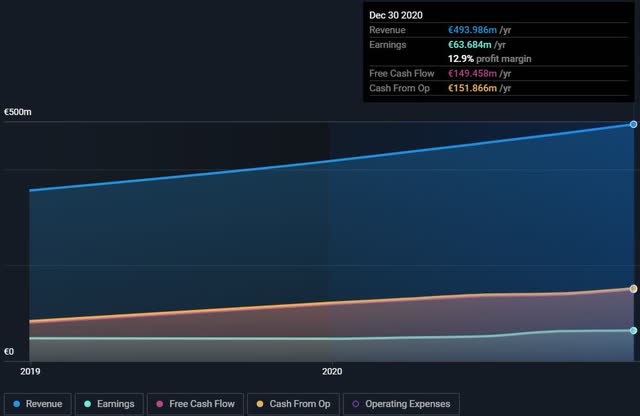 Source: simplywall.st
It is also important to note that its recurring revenue has seen consistent growth of around 6%, which is the company's largest revenue stream. Although it may be concerning at first glance that it's second largest stream (professional services) saw a -7% decline in organic growth, it's really not.

Source: Topicus.com Q4 2020 MD&A
Let's breakdown what the company defines as professional services. In essence, it's made up of services such as implementation and integration, customized programming, and product training and consulting. These are generally one-off services that would be provided to new customers. Once a customer is all set up, they would be providing Topicus.com with maintenance fees going forward.
In addition, the company does not seem to be focused on actively seeking new clients to provide professional services for, such as creating customized software. Instead, Topicus.com is mostly focused on adding to its recurring revenue. As a result, it makes sense that the other 3 segments will decrease organically. We actually welcome it because focusing marketing efforts and resources towards generating one-off revenue seems suboptimal. This is especially true in very niche markets that Topicus.com tends to target.
Share Structure
Share structures of spinoffs can be complex but they are important to know. Here's what we found in the filings:
"The Business will be comprised of (i) what is currently the Total Specific Solutions operating group of CSI, and (ii) the business carried on by the Target. Following the Spin-Out and the Acquisition, the Company will indirectly own a 60.7% interest in the Business. The remaining 39.3% interest in the Business will be owned indirectly by the Joday Group (30.3%) and IJssel (9.0%). The Company will operate as a separate publicly listed company from CSI."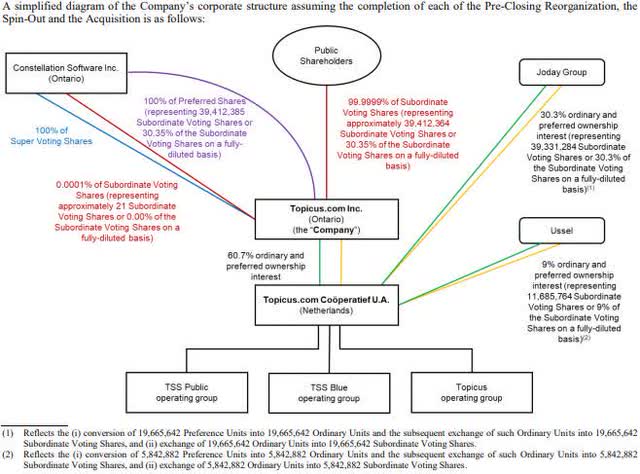 Source: Topicus.com Final Long Form Prospectus
To simplify things further, Topicus.com owns a 60.7% interest of the Topicus.com Coop, which comprises of TSS Public operating group, TSS Blue operating group, and Topicus operating group. The rest of the Coop belongs to Joday Group and Ijssel.
There are 39.4M shares outstanding that are available to the public, with a total of 129.8M shares outstanding on a fully-diluted basis. 64.9M of these shares are ordinary units and 64.9M are preference units.

Source: Topicus.com Q4 2020 MD&A
Topicus.com has to pay dividends on these preferred shares of course. The amount comes out to about €61.8M in payments every year (we explain this below).
Balance Sheet
Note: The new spinoff structure is going to change the complexion of the balance sheet. The main reason is because the new preferred shares will be added as a liability to the balance sheet:
Taken from the Q4 2020 filings: "The preferred units are retractable at the option of the holder for a retraction price of EUR 19.06 per unit and will be classified as a liability on the balance sheet of the Company. The preferred units are convertible into ordinary units of the Company at a conversion ratio of 1:1 and the ordinary units are exchangeable into Topicus.com Inc. (a newly created company) subordinate voting shares at a conversion ratio of 1:1. The preferred unit holders will also be entitled to a fixed annual cumulative dividend of 5% per annum."
Here's a screenshot from the filings showing the €1.237B preferred share liability that will show up on the balance sheet in their next report, as well as an anticipated €188M in revolving credit facility.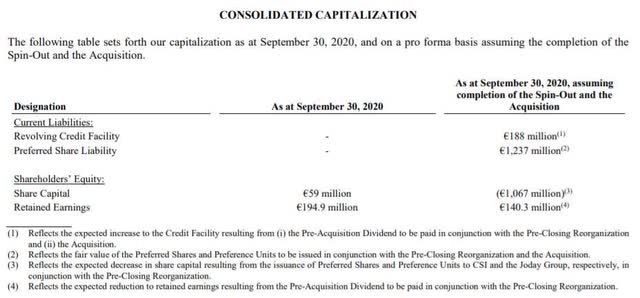 Source: Topicus.com Final Long Form Prospectus
It may be hard to say exactly what the balance sheet is going to look after its first quarter of being a new company. Nevertheless, what we can do is look at the info that we currently have about the Topicus Coop, while keeping what we said above in mind.
Despite having an acquisition-based strategy, TOITF has managed to keep its debt levels low. Total debt is €103.16M (yellow highlights in the image below), while total equity is €264.68M, giving them a reasonable debt/equity ratio of 39%.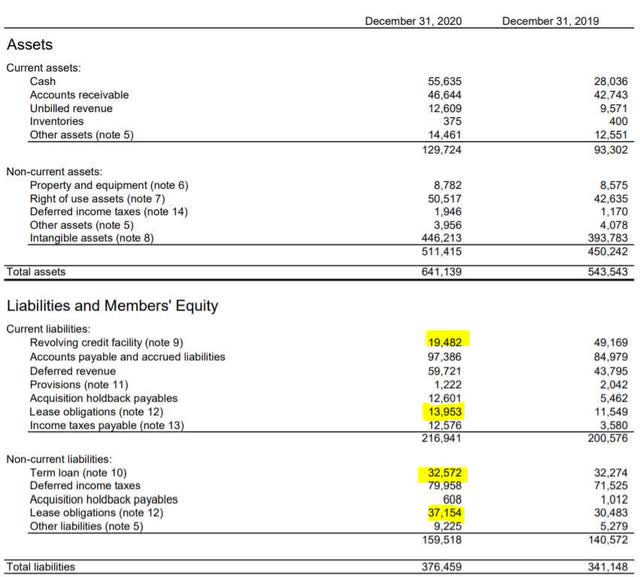 Source: Topicus Coop Q4 2020 Results
Also, according to simplywall.st, TOITF's interest payments on its debt are well covered by EBIT (15.7x coverage).
As of December 31, 2020, Topicus.com has a net cash position of €1.6M, which is explained below.

Source: Topicus.com Q4 2020 MD&A
Returns on Capital
Note: This section will also be affected by the new share structure/preferred shares because it will affect invested capital, equity, and net income. However, let's take at the historical numbers regardless.
Returns on capital are important to us because over the long run, they are correlated to the fundamental growth of a company.
When calculating TOITF's return on equity for the year ended 2020, we got ~27.3%. This is found by taking net income (€63.7M) and dividing it by average total common equity over the past year (€233.5M). The image below shows how we calculated average equity.

Source: Topicus Coop Q4 2020 Results
To calculate cash return on invested capital, also known as CROIC, you take free cash flow and divide it by the average invested capital in the past year. Invested capital is calculated as debt + equity, and we also include lease obligations as debt.
Topicus.com's free cash flow is €149.458M, and its average invested capital is €346.83M. Dividing the two gets you a CROIC of over 43%. BUT, this is before acquisitions. Since the company grows mainly through acquisitions, it is more conservative to factor those into the equation.
Thus, in 2020, Topicus.com spent €92.4M on acquisitions and also obtained €19.7M from acquisitions, for a total of €72.7M spent on acquisitions.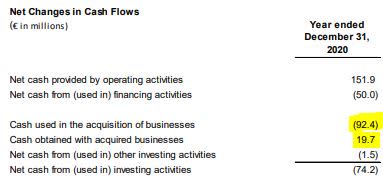 Source: Topicus Coop Q4 2020 Results
When subtracting that from regular free cash flow (€149.46M), you get €76.76M free cash flow after acquisitions. Dividing €76.76M by €346.83M, you get a 22.1% CROIC.
Lastly, return on invested capital, also known as ROIC, is calculated as NOPAT divided by average invested capital.
Topicus.com's ROIC is: 68.52/346.83 = 19.75%. NOPAT was calculated by taking the company's operating income of 91.36M (which was calculated by adding the 2 numbers in the image below), and multiplying it by 0.75 to factor in its 25% marginal tax rate. We took the tax rate from the company's filings.

Source: Topicus Coop Q4 2020 Results
These historic returns on capital caught our attention. However, with the new structure, these numbers are likely to be different (unless we're mistaken).
Spin-Outs Generally Outperform the Market
Stock spin-outs, or spinoffs, however you like to call them, have good historical performance. Famous investor Joel Greenblatt likes spinoffs because of the opportunities they present. He describes a spinoff as the process in which "a corporation takes a subsidiary, division or part of its business and separates it from the parent company by creating a new, independent, freestanding company."
"According to a study by Deloitte and The Edge, since January of 2000, the worldwide asset class of Spinoffs has generated over 10x times the average gains of the MSCI World Index during their first 12 months independent of the parent." There are other studies as well that have different results, but most of them say that spinoffs outperform.
One reason spinoffs create opportunities is because the shares are distributed to holders of the parent company, instead of being sold on the open market. Funds that receive shares may have to sell right away if it doesn't fit their investment criteria, and regular investors may sell for the sake of being too lazy to research the new company. In the case of TOITF, not too many people are aware of this company, and it may or may not be appropriate for some institutional investors, which means there could possibly be opportunity here.
There are a few reasons spinoffs happen, but here's the rationale for this one.

Source: Topicus.com Final Long Form Prospectus
Having Topicus.com as a separate entity unlocks shareholder value and helps investors better understand the company by itself while also allowing it grow faster. Constellation Software Inc. still owns 30.35% of TOITF's shares, and 65.25% of voting rights, each on a fully-diluted basis. This gives us greater conviction in Topicus.com since the parent company has skin in the game, meaning it is in Constellation's best interest to see Topicus.com succeed.
Overall, the spinoff is seen to be a positive thing for the company. Here's what Robin van Poelje, Chairman of the Board of Topicus.com stated in a recent press release:
The creation and spinout of Topicus.com enables us to stand fully on our own feet and focus on our ambition to build a leading European Vertical Market Software company while still being part of Constellation Software's global ecosystem. Topicus.com will operate on a strongly decentralized basis, providing for autonomy, entrepreneurship and identity to all of our business units while maintaining our competitive advantage of exchanging best practices on a global scale and creating a great learning environment to our employees supporting us to deliver value to our customers.
Since Topicus.com was a part of Constellation Software and has a similar business model, we can possibly expect future share price appreciation from TOITF because Constellation Software has a great history of stock price returns. Here's a long-term % change chart of CNSWF below: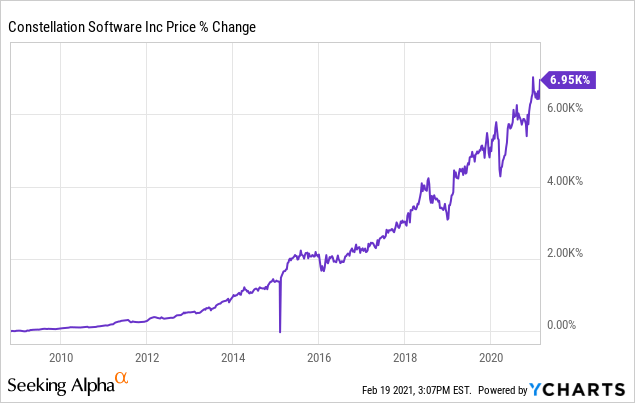 As you can see, Constellation Software has had amazing returns (it's Canadian ticker, CSU.TO, has performed even better due to a weaker CAD). This looks promising for Topicus.com, but of course, this is not indicative of future returns.
Valuation
Let's take a look at Topicus.com's EV multiples and compare it to its parent company, Constellation Software.
Topicus.com Enterprise Value: €4.458B
Here's how we got enterprise value. The formula, according to Corporate Finance Institute is: EV = Common Shares + Preferred Shares + Market Value of Debt + Minority Interest – Cash and Equivalents
64,920,909 common shares (as mentioned in the ownership structure above) multiplied by a share price of $68.12 CAD, is $4.422B CAD, which is €2.874B when converted to EUR. The rest of the formula is: preferred shares (as per the filings) of €1.237B, plus the €188M anticipated revolving credit facility mentioned earlier (debt), plus the €103.16M in debt it already had, minus €55.635M in cash. This leaves you with €4.458B as the enterprise value.
The Topicus.com numbers below were taken from the Topicus Coop Q4 2020 financial statement, except FCF, which was taken from simplywall.st:
EV/EBITDA: With EBITDA of €160.44M, Topicus.com trades at around a 27.78 EV/EBITDA multiple. EBITDA was calculated by adding the highlighted numbers below.

EV/EBIT: With EBIT of €91.36M, EV/EBIT is about 48.80x.
EV/Revenue: Revenue of €493.97M gives the company an EV/Revenue multiple of about 9.02x.
EV/FCF: FCF of €149.46M gives the company an EV/FCF of about 29.82x.
EV/FCFAA: As explained earlier, after acquisitions, Topicus.com has FCF of €76.76M. This gives the company an EV/FCFAA multiple of about 58.08x.
These multiples are a little bit high, but not an excessive amount more than Constellation Software's multiples which we will now discuss.
Constellation Software enterprise value: $28.31B (according to ycharts.com)
EBITDA: $1.152B
EBIT: $737M
Revenue: $3.969B
FCF: $1.161B
FCFAA: $1.161B - acquisitions (582M) = $579M
The 5 numbers above were calculated using data from Yahoo Finance.
With these numbers in mind, Constellation Software is currently trading at an EV/EBITDA of 24.57, EV/EBIT of 38.41, EV/Revenue of 7.1, EV/FCF of 24.38, and EV/FCFAA of 48.89.
Topicus.com may have higher growth ahead of it than Constellation, so its higher multiples could be justified. If you are a Constellation Software shareholder but believe that TOITF will have more growth than Constellation, it may be worth it to buy TOITF.
An argument can be made that Topicus.com is a mini Constellation Software (Constellation is about 6.6x bigger based off 2020 revenue). This is good news for Constellation Software shareholders who received Topicus.com shares because of the spinoff. The 2 companies have similar business models, so Topicus.com can be good to have as well.
Risks
The 4 main factors that come to mind when thinking of the company's risks are location, lack of data, diluted share count, and liquidity (for U.S. investors).
Location: The Netherlands by all means, is not a third-world country, but each country comes with its own risks. Buying foreign stocks can expose you to risk that you may not even be familiar with, so it is important to weigh the pros and cons of such investments. Also, Topicus.com reports in Euros, so there is foreign currency risk, of course. However, you can say that adding foreign stocks is a good way to diversify a portfolio, so, each investor will have their own view on this.
Lack of data: There is only data going back to the full year ended 2018 (at least with the sites that we use, the data may possibly be out there somewhere). Therefore, it's tough to know for sure how good the company's historical results are, but the past few years look great.
Also, Topicus.com's financial statements should look different going forward due to the preferred shares that they will be paying dividends on. This should be easier to understand next quarter.
Diluted shares: Currently there are about 39.4M shares outstanding, but 129.8M on a fully-diluted basis. This would dilute EPS numbers and other metrics significantly.
Liquidity risk: We bought it on the TSXV exchange (TSXV:TOI.V) since we are Canadian, so it's not an issue there. However, the OTC version of it does not have much trading volume. Keep this in mind if you're planning on buying TOITF.
Conclusion
Although relatively unknown, Topicus.com is a good spinoff stock that can be seen as a mini version of its parent company, Constellation Software. The 2 companies have similar business models but Topicus.com is slightly more expensive. Still, it may have room for faster growth due to it's smaller size so the higher valuation may be justified.
Spinoffs have outperformed the market in the past so it's worth while to keep an eye on Topicus.com, especially since it is in Constellation's best interest to see the company succeed. If you believe in Constellation Software's business model, Topicus.com could be a good addition to your portfolio. We're bullish as long as the share count doesn't get diluted too heavily. We have a small long position of TOI.V from about $60 CAD/share.
Editor's Note: This article discusses one or more securities that do not trade on a major U.S. exchange. Please be aware of the risks associated with these stocks.