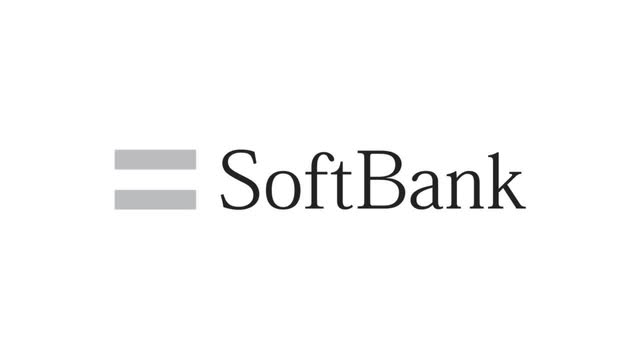 Source: SoftBank
SoftBank Corp. (SBC) (OTCPK:SOBKY) is a leading telecommunications operator in Japan and is backed by its parent company SoftBank Group (OTCPK:SFTBY), which has around 40% ownership over the telco company. In 2006, SBC is the third major telco to be established in the country once dominated by NTT Docomo (OTCPK:DCMYY) and KKDI (OTCPK:KDDIF) and has achieved an impressive market share of around 25%.
The ultimate rationale behind Masayoshi Son's decision to enter the saturated telecommunication industry may be becoming clearer with its Beyond Carrier strategy. In essence, the company is planning to leverage the synergies between its vertical business segments. With the acquisition of Line, the company is further advancing its Beyond Carrier strategy to become the leading integrated communications service provider in Japan. Below is the group structure of SBC, the company stakes in subsidiaries such as PayPay, Z Holdings (OTCPK:YAHOF) which owns Yahoo Japan and Zozo, and SB Payment Service. Below is an overview of how the group structure might look like after the merger with Line is completed.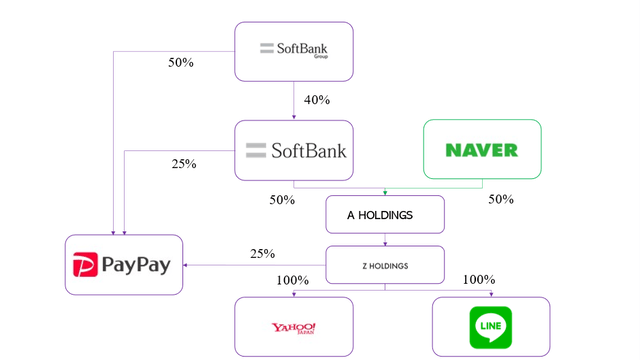 Source: SBC, KBS World
In terms of the company's revenue breakdown, it derives the majority of revenues from the mobile wireless segment which accounts for 40% of revenues while fixed line broadband contributes 12% of revenues. It Z Holdings subsidiaries are reported as the Yahoo segment which consists of revenues from the Yahoo Japan platform and Zozo online marketplace and represents 22% of revenues. Lastly, it also engages in the sale of consumer electronics such as smartphones and IT peripherals and products under its retail distribution segment and accounts for 26% of revenues.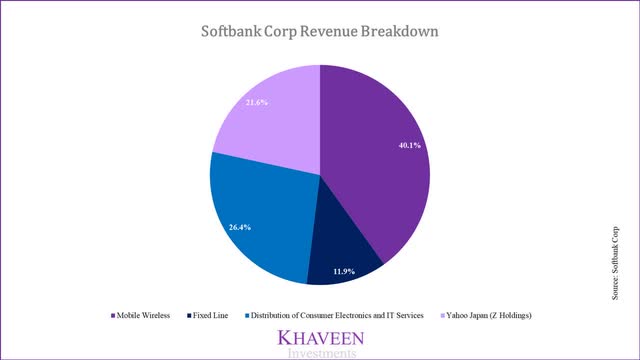 Source: SBC
SoftBank and The Telecommunications Industry in Japan
The Japanese telecommunications market valued at $124 bln with a CAGR forecast of 4.3% to 2024 and is the third largest in the world by revenue behind the US and China. BuddeComm expects mobile subscriber growth to be relatively low up to 2024 due to a highly mature mobile subscriber.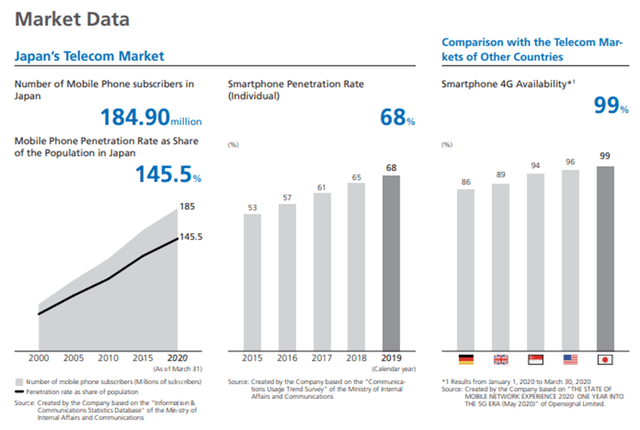 Source: SBC
There are three large mobile network operators that have invested heavily in towers and fibre infrastructure in the past two decades despite the low economic and population growth. The three companies are NTT Docomo, KKDI and SoftBank. Rakuten is the latest mobile communications market entrant since 2018. NTT Docomo is a leading telecommunications provider in Japan ahead of KDDI and SoftBank. SoftBank's market share has been relatively stable at around 25% of mobile subscribers. Towards the end of 2020, Rakuten Mobile which launched in April 2020 announced that it has attained 2 mln of mobile subscribers which would translate to less than 1% of market share.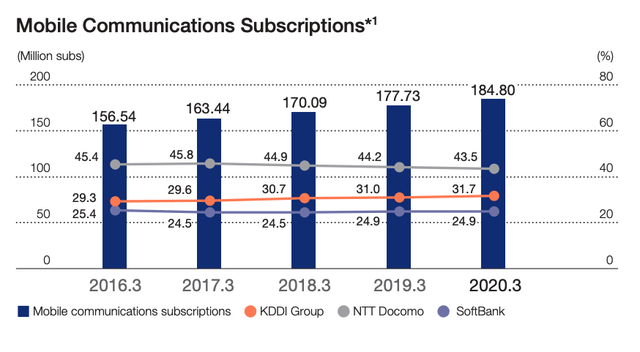 Source: KDDI
In terms of fixed broadband, Japan has one the most developed and advanced broadband market in the world. The market is maturing with high broadband penetration levels. There are 41.2 mln fixed broadband subscribers translating to a penetration rate of 32.6% and a CAGR of 2.3% in the past 6 years. Statista projects the fixed broadband market to grow at a CAGR of 0.8% to 2024 as the market becomes increasingly mature. According to Seasia, the country enjoys one of the highest internet speeds globally and is the third fastest Asian country only behind Taiwan and Singapore.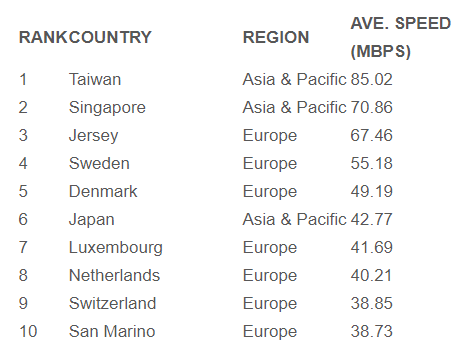 Source: Seasia
In terms of market share, NTT Docomo is the leading fixed broadband provider with a market of 54 % followed by KDDI with 22% of market share. Whereas SoftBank only has a market share of 2.2% of fixed broadband subscribers.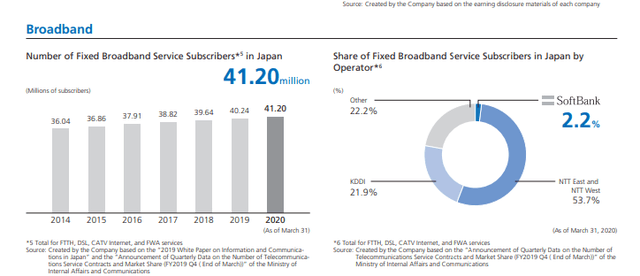 Source: SoftBank
Leading 5G Deployment in Japan
5G is a key long-term revenue driver for the telecoms industry and Japanese carriers are accelerating the commercialization of 5G. In 2020, after receiving approval from the regulators, all major carriers switched on their 5G networks. SoftBank is committing JPY2.2 tln ($21 bln) to build up its 5G infrastructure and is set to roll out 5G networks with an ambitious goal to provide 90% 5G coverage for the Japanese population by 2022. If SoftBank achieves this target, it would make SoftBank the leader of 5G coverage in Japan. In comparison, NTT Docomo and KKDI has committed JPY 795 bln ($7.1bln) and JPY466 bln ($4 bln) and plans to achieve 97% and 93% in coverage by 2025. Meanwhile, Rakuten Mobile is also deploying 5G networks but is only committing JPY194 bln ($1.7 bln) with a target of 50% coverage by 2025.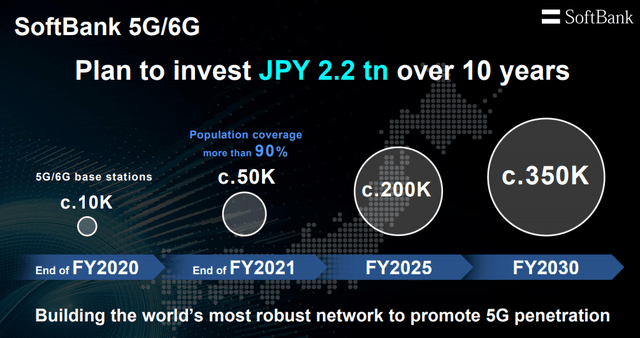 Source: SoftBank
In 10 years, SoftBank aims to develop its network by growing its base stations 35 times to 350,000 base stations across the country. With Huawei banned by the government from supplying communications equipment to the industry, SoftBank has partnered with Nokia (NOK) and Ericsson (ERIC) to roll out its infrastructure. Ericsson was selected as the primary 5G vendor for multi-band network. Both companies have been collaborating since 2015 for multi-band 5G networks including 28 Ghz and 4.5 Ghz. SoftBank is using base stations with multiple antennas to prevent slowdowns even in crowded urban regions and plans to use AI technology for optimal transmission.
Moreover, SoftBank and KKDI are teaming up in a joint venture to promote the development of 5G infrastructure in rural areas. As the deployment of 5G is highly capital intensive, the collaboration between both companies to share the infrastructure could provide cost benefits while increasing the nationwide penetration of 5G which is currently limited to the urban and densely populated areas.
Although competition is strong, SoftBank may develop an advantage if it successfully implements its integration strategy. The integration of its services with its Beyond Carrier Strategy with Yahoo, Line and PayPay could provide it with an advantage if it can leverage the services and combine them to offer a more comprehensive service offering than its competitors.
Integration Opportunity of Business Units with Beyond Carrier Strategy
Amid the maturing telecommunications market, operators such as SBC is looking to capture growth opportunities by developing new media and services to cater to the needs of the tech-savvy Japanese population. SoftBank's position is highly unique due to its complementary vertical business segments. The company's subsidiaries are involved in fintech, e-commerce and digital advertising.
SBC. is rapidly transforming into an entity that transcends the typical business field of a telecommunications operator by advancing a Beyond Carrier strategy - SBC CEO Ken Miyauchi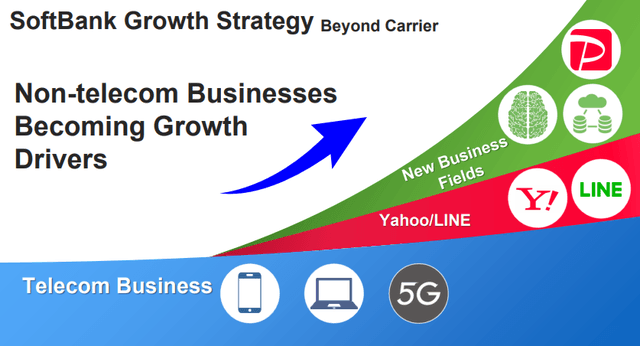 Source: SBC
Yahoo Japan
The Beyond Carrier Strategy is where all companies under SoftBank will work in synergy to maximize the integration and ease of using individual services within the SoftBank ecosystem. One of its main subsidiaries is Z Holdings which owns Yahoo Japan and Zozo online marketplace. In Japan, Yahoo is a major search engine which is larger than Microsoft's (MSFT) Bing but still behind Google (GOOG). More impressively, Yahoo Japan is the most popular website by traffic with 33 mln monthly visitors compared to 27 mln visitors for Google. This is because the website does more than just search but is also a news aggregator, a weather website and a forum that has been localized and preferred by the Japanese. This makes Yahoo Japan a unique asset for SoftBank as it drives significant internet traffic and advertising opportunity to capitalize on. Also, Z Holdings has the Zozo online marketplace which specializes in fashion.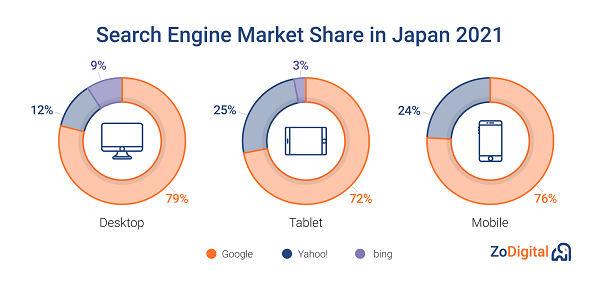 Source: Zodigital
PayPay
Besides that, the company also has introduced an emerging fintech solution. PayPay is a rapidly growing QR code based mobile payments application in Japan with over 62% market share of QR code payments and 33 mln users. The platform is riding growth wave with the shift towards cashless payments in Japan which has been projected to reach 40% of total spending from about 26% presently.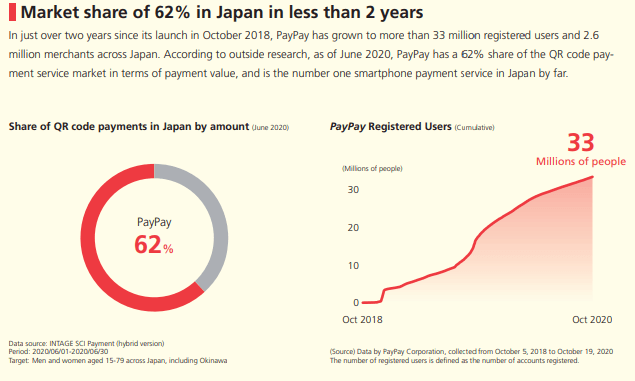 Source: SBC
The uniqueness of these businesses is that it encompasses the rapidly growing field e-commerce, digital advertising and fintech which are all highly integrative. For example, enabling PayPay payments via Zozo marketplaces. Besides that, SoftBank is also integrating some of its Vision Fund holdings with its subsidiaries. This has been seen with the integration of Didi, Ovo and WeWork with its PayPay app to allow users to hail rides and book hotel rooms and pay with its app.
Line Merger
The company is further supporting its Beyond Carrier strategy with the Line merger with Z holdings in 2021 for $7.2 bln. Line, currently held by South Korean company Naver (OTCPK:NHNCF), is a leading messaging app with over 80 mln users and payments app operator in Japan. The merger would create a joint venture between Naver and SoftBank named A Holdings and SoftBank which will become the largest shareholder of Z Holdings which will operate Line and Yahoo Japan. For Naver, the joint venture enables the company to further strengthen its presence in Japan which is its key market accounting for half of its user base and compete better against other major social platforms. This merger would result in Line and Yahoo Japan being brought together, Yahoo Japan is the largest portal in Japan and the second most popular search engine. The merger would enable the SoftBank to expand in AI, e-commerce, fintech, advertising and O2O businesses but the most visible integration is in e-commerce and fintech by tapping its user base to strengthen its core internet services with SoftBank's Yahoo Japan and PayPay and Naver's Line Pay as a P2P payments platform.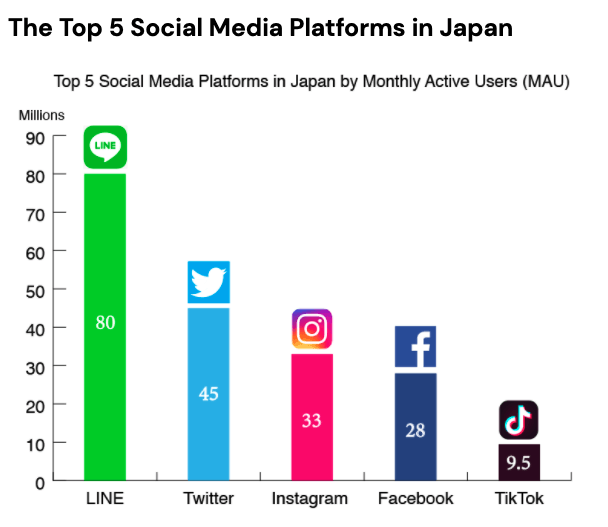 Source: Freshtrax
The company has guided that the incremental revenues from Line could be worth at least JPY241 bln (42.3 bln) upon completion of the merger. As a messaging platform, Line derives its revenues from virtual items and in-game purchases for its mini games, premium stickers and emoticons as well as business accounts for promotional activities. More importantly, the integration of Line with SoftBank's subsidiaries will expand the company's existing user base which will provide it opportunities to integrate adjacent services between platforms to increase user engagement and create a comprehensive ecosystem.
SoftBank Telco Pricing Pressures
As the market is increasingly saturated and matured, the industry faces rising competitive threats. This is especially true for SoftBank which has seen the company face pricing pressures for its main telecom products as shown in the decreasing ARPU trend. Among the top three largest operators, SoftBank is the most attractive with the lowest costs. However, its competitive strength has eroded with the entry of low-cost provider Rakuten Mobile (OTCPK:RKUNY). The threat may see SoftBank lose market share in particular due to its low-cost strategy prior to the entry of Rakuten.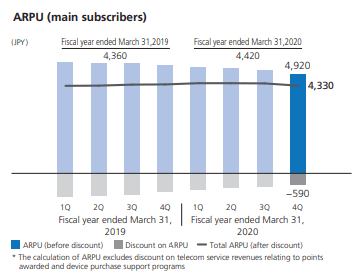 Source: SoftBank
Rakuten Mobile only began operations in 2020 and while it only has a market share of 1% with 2 mln subscribers, it could pose a strong competitive threat to SoftBank as a low-cost provider. In a comparison of the company's average revenue per user (ARPU), Rakuten Mobile has the lowest ARPU at only $27 which is 35% lower than SoftBank. This may result in market share erosion for SoftBank as it loses out to Rakuten Mobile. Nevertheless, SoftBank's Beyond Carrier Strategy may create a more compelling service offering with various integrations with its adjacent businesses segments which may promote higher user engagement. Also, Rakuten is also deploying its 5G networks with a 50% population coverage target and aims to have more than 15 mln subscribers by 2025.
| | |
| --- | --- |
| Company | Average Revenue Per User (ARPU) |
| KDDI | $54 |
| NTT Docomo | $44 |
| SoftBank | $41 |
| Rakuten Mobile | $27 |
Source: ITA
Valuation
The company has a 5-year average revenue growth rate of 11.2% in the past 5 years. It also has healthy profitability with an average gross margin and a net margin of 45.7% and 12.4%.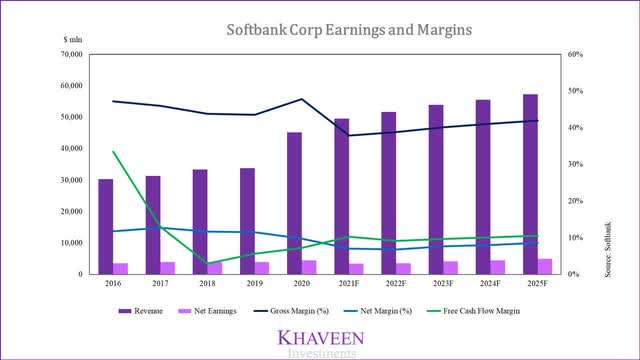 Source: SoftBank, Khaveen Investments
More importantly, the company has strong free cash flow generation abilities with an average FCF margin of 12.4% in the past 5 years.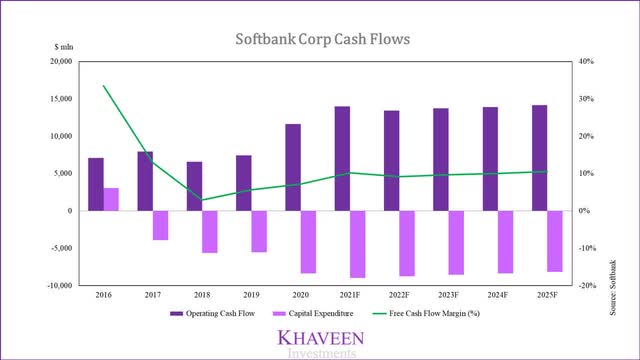 Source: SoftBank, Khaveen Investments
To project its revenues, we forecasted its segmental revenues based on the industry growth rate forecasts. For its mobile wireless segment, we applied the Japanese telecom industry projections of a CAGR of 4.3%. Whereas the fixed broadband market is projected to grow at a CAGR of 0.8% by Statista. Moreover, the consumer electronics market was forecasted to grow at a CAGR of 4.6% by Gold Stein Research. The Yahoo Japan segment was forecasted based on the Japanese e-commerce and digital advertising market projections of 6.2%.
| | | | | | |
| --- | --- | --- | --- | --- | --- |
| SBC Revenues ($ bln) | 2020 | 2021F | 2022F | 2023F | 2024F |
| Mobile Wireless | 17.9 | 18.68 | 19.48 | 20.32 | 21.19 |
| Mobile Wireless Growth % | | 4.3% | 4.3% | 4.3% | 4.3% |
| Fixed Line | 5.3 | 5.35 | 5.39 | 5.43 | 5.48 |
| Fixed Line Growth % | | 0.8% | 0.8% | 0.8% | 0.8% |
| Distribution of Consumer Electronics and IT Services | 11.8 | 12.36 | 12.93 | 13.52 | 14.14 |
| Distribution of Consumer Electronics and IT Services Growth % | | 4.6% | 4.6% | 4.6% | 4.6% |
| Yahoo Japan | 9.7 | 10.26 | 10.89 | 11.57 | 12.29 |
| Yahoo Japan Growth % | | 6.2% | 6.2% | 6.2% | 6.2% |
| Line | | 2.30 | 2.40 | 2.50 | 2.61 |
| Line Growth % | | | 4.3% | 4.3% | 4.3% |
| Total Revenues | 44.7 | 48.94 | 51.09 | 53.34 | 55.71 |
| Total Revenues Growth % | | 9.5% | 4.4% | 4.4% | 4.4% |
Source: SoftBank, Khaveen Investments
As the company have strong and stable free cash flows, we applied a DCF analysis based on the Japanese industry EV/EBITDA average of 6.85x
| | |
| --- | --- |
| Company | EV/EBITDA |
| SoftBank Corp. | 6.87 |
| KDDI | 5.18 |
| NTT Docomo | 8.52 |
| Average | 6.85x |
Source: Seeking Alpha
Based on a discount rate of 1.9% (company's WACC), our model shows an upside of 15.4%.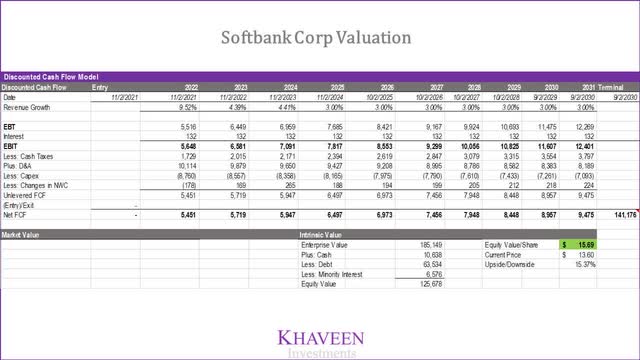 Source: Khaveen Investments
Verdict
Despite the saturating telecommunications market with high penetration rates and slowing population growth, SBC remains highly promising due to its unique characteristics and support from its parent company. One of the major opportunities for the company to capitalize on is the accelerated deployment of 5G with a commitment of over $21 bln for infrastructure and a target of 90% population coverage by 2022 which would place it ahead of competitors. Beyond the telecommunications market, the company has embarked on its Beyond Carrier Strategy which could be a key growth driver as it has the opportunity to integrate its subsidiaries across e-commerce, fintech and digital advertising.
Moreover, the merger of Line with its Z Holdings further enhances its integration opportunities and expands on its user base which it can capitalize on to create a comprehensive ecosystem of online services. Overall, we rate the company as a Buy with a price target of $15.69 (SoftBank Corp. US ADR) or JPY1,647 (SoftBank Corp. Japan Stock).
Note: For more research and analysis of high-quality companies within the global telecoms industry, please click the "Follow" icon.