Commodity supercycles include boom and bust periods each lasting over a decade. The last major commodity supercycle started in the late 1990s, and peaked in 2008, driven by Chinese industrialization, and increasing demand from investors for alternative investment products offering commodity exposure. China and Europe experienced economic slowdowns throughout the 2010s. The trade war between the US and China didn't help commodity demand either. The Covid-19 pandemic led to a final collapse in demand, leading to what is likely the bottom of the supercycle in 2020.
This chart illustrates the boom and bust pattern of commodity supercycles.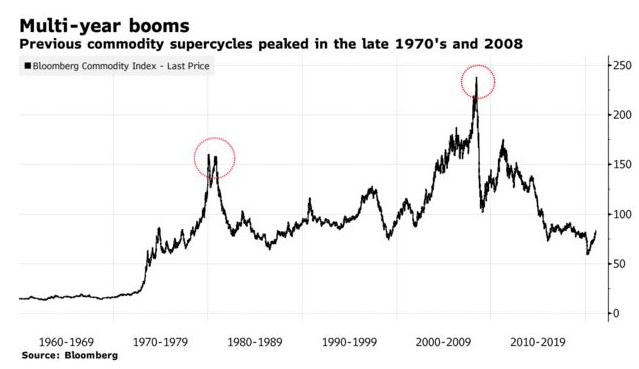 Source: Bloomberg
There is a high probability that the 2020s will mark the beginning of a new commodities supercycle.
Commodities were out of favor for over a decade, but in recent months the narrative has started to shift. Governments around the world have responded to the Covid-19 pandemic with massive fiscal stimulus. The new US administration in particular is focused on building infrastructure, driving additional demand for commodities. This increased demand will meet constrained supply, because there has been little investment in new commodity sources over the past decade. Closely related, the increasing public focus on environmental issues will constrain oil supplies and increase demand for industrial metals essential for green technology.
This impending supply demand imbalance in the commodity markets is setting up a major investment opportunity. However, institutional and retail investors are underweight commodities. The S&P 500 has negligible exposure to energy and other commodity markets. Total commodity ETF AUM is now a minimal portion of overall ETF AUM, according to Variant Perception. Fund allocations to Energy in particular have declined by over 70% in the past decade. Now that investors are increasingly concerned with a possible return of inflation, there will likely be a major shift into commodities.
A large commodity allocation could result in major upside over the next decade, but also lead to major volatility. From a defensive perspective, it makes sense to have at least a small allocation to a basket of mining, energy and agriculture companies to hedge against possible inflation. One fund that offers broad commodity market exposure, along with a steady income stream is the BlackRock Resources & Commodities Strategy Trust (NYSE:BCX).
Investment Strategy
BCX holds a portfolio of large cap mining, energy, and agriculture companies listed in the US, UK, and Canada. This chart shows BCX's diversification by commodity sector: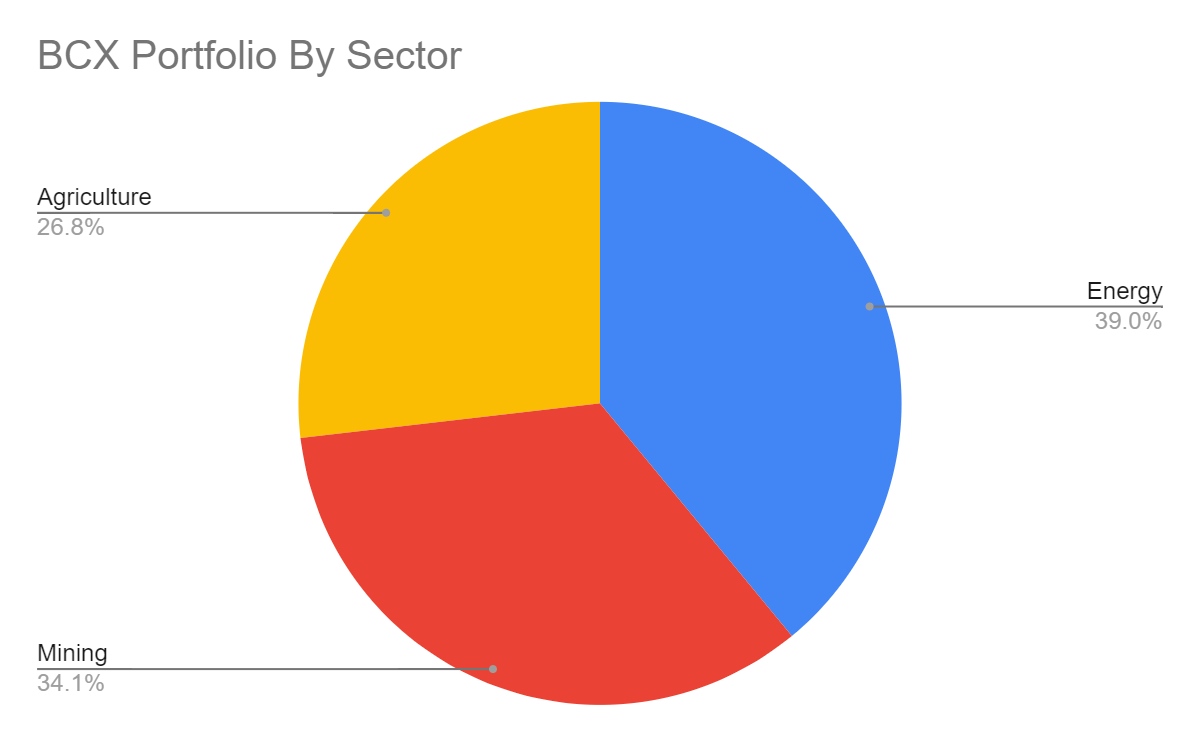 Source: SEC Filings, Author's Calculations
The portfolio has a total of 49 holdings, with the top ten accounting for 46% of net assets. The top individual holdings include BHP Group (BHP) in the mining sector, Total SE (TOT) in Energy, and CF Industries (CF) in Agriculture.
This table shows the top five holdings in BCX's portfolio:
| | | |
| --- | --- | --- |
| Name | Weight (%) | Sector |
| BHP GROUP PLC (BHP) | 6.49 | Mining |
| TOTAL SE (TOT) | 5.54 | Energy |
| CF INDUSTRIES HOLDINGS INC (CF) | 5.41 | Agriculture |
| VALE SA (VALE) | 5.39 | Mining |
| ANGLO AMERICAN PLC (OTCQX:AAUKF) | 4.79 | Mining |
Source: Fund Website
In order to generate income and minimize volatility, BCX sells call options on a portion of the portfolio. Approximately 36% of the portfolio is overwritten with options, according to the Fund's website. Therefore, investors will still capture the majority of upside in a major commodity bull market. BCX's investment strategy, along with the option overwriting component, requires more active management than an index fund. BCX charges a 1.00% management fee, compared to 0.40% for the SPDR S&P Global Natural Resources ETF (GNR), an ETF following an index of commodity companies.
Performance
Although commodities have started to rise recently on renewed investor interest, it's been a dismal few years for the sector. Looking at a decade long chart, the total return of BCX, along with the GNR, has just recently turned positive.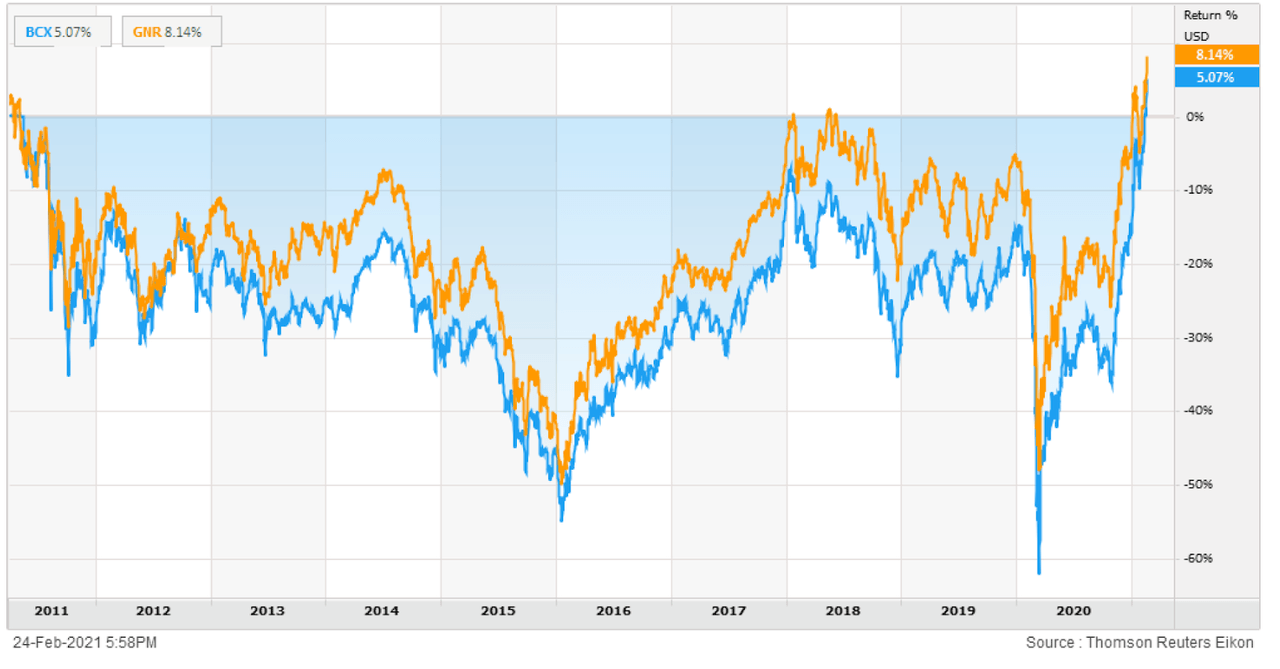 Source: Thomson Reuters Eikon
Although BCX underperformed GNR on a total return basis over the past ten years, it has done better in the most recent five years.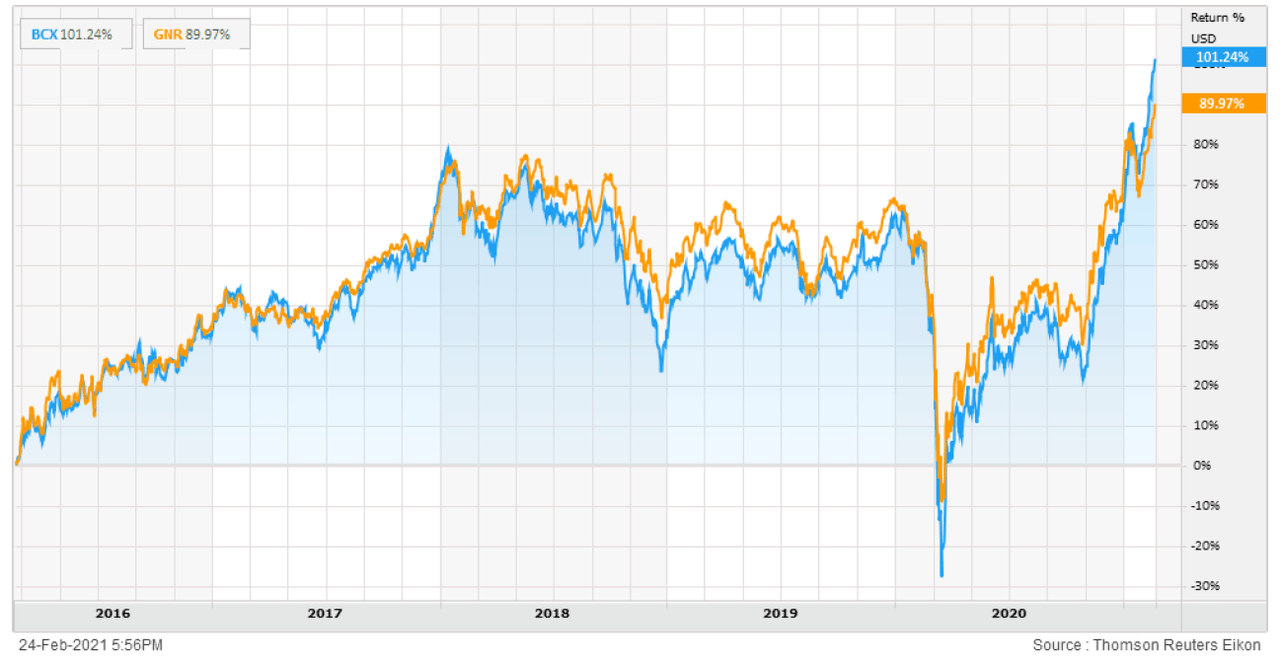 Source: Thomson Reuters Eikon
BCX's market price has outperformed its peers in the closed end fund sector over the past five years. This chart shows how BCX has performed against other equity closed end funds, according to data from CEF Connect.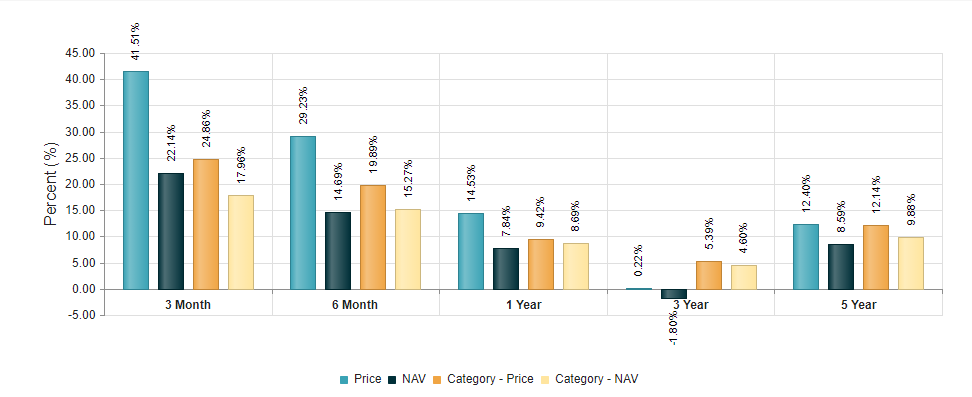 Source: CEF Connect
Notably, in the most recent 3 and 6 month periods it has surged ahead, mainly due to the closing NAV discount.
Valuation
The current 3% discount to NAV offered by BCX is nothing to get excited about. Historically it has traded at a significant discount, as shown in the following chart: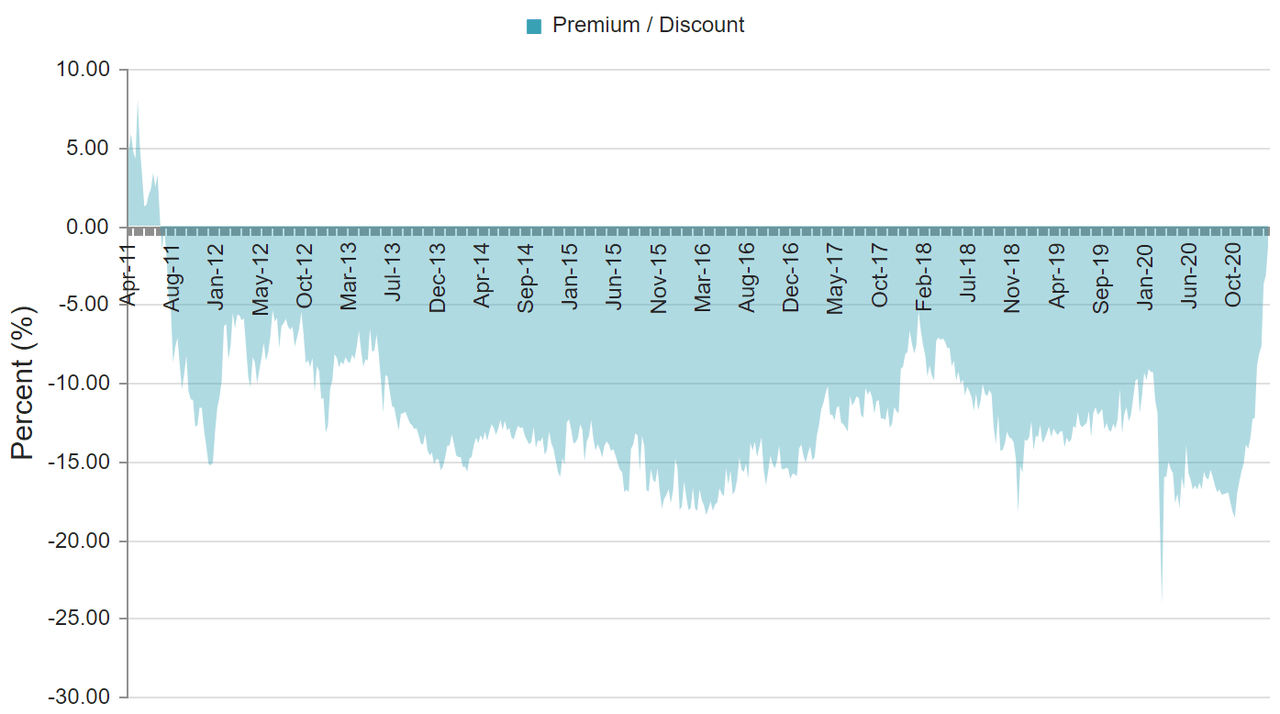 Source: CEF Connect.
Over the past five years, BCX has traded at an average NAV discount of 13.1%. Nonetheless, when it launched in 2011 shortly after the last commodity market peak, it did trade at a premium for several months. It's reasonable to expect that BCX's NAV discount and premium will be a barometer for investor sentiment towards commodities.
Risks
The main risk to an investment in BCX is the possibility of timing the commodity cycle wrong. One analyst, writing in the Financial Times, argued that current positive drivers for commodity markets are temporary, and are not sufficient to start a new supercycle. China has directed most of its aggressive stimulus plan towards infrastructure and construction, creating a temporary boost to commodity demand. If the Chinese recovery stalls, it would be extremely negative for commodity producers. Moreover, it's possible that investors are being overly optimistic about vaccines. If major economies are still on lockdown through the end of 2021, the government stimulus won't be enough to drive increased commodity demand and inflation.
Conclusion
Overall the balance of risk and reward favors commodities. Although BCX is at a 52 week high, it is still less than half of its price a decade ago. This is representative of the broader sector, which has just begun to recover. There is a lot more upside than downside for patient investors.
What makes BCX relatively unique among commodity funds is its monthly income component. Investors are paid to wait, just in case the commodity supercycle takes longer than expected. At current prices, BCX pays a 5.2% dividend. This is more than twice the 2.4% yield of GNR. The typical income portfolio is likely heavily exposed to fixed income and real estate. These sectors do not offer much inflation protection. If we enter a new commodities supercycle, BCX ensures an income portfolio will benefit. I'll continue to hold BCX, and plan to add more if the discount widens.