Internet Initiative Japan (NASDAQ:IIJI) (JP 3774) is perhaps the epitome of what investors regard as enigmatic Japanese stocks. Otherwise, this happens to be a time when the market fails to appreciate a solid management and business model, which makes Internet Initiative Japan [IIJ]'s valuation even more attractive, while its growth prospects only continue to expand. IIJ has an ideal arrangement: toll booth (web connectivity) and excellent cross-selling opportunities (under the umbrellas of systems construction and outsourcing). And it has ideal, loyal customers, spread across Japan's leading companies and the government.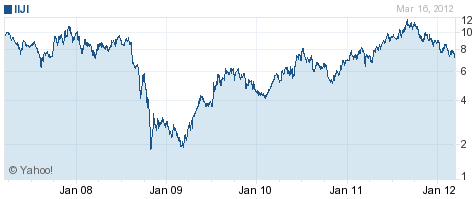 After approaching $12/share last year, a multi-year high, IIJ has since traded lower to where it was pre-March 11, 2011, disaster. This doesn't make sense, since revenues are poised to hit an all-time high (fiscal Q3 revenues were up 25% versus SG&A and R&D up a combined 11%), net income will be the highest it's been in recent years (up 20% in FQ3) and the highest ever on an earnings-from-operations basis, its AT&T Japan integration is going very well, and its cloud business is growing at a very strong clip (off a small base for now: 400% year-over-year expected to Y3 billion, ~$37M, for FYE March 2012) with no slowdown in site.
The latest news is that IIJ has tied-up with China Telecom (NYSE:CHA) to offer cloud services in China from this summer. IIJ will build and oversee operations of the cloud platform using China Telecom's infrastructure. About the only negative aspect from IIJ's FQ3 earnings was that it downward revised its full-year revenue target by Y3 billion (or $37M) to Y97 billion ($1.18B) due to a weak order backlog for systems construction and equipment sales. No doubt, the post-3/11 disaster environment has caused some companies to delay larger IT investments. It has not, however, prevented companies in financial services, telecom, and mobile applications, from signing up for IIJ's cloud and outsourcing services.
IIJ's ordinary shares trade at 15.3-times trailing earnings (14.5x forecast FYE March 2012 earnings) and 1.6-times book. Earnings would be better and will be with time, since IIJ invests heavily in maintaining its internet backbone and incurs non-cash depreciation charge. But this is precisely what enables IIJ to garner such loyalty and its leadership in IP and greater cross-selling opportunities in systems and services.
Note also that IIJ has a dividend yield of 1.1%. Readers should know that I initiated correspondence and submitted proposals to IIJ's board of directors in early 2010. Over the next year, IIJ went on to increase its dividend four times for an aggregate hike of 50%. It would be great to see IIJ repurchasing its shares in the open market, even its often thinly-traded ADRs, at recent prices. The only time IIJ has repurchased stock was right near its post-2008 trough around $2/share; excellent timing. I am pushing for another repurchase and for continued dividend hikes, among other things.
Three other points worth knowing about IIJ, (1) hedge fund Joho Capital recently disclosed a 5% stake-- this is the threshold that necessitates public disclosure in Japan; (2) Oxford Asset Management is short 0.25% shares outstanding, also a filing threshold; which given IIJ's light trading even in Japan would be roughly an average day's trading volume, all bids when OXAM covers; (3) in the past I've referenced IIJ's balance sheet and cost of capital -- the former is still solid as cash is 20% of its market capitalization, although it's not net, since IIJ primarily uses short-term bank financing for acquisitions such as of AT&T Japan, for which it incurs a miniscule interest rate.
As for demystifying enigmatic Japanese stocks, including such things as the aforementioned disclosure thresholds, and in light of the broad undervaluation of high-quality equities in Japan, I encourage readers to consider my just-released book, Investing in Japan: There is no stock market as undervalued and as misunderstood as Japan. Meanwhile, please also see my past articles about IIJ on Seeking Alpha, from March 2010 forward, which provide greater detail of my activist work with the company.
Disclosure: I am long IIJI.