Take-Two (NASDAQ:TTWO) recently reported strong Q3 earnings, beating expectations on both EPS and net bookings. Despite these impressive results, Take-Two's stock has fallen significantly over the past few weeks as a result of soft guidance and a general market downturn. This represents a great buying opportunity for investors looking for a quality video game company. Despite Take-Two's recent downturn, the company's prospects have never been brighter.
Take-Two's recent dip makes the company an even more attractive buy.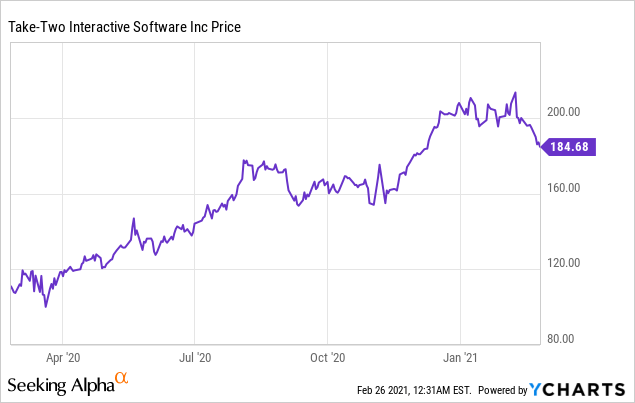 GTA Continues to Shine
Despite the fact that Take-Two had no major releases during the quarter, the company still managed to produce a GAAP net revenue $860.9 million. This impressive figure was bolstered by the continued success of GTA 5. In fact, GTA 5 sold over 140 million copies at the end of Q3 compared to over 135 million copies sold at the end of Q2.
In 2020 alone, GTA 5 sold a staggering 20 million copies, which is its largest figure since its 2013 release year. A triple-A title only growing in momentum and selling 20 million copies seven years after its initial release is unheard of. In fact, it is incredibly rare for triple-A titles to sell 20 million copies over its entire lifespan. GTA 5 has truly proven to be a unicorn in an incredibly competitive landscape.
As hard as it is to believe, GTA 5's momentum is stronger than ever. In fact, GTA 5 has been battling with juggernaut League of Legends for the most viewed game on Twitch in recent weeks. Considering the fact that League of Legends is free-to-play and arguably the most popular game in the world, this is an incredible accomplishment on GTA 5's part.
GTA 5 has seen its popularity soar once again in recent weeks as a result of role-playing mods.

Source: Twitch Tracker
Implication for GTA 6
GTA 5's success will give Rockstar the leeway to truly push the boundaries on what is technically feasible for GTA 6. The fact that GTA 5 continues to be a money printing machine means that Rockstar will be able to take all the resources and time it needs to perfect GTA 6. Take-Two, unlike many other companies, will not need to push out an imperfect or even broken product like so many of its competitors have.
Take-Two even stated that they always aim for perfection when questioned about the triple-A industry's tendency to push out games for too early for short-term monetary gain (likely in reference to the Cyberpunk 2077 debacle). There is no doubt that Cyberpunk 2077's disappointing release has only reinforced Take-Two's commitment to perfection. In the unlikely case that Take-Two was planning to rush out GTA 6 before it was ready, Cyberpunk 2077's disastrous release would almost certainly dissuade Take-Two from taking such an approach.
GTA 6 is perhaps the most anticipated video game of all time, which is not surprising given GTA's huge fanbase and Rockstar's reputation for truly innovative and groundbreaking releases. Moreover, the large time gap between the release of GTA 5 and the impending release of GTA 6 means that GTA 6 will likely be a far superior product in terms of realism, graphics, and AI.
Rockstar will almost certainly push the limits of what is possible as it has done with nearly all its previous major releases. Given that GTA 6 is undoubtedly the company's most important title to date, there is no telling how much money and effort will go into the game's development. While Take-Two has yet to announce the release date of GTA 6, the growing hype for the title is palpable.
The GTA franchise is only becoming more popular. This bodes incredibly well for GTA 6.
Strong IP
Take-Two also continues to outperform on its Red Dead Redemption 2, NBA 2K21, and Mafia titles. While many of these titles pale in comparison to GTA on the sales front, they are still among the industry's top sellers. In fact, Red Dead Redemption 2 has sold over 36 million units, which is a sales figure few other video game companies will ever hope to achieve.
Take-Two will also likely see outperformance on its NBA 2K franchise as the popularity of basketball grows. Given that NBA 2K is the most recognizable basketball video game, the company stands to benefit from the NBA's expanding reach. Take-Two is also set to expand upon its lineup in the coming years, which is great news for investors looking for a more diverse offering.
GTA is far from the only popular franchise in Take-Two's lineup. For instance, 2K is the most popular basketball video game franchise in the industry.
Risks
While Take-Two has a robust pipeline, with the company planning to release 93 titles over the next 5 years, Take-Two is still heavily reliant on GTA. If GTA 6 is unable to meet expectation, the company could see its valuation plummet. While major competitors like Activision Blizzard (ATVI) or Electronic Arts (EA) make most of their money from a select few titles, Take-Two is even more heavily reliant on its top performing titles. Investors should be aware of how much of Take-Two's fortunes are tied in with GTA's success.
Conclusion
A successful GTA 6 release is already priced in to some degree at Take-Two's current valuation of ~$21.5 billion. However, the market is largely still underestimating how big GTA 6 will be. GTA 6 seems to trend every other week despite the fact that Take-Two has yet to announce a release date. Moreover, GTA 5 continues to grow in popularity despite the game being nearly a decade-old.
Take-Two's current lineup of GTA, Red Dead, NBA 2K, and Borderlands is unrivaled in the industry. What's more, Take-Two only plans on building its already impressive list of major IP. Whereas other video game behemoths also boast impressive lineups, very few, if any, of their games invokes as much excitement as Take-Two's titles. Take-Two continues to be a solid investment in the booming video game industry especially after its current dip.