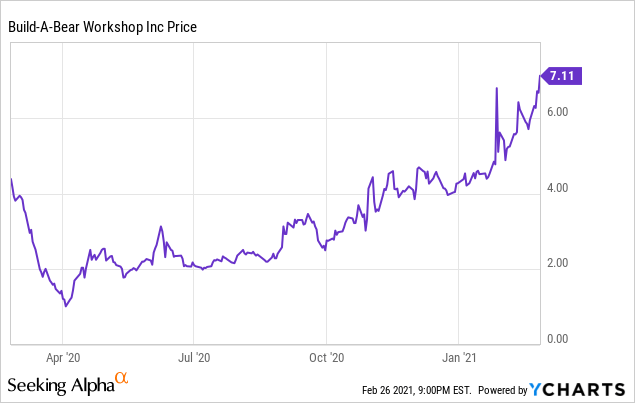 Build-A-Bear Workshop, Inc. (NYSE:BBW) operates as a specialty retailer of plush animals and related products. The company operates through three segments: Direct-to-Consumer, International Franchising, and Commercial. Its merchandise comprises a range of styles of stuffed animals; clothing, shoes, and accessories for the stuffed animals; and other toy and novelty items. As of February 1, 2020, the firm operated 372 stores, including 316 stores in the United States and Canada, 56 stores in Europe and China, and 92 international franchises.
The company was founded in 1997 and is headquartered in St. Louis, Missouri. As the world becomes vaccinated and families are reunited, we believe consumer spending will increase, especially in the form of gifts. Therefore, we have a 12-month price target of $9.85 and believe BBW is an attractive investment because:
According to the U.S. Census Bureau, retail sales for the month of January increased 5.3% from December; furthermore, sales in the sporting goods, hobby, musical instrument, and book stores segment grew 8.0% sequentially. After declining every month in the fourth quarter, retail sales roared back with better than expected results. The combination of declining Covid cases, vaccine distribution picking up, and Washington's second $900 billion stimulus package have led consumers to spend more.
In January, the Conference Board's Consumer Confidence Index increased to 89.3 from 87.1 in December. Additionally, the Expectations Index, based on consumers' short-term outlook for income, business, and labor market conditions, jumped from 87.0 in December to 92.5 in January. Historically, average consumer confidence is 96.95 (from February 1967 to January 2021).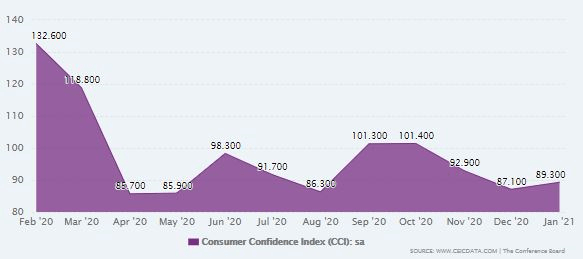 Source: The Conference Board
BBW has over 9 million members in their Bonus Club and Opt-In e-mail database. Over 80% of mothers say BBW is a brand they can trust and over 80% of children say BBW is "fun to visit."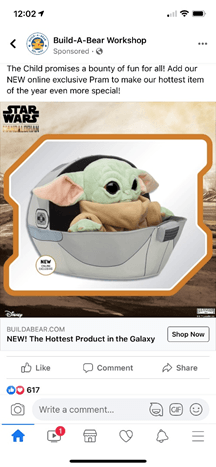 Source: Build-A-Bear Workshop Facebook Page
BBW has successfully reshaped their firm to be much leaner and more profitable. On BBW's most recent third quarter earnings release, the company posted revenue of $74.7 versus $70.4 million in the year ago period. E-commerce sales grew 167% and gross profit margin expanded to 46.6%, a 720-basis point improvement compared to

the fiscal 2019 third quarter. SG&A was $33.1 million or 44.3% of total revenue, a 600-basis point improvement from the prior year. EBIT was $1.7 million, a $9.4 million improvement from the 2019 third quarter.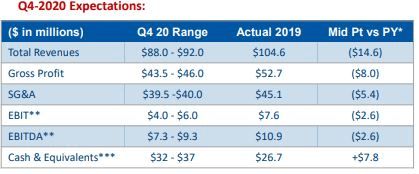 Source: Build-A-Bear Workshop Investor Presentation
BBW is focusing on three core issues in 2021 to enhance their business. The first initiative is to accelerate their digital transformation which involves using more data analytics, marketing on social media sites like Facebook, and expanding on-line streaming events. The second initiative is to rapidly evolve their retail capabilities; BBW is creating a Build-a-Bear 3D section on their website which should enhance e-commerce growth. Finally, the third initiative BBW will be focusing on in 2021 is financial stability and liquidity management. Management's goal is to continue to reduce SG&A and capital expenditures while renegotiating store leases.
The company is largely undervalued relative to its peers on a Price to Book and Price to Sales basis.

Source: Singular Research Estimates
Valuation. We equally blend valuations from BBW's P/B and P/S ratios. Given BBW's small size, management's efforts to improve profitability through reducing SG&A and renegotiating store leases, and BBW's e-commerce growth, we are forecasting BBW's P/B ratio to expand to just 50% of the average peer group over the next 12 to 18 months. Over the next year, it is reasonable to assume that there will be multiple expansion from increased profitability and consumer demand. Therefore, if we assume BBW trades at 50% of its peer group average P/B ratio of 4.99x, we forecast a price of $9.06. If we assume no growth to sales and apply 50% of TPC's peer group average P/S ratio of 1.21x, we forecast a 12-month price of $10.58. Even though BBW has net income in its latest quarter and has forecasted positive net income in its fourth quarter, the firm does not have four full quarters of positive earnings to make a valuation on price to earnings. The average of these two prices is $9.82 which we round up to $9.85, 65% higher than the closing price of $5.97 on February 19, 2021.
Risks
Consumer spending and sentiment loses strength.
E-commerce growth stagnates.
Build-a-Bear 3D reports weaker sales than expected.
Best of the Uncovereds offers new initiation reports on roughly two dozen companies per year, with a focus on under-followed small and mid caps with significant potential. We provide a quarterly earnings update reports on all companies covered, as well as flash reports on significant news announcements by companies. We go further for members, providing recorded interviews with management teams of covered companies when available and a monthly quantitative based "Market Indicators and Strategy Report."