Sentiment Speaks: Bonds Are Killing The Stock Market
Mar. 01, 2021 8:00 AM ET
SPY, QQQ, DIA, SH, IWM, TZA, SSO, TNA, VOO, SDS, IVV, SPXU, TQQQ, UPRO, PSQ, SPXL, UWM, RSP, SPXS, SQQQ, QID, DOG, QLD, DXD, UDOW, SDOW, VFINX, URTY, EPS, TWM, SCHX, VV, RWM, DDM, SRTY, VTWO, QQEW, QQQE, FEX, ILCB, SPLX, EEH, EQL, QQXT, SPUU, IWL, SYE, SPXE, UDPIX, JHML, OTPIX, RYARX, SPXN, HUSV, RYRSX, SPDN, SPXT, SPXV, TBT, TLT, TMV, IEF, SHY, TBF, EDV, TMF, PST, TTT, ZROZ, VGLT, TLH, IEI, BIL, TYO, UBT, UST, PLW, VGSH, SHV, VGIT, GOVT, SCHO, TBX, SCHR, GSY, TYD, DTYL, EGF, VUSTX, DTUS, DTUL, DFVL, TAPR, DFVS, FIBR, GBIL
127 Comments
Summary
Many have suggested negative correlations with bonds and the stock market for many years.
Throughout history, bonds have rallied and fallen during times of stock market rallies.
Following any seeming correlations will often leave you confused at the important turning points in the market.
This idea was discussed in more depth with members of my private investing community, The Market Pinball Wizard. Get started today »
Yes, it is time for me to post another article, which means it is time for another dose of reality about the market.
All I have heard for so many years is that if the market is going down, you should "hide in bonds," as they are a good safe haven when the market declines. Yet, has anyone even looked at the multi-decade bond trend which has been upward bound alongside the financial market uptrend?
So, of course, with the market dropping over the last several weeks, it must certainly mean that the market is rallying higher. Right? Yet, as bonds have dropped these past few weeks, everyone is panicking and claiming that the market is going down because interest rates are rising.
In fact, here are some of the titles of the recent articles published on Seeking Alpha: "Rate Shock Rocks Stocks: Why Markets Fear Rising Rates," "Week Ahead - Rising Rates Spook Markets," "The Treasury Market Selloff Is Quickening And Hurting Stocks," with many more similar articles published on other websites.
Which is it folks, as you cannot have it both ways!? Does the stock market rally with bonds? Does the stock market rally when bonds are dropping? Does the market drop alongside bonds?
In truth, most people just fit the narrative to what is going on at the time in the markets. In other words, all of the narratives regarding rates and the market are based upon very superficial and specious perspectives, and are simply meaningless.
So, if you still don't believe me, let me ask you this: are markets not able to rally when rates rise? If you actually knew your market history, you would know that markets have risen during times when rates rise and have also risen during times when rates fall. So, history tells us that the direction of rates is meaningless with regard to the trend of the stock market.
As if the confusion regarding bonds and the stock market is not enough, I also heard this past Thursday that the dollar rallied because of rates rising. But, when I look at the daily bond and dollar charts, all I can do is scratch my head and say "huh!?"
Both bonds and the dollar have been in a downtrend since March of 2020. So, when the dollar rallied a few cents this past week, some pundit thought it to be brilliant to ignore that both the dollar and bonds have been dropping together for a year, and claim that the few cents the dollar rallied on Thursday was due to rising rates. Clearly, we have yet another pundit who is simply not burdened by the facts, or who even bothers to pull up a simple chart. But, damn the truth, this narrative sounds so much better.
I have warned many times before about relying upon seeming "correlations," as when they break down, they will leave you quite confused. Historically, markets have risen during periods of rising rates, and they have risen during periods of dropping rates. The direction of interest rates is not determinative of the direction of the stock market. Suggesting anything else is simply false.
If you are being honest with yourself, you would know that bonds had a secondary double top struck in early August, and have been declining ever since. But, what has the stock market done since early August?
At the time the bond market struck its secondary lower high in early August, the SPX was around 3350. And, as the bond market dropped (rates rose) over the last seven months, the stock market rallied 18% from 3350 to 3950SPX. Those are the facts. Trying to force any other narrative about bonds is simply dishonest.
So, the "cause" of the market drop these last two weeks was not due to rising interest rates. Rather, bullish sentiment had gotten too heated, and the market needed a pullback. That is the simple and accurate explanation as to why the market has been pulling back of late.
Regarding the market itself, it is rather simple. As long as the market continues to respect the 3775SPX region, then I am still waiting for the break out set up to 4300SPX over the coming weeks. However, if the market is unable to hold the 3775SPX region in the near term, then we may get a bit of a deeper pullback towards the 3600SPX region before we begin that rally to the 4300SPX region. Under either scenario, the 4300SPX region remains my next intermediate target for 2021.
THE #1 SERVICE FOR MARKET & METALS DIRECTION!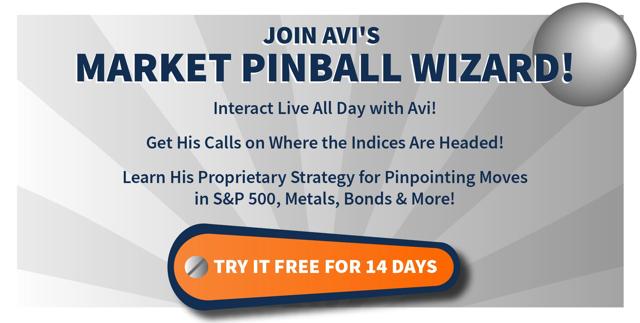 "Coming here was transformative" (Defyant)
"I am very impressed by one technical Elliott Wave analyst – Avi Gilburt" (Willem Middelkoop, Founder-Commodity Discovery Fund)
"I have been a member less than one year and what I have learned has been a game changer" (dasak5297)
"Avi, you guys are the real deal" (zephyr)
"I know I fought this.. but damn it works . . . My accounts are killing it.. returns I did not think possible." (Bigdaddytuna)
CLICK HERE FOR A FREE TRIAL.
This article was written by
The #1 Service For Market and Metals Direction!
Avi Gilburt is founder of
ElliottWaveTrader.net
, a live trading room and member forum focusing on Elliott Wave market analysis with over 6000 members and almost 1000 money manager clients. Avi emphasizes a comprehensive reading of charts and wave counts that is free of personal bias or predisposition.
Avi is an accountant and a lawyer by training. His education background includes his graduating college with dual accounting and economics majors, and he then passed all four parts of the CPA exam at once right after he graduated college. He then earned his Juris Doctorate in an advanced two and a half year program at the St. John's School of Law in New York, where he graduated cumlaude, and in the top 5% of his class. He then went onto the NYU School of Law for his masters of law in taxation (LL.M.).
Before retiring from his legal career, Avi was a partner and National Director at a major national firm. During his legal career, he spearheaded a number of acquisition transactions worth hundreds of millions to billions of dollars in value. So, clearly, Mr. Gilburt has a detailed understanding how businesses work and are valued.
Yet, when it came to learning how to accurately analyze the financial markets, Avi had to unlearn everything he learned in economics in order to maintain on the correct side of the market the great majority of the time. In fact, once he came to the realization that economics and geopolitics fail to assist in understanding how the market works, it allowed him to view financial markets from a more accurate perspective.
For those interested in how Avi went from a successful lawyer and accountant to become the founder of Elliottwavetrader.net, his detailed story is linked here.
Since Avi began providing his analysis to the public, he has made some spectacular market calls which has earned him the reputation of being one of the best technical analysts in the world.
As an example of some of his most notable astounding market calls, in July of 2011, he called for the USD to begin a multi-year rally from the 74 region to an ideal target of 103.53. In January of 2017, the DXY struck 103.82 and began a pullback expected by Avi.
As another example of one of his astounding calls, Avi called the top in the gold market during its parabolic phase in 2011, with an ideal target of $1,915. As we all know, gold hit a high of $1,921, and pulled back for over 4 years since that time. The night that gold hit its lows in December of 2015, Avi was telling his subscribers that he was on the phone with his broker buying a large order of physical gold, while he had been accumulating individual miner stocks that month, and had just opened the EWT Miners Portfolio to begin buying individual miners stocks due to his expectation of an impending low in the complex.
One of his most shocking calls in the stock market was his call in 2015 for the S&P500 to rally from the 1800SPX region to the 2600SPX region, whereas it would coincide with a "global melt-up" in many other assets. Moreover, he was banging on the table in November of 2016 that we were about to enter the most powerful phase of the rally to 2600SPX, and he strongly noted that it did not matter who won the 2016 election in the US, despite many believing that the market would "crash" if Trump would win the election. This was indeed a testament to the accuracy of the Fibonacci Pinball method that Avi developed.
Analyst's Disclosure: I/we have no positions in any stocks mentioned, and no plans to initiate any positions within the next 72 hours. I wrote this article myself, and it expresses my own opinions. I am not receiving compensation for it. I have no business relationship with any company whose stock is mentioned in this article.
Seeking Alpha's Disclosure: Past performance is no guarantee of future results. No recommendation or advice is being given as to whether any investment is suitable for a particular investor. Any views or opinions expressed above may not reflect those of Seeking Alpha as a whole. Seeking Alpha is not a licensed securities dealer, broker or US investment adviser or investment bank. Our analysts are third party authors that include both professional investors and individual investors who may not be licensed or certified by any institute or regulatory body.