Bionano Genomics' Second Chance
Summary
An increasing number of scientists now realize the limitations of gene-sequencing in clinical diagnostics, opening an opportunity for growth, highlighted by the rising number of Saphyr mentions in academic publications.
Recent technological advancements in the gene-editing arena bode well for BNGO's market. Such developments include approvals of gene therapies and the discovery of CRISPR.
The recent surge in BNGO's share provides relief from the financial burdens, allowing management to enhance its product offerings.
Investment Thesis
Bionano Genomics (NASDAQ:BNGO) offers investors the opportunity to profit from the growing gene-editing market without the risks associated with investing in biotech companies. BNGO is a supplier of genome analysis equipment that helps scientists in their quest to find new drugs.
The company's product is complementary to gene-sequencing, which has limits on detecting structural variations of chromosomes. Structural variations cause many diseases. As the market for gene-therapies develops, the scope of drug development will widen to include structural mutations, boding well for future demand for the company's product.
Buzzing Market Brings a Second Chance
Rapid technological changes in the gene-editing market bring lucrative opportunities (and risk) for investors seeking early exposure to a promising healthcare trend. In December 2017, the FDA approved Novartis' (NVS) Kymriah, the first gene-editing drug in the administration's history. Since then, hundreds of gene-based therapies have entered clinical trials to develop medications for diseases that were considered incurable. The discovery of CRISPR is thought to have the potential to bring the human genome under full control. This technology's disruptive nature is demonstrated by the 2020 Nobel Prize awarded to the two scientists behind CRISPR discovery.
The renewed interest in the industry comes as a fresh start for companies like BNGO, which operated on losses for years and faced financial difficulties that distracted management, such as technical default on debt and a notice of delisting. With higher share price and a more robust enterprise value, these problems are hopefully behind the company now, allowing management to focus on what matters, bringing their product to the market and realizing BNGO's potential.
The Product
BNGO produces one product called Saphyr, which allows scientists to detect structural variations in human chromosomes. Such variations skip gene-sequencers. The system comes with a screen, keyboard, a processor, and a server and costs ~$150 thousand.
Besides the system sale and installation revenue, BNGO receives recurring income from consumables like pigments and reagents. Similar to a printer and ink cartilage, this business model creates a regular income stream for BNGO.
There are few drawbacks of Saphyr, and the most obvious is its technical limitations for detecting single-nucleotide variations, making it complementary to gene-sequencers instead of a replacement. Another disadvantage is the lack of FDA approval for medical use, limiting its use to research applications. This lack of FDA clearance bars BNGO from essential customers in the diagnostic arena, such as hospitals and clinical labs.
Growth
The biotech industry is characterized by "opinion-leaders" that influence research efforts, something similar to a herd mentality. A research paper using unorthodox tools or ideas is unlikely to get published in a peer-review journal - the currency of academic institutions, which themselves are a cornerstone of the biotech industry. Since the conclusion of The Human Genome Project in 2003, the consensus fell on gene-sequencing as the tool to diagnose and discover new medicines. An increasing number of scientists realize the limitations of gene-sequencing, which has only a 50% diagnostic rate, opening a growth opportunity for BNGO's Saphyr system.
Because Saphyr is installed in a lab, it competes with other equipment providers for space. Sales will depend on research institutions' willingness to adopt a new framework for their research development, which is costly. People are generally resistant to change, and unless BNGO can convince researchers to switch to Saphyr, growth will not ensue.
One factor that could positively influence Saphyr sales is the system's mentions in academic journals where it is a custom for researchers to describe the tools used in their research. Below is a table showing the number of publications that mention BNGO in its study.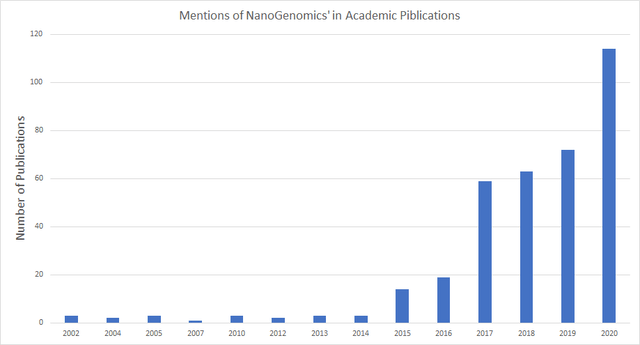 Source: Author's estimates
As more scientists become aware of Saphyr, the more the industry will be willing to give the company a chance to realize its potential.
Finally, BNGO, from what I understand, plans to seek an FDA clearance for Saphyr medical use. The delay is due to the high costs of obtaining the license, stemming from lengthy clinical trials and robust requirements. It is worth reminding that the commercial launch of Saphyr is only recent, and the company has been operating as a publicly traded company for a small number of years. The addressable market of BNGO will increase significantly in the event of an FDA approval.
Instruments Installed
As of May 2018, the company had 95 instruments installed worldwide and in December 2019, this number increased to 138. In the nine months ended September, the company added 22 new Saphyr systems. These are humble sales figures, but it should be noted there are positive signs that more institutions are considering adding the company's equipment in their labs. A few weeks ago, a major Canadian hospital announced it is testing Saphyr as part of its workflow-update initiative.
Summary
The recent surge in BNGO shares alleviates some of the financial burdens constricting the company in the past. The company acquired Lineagen, a healthcare service company that connects patients, insurers, and physicians in an all-stock transaction. With the current level of share price, BNGO can expand its product offering.
The biotech technology is starting to realize the limitations of gene-sequencing as a diagnostic tool, and more research is citing Saphyr's benefits in the clinical diagnostic arena. Despite that Saphyr doesn't have a medical-use license that would allow it to be used in diagnostic labs - it is pursuing such permits in the U.S. and internationally. This process is expensive, as the FDA requires clinical tests before approving a medical testing device. Still, the recent increase in share price would allow the company to strengthen its product portfolio in a buzzing market.
This article was written by
Bashar is a contributing writer at Seeking Alpha, focusing on Long/Short investment ideas, with a geographic focus in North America. Before that, Bashar worked at an Investment Fund in the United Kingdom. He has a Master's degree in Finance from the Queen Mary University of London and a Bachelor's degree in Economics from Middlesex University.
Analyst's Disclosure: I/we have no positions in any stocks mentioned, and no plans to initiate any positions within the next 72 hours. I wrote this article myself, and it expresses my own opinions. I am not receiving compensation for it (other than from Seeking Alpha). I have no business relationship with any company whose stock is mentioned in this article.
Seeking Alpha's Disclosure: Past performance is no guarantee of future results. No recommendation or advice is being given as to whether any investment is suitable for a particular investor. Any views or opinions expressed above may not reflect those of Seeking Alpha as a whole. Seeking Alpha is not a licensed securities dealer, broker or US investment adviser or investment bank. Our analysts are third party authors that include both professional investors and individual investors who may not be licensed or certified by any institute or regulatory body.