Moderna Delivers The Bad News
Summary
MRNA could generate $18 billion in COVID-19 revenue this year, shattering expectations.
2021 revenue is likely a high watermark. MRNA should squirrel away capital to fund future vaccines.
Management did not indicate what it expected 2022 revenue to look like. No news is bad news, in my opinion.
The 2022 COVID-19 market is expected to fall hard. A smaller market and more competition sound foreboding for MRNA.
Sell MRNA.
This idea was discussed in more depth with members of my private investing community, Shocking The Street. Get started today »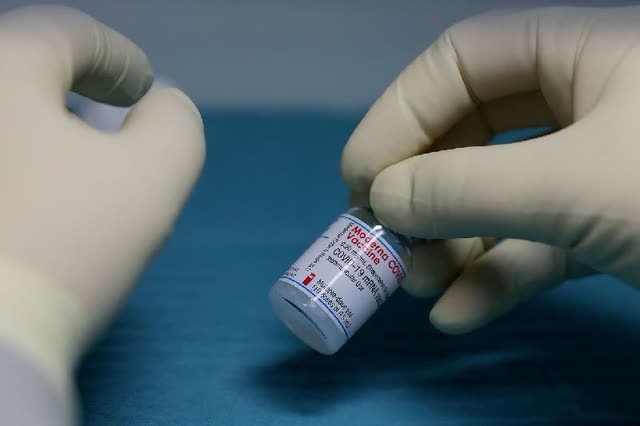 Source: Barron's
Moderna (NASDAQ:MRNA) reported Q4 revenue of $570.7 million and GAAP EPS of -$0.69. The company beat on revenue by over $291 million, but missed on earnings. The stock rose just over 4% post-earnings. I had the following takeaways on the quarter.
2021 Advance Purchase Orders Blew Me Away
Moderna continues to cut supply deals and ramp up revenue as a major rollout of COVID-19 vaccines is underway. President Biden has pledged 150 million COVID-19 vaccinations in 100 hundred days, and Moderna is expected to play a major part in those plans. In Q4 2020 Moderna, Pfizer (PFE) and AstraZeneca (AZN) had each received Emergency Use Authorization for COVID-19 vaccines. AstraZeneca came to market shortly thereafter; however, the German media has questioned the efficacy of AstraZeneca's vaccine, particularly among seniors.
Up until now the COVID-19 vaccine market has been largely a two-horse race between Moderna and Pfizer. Moderna's Q4 revenue of $571 million was up about 88% sequentially on the strength of product sales. Sales growth could remain explosive for the rest of 2021.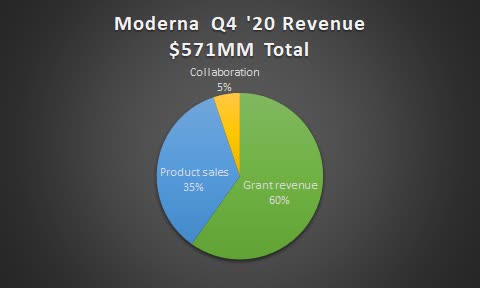 Grant revenue was 60% of total revenue, while product sales were 35%. Product sales were largely non-existent prior to Q4. Product sales represent customer deposits recorded as deferred revenue; revenue is recorded upon customer acceptance and control of the transferred product. Grant revenue largely reflects revenue from the Biomedical Advanced Research and Development Authority ("BARDA"), which is part of the HHS Office of the Assistant Secretary for Preparedness and Response. This revenue is recognized as Moderna performs services under the agreement.
Bernstein analysts projected Moderna to garner $11 billion in sales from a 2021 COVID-19 market expected to be around $39 billion. I was keen on Moderna's management confirming this $11 billion figure. Management divulged it has advanced purchase agreements ("APA") representing about $18.4 billion in product sales:
Already-signed APA agreements for expected delivery in 2021 reflect a total of $18.4 billion in anticipated product sales. Based on continuous progress to ramp up available supply capacity in our network, we have raised the lower end of our global manufacturing plan for 2021 from 600 million to 700 million doses at the 100-microgram dose level. Manufacturing is still working to supply up to 1 billion doses for 2021. Further, we expect a range of related - of released doses in Q1 2021 of 100 million to 125 million doses and 200 million to 250 million doses in the second quarter.
The figure blew me away, yet the stock only appreciated about 4%. Pfizer expects to about $15 billion in 2021 vaccine sales. If the market this year is expected to about $39 billion, then that could leave only $6 billion of sales for AstraZeneca, Novavax (NVAX) and Johnson & Johnson (JNJ) to fight over. Moderna was extremely busy while Novavax and JNJ awaited results of late-stage clinical trials. The efforts will likely pay off handsomely for Moderna.
Cash Flow
Bernstein analysts expect the COVID-19 vaccine market to fall to about $23 billion in 2022 - a decline of about 40%. Moderna's vaccine revenue could also fall hard next. JNJ recently received Emergency Use Authorization from the FDA. Novavax could soon bring its vaccine to the market once clinical trials are complete. The total vaccine market could decline next year and Moderna's market share could fall. Moderna's 2021 vaccine revenue is likely due to its first mover advantage, which may dissipate next year. I expect governments to share the wealth and not be so dependent on one or two suppliers in future.
If Moderna's $18.4 billion in revenue is not recurring then 2021 results could be a cash flow play. Management should squirrel away as much capital as possible in order to fund future development of vaccines. Over the past year Moderna generated free cash flow ("FCF") of about $2.0 billion. As revenue flows in over the year, I expect the company's FCF to continue to accumulate. Moderna has nine infectious disease vaccines that cut across four therapeutic areas. The company ended the quarter with $5.2 billion in cash, up from $1.3 billion in the year-earlier period. Moderna could potentially use this capital to fund R&D efforts and potentially bring vaccines for other diseases to market.
Valuation Remains A Question Mark
Since Moderna's 2021 revenue is likely not recurring, I believe the company should be valued based on 2022 projected revenue. I was hoping management would give an indication of what 2022 revenue could look like. However, management simply talked about ramping up supply in 2022:
So we decided to add manufacturing capacity. We have communicated previously that our capacity for 2022, given the ramp in 2021, will be approximately up to 1.2 billion doses, assuming 100-microgram dose. We have decided and have started to buy additional capital equipment, hire more people and order more raw materials towards 200 million doses per year of capacity for 2022. So if you assume a 100-microgram dose, we will have 1.4 billion doses of capacity for fiscal year '22. In other words, we will build the manufacturing capacity to make up to 140 kilograms, yes, kilograms, of formulated mRNA in 2022.
No news on 2022 revenue was bad news in my opinion. Secondly, the 2022 COVID-19 market could be divvied up between three or four major players. Moderna and Pfizer have vaccines with efficacy north of 94%, this makes them serious contenders. However, the ultra-cold storage requirements for their vaccines could put more stress on their supply chains vis-a-vis competitors. Novavax's vaccine demonstrated 89% efficacy in clinical trials and it can be transported at refrigerated temperatures.
JNJ's vaccine demonstrated 66% efficacy, yet may only require a single dose, versus two-shots for Pfizer and Moderna; a single-dose vaccine could help the vaccination rollout go quicker. JNJ's vaccine also showed 85% efficacy against severe COVID-19 28 days following vaccination, another strength that regulators and consumers could put value on.
Governments will want to disseminate doses evenly among suppliers next year. This would allow the government to not become too dependent one or two suppliers. A $23 billion market split between three or four players implies Moderna's 2022 COVID-19 revenue could fall hard relative to 2021 results. This could make it difficult to support MRNA's $61 billion market capitalization.
Conclusion
2021 revenue is likely a high water market for MRNA. More competition from JNJ and potentially, NVAX, could weigh. Sell MRNA.
I also run the Shocking The Street investment service as part of the Seeking Alpha Marketplace. You will get access to exclusive ideas from Shocking The Street, and stay abreast of opportunities months before the market becomes aware of them. I am currently offering a two-week free trial period for subscribers to enjoy. Check out the service and find out first-hand why other subscribers appear to be two steps ahead of the market.
Pricing for Shocking The Street is $35 per month. Those who sign up for the yearly plan will enjoy a price of $280 per year - a 33% discount.
This article was written by
The Shock Exchange has a B.A. in economics and MBA from a top 10 business school. He has over 10 years of M&A / corporate finance experience. Currently head the New York Shock Exchange, financial literacy program based in Brooklyn, NY.His book, "Shock Exchange: How Inner-City Kids From Brooklyn Predicted the Great Recession and the Pain Ahead", predicted pain ahead for the U.S. economy and financial markets.In 2014 the law firm of Kirby, McInerney, LLP brought a class action lawsuit against Molycorp, Inc. for "materially misleading statements" in its financial statements. Kirby, McInerney used investigative journalism from the Shock Exchange to buttress its case. That's the discipline the Shock Exchange brings to every situation he covers for SA.
Analyst's Disclosure: I am/we are short MRNA. I wrote this article myself, and it expresses my own opinions. I am not receiving compensation for it (other than from Seeking Alpha). I have no business relationship with any company whose stock is mentioned in this article.
Seeking Alpha's Disclosure: Past performance is no guarantee of future results. No recommendation or advice is being given as to whether any investment is suitable for a particular investor. Any views or opinions expressed above may not reflect those of Seeking Alpha as a whole. Seeking Alpha is not a licensed securities dealer, broker or US investment adviser or investment bank. Our analysts are third party authors that include both professional investors and individual investors who may not be licensed or certified by any institute or regulatory body.