Alsea: Domino's And Starbucks Of Mexico Is A Strong Buy
Summary
Alsea's dominant restaurant franchise operator is still selling at a massive Covid-19 discount.
American restaurant chains of much lower-quality brands have regained all their Covid losses already.
Alsea stock would nearly double just to get back to where it was pre-pandemic and would triple to get back to its all-time highs.
The company's balance sheet is strong enough to survive, and the company's long-term prospects remain excellent.
I do much more than just articles at Ian's Insider Corner: Members get access to model portfolios, regular updates, a chat room, and more. Get started today »
Alsea (OTCPK:ALSSF) (Mexico: ALSEA) is Mexico's largest franchise chain. It operates Domino's (DPZ) and Starbucks (SBUX) in Mexico along with numerous other restaurant chains. It also has extensive operations elsewhere in the Spanish-speaking world. The U.S. ADR is very illiquid, I own the ALSEA shares listed in Mexico personally. If you do want the U.S. option, set a limit order for the current share price (25.5 Pesos) divided by the current Peso/Dollar exchange rate (20.8 as of this writing) leading to a fair price of $1.23 per share of ALSSF stock.
Historically the stock has been highly successful, rising from less than 2 Pesos per share 20 years ago to as much as 75 Pesos recently: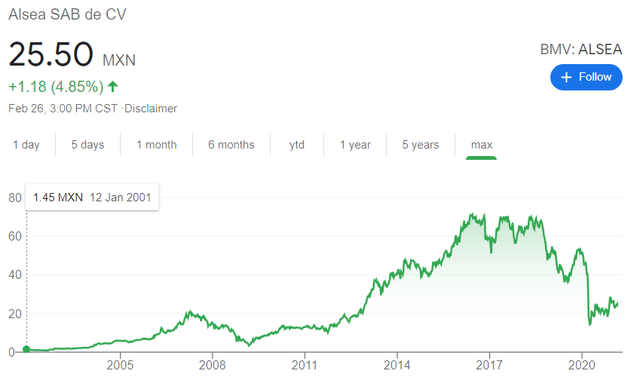 Source: Google
With Covid, however, the stock tanked from 55 Pesos down to around 15, and it's only back up to 25 now. That's in stark contrast to American sit-down restaurant chains: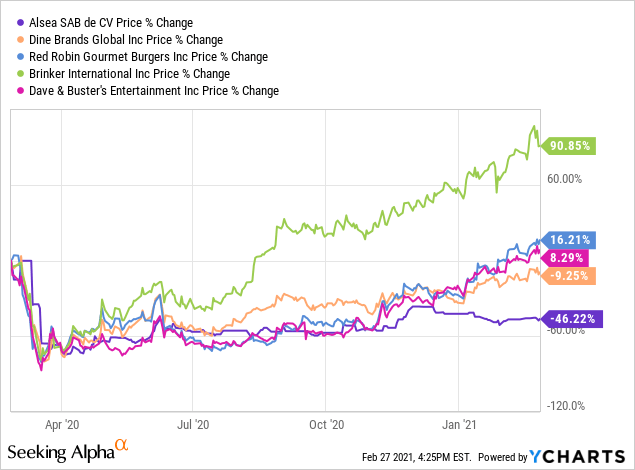 Brinker aka Chili's is actually up 91% over the past year, while others such as Red Robin and Dine Brands aka Applebee's are around flat. Even Dave & Buster's, which is worst positioned of all for Covid with its video arcade concept, is actually up year-over-year. The Starbucks and Domino's of Mexico, however, is still down 46%.
Here's another way to look at it: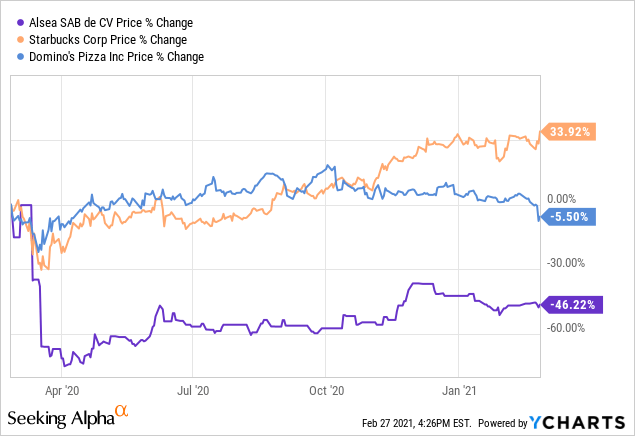 Over the past year, Domino's originally rose and is now around flat. Starbucks is actually up big.
Those are Alsea's leading brands. Yet its own stock is down 46%. Sure, the franchisee takes more risk of the two, but in a pandemic, demand for pizza is going to be good. Let's not get ahead of the story though. What's Alsea, and is there any reason for such a deep discount on the stock.
Alsea: A Diversified Restaurant Empire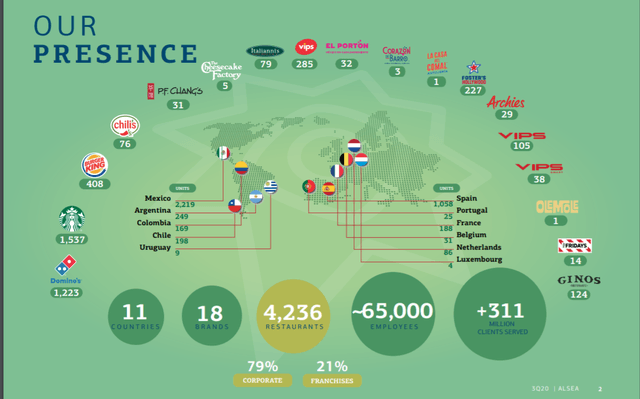 As of last quarter, Alsea operates 4,236 restaurants across 18 different brands in 11 countries. Mexico leads the way with half its store count. Spain is next up, with a quarter of its stores. Then you get to smaller markets such as Argentina, Colombia and, oddly enough, France. Overall, Alsea generates 50% of EBITDA from Mexico, 40% from Europe, and 10% from South America.
By brand, Starbucks leads the way with 1,537 units. Alsea operates 1,223 Domino's as well. After that, you have 408 Burger Kings, and then it trails off from there.
The company started off in 1990 with Domino's in Mexico. It then added the Burger King Mexico license and has been gradually adding new brands and countries ever since. Its decision to license Starbucks in 2002 was the big one and resulted in the huge stock price appreciation you saw above. Starbucks has become a huge chain in Mexico and that puts a lot of cash in Alsea's pocket as well.
From 2014 up until the pandemic started, Alsea grew revenues more than 20%/year, and EBITDA at 18%/year. This is the classic sort of emerging market stock that makes people fortunes. You sell a popular consumer product -- pizza or coffee, let's say -- to a growing middle class and roll out new stores at a frenetic rate. Tried and proven successful model. Alsea still sees several thousand new store locations possible for both Europe and Mexico with its existing brands as well; it hasn't reached market saturation yet.
Of course, however, all that growth has been placed on hold for now. With the pandemic, Alsea stock lost most of its value as people went from thinking about the future to wondering if the firm would go bankrupt.
Alsea & The Pandemic
Alsea was well-positioned for the pandemic on an operational level. The company already has more than 2.5 million app downloads for Domino's Pizza in Mexico, and 2 million Starbucks reward club app members in Mexico. For Domino's, online ordering is already over 25% of total sales, which put it in excellent position to grab more incremental business during the pandemic when everything was closed.
This was apparent from the company's Q3 earnings. It has already returned to positive EBITDA territory overall. While many of its stores are still losing money (and some remain closed altogether), the Starbucks and Domino's businesses are generating large profits. Starbucks Mexico outlets generated 60% adjusted EBITDA margins this quarter, and Domino's did 47% margins.
Other major Alsea restaurant brands such as VIPs are still in EBITDA negative territory since they aren't known for delivery and sit-down is still iffy right now. But when your top two brands are already firing on all cylinders, and the overall business is back to around breakeven, perhaps the stock shouldn't still be near 10-year lows.
Leverage: The Main Bearish Point
The complaint about Alsea stock has always been that management is aggressive. They are constantly doing new deals to add more brands and geographic territories to the business. They don't ever really pause, and they don't even keep leverage fixed.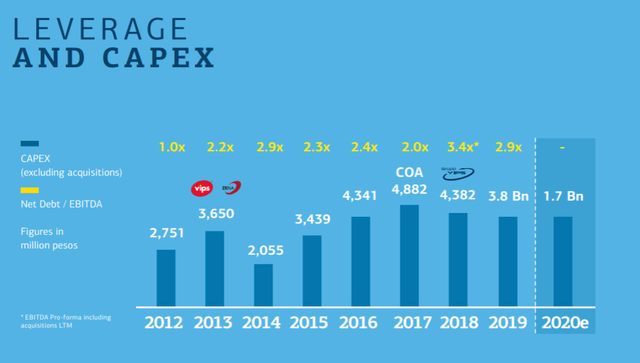 Source: Q3 2020 investor presentation
The company's Net Debt/EBITDA went from 1x coming out of the financial crisis to as much as 3.4x in 2018. Obviously, when you run a cyclical business like restaurants, it's not hard for your revenue stream to dip considerably, thus leading to trouble. Alsea arguably traded under fair value prior to the pandemic because people viewed it as an overly indebted operator skirting on the edge of trouble at any recession.
Thing is, the worst case scenario just happened and Alsea is still standing. The company has a cash position (as of Q3 2020) of 4.6 billion Pesos, and it owes 4.8 billion of Pesos in 2021. So, even assuming it doesn't generate any cash between now and then, and they have issues with banks, they can still deal with their debt for the time being. The company's cash burn went from a chunky 2.4 billion pesos in Q2 at the height of the pandemic to just a 120 million Peso loss in Q3. They'll almost undoubtedly be generating positive cash flow again from Q4 2020 on.
As CEO Alberto Torrado stated:
"While there remains uncertainty, we believe the third quarter was a turning point for Alsea. We posted positive EBITDA across our main regions as sales recovered strongly and our focus on operating efficiency bore fruit [Alsea reduced operating costs by nearly 20%]. We continued to focus on our clients by improving our operations and we are confident that, if this trend continues, the company's year-end will be positive. We will continue working to reaffirm the confidence and trust that our investors have placed in the company."
The banks will be happy to lend to a company that owns Mexico's Domino's and Starbucks. That's the definition of a bankable business. Alsea's European debt, by the way, is struck at an average interest rate of less than 2%. The credit market liked Alsea plenty before the pandemic. And as is, the company is already back to around breakeven, and is recovering tremendously from the depths of the slowdown.
Sales for Q3 surged 91% sequentially from Q2 and are now down just 30% year-over-year. EBITDA jumped more than 100% versus Q2. And, most impressively, delivery sales leapt 42% higher year-over-year and now make up nearly a third of the whole business.
Coming out of the pandemic, Alsea may see higher overall sales than before. A lot of people that became accustomed to using Alsea's apps during the pandemic will keep ordering on them even once things are open again. And with so many small restaurants out of business, Alsea's sit-down places should earn more market share once they are operating normally again as well.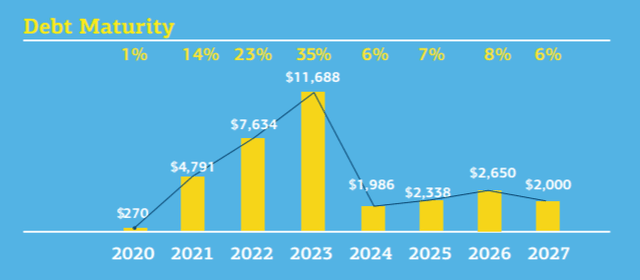 Alsea's debt due by year, expressed in billions of Pesos. Source: Q3 2020 investor presentation
Pre-pandemic, Alsea earned roughly 8 billion pesos per year in EBITDA. Coming up, they have cash on hand to deal with 2021 even assuming no cash generated this year, which is unlikely. 2022 would be covered by a normal amount of earnings. They'll have to refi debt, sell equity, or something to deal with 2023. But it's not a huge gap we're talking about. And, as you can see, past that, the debtload is insignificant.
Fast forward about two or three quarters and the business is going to be putting up massive numbers as the sit-down restaurants come back online while Starbucks and Domino's continue their strong growth. This will look like an obvious Covid-recovery play and people will start pitching the Starbucks of Mexico on the cheap.
Thing is, it's already obvious that this is how it is going to play out. Just look at the Q3 2020 results again. Numbers are improving strongly across most of their brands and geographies. Alsea already has enough operational traction to avoid a debt squeeze, and as soon as it starts generating outright positive EPS again, you know folks are going to come flying into the stock.
It's actually ironic that the main sticking point on Alsea used to be its leverage. You certainly can't knock management's choice of brands or operating strategy. It was growing EBITDA and earnings at 20%/year yet the stock was still roughly flat from 2016 on. Instead, people were worried about debt.
Now the balance sheet has been tested and while it's hardly perfect, all signs point to ample liquidity to get through the mess. Yet the stock is still off 60% from the all-time highs.
Why Else Might The Stock Be Down?
You could blame it on Argentina risk. Alsea has around 6% of its stores in Argentina. These were underearning pre-pandemic (remember, only 10% of Alsea system-wide EBITDA comes from South America.) I've long criticized Arcos Dorados (ARCO), the LatAm McDonald's franchise, for having too much exposure to unstable economies such as Brazil and Argentina. Unlike Arcos, however, Alsea has focused more on Europe for growth along with continuing to build its base in business-friendly Mexico.
On the flip side of that, I'd note that as of Q3, the majority of Alsea's debt was denominated in Mexican Pesos. This is a strength, since the Peso tends to be a weak currency. Thus, the company is naturally hedged. If Latin America struggles, the value of its debt obligations decline, making that easier to handle. Meanwhile, its Euro-denominated revenues from Spain and France would be as valuable as ever.
More broadly, I suspect few retail investors know that Alsea exists. The internet crowd was promoting shares of restaurant chains such as Brinker's and Dine last summer because of short interest and the natural appeal of owning well-known brands like Applebee's. If people knew that the Starbucks of Mexico was publicly-traded, they'd buy it. But they don't know it. So you get a valuation gap.
I think foreigners also fail to appreciate how quickly Mexico has reopened from Covid-19. I've discussed this extensively in my coverage of the Mexican airport stocks so I won't rehash it here. But yes, the economy in Mexico has come back much more quickly than most other places, obviously giving Alsea a tailwind versus restaurants in more Covid-restricted countries such as the U.S. You see it in the Q3 results, where Alsea's sales nearly doubled from Q2.
Also, after a sharp rally last fall, the Mexican stock market and currency have cooled back off a bit in 2021. This has coincided with a pullback in ALSEA stock as well.
In fact, I'd been kicking myself for not getting an official recommendation for Alsea out in November when it was starting to take off. I was busy with my top idea on Corporacion America Airports (CAAP) at the time, which was more of an immediate opportunity with the imminent reopening airports catalyst. Still, it looked like I might have missed Alsea when it surged 40% there in November. Now, though, the stock has retraced nicely, even though nothing too dramatic has happened with Covid-19 or the Mexican economy since then.
Like the other restaurant stocks, this one should recover -- at minimum -- most of its Covid losses. That gets you back to 45 Pesos or so, in line with American peers such as Red Robin or Dine.
Once people figure out that the company's strategic position has been enhanced, particularly with new operating momentum for Domino's, the stock should eventually make it back to the 2018 highs in the 70 Peso range, which would be nearly a triple off today's price.
And ultimately, unless management messes something up, this should be a 100+ Peso stock in a few years. It was growing at a high teens rate prior to the pandemic and shares had been lagging fundamentals for a while already. Domino's and Starbucks are both world-class brands, and Mexico is a great market for them. Mexico is large, it's relatively high-margin, and there's good affinity for American brands. As long as the company overcomes its near-term debt -- which I think it will -- this is a pretty easy one.
Starbucks and Domino's of Mexico down 60% from its highs? Yes, I'll order some of that.
This is an Ian's Insider Corner report published in January for our service's subscribers. It has been updated for subsequent events.
If you enjoyed this, consider our service to enjoy access to similar initiation reports for all the new stocks that we buy. Membership also includes an active chat room, weekly updates, and my responses to your questions.
This article was written by
Ian Bezek is a former hedge fund analyst at Kerrisdale Capital. He has spent the decade living in Latin America, doing the boots-on-the ground research for investors interested in markets such as Mexico, Colombia, and Chile. He also specializes in high-quality compounders and growth stocks at reasonable prices in the US and other developed markets.
Ian leads the investing group
Learn more
.
Analyst's Disclosure: I am/we are long ALSSF. I wrote this article myself, and it expresses my own opinions. I am not receiving compensation for it (other than from Seeking Alpha). I have no business relationship with any company whose stock is mentioned in this article.

I own Alsea shares listed on the Mexican stock exchange.
Seeking Alpha's Disclosure: Past performance is no guarantee of future results. No recommendation or advice is being given as to whether any investment is suitable for a particular investor. Any views or opinions expressed above may not reflect those of Seeking Alpha as a whole. Seeking Alpha is not a licensed securities dealer, broker or US investment adviser or investment bank. Our analysts are third party authors that include both professional investors and individual investors who may not be licensed or certified by any institute or regulatory body.