Overstock: SEC Subpoena, Overvaluation, And Competition Create A Short Opportunity
Summary
The pandemic lockdowns caused a surge in online shopping for furniture and home furnishing items.
This surge, combined with skyrocketing cryptocurrencies, caused Overstock to rise by over 10X in both share-price and valuation.
Overall, Overstock's much-hyped cryptocurrency platform appears unlikely to materially improve Overstock's fundamentals and may even be causing managerial misdirection.
Given chronically low profit margins and declining Ecommerce market-share, it seems OSTK's 50X+ forward "P/E" is not justifiable.
The recent decline in OSTK may only be the beginning of a larger short opportunity.
Overstock.com (NASDAQ:OSTK) was on a tear during the first two months of 2021. The stock rose from under $50 per share to over $100 in a matter of weeks but has since reversed most of those gains. To make matters worse, the SEC subpoenaed the firm last Friday regarding previous guidance statements. This news caused the stock to lose about 5% of its value.
The rapid rise and fall of stocks are surprisingly common in today's financial market. Many stocks have risen dramatically over the past few months, though recently declined dramatically due to rising long-term interest rates and the longer-than-expected lockdown environment.
Initially, Overstock was a pandemic-winner. As consumers reduced out-of-home expenses, many flocked to purchase new rugs, furniture, and other items Overstock sells. Even more, fewer consumers were interested in shopping for such items in-store and opted for online platforms like Overstock. This was also beneficial for companies such as Wayfair (W). However, as you can see below, OSTK's performance has been much better than Wayfair's: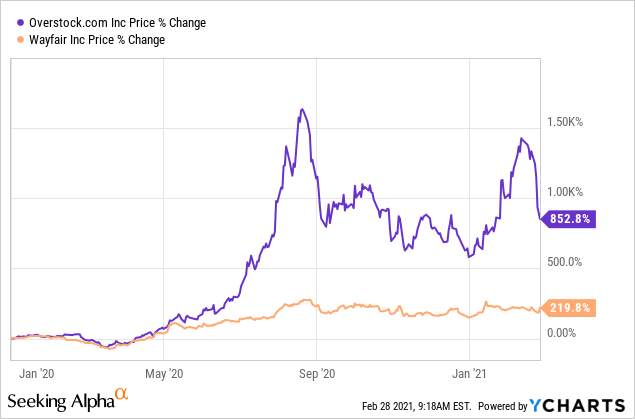 OSTK's performance has been nothing short of phenomenal. The company's value increased by over ten times during the pandemic's onset while its competitor rose only 2-3X - still a sizable return.
Overstock's History With the SEC
With such extreme gains, one can only expect some eyes at the SEC will turn. Overstock has a history of getting subpoenaed by the SEC. It was subpoenaed in October 2019 regarding a dividend payment and management stock trading. It was later subpoenaed regarding its investment in its private asset liquidity platform launch tZero which did not go according to plan.
The company's former CEO Patrick Bryne was also accused of securities fraud and using the token launch to artificially boost OSTK's value in a lawsuit. To make matters more interesting, Byrne also left the position after claiming to be solicited by the FBI to be an informant for a "deep state conspiracy".
Clearly, Overstock's history with the federal government has negatively impacted its value. Importantly, Byrne sold his shares just days before the company announced a negative retail earnings outlook which caused a plunge in OSTK's price. Whether or not this was a coincidence, the SEC's concern over this guidance is warranted. That said, it seems the SEC's investigations largely surround potential insider trading and Patrick Byrne, not the company itself.
I do not believe Overstock's long-term value will see a severely negative impact from any legal battles. However, it is generating negative publicity which could inadvertently harm the company's sales and value. Overall, the legal battles highlight Overstock's strange shift toward the cryptocurrency industry which may be seen as a tactic to improve investor sentiment/interest and not Overstock's fundamental position.
Overstock is Overvalued
While the impact of Overstock's SEC subpoenas may be slightly overhyped, the stock is seemingly overvalued. OSTK rose tremendously in 2020 due to the combination of pandemic-fueled sales and positive investor sentiment surrounding its cryptocurrency stance.
Bitcoin and company's which engage in the cryptocurrency industry such as Silvergate (SI) have seen stellar performance over the past year. Many retail and institutional investors have placed their hopes in digital currencies. Personally, I believe the cryptocurrency rally may be fueled largely by short-term speculation (and extreme leverage) which may mean a profit-taking crash will come soon.
Dr. Byrne was a fan of cryptocurrencies and was CEO when Overstock launched its Medici initiative, an effort that led to tZERO. The platform saw significant growth last year, but still only traded $53M in dollar-value of digital securities which is very small compared to other exchanges (by many orders of magnitude). According to Overstock's most recent 10-K (pg. 16), the company has also not generated any revenue from commercially available blockchain applications. The platform's digital security, TZROP, has also not seen material appreciation since it was launched.
Overall, it seems Overstock's cryptocurrency initiative is unlikely to materially increase the company's earnings and may continue to create losses. Many investors view tZero as a 'dark horse' that will eventually boost the company, but the fact is that tZero is a small non-competitive fish in a massive pond with many firmly established cryptocurrency firms. While cryptocurrency is seductive to the many investors looking for large gains today, competition makes tZERO an unlikely winner.
While tZERO has not really boosted Ovestock's fundamentals, it has certainly boosted the stock valuation: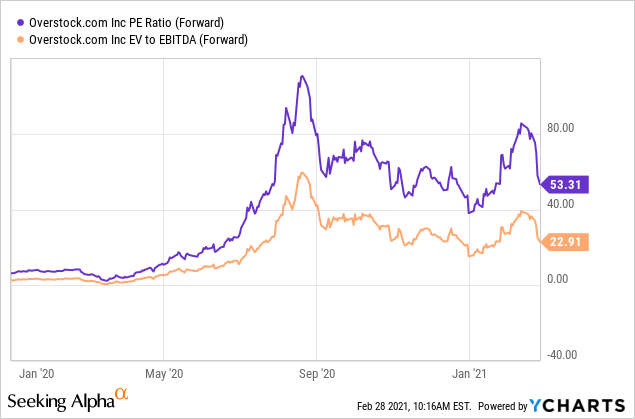 OSTK had a low forward "P/E" of 5-10X a year ago and a forward "EV/EBITDA" of 2-5X. Today, those figures are approximately a magnitude higher at 50-100X and 20-50X respectively. While Overstock has seen significant earnings and revenue growth over the past year, this is largely due to a substantial sales and income loss that took place during 2019. See below: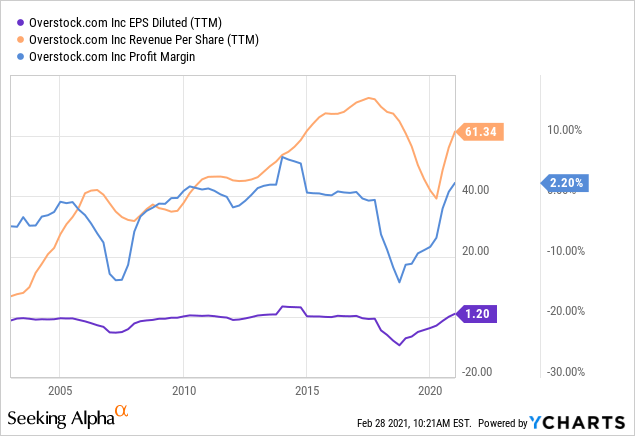 Like most retailers, Overstock.com has never generated a significant profit margin due to competitive pressures. Wayfair has managed to grow at a significantly faster pace than Overstock and has taken most of its market-share. I believe this factor is a major reason for Overstock's 2018-2019 revenue decline. Unless the company can pull off a turnaround, it seems competitive pressures from Wayfair will continue to keep Overstock's revenue and earnings low/negative.
Quite frankly, it seems Overstock's management may have put too much energy into chasing the cryptocurrency hype as opposed to maintaining a sure-footed position in its core retail business.
The Bottom Line
The outlook for online furniture retail is strong and it is likely that consumers will continue to shift toward using platforms like Overstock.com. However, for the time being, Wayfair's business has been by far the primary benefactor of this transition while Overstock has been left in the dust. See below: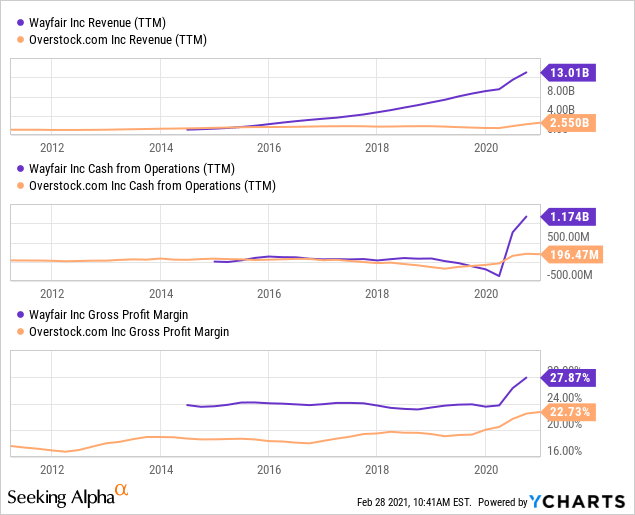 Wayfair and Overstock have similar prices, but Wayfair usually generates a stronger gross margin and cash-flow. Overstock still benefits from its lack of significant financial liabilities and may still grow revenue as more consumers shop online. That said, higher-cost indoor item sales tend to be cyclical and the recent surge in furniture buying-activity may result in a long-term slump in the future. While online furniture shopping is growing, the overall furniture/home furnishing shopping market is still slowing down over the long-term.
Overall, I believe this makes both Overstock.com and Wayfair poor investments with significant overvaluation risk. That said, it seems OSTK is the worse of the two due to its fundamental underperformance compared to Wayfair, excessive managerial focus on a non-core (and money-losing) product, and, most importantly, an egregiously high valuation. It is possible that Overstock's management pulls off a turnaround and improves market share, but it seems highly unlikely the company's earnings will rise to a reasonable level given its market capitalization today.
The fact is that the online furniture/home furnishing market is extremely competitive as consumers will usually opt for the lowest-priced retailer. This makes it unlikely for Overstock to improve its profit margins and sales growth. Even more, skyrocketing lumber costs, supply-chain issues, and other inflationary pressures may further constrict Overstock's profitability over the coming years.
A Short Opportunity
In light of the fundamental situation and OSTK's recent sell-off, I believe the stock may be a short opportunity. Currently, around 8-9% of OSTK shares are being short-sold which means it is a short-target but is still unlikely to experience a large short-squeeze. Its short borrowing cost is also near zero today.
Short-selling the stock is risky considering its volatility (and news volume), so tight stop losses are necessary. The stock has declined significantly in recent weeks so it is possible the stock bounces temporarily before returning even lower.
In my view, OSTK's fair value is around $25 per share which is 20X its forward EPS. However, if negative pressures return, then OSTK could easily decline much lower.
This article was written by
Harrison is a financial analyst who has been writing on Seeking Alpha since 2018 and has closely followed the market for over a decade. He has professional experience in the private equity, real estate, and economic research industry. Harrison also has an academic background in financial econometrics, economic forecasting, and global monetary economics.
Analyst's Disclosure: I/we have no positions in any stocks mentioned, and no plans to initiate any positions within the next 72 hours. I wrote this article myself, and it expresses my own opinions. I am not receiving compensation for it (other than from Seeking Alpha). I have no business relationship with any company whose stock is mentioned in this article.
Seeking Alpha's Disclosure: Past performance is no guarantee of future results. No recommendation or advice is being given as to whether any investment is suitable for a particular investor. Any views or opinions expressed above may not reflect those of Seeking Alpha as a whole. Seeking Alpha is not a licensed securities dealer, broker or US investment adviser or investment bank. Our analysts are third party authors that include both professional investors and individual investors who may not be licensed or certified by any institute or regulatory body.