Baudax Bio: A Little Slow Off The Launch Pad But Still Making Headway
Summary
Baudax Bio recently reported their Q4/2020 earnings that revealed a huge miss on EPS and revenue. The COVID-19 headwinds continue to restrict Anjeso's ability to get off the launch pad.
Despite the disappointing start, the company has several commercial highlights that investors should take note of. It appears that current institutions are reordering Anjeso and are showing signs of adoption.
I discuss my leading downside risk and reveal my plans to add to my undersized BXRX position.
Baudax Bio (OTC:BXRX) shares have been under pressure since the company reported their full-year marks that missed the Street's estimates. The company's flagship product, Anjeso, has been slow off the launch pad due to the interferences produced by the COVID-19 pandemic. Although the company has made some headway, the company only pulled in ~$0.5M in Anjeso sales for 2020, which was off analyst estimates by $1.13M. Indeed these setbacks are material for the company. However, I believe Baudax has made some notable progress in spite of the pandemic, including a 58% increase in vials sold in Q4 over Q3. In addition, the global vaccination campaign could get a handle on COVID-19, which could lead to a potential influx of elective surgeries in the quarters and encourage formulary reviews to get back on schedule. As a result, I am looking to add to my BXRX position in anticipation the company is able to benefit from reopening.
I intend to point out some of the highlights in the company's Q4/2020 numbers and will discuss the company's efforts to push through the COVID-19 headwinds. In addition, I will discuss my leading downside risk and how it impacts my bull thesis. Finally, I reveal my plan to make my first addition to my undersized BXRX position in a long time.
Commercial Headway into a Maelstrom of a Headwind
Admittedly, Anjeso's launch has been frustrating to watch thus far. The COVID-19 headwinds have annihilated the demand for elective surgeries, so there is a reduced demand for Anjeso. In addition, the formulary and P&T reviews have essentially given Anjeso a red light until things return to "normal." However, the company has made some progress since launch, and the company has reported a 63% increase in average account purchases and roughly 60% of existing accounts reordered in Q4. So, there is evidence that some of the customers are adopting Anjeso into their paradigm.

Figure 1: Anjeso Status (Source: BXRX)
The number of Anjeso sold increased by 58% in Q4 over Q3, with the number of units sold to hospitals and ASCs surging over 80%. What is more, the average quarterly orders per account and the reorder rates both increased by 60% in Q4. Baudax believes they are "seeing average weekly sales orders, sizes and units per account continue to increase month over month."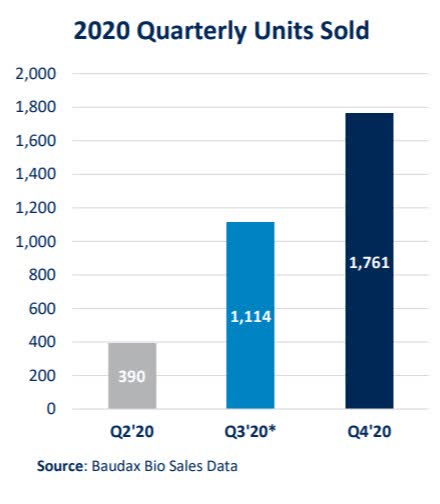 Figure 2: Anjeso Units Sold By Quarter (Source: BXRX)
Finding Some Trends and Tendencies
In 2020, almost 70 institutions put Anjeso on their formulary, and that number has already improved since the beginning of 2021. These institutions will hopefully end up ordering Anjeso in 2021 and become repeat customers that Baudax can rely on. However, the company needs to continue to press these institutions until they have adopted Anjeso as a major component to their treatment paradigm and are ordering a steady amount from Baudax.
The company has been working on these institutions, but they are noticing many of their current or repeat customers have dissimilar ordering tendencies or adoption behaviors. Baudax is observing their large ASC customers that have got Anjeso through P&T approval are consistently ordering 30-50 units per month and their affiliated hospitals are starting to order.
The midsized hospital clients are showing deferred inception for Anjeso, but these hospitals have purchased about 200 units over several orders. An academic medical center took nearly six months to get their first order in.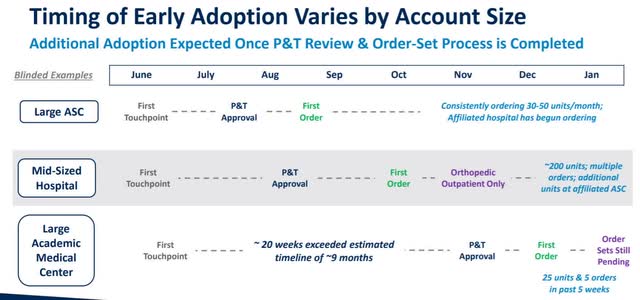 Figure 3: Anjeso Adoption (Source: BXRX)
In this circumstance, the medical center is using Anjeso, but has yet to order sets for service lines.
What's the takeaway from this?
All three of these examples show how Anjeso is being accepted, but it is still a slow process to get it up to full speed… throw in COVID-19 and public health mandates, and you have additional speed bumps that will hinder a clean acceleration.
Time to Get Innovative With Commercial Efforts
In order to address the need to inform healthcare providers while abiding by COVID-19 protocols, Baudax is looking to employ a cost-effective and innovative method of promotion (Figure 4).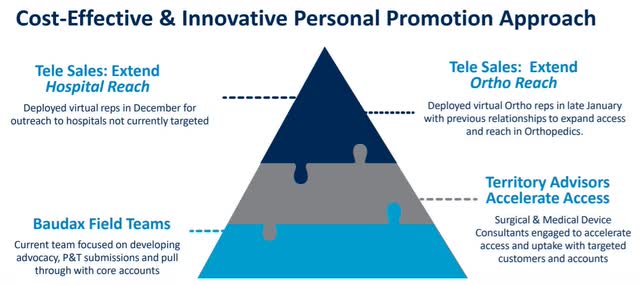 Figure 4: Anjeso Approach (Source: BXRX)
In order to secure P&T wins and establish core accounts, the company has launched a "virtual telesales team" to assist in increasing awareness in not currently targeted hospitals in a COVID-19-friendly and cost-effective manner. Although this team was installed in December, Baudax has already realized some accomplishments and could be laying the groundwork for a potential surge in use once ASC, orthopedics, and large medical centers return to normal operations.
Downside Risk
My biggest concern is the company's financials and the burn vs. the earn. The company used $43M in cash for operations last year, which will become a major concern if Anjeso is still handcuffed from COVID-19, and the company is able to secure additional accounts in the coming quarters. Luckily, Baudax has raised over $50M in net proceeds in last few months, which allowed the company to leave 2020 with over $30M cash and cash equivalents. Recently, the company has amplified the position and executed an additional round of financings that raised approximately $28.5M net proceeds (Figure 5)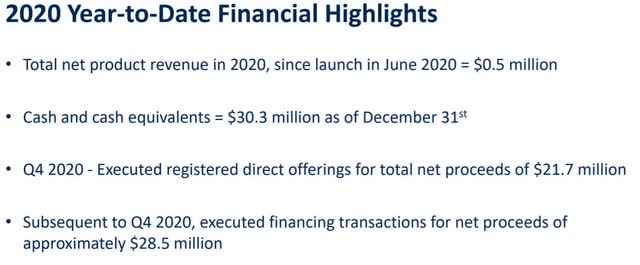 Figure 5: Baudax 2020 Financials (Source: BXRX)
Now, the company should have sufficient cash to support their increasing SG&A expenses from commercialization efforts and personnel… but for how long? I know the company is finding ways to be cost-effective, but the cash burn will remain elevated in order to support commercial efforts. As a result, investors need to accept there is a strong possibility the company executes an additional offering or takes on debt to keep the lights on. It is important to understand the Anjeso is designed to thrive in the pre-COVID-19 world. So, until we see light at the end of the tunnel, we have to be cautiously optimistic about Anjeso's prospects during the pandemic.
My Plan
Admittedly, I have been waiting for months to find an opportunity to add to my BXRX position, but the stars never aligned for me. Now, I see that BXRX "based" from about October to the beginning of the year and has made its first move off the bottom (Figure 6).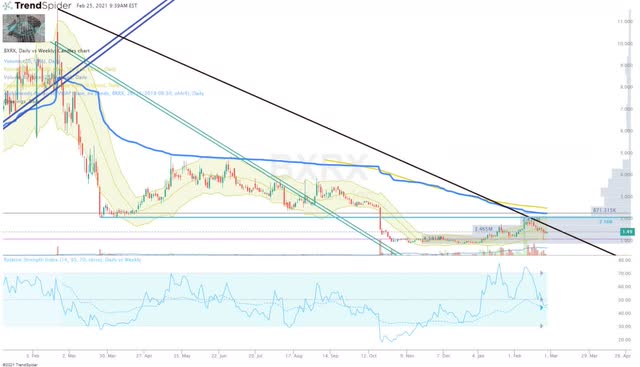 Figure 6: BXRX Daily (Source: Trendspider)
I am going to wait until I see the share price break that long-term downtrend line before hitting the buy button. Once the share price breaks the downtrend, I will look to see if it can clear the anchored VWAP (blue line) before making any further additions. I don't expect BXRX to enjoy any sustained rallies until Anjeso starts pulling its own weight, so I am not willing to go all-in at this point in time. Long term, I am going to remain ultra-conservative in my position-sizing in order to give BXRX plenty of time to mature.
This article was written by
Biologics is a full-time healthcare investor who developed a passion for biotech and life saving therapies after working in the medical field for years. His trade focus is around innovative companies developing breakthrough therapies and/or pharmaceuticals with catalysts for potential acquisitions.
He is the leader of the investing group
Compounding Healthcare
. Features of the group include: Several model healthcare portfolios, a weekly newsletter, a daily watchlist, and chat for dialogue and questions.
Learn more
.
Analyst's Disclosure: I am/we are long BXRX. I wrote this article myself, and it expresses my own opinions. I am not receiving compensation for it (other than from Seeking Alpha). I have no business relationship with any company whose stock is mentioned in this article.
Seeking Alpha's Disclosure: Past performance is no guarantee of future results. No recommendation or advice is being given as to whether any investment is suitable for a particular investor. Any views or opinions expressed above may not reflect those of Seeking Alpha as a whole. Seeking Alpha is not a licensed securities dealer, broker or US investment adviser or investment bank. Our analysts are third party authors that include both professional investors and individual investors who may not be licensed or certified by any institute or regulatory body.