Citigroup Inc. (NYSE: C) is getting a new leader today, and her name is Jane Fraser.
Ms. Fraser came to Citigroup in 2004 having worked at Goldman Sachs and McKinsey & Co. previously. At Citi, has moved around a lot, getting her familiar with many different segments of the business. Some analysts are not that pleased with this because, although she has been successful enough to gain attention for the top slot, her explicit operational performance is difficult to discern.
So, Ms. Fraser now starts out. And, how is the bank doing?
Some analysts don't think that the bank is doing very well.
For example, in terms of market value, Citigroup, as of February 26, 2021, had a market value of $137 billion. It has the fifth largest market value among the six biggest banks in the country. At the end of 1999, the bank had a market value of $188 billion and it was number one in that category.
So, there has been a big drop in market value over these twenty-some years.
And, this record, over this time period was not very good, but we need to divide this period up into two sub-periods: before Michael Corbat, the outgoing CEO, and after October 2012, when Mr. Corbat took over the reins of the bank.
Mr. Corbat Performs
The Great Recession did Citigroup in. The bank had gone through some hard times up until then, but, in November 2008, Citigroup was insolvent, Federal regulators and the bank worked out a plan to stabilize the company.
Without going deeply into this picture, Mr. Corbat was eventually brought in to run the bank.
Very frankly, given the task facing him, I believe that Mr. Corbat did a very good job. I have said as much in quite a few articles I have written. He may not have solved all of the bank's problems, but his efforts carried the bank in a considerable way.
My reason for supporting the work Mr. Corbat did can be captured in the accompanying chart showing the bank's return on average tangible common shareholders' equity.
Mr. Corbat took over in late 2012. Citigroup's return on shareholders' equity turned around and moved up to about 7.5 percent in 2016. Then in 2017, 2018, and 2019, Citi's return on equity increased every year, reaching more than 12 percent in 2019. As can be seen, Citi's performance this year was almost equal to the medium return posted by the six biggest banks.
The performance in 2020 was not that good…Citi earned a 5.9 percent return on equity for the year, but, as I reported in January, the bank recovered well during the year, posting a 7.6 percent ROTCE in the third quarter and an 11.4 percent return in the fourth quarter.
JPMorgan Chase & Co. (JPM), the "Fortress Bank", was dominating the results of the biggest banks in 2020 and turned in a 14 percent ROTCE, for the full year!
Citi, however, with its fourth quarter performance put up a return that exceeded the cost of capital estimated for the largest banks of 10 percent. Mr. Corbat had gotten the bank "back in the game."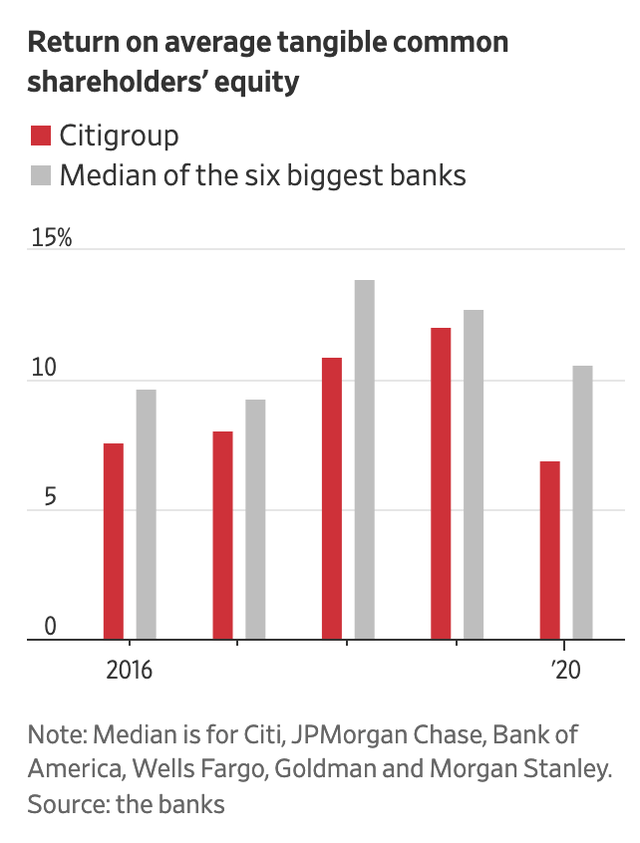 Moving Forward
There are some issues, not really small ones, that Ms. Fraser will have to face and their resolution will go a long way toward determining how her performance works out.
There are three major areas that seem to top the list of "things to do."
First, Citigroup grew into a multi-product, multination institution under the leadership of the pre-Corbat years. The resolution of this problem will not be an easy one, Mr. Corbat has left a lot for his predecessor to do, and is not unsimilar to what many other firms and industries faced coming into the twenty-first century.
This structure came into existence in the 1990s as many corporations tried to become multi-faceted organizations, more like a portfolio manager than a focused corporate business.
During that time, Citigroup combined with Traveler's Insurance, a company that had purchased the large Wall Street investment bank, Solomon Brothers, to create this huge, undefined corporate giant. And, then the troubles started. The problems are not unlike those faced by General Electric Co. (GE) and AT&T Inc. (T) (I have discussed these companies in many different posts.
The word that Ms. Fraser uses to define what needs to be done here, is "Simplify."
Second, Citigroup faces a major task given it by the bank regulators. Last fall, regulators ordered the bank to do a "vast overhaul" of the "systems" that are at the foundations of its risk management effort and that underpin its sprawling global operations, a part of the concern over the complexity of the bank's previous business model.
Third, the two items above really combine with the third major issue Ms. Fraser faces. This third issue is about the future of Citigroup's digital banking initiative. Creating a digital network that works globally (note that Citigroup has operations in 96 nations), and that builds a strong customer presence, (Citigroup has less than 700 branches in just a handful of cities). On the later point, Citigroup and Google has announced a coming partnership
Bottom Line
I have no argument with the claim that Ms. Fraser has a tremendous job ahead of her.
Like the situations at General Electric and AT&T, Citigroup faces some real legacy issues that it still must resolve.
Mr. Corbat, during his tenure, brought Citigroup back a long part of the way. Now, it's Jane Fraser's turn. I look at this move positively. Ms. Fraser has seemed to handle legacy issues and diversified operations well. I think that Citigroup has a much better and more focused management team to back Ms. Fraser up.
Ms. Fraser has said that regulatory issue is her first priority, but the other two issues have to do with bringing Citigroup further into the era of the "new" Modern Corporation, one that is built on intellectual capital and is composed of platforms and networks.
Ms. Fraser has no choice but to head in this direction. That is the future.
Because of Mr. Corbat, I felt continued to feel that Citigroup is a good, long-term investment. With the ascension of Ms. Fraser to the top spot, I still have positive hopes for the future performance of the company. Keep that ROTCE rising toward 15 percent.