Summary
The recent tech correction has taken Asana's stock down nearly 20% from all-time highs.
The company shone bright in its first public earnings release since going public, with revenue growing 55% y/y.
The trend toward remote work is here to stay, and Asana's work enablement platform will continue to grow in relevance.
Asana's integrations with top-tier software platforms like Slack and Microsoft will continue to put its software into the mainstream.
I do much more than just articles at Daily Tech Download: Members get access to model portfolios, regular updates, a chat room, and more. Get started today »
A common question during sharp market downturns: when looking across the minefield, is there anything worth buying? In my view, Asana (NYSE:ASAN) presents a compelling buy-the-dip opportunity. The work collaboration tool, founded and led by Facebook co-founder Dustin Moskovitz, executed a direct listing last October that opened at $27 per share. Shares climbed steadily until the recent tech reversal, which now has Asana down ~20% from all-time highs: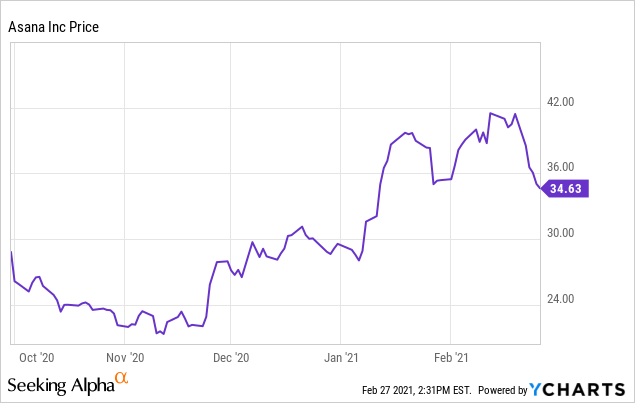 Though Asana is still far from cheap, I think this temporary fall is a great time to enter into a short/medium-term trade in Asana. There is no question that this is a high-quality software platform with an expansive growth trajectory ahead of it.
Here are the key bullish drivers behind Asana:
Remote work isn't going anywhere. Even when the pandemic is over, many companies have planned to increase their proportion of remote workers because A) it's positive for employee flexibility and B) it helps companies reduce their real estate footprint and cut down on overhead. Workflow tools like Asana will only become more relevant in the future.
Ultra-high gross margins. Asana has one of the highest gross margin profiles in the software sector, which gives it tremendous runway for future profitability. In its most recent quarter, Asana's pro forma gross margins nearly hit 88% - meaning nearly every dollar of incremental revenue flows through to the bottom line.
Top-notch integrations. Despite being a relatively new platform, Asana has struck deals and built integrations with some of the biggest names in enterprise software, including Slack (WORK), Zoom (ZM), and Microsoft (MSFT) - vaulting its product into the pantheon of mainstream software tools.
Star power. Having an entrepreneur as high-profile and successful as Dustin Moskovitz at the helm of Asana also increases customers' and investors' trust in the company.
This being said, Asana certainly isn't a cheap stock. At current share prices near $35, Asana has a market cap of $5.51 billion. After netting off the $423.9 million of cash and $353.3 million of debt on Asana's most recent balance sheet, the company's enterprise value is $5.44 billion. Versus Wall Street's expectations of $294.0 million (+33% y/y, which seems very conservative given that Asana exited Q3 at a 55% y/y revenue growth rate), Asana trades at 18.5x EV/FY21 revenue.
While this is certainly expensive, several other high-growth software companies like Palantir (PLTR), Okta (OKTA), MongoDB (MDB), and Datadog (DDOG) still trade at higher valuation multiples in the 20-30x range. In my view, I'd use the dip in Asana shares to buy into a transformational, high-margin software company while it's still relatively small.
Q3 download
As previously mentioned, Asana knocked expectations out of the park when it first reported quarterly results for the first time in December since its October direct listing. Let's go through those results in detail - take a look at the earnings summary below:
Figure 1. Asana Q3 results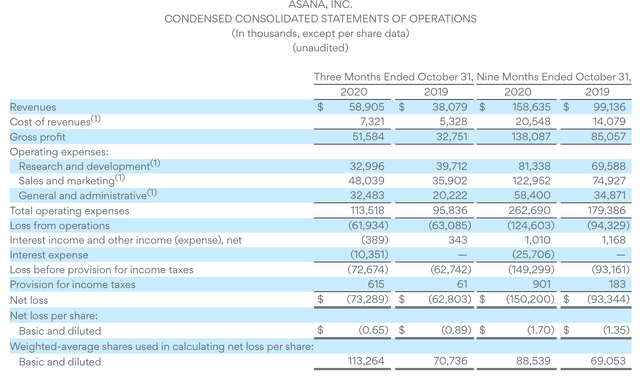 Source: Asana Q3 earnings release
Asana's revenue soared 55% y/y to $58.9 million, decimating Wall Street's expectations of $54.1 million (+42% y/y) by a massive thirteen-point margin. Asana's growth is backstopped by a massive global market for work collaboration platforms: in 2020, Asana estimated its TAM at $23 billion (suggesting less than 1% overall market penetration); by 2023, Asana estimates that its market will grow to $32 billion, based on 1.25 billion global "information workers "that could make use of Asana's platform.
A "land and expand" sales strategy is key to Asana's growth. In Q3, Asana achieved a 115% net revenue retention rate - meaning that the typical client will expand their billings with Asana by 15% in the subsequent year. Like many other enterprise software platforms, Asana can be deployed by just one team or one department at first, but as organizations recognize the benefit of the tool, that initial deployment can balloon across an entire company.
In a slide below from Asana's December investor presentation, the company notes that for a particular large insurance client, Asana was initially only installed for 50 employees, which eventually led to a multi-year deal encompassing multiple departments and 3,200 total seats.
Figure 2. Land and expand example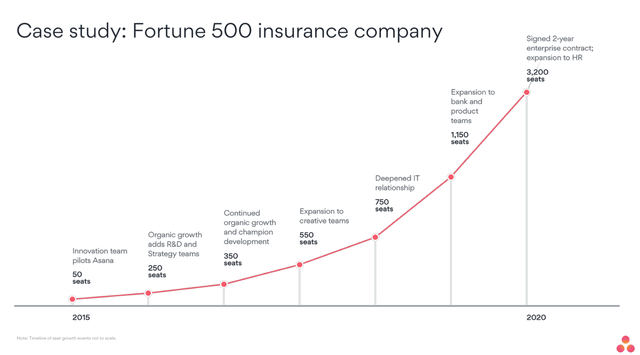 Source: Asana December 2020 investor presentation
The key to Asana's expansion is the fact that its use cases are so varied. The slide below shows how a specific deployment for a specific team (for example, customer support) can lead to a slew of other functions streamlined on the Asana platform:
Figure 3. Asana land and expand strategy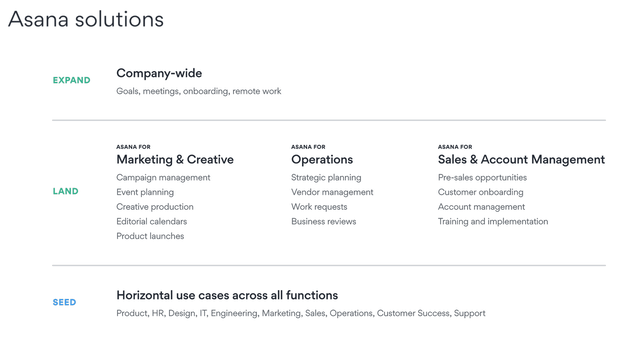 Source: Asana December 2020 investor presentation
At the same time as the company is pursuing expansions within the current install base, Asana's overall customer base has also been dramatically expanding. The pandemic has not slowed Asana's rate of customer adoption: in fact, the 7k customers it added in Q3 is faster than any other quarter in recent history. Over the past two years, Asana's customer base has grown ~35%:
Figure 4. Asana customer base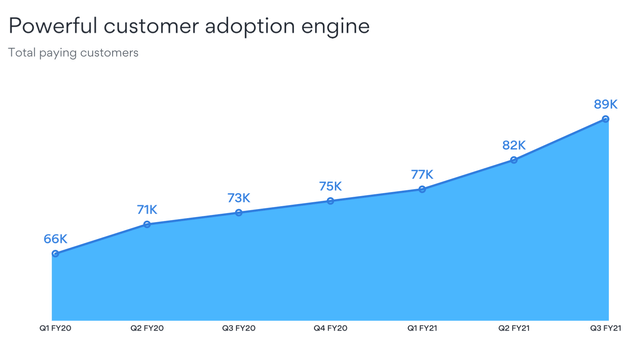 Source: Asana December 2020 investor presentation
Scale has also lent Asana a much better margin profile. Asana's pro forma gross margins in Q3 rose 150bps to 87.7%: a best-in-class margin that tops most other SaaS companies in the market.
Figure 5. Asana gross margin trends

Source: Asana Q3 earnings release
While Asana is currently unprofitable because it spends so much of its revenue on sales and marketing (pro forma sales and marketing costs ate up 77% of Asana's revenue in Q3), the fact that Asana is landing bigger contracts and signing expansion deals means that over time, the company can pare down its operating expenses and rely on its massive gross margin stream to drive earnings and cash flow.
Key takeaways
Momentum stocks like Asana that are growing at a rapid >50% y/y pace, especially those led by well-known and proven entrepreneurs, are rarely ever on sale. In my view, the recent ~20% haircut that Asana has taken to its stock creates a great entry point into an enterprise software company that will continue to thrive with the increased normalization of remote work.
For a live pulse of how tech stock valuations are moving, as well as exclusive in-depth ideas and direct access to Gary Alexander, subscribe to the Daily Tech Download. Highly curated focus list has consistently netted winning trades of 40%+.
This article was written by
With combined experience of covering technology companies on Wall Street and working in Silicon Valley, and serving as an outside adviser to several seed-round startups, Gary Alexander has exposure to many of the themes shaping the industry today. He has been a regular contributor on Seeking Alpha since 2017. He has been quoted in many web publications and his articles are syndicated to company pages in popular trading apps like Robinhood.
Analyst's Disclosure: I/we have no positions in any stocks mentioned, but may initiate a long position in ASAN over the next 72 hours. I wrote this article myself, and it expresses my own opinions. I am not receiving compensation for it (other than from Seeking Alpha). I have no business relationship with any company whose stock is mentioned in this article.
Seeking Alpha's Disclosure: Past performance is no guarantee of future results. No recommendation or advice is being given as to whether any investment is suitable for a particular investor. Any views or opinions expressed above may not reflect those of Seeking Alpha as a whole. Seeking Alpha is not a licensed securities dealer, broker or US investment adviser or investment bank. Our analysts are third party authors that include both professional investors and individual investors who may not be licensed or certified by any institute or regulatory body.