Volvo (OTCPK:VLVLY) had a disappointing 2020, and there's every reason to believe that the company's business will not return to its pre-pandemic levels in the following quarters. Last year its deliveries fell by 6.2% Y/Y, and the biggest drop of -15% Y/Y came from Europe, which is its largest market that accounts for half of the total sales. As the world goes carbon-neutral and traditional manufacturers expand their presence in the EV space, it will be hard for Volvo to compete with its rivals going forward, since the company doesn't have a solid lineup of EV vehicles to this day. While Volvo's stock has appreciated in recent months and outperformed S&P 500, we believe that its momentum will slowly fade away due to weak fundamentals. For that reason, we believe that it's better to avoid its shares and look for other, more attractive opportunities.

Chart: Seeking Alpha
We See Red Flags Everywhere
Despite the recent growth of Volvo's stock, we see several red flags, which could prevent it from growing further. Just a few months ago, the company recalled 54k cars in the United States due to a fatal incident involving an airbag defect. According to the regulatory filing, the airbag inflator could break and send different metal fragments when it's being deployed in different Volvo cars. In addition to that, at the end of 2020 Volvo recalled over 6,000 new diesel and electric trucks across its four model lines in Canada and the United States due to the parking brake issues, which could cause the driver to lose control of the vehicle and increase the risks of crashing. This happened a few weeks after Volvo announced that its Class 8 Volvo VNR EV is ready for release in 2021. This is big news considering that Volvo's trucks play an important part in expanding the company's presence in the automotive industry. On top of that, in early December Volvo also halted the sales of its trucks in Mexico due to the COVID-19 outbreak in the region. Considering all of this, there's no guarantee that any other cars or trucks won't be recalled. Also, with a weak portfolio of electric vehicles, the current recall makes it even harder to justify a long position in the company.
The latest earnings report showed that Volvo sold 661,713 cars in 2020, down 6.2% Y/Y, yet the company managed to offset most of the losses that were caused by the pandemic in the first half of 2020. However, its net sales in FY20 nevertheless declined to SEK338 million from SEK431 million a year ago, while its operating margin also declined from 11.5% in 2019 to 8.1% in 2020. Return on equity in FY20 was 13.8%, down from 27% in FY19.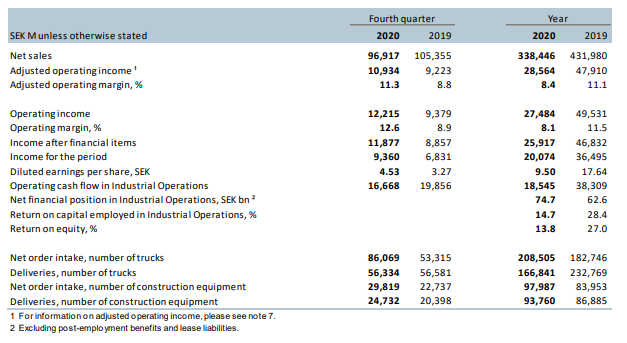 Source: Volvo
With such results, we believe that the company will continue to underperform, at least in the first half of 2021. The company already reported that its January sales are down 9.7% Y/Y, so it's safe to assume that it might not be able to return to its 2019 sales levels in 2021.
The biggest weakness of Volvo at this stage is its weak lineup of electric vehicles. As the US rejoined the Paris Accord, while China aims to become carbon neutral by 2060, the automotive behemoths already began to modernize their facilities in order to prepare for an all-electric future. Volkswagen (OTCPK:VWAGY), which is one of the biggest Volvo competitors in Europe projects that 60% of all of its fleet will be plug-in hybrid or electric vehicles and it currently has plans to release a total of 75 different EVs by 2029. Tesla (TSLA) is also preparing to establish an even stronger presence in the European Union in the following years, as its newest Gigafactory in Berlin will help it to drive down the price of its cars for consumers. In addition, Daimler (DMLRY), which is one of Volvo's major competitors in trucks, is planning to spin off its trucking unit and make it public in order to help it raise more cash and grow it quicker on its own. Also, while Volvo managed to improve its sales in China in recent months, the rise of the new generation of domestic electric vehicle manufacturers such as XPeng (XPEV), NIO (NIO), Li Auto (LI), and others in the region will make it even harder for Volvo compete in that market going forward. As the world prepares for an all-electric future, Volvo currently has only a handful of electric models that are projected to be released shortly, while its competitors are throwing everything they have in order to increase their footprints in the new electric market. With that in mind, it's hard to predict whether Volvo will be able to benefit from the upcoming electric vehicle revolution, which already disrupts the automotive industry, with a small lineup of EV cars.
Considering all of this, we believe that Volvo's stock will lose its momentum in the near future and depreciate. In addition, due to the risks of further recalls, there's no guarantee that Volvo car sales will return to their pre-COVID levels in 2021. Also, with a weak lineup of electric vehicles, it will be even harder for the company to compete with others within the automotive industry in the long run. For those reasons, we believe that it's better to avoid Volvo, especially at the current price.
Liked the article? Bears of Wall Street is happy to announce that you can gain access to the growing library of similar articles with a bearish sentiment by subscribing to the #1 Seeking Alpha marketplace service for short ideas called Best Short Ideas. If you like to enter the world of short selling and learn more about unconventional stock market strategies, then give the service a try and opt for the FREE 14-day trial today! More details here.