Etsy: From Niche To Mass Market, The Best Transformation Story Of 2020, An Extensive Review
Summary
Etsy is one of the best business transformation stories in 2020.
It kick-started with an unprecedented surge in sales for essentials and fashionable mask sales in March 2020.
Today, Etsy is the go-to place for unique home furnishing and artisan products in other categories. Mask sales account for only 4% of total GMS.
We go through how Etsy transformed itself so impressively.
Etsy is well-positioned to overdeliver in 2021 again, despite headwinds from the economy reopening.
Investment Thesis
We have been wrong before on Etsy (NASDAQ:ETSY) but were so impressed by how the company handled the pandemic that we became a bull from Q2'2020. At the Q4 and fiscal year 2020 results conference, the CEO, Josh Silverman, reminded us why we had made the right decision.
[…] 2020 was, no doubt, a transformative year for Etsy, a time when circumstance met preparedness, highlighting the agility of our model, the dynamism of our team and the power of our differentiated strategy. Etsy emerges transformed a larger and stronger marketplace as a result.
Indeed, Etsy emerged stronger from Covid-19, revenue multiplied by 2.2x and net income by almost 5x compared to FY2019. Improvements in buyer acquisition, purchase, and after purchase experience had led first-time buyers and lapsed buyers returned to active buyers.
Thanks to Etsy's distinctive offerings, excellent purchase experience, network effects of its platform, capital-light and agile business model, Etsy is well-positioned to expand to other product categories and geography. The total addressable market ('TAM') would grow drastically from $100B to $250B, allowing Etsy to sustain its strong growth for many years to come.
An investment in Etsy today isn't just about hopes and dreams. At 16x EV/Sales, 12x NTM EV/Sales, and 40x EV/EBITDA, it's also about a very reasonable valuation.
Impressive growth and no longer a niche handcraft eCommerce site
Etsy reported yet another spectacular set of financial results.

Total buyers summed up to 150M by the fiscal end of 2020, of which more than half were active. These are 81M buyers who bought once during the previous 12 months, up 77% YoY. Under this cohort, 32.3M bought more than one purchase. Etsy called these repeated buyers, up 97% YoY.
More impressively, the most crucial cohort, ' habitual buyers,' who purchased more than six times a year or more than $200 a year, grew the most. The number was 6.5M, up 157% YoY.
These numbers could not be so impressive without Etsy doing something special to attract new buyers and lapsed buyers. Approximately 22% of new buyers in 2020 became repeat buyers within 60 days of their first purchase, up from 16% in 2019. These data points are indicative that the underlying trends in the marketplace continue to improve. And these buyers will fuel future sales (like recurring revenues). If we look back to the 2015 cohort, they have purchased the most in 2020, with $55.7/buyer.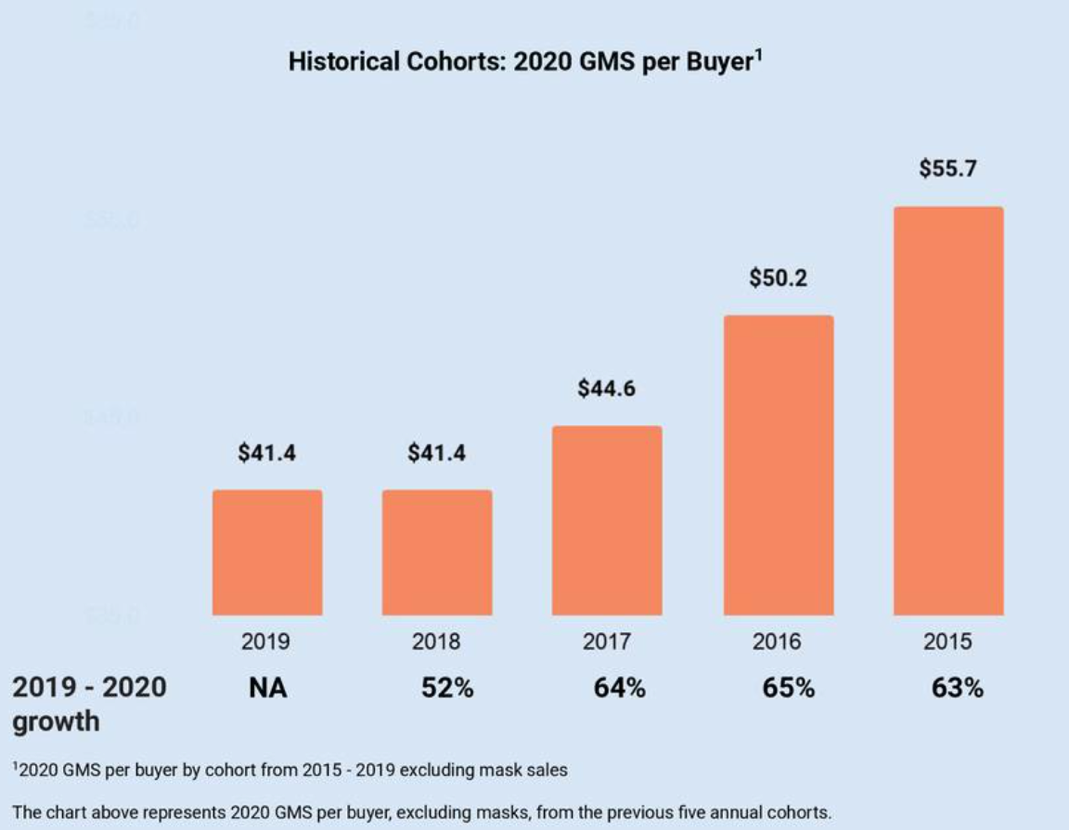 Source: Etsy Q4/FY2020 presentation
Sellers were up 64%(4.1M) YoY, and their GMS increased by 22% to $2,281.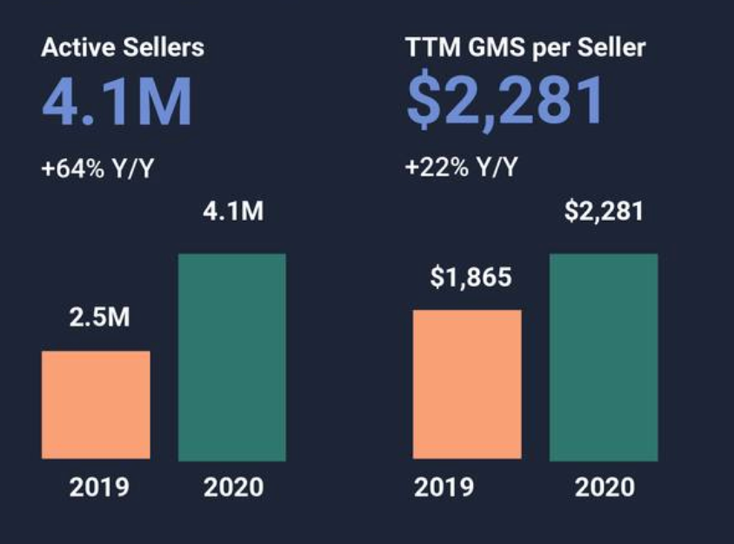 In total, 81M active buyers and 4.1M active sellers came on Etsy to generate a total gross merchandise sale ('GMS') of 10.3B, up 1 06% YoY. It is about 10% of the current $100B specialty market, but Etsy's growth pace was 2.5x the broader eCommerce market. The massive outperformance was driven by higher purchase frequency and higher GMS/seller.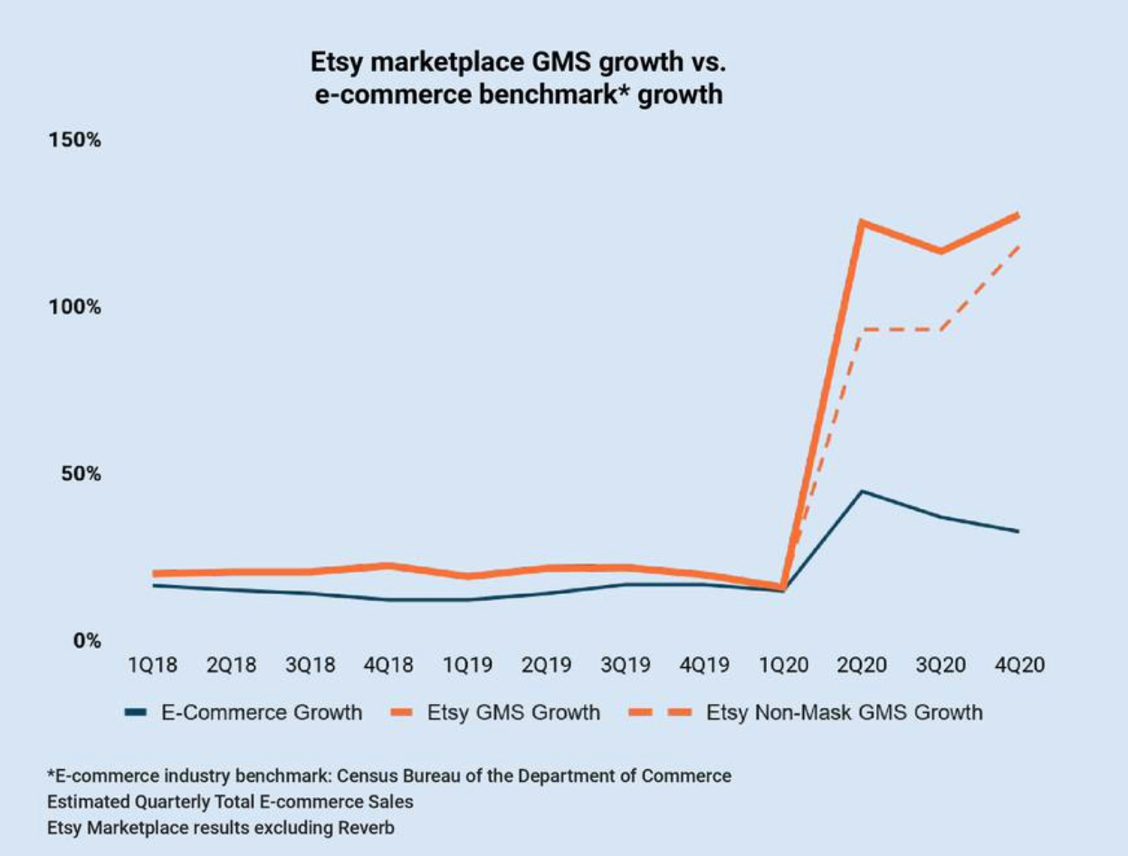 How does it all translate to Etsy's financial performance?
Revenue was $617M for Q4, up 1 29% YoY. Take rate was 17.1% (combined contribution from expanded Etsy Ads, Offsite Ads, and expanded Etsy Payments)
Gross profit was $ 466M, up 159% YoY. The gross margin was 75.6%, up 900 basis point compared to Q4'19
Adjusted EBITDA was $1 92 M, up 251% YoY, resulting in an Adj. EBITDA margin of 31%. Etsy is benefiting from operating at scale. And the continued top-line growth should improve profitability and cash flow even further.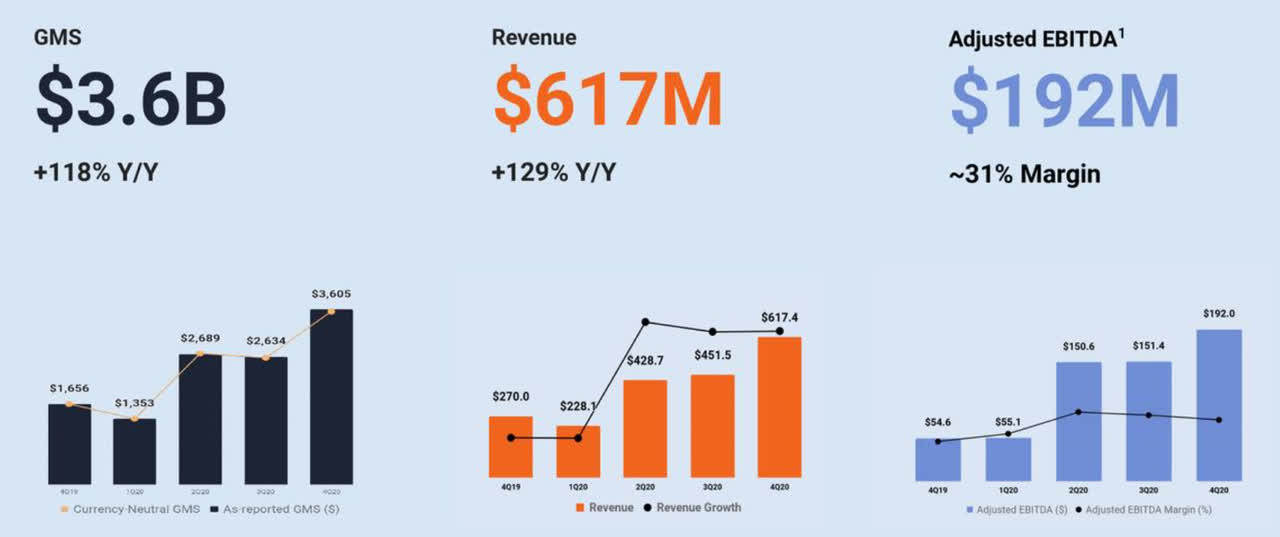 Moving to other retail categories
All financials continued to benefit from the COVID-19 tailwinds. However, Etsy is looking less and less dependent on these tailwinds.
Mask sales continued to contract as a percent of overall GMS to 4% in Q4, down from 11% in Q3 and 14% in Q2, a trend which we expect to continue.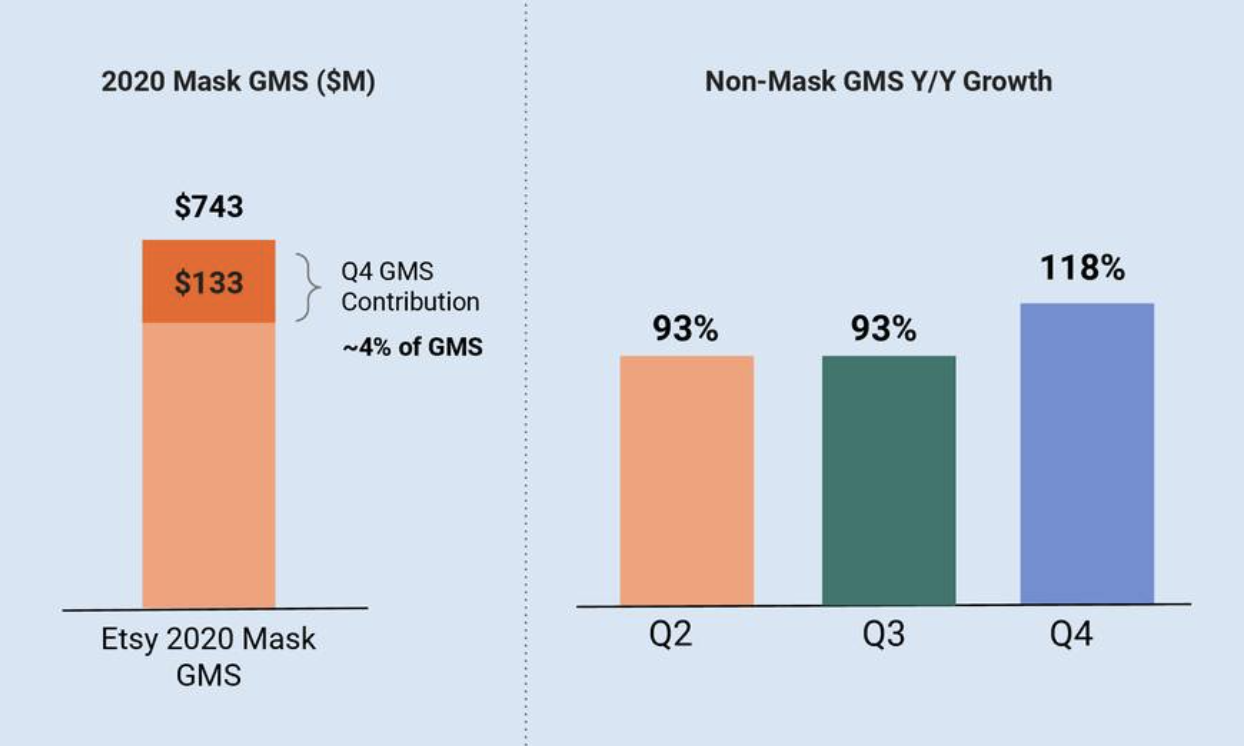 Additionally, of the three million mask-only buyers in Q3, approximately 50% returned in Q4 for a non-mask purchase. It is a vital sign that Etsy has more than just essentials and masks.
Etsy has over 50 different retail categories. Etsy's top six categories represented over 80% of Etsy GMS, growing 85% YoY in 2020.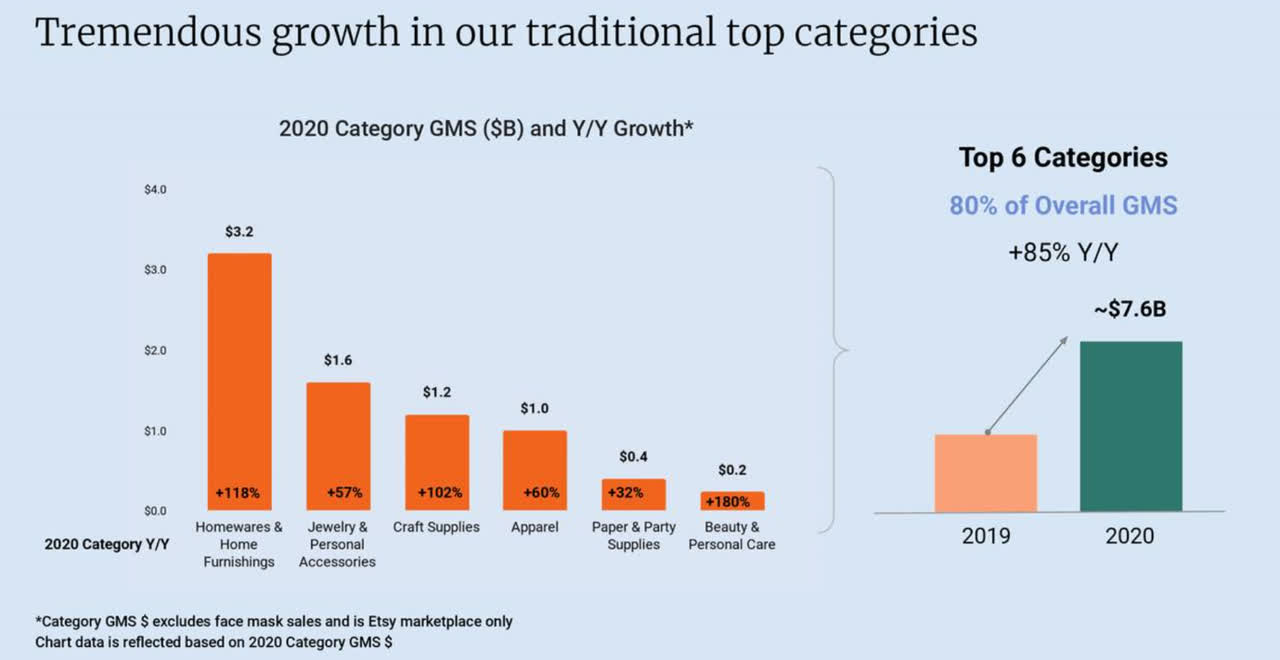 As you can see, Homewares led the pie's growth and share with 118% growth and $3.2B in sales. It is a hugely lucrative market for Etsy to be in, yet Etsy is still a tiny part of the total home furnishings market.
Outside of the top six categories, full-year growth was 115%, excluding mask sales powered by segments such as toys and games and pet supplies.
Expanding internationally
Etsy's success also expanded internationally.

International GMS was 41% of overall marketplace GMS, up 145% YoY on a currency-neutral basis, driven in part by strong trends in the U.K. and Germany. According to Comscore, Etsy became a top-five e-commerce website in the U.K in Q4'20. Etsy added India into the core market (7 countries) will boost buyers' numbers and especially sellers due to strength in textile and lower unit cost.
How ETSY achieved growth
No doubt, the shift in customer behavior has brought more sales online for almost every purchase occasion. We believe Etsy's business model and differentiated brand allowed it to capture the opportunity better than others.
As its product delight customers, the main task was to figure out how it can get more people to discover and try out.
So that was what Etsy focused on in 2020. They studied the user journey to find ways to reduce friction to purchase. Specifically, the three stages of users' purchase journey, discover and search, purchase, and after purchase had an upgrade.
Some of the highlights are:
Marketing moved to mainstream TV for the first time. During lockdowns, Etsy realized that people needed more human connections. Thus, Etsy's campaigns that focused on evoking 'emotional connection' with the products and producers would differentiate Etsy from others and bring buyers to the platform. And it did, TV ads and other channels get Etsy to the top of mind and get people to start their shopping intention from Etsy. The proof is in the high acquisition of new and lapsed buyers and conversion to active buyers.
Once potential buyers were on the platform. Etsy improved the search capability so that buyers could filter millions of products to just a few. One essential part of the improvement was the AI capability that Josh Silverman explained in detail. It allows buyers to scroll through few listings.
[…] dynamic ranking and semantic gap have laid the foundation for personalized search, which is making it easier for buyers to find what they're looking for and to be inspired from among our over 85 million items. Buyers are now scrolling through fewer listings, which is making search less overwhelming and more rewarding.

The slide above shows a massive improvement in the percentage of purchases on the first page of search results.
And, of course, it's about so much more than just search. Etsy also set the expectation right from the get-go. They added the delivery estimated time on the search page to allow users to know when to expect to have the product.
Source: Etsy's website
After search and discovery, Etsy encouraged sellers to use more video. The reasons were simple, videos add more depth and bring the product to life, emphasizing the 'human connection' in Etsy. The CEO elaborated in the conference call
[…] every seller has his or her own story. And the video is a powerful way to tell those stories. Plus we can show buyers how the items look, how they feel even how they sound. This is a great example of how we have so much more runway to more richly connect buyers and sellers.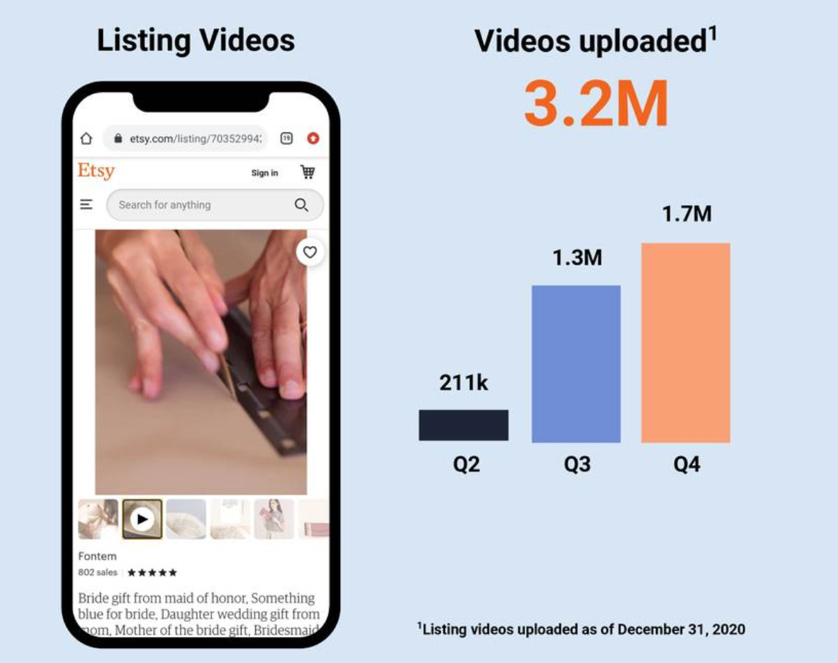 Another aspect that reduces friction for buyers to make a purchase is the option to pay in installments. Additionally, if buyers have any questions or special requests, they could contact the sellers directly. Rarely, you could feel comfortable doing this on other platforms.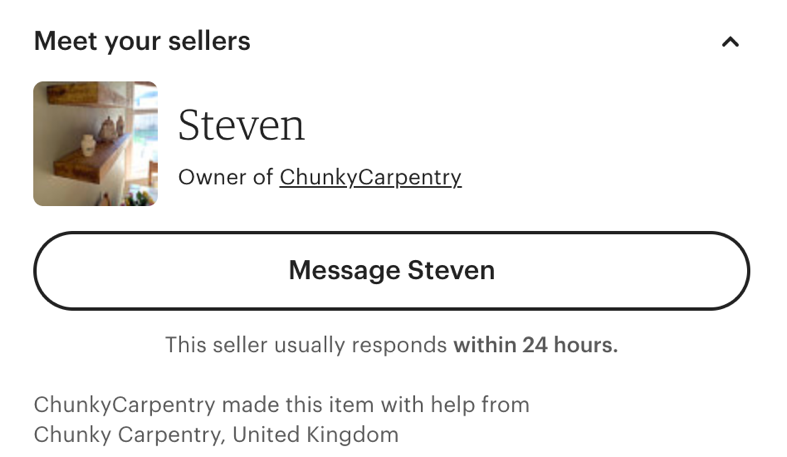 Finally, there is a notable improvement in after-purchase care. Buyers could know exactly where the items are and when they will arrive.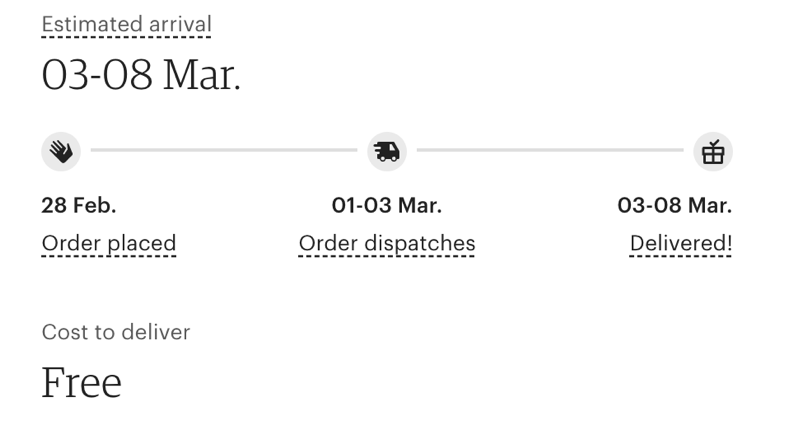 Despite the higher volume of sales and consequently queries, Etsy's customer effort score improved. Additionally, most of these interactions turned into real-time chat or phone calls, up from 26% in 2018 to 73% in 2020, a dramatic improvement, which builds trust through closer connections and better care.

Those are the small changes that made Etsy a massive success in 2020. They enabled Etsy to rapidly meet evolving buyer needs, build trust, and give them the after-care they want to return.
To cap off this section, we are excited that Etsy is making all these small changes. And, Etsy isn't looking likely to stop improving. Josh Silverman commented that Etsy is studying intently why habitual buyers are using Etsy more frequently why they have such a positive experience on the platform. Importantly, they want to apply the lessons from this particular cohort to help first-time buyers to have the same experience.
Guidance and long-term market potential
For Q1'21, the company expects rapid growth to continue.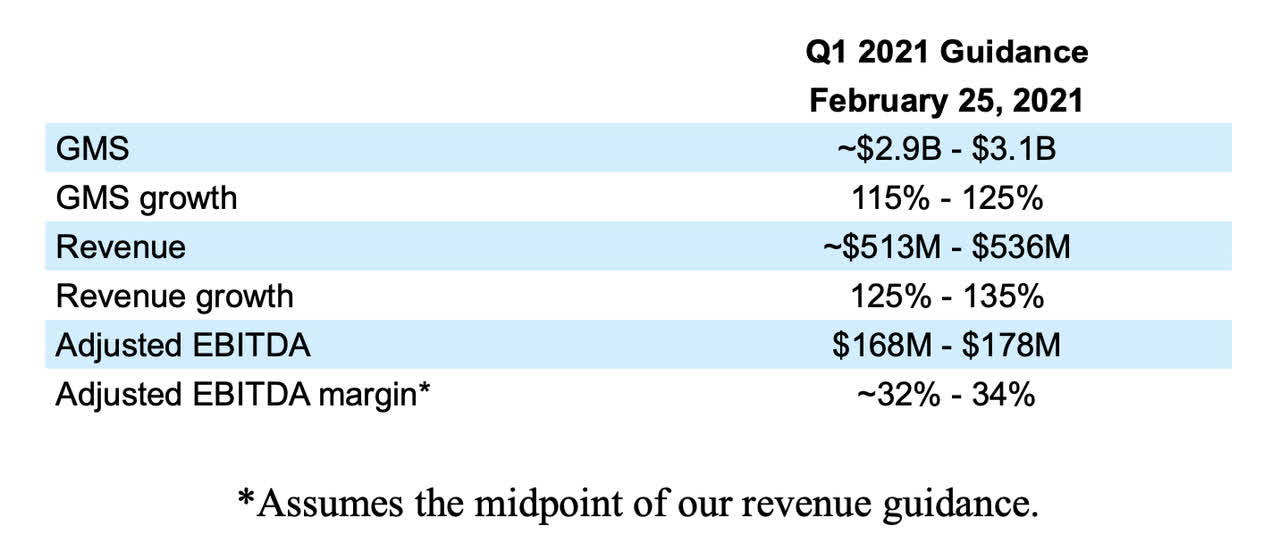 Beyond Q 1, we believe Etsy has a long runway still. Expansion to other retail categories and internationally will expand Etsy's TAM and support continued growth.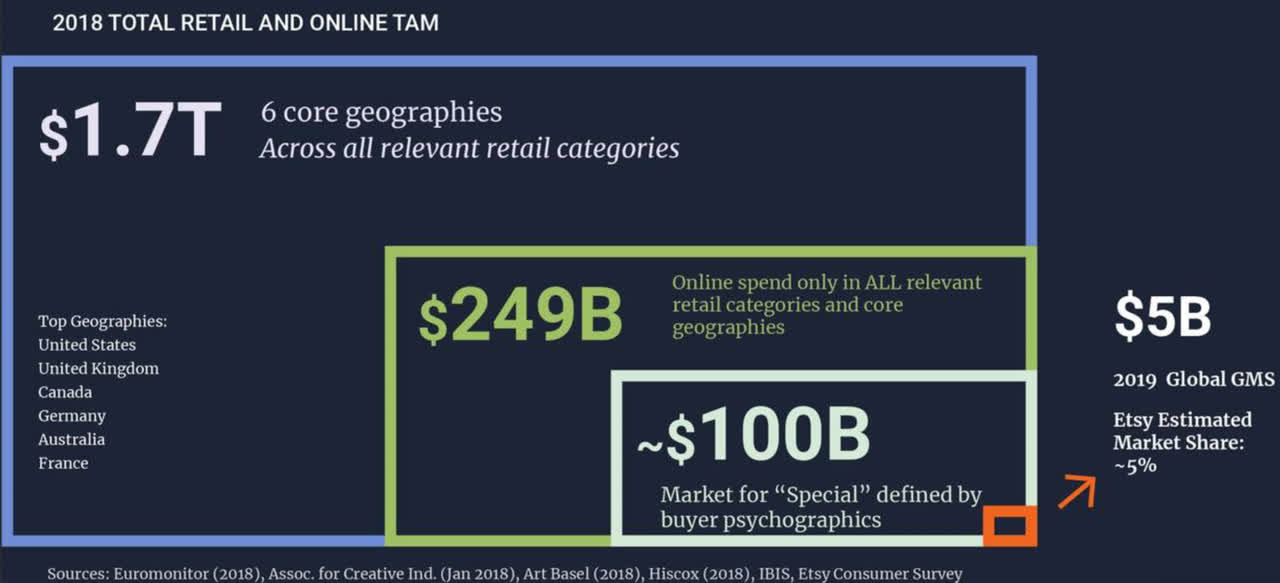 Nevertheless, it's crucial to temper expectations as the world reopens. More people's disposable income will go to other spending categories like eat-out and travels, creating some headwinds relative to 2020.
Valuation
We believe Etsy is trading at a very reasonable level. For comparison, we look at the pre-pandemic and during the pandemic valuations.
Pre-pandemic, the company was trading at around 30x EV/FCF and 10x EV/Sales and was growing at a 30% rate.
During Q2'20, Etsy was trading at 40x EV/FCF and 13x EV/Sales in the middle of the transformation.
Today, Etsy is trading at around 12.6x NTM EV/Sales and 40x EV/FCF.
For more context, we look at how Etsy compares with other eCommerce leaders.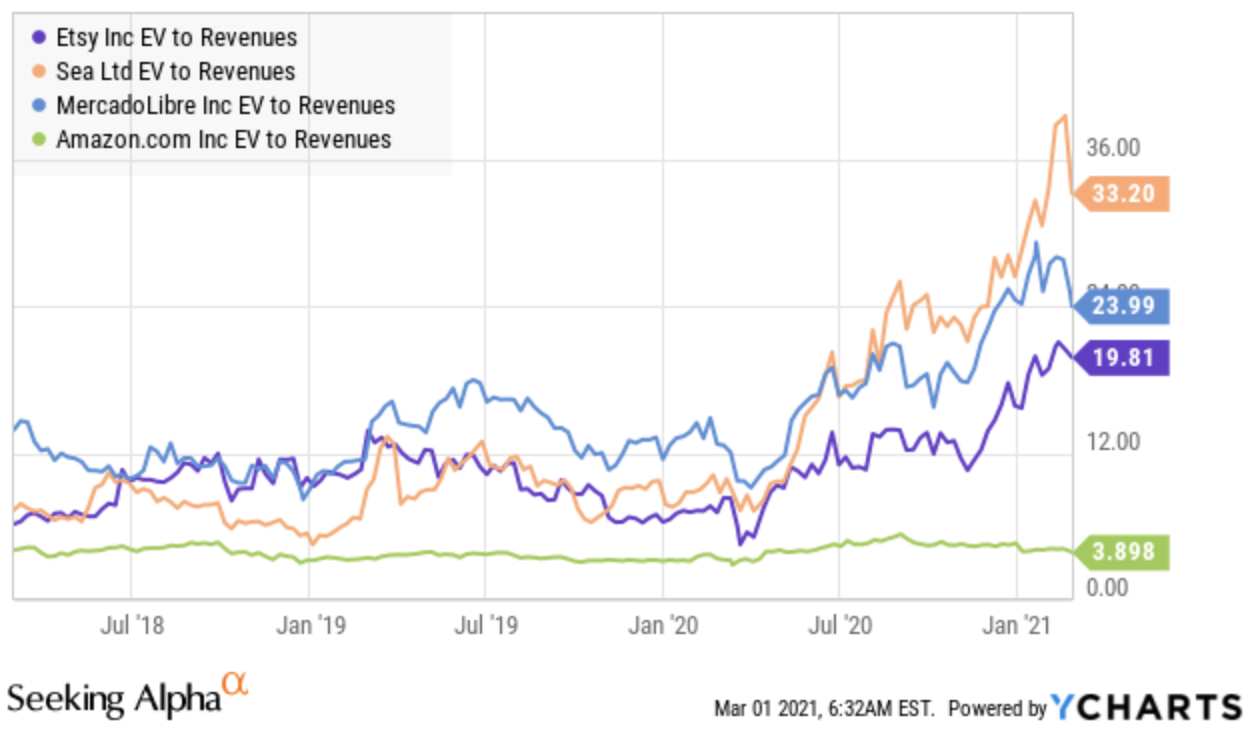 Source: YCharts
It's important to note that Sea Limited (SE) and MecardoLibre (MELI) are not directly comparable due to their business model, geography, and diversification into gaming and fintech, respectively. However, it provides some context.
Comparing to its peers, Etsy has the less capital-intensive business model, highest profitability, and the only one that has the excess cash to repurchase shares. Yet, Etsy is trading at lower EV/Sales and EV/FCF multiples.
In Q4, Etsy repurchased $78 million of our stock or 618,841 shares at an average price of $125 per share. The Board of Directors also recently authorized a new $250 million stock repurchase program.
Conclusion
Etsy had a successful 2020. After the minor market sell-off in the past few days, we believe Etsy is trading at a more reasonable level for investors who want to initiate a position.
The future of Etsy is also looking incredibly bright. Successful business transformation should help the company to expand to other retail categories and internationally.
Finally, at 12x NTM EV/Sales and 40x EV/FCF that come with a positive growth rate and high EBITDA margins of over 30%, the stock is reasonably priced. We have a position.
This article was written by
I run Sleep Well Investments to find time-tested and anti-fragile businesses to help you avoid permanent capital losses - the first rule of investing. All businesses go through a comprehensive review, I call it a 'sleep well investment' checklist, to evaluate their (i) business quality, (ii) competitive position and risks, and (iii) valuation. They are given a score and a trigger (buy) price to ensure a high margin of safety.The first few write-ups are: The VAT Group - The Vaccum Valve Monopoly Shimano - The Bike Component Monopoly Floor and Decor - Future Home Improvement Monopoly Subscribe for more sleep-well investments.
Analyst's Disclosure: I am/we are long ETSY, SE, MELI. I wrote this article myself, and it expresses my own opinions. I am not receiving compensation for it (other than from Seeking Alpha). I have no business relationship with any company whose stock is mentioned in this article.
Seeking Alpha's Disclosure: Past performance is no guarantee of future results. No recommendation or advice is being given as to whether any investment is suitable for a particular investor. Any views or opinions expressed above may not reflect those of Seeking Alpha as a whole. Seeking Alpha is not a licensed securities dealer, broker or US investment adviser or investment bank. Our analysts are third party authors that include both professional investors and individual investors who may not be licensed or certified by any institute or regulatory body.