TG Therapeutics: Great Set Of Catalysts, Approvals This Year And Next
Summary
We did well with TGTX earlier, and the stock is again in the buy zone.
There are a number of major catalysts and approvals in the next 12 months.
The company has a lot of cash.
Looking for more investing ideas like this one? Get them exclusively at The Total Pharma Tracker. Get started today »
TG Therapeutics (NASDAQ:TGTX) was one of our better investments this past couple years and it made the TPT Top-10 list last year. I finally let go of it at the time of approval of Ukoniq (umbralisib) in February, with a plan to buy back at around $40. Currently TGTX has two additional Phase 3 programs in development for the treatment of relapsing forms of multiple sclerosis (RMS) and for chronic lymphocytic leukemia (CLL) and several investigational medicines in Phase 1 clinical development. Its current pipeline looks like this: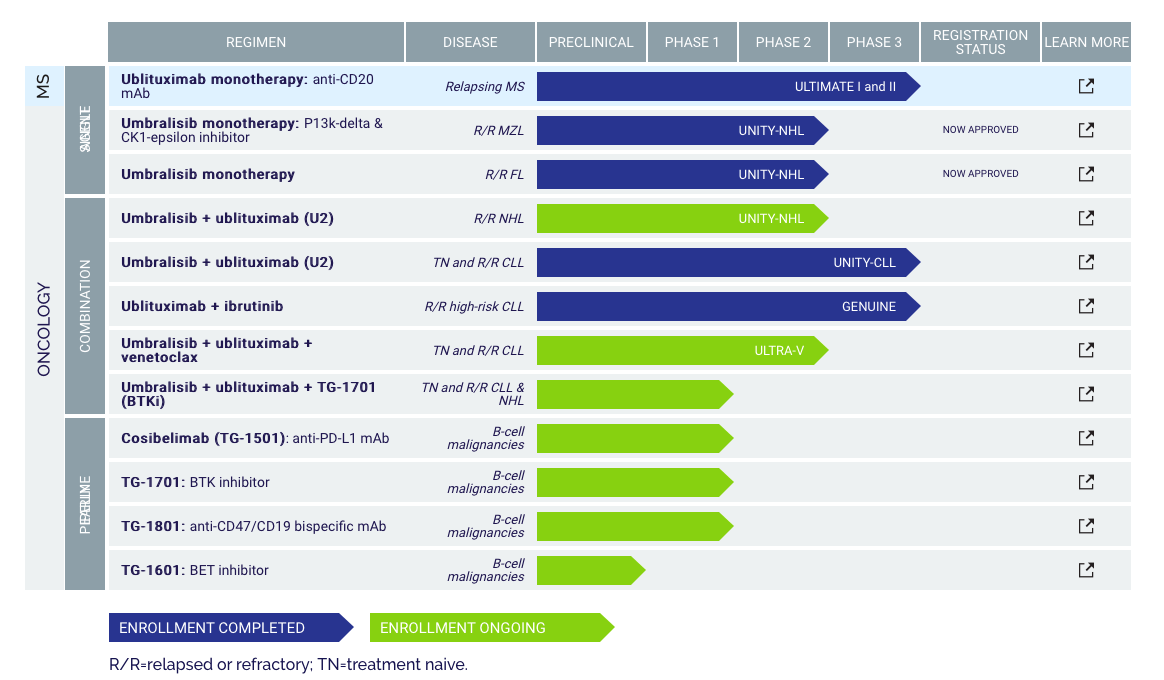 Since the stock is now at nearly my $40 mark again, I want to see if TGTX is investible again.
The investment potential will depend on a few things - market potential of the drugs in the approved and lead indications, and trial data in the lead indications. I also will need to look at the fundamentals of TGTX. Since it has already got an approval - and TGTX is a pretty good executor, as I noted in my previous article - I'm assuming there won't be the hiccups usually associated with floundering new biopharma.
Market potential of indications
Ukoniq (umbralisib) has been approved for the treatment of adults with relapsed or refractory marginal zone lymphoma who have received at least one prior anti-CD20 based regimen. So, this is a 2nd line setting. MZL is a relatively small market. NHL is a $10bn market, and MZL represents about 8% of all NHL patients. So, the total market here is around $800mn. There are 5,000 1st line patients, 3,500 2nd line and 2,500 3rd line patients. So, if we distribute those $800mn uniformly, we get $254mn for the 2nd line setting. A discussion of current standards of care can be found here. As you can see, there's not much, and Ukoniq could be very useful and grab a big chunk of the market. It just got approved, so I will give them a couple more quarters to come out with numbers. I guess that by the end of 2021, we will get into double digit numbers for sales, given the lack of competition.
The other approved indication for Ukoniq is r/r FL - adult patients with relapsed or refractory follicular lymphoma (FL) who have received at least three prior lines of systemic therapy. So, this is a 3rd line + setting. The total market is about twice that of MZL. There are 10,500 patients in 1stline setting, 7500 in 2nd line and 5000 in 3rd line. Extrapolating from the MZL data - and I agree that's a bit arbitrary - we get a $500mn actual addressable market in a niche with very low competition.
Combining the two, we get a$750mn total addressable market for current approved indications of Ukoniq, with low competition. $50-$80mn sales in the first year may be achievable. However, the company says the total number of patients for potential indications is 10,000-12,000. So that's about twice the current numbers - we are looking at $1.5bn TAM for the molecule at its current and immediate future stage.
Umbralisib has another indication where it was in fully enrolled phase 3; this is a combo trial with ublituximab in TN and r/r CLL. A BLA has been initiated in CLL under a fast track designation. The company also announced results from this first and only successful phase 3 trial of a P13K delta in frontline CLL. BLA will be completed by June 2021. The study met the primary endpoint of improved progression free survival or PFS (p<.0001). What's very interesting is that the study was stopped early for superior efficacy observed at the interim analysis. U2 has a differentiated safety profile in this indication from Obinutuzumab Plus Chlorambucil (O+Chl), against which it was compared in phase 3. Data showed:
UNITY-CLL is the first randomized Phase 3 study in CLL of a PI3Ki vs. chemoimmunotherapy, and the first randomized study of a PI3Ki in treatment-naive CLL. U2 exhibited a well-tolerated safety profile, and significantly improved PFS vs. standard of care chemoimmunotherapy in patients with treatment-naive and relapsed/refractory CLL.
Market potential in this indication is discussed in a slide below: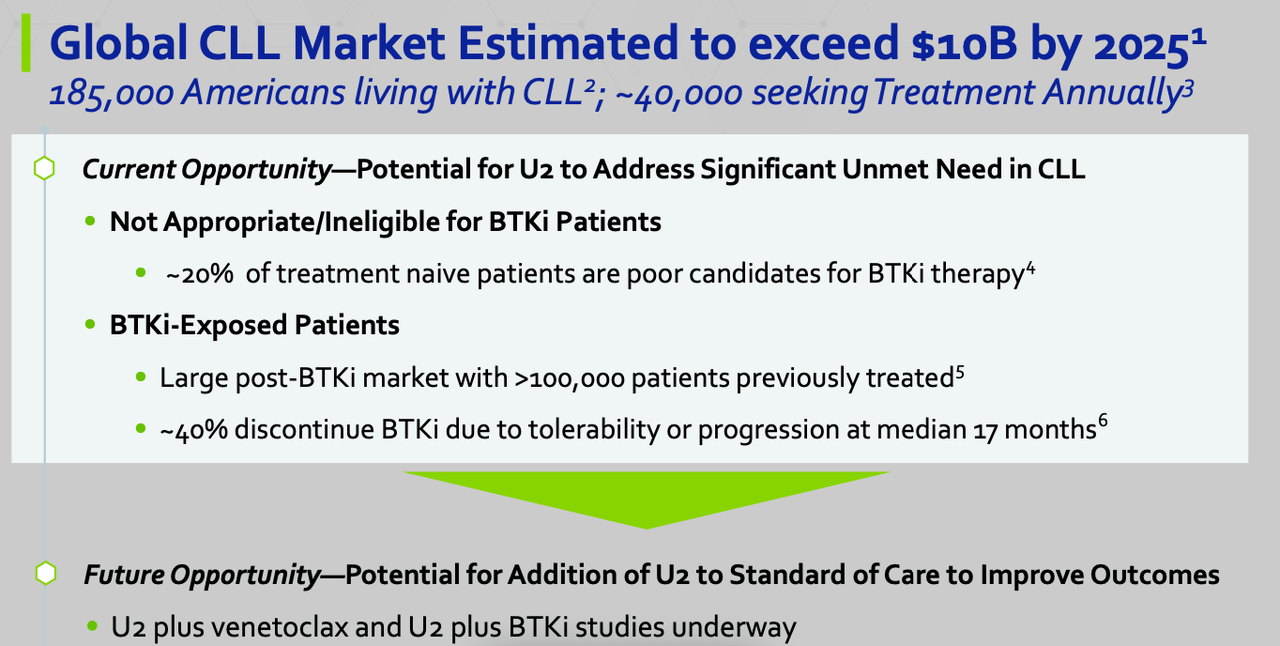 It's difficult to estimate the exact TAM for the combo or even the monotherapy (see below) but it certainly looks like a potential multibillion-dollar market.
Ublituximab is the second asset, and it's being tested in late-stage trials in relapsing MS monotherapy and r/r high risk CLL in combo with Ibrutinib. In the latter, Phase 3 data published in February demonstrated that the addition of ublituximab to ibrutinib significantly improved overall response rate (ORR), complete response rate as well as prolonged progression-free survival - PFS. BLA submission is expected in H1 2021.
In MS, its key differentiator is that it has shown better efficacy data than Ocrevus, which is a $4bn blockbuster in multiple sclerosis. The other key differentiator is that it showed ~60% AND ~50% relative reduction in ARR over teriflunomide in ULTIMATE I & II, respectively. In my previous article, I said:
Teriflunomide, branded and sold by Sanofi as Aubagio, had annual sales of $1.2bn last year. The MS market is highly differentiated, with some of the biggest names in medicine, like Tecfidera, Gilenya and so on, in play. Tecfidera, Gilenya, and other MS drugs sometimes, though in very rare instances, present with a safety issue known as progressive multifocal leukoencephalopathy - PML. Certain instances can be fatal. Since MS requires lifelong therapy, tolerability is a major concern for patients and doctors. People often switch to Aubagio because of this reason. If ublituximab can demonstrate efficacy-equivalence to Aubagio but a better safety profile, it has a good chance of doing well in the multi-billion dollar MS drug market.
Note that last sentence - clearly, ublituximab has done that.
Ocrevus is an anti CD20 drug just like ublituximab, and it's also given as an infusion twice a year - one key difference is that an Ocrevus infusion takes up to four hours, while ublituximab is only about an hour. Last year, ocrevus had combined global sales of $4bn. Phase 2 studies of ublituximab have shown strong activity and manageable safety profile. The company expects $1-$2bn market opportunity for the drug in MS alone in the US.
In MS, in phase 2, ocrelizumab (ocrevus) was the drug against which data was compared. Ublituximab did better than ocrevus, see below: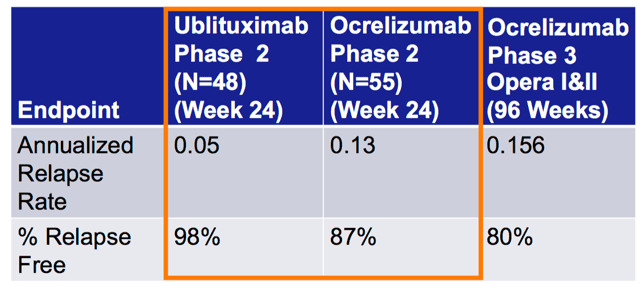 In the phase 3 MS study, this was the first CD20 in Phase 3 to achieve an ARR below <0.10. A BLA for MS is being targeted for mid-2021. Data presentation is being targeted for 1H21. The drug offers a lot of convenience in MS, with one-hour infusions every six months after the first infusion. It's a potential blockbuster in a differentiated but very large market.
Financials
TGTX is presently a $5,6bn market cap company with the stock price near a bi-monthly low of $44. It has come down a lot from the near $60 it was trading at a few weeks ago. The company had $254mn in cash at the end of the last reported quarter. However, it raised $275mn in December, so currently it has a lot of cash - the company says they have $600mn in cash. The price at which it did the offering was $43.5, so roughly the same price it is right now. Any positive news will take the stock up.
Bottom line
TGTX is now near my $40 mark for buying again. There are major catalysts this year, and this company is going to become a double-digit billion dollar in a few years time. This is an excellent price to get into the stock again.
About the TPT service
Thanks for reading. At the Total Pharma Tracker, we offer the following:-


Our Android app and website features a set of tools for DIY investors, including a work-in-progress software where you can enter any ticker and get extensive curated research material. 
For investors requiring hands-on support, our in-house experts go through our tools and find the best investible stocks, complete with buy/sell strategies and alerts.
Sign up now for our free trial, request access to our tools, and find out, at no cost to you, what we can do for you. 
This article was written by
Avisol Capital Partners is made up of a team of medical experts, finance professionals and techies, all of whom invest their own money in the picks they share. They aim to help readers find the middle ground between value and growth investing, as they demystify the biopharma industry.
They lead the investing group
Learn more
.
Analyst's Disclosure: I/we have no positions in any stocks mentioned, and no plans to initiate any positions within the next 72 hours. I wrote this article myself, and it expresses my own opinions. I am not receiving compensation for it (other than from Seeking Alpha). I have no business relationship with any company whose stock is mentioned in this article.
Seeking Alpha's Disclosure: Past performance is no guarantee of future results. No recommendation or advice is being given as to whether any investment is suitable for a particular investor. Any views or opinions expressed above may not reflect those of Seeking Alpha as a whole. Seeking Alpha is not a licensed securities dealer, broker or US investment adviser or investment bank. Our analysts are third party authors that include both professional investors and individual investors who may not be licensed or certified by any institute or regulatory body.