Pinterest And Social Commerce: A Match Made In Heaven
Summary
Social Commerce is poised to grow over the next 5-10 years.
Pinterest is in the best position to capitalize on this trend.
As Social Commerce grows, so should Pinterest due to its visual and inspiring platform where ads are not distracting or annoying and users are focused on shopping.
What is Social Commerce?
Social Commerce is defined by Hootsuite as "the process of selling products directly on social media." Unlike e-commerce, with social commerce, the entire process of finding a product and checking out takes place on a social media platform. However, social commerce can come in different forms: social media checkout capabilities, social commerce plugins and apps, shoppable ads, and chatbot checkout. Although social commerce has been around for the last 15 years or so, it has only taken off over the last 5 years. I believe social media platforms and particularly Pinterest (NYSE:PINS) are in the early innings of capitalizing on this trend.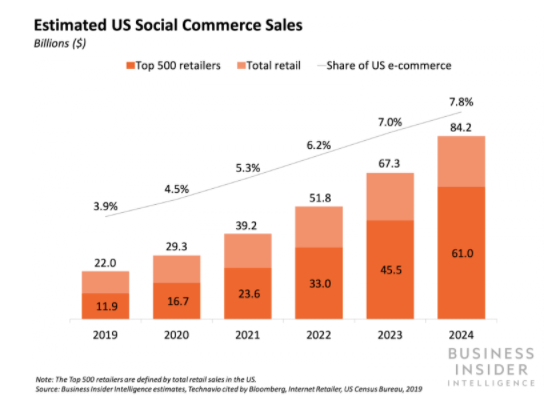 Why Social Commerce Makes Sense
Reduces friction in the purchase funnel - If you see a product you like while browsing social media, you can purchase it through the social media platform or be directed to the retailer's website within the social media app. This might not seem like a big deal but it is to consumers who seek instant gratification and less clicks and advertisers looking to spend advertising dollars on social media platforms. There is no doubt the less friction involved in the purchase process, the more likely the consumer is to buy a product.

Advertisers already advertising on social media platforms - With advertisers already advertising on social media platforms, it makes sense to embed the purchasing process within the social media platform, a win-win situation for the advertisers looking to advertise to large audiences and consumers looking to buy products through social media.

Makes sense for consumers - According to data from Statista, the average daily social media usage of internet users worldwide amounted to 145 minutes per day in 2020. With consumers spending more time on social media than ever before, they are likely to buy more products over time.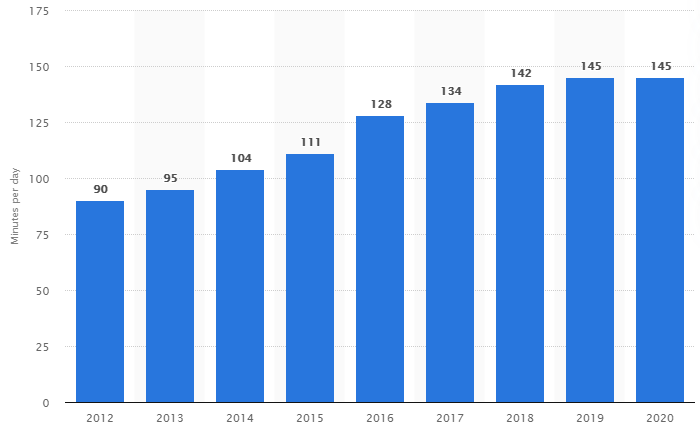 Source
Why Pinterest
Undoubtedly, Facebook (FB) shops and Instagram shops come to mind when one thinks of social commerce. However, I believe Pinterest is poised to benefit the most from social commerce due to three main competitive advantages:
Ads are not distracting or annoying on Pinterest, unlike other platforms. Due to the nature of Pinterest's visual platform, relevant ads don't compete with native content; instead, they are content.

Pinterest is a visual and inspirational platform where pinners get inspiration for things they want to do and more importantly, buy. Shopping is a top priority for 47% of Pinterest users, ranking higher than Instagram, Facebook, Snapchat, and Twitter combined.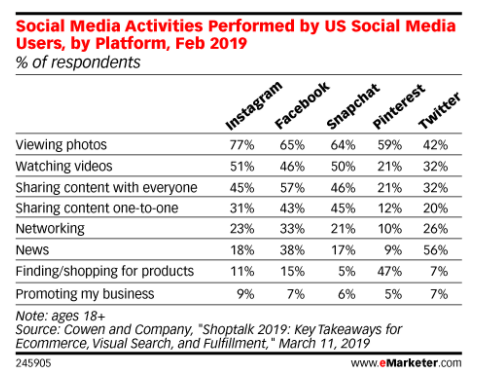 3. Advertisers are in the business of inspiration and Pinterest's visual and inspiring platform allows advertisers the opportunity to showcase their products and services in an inspiring and creative environment.
A social media platform where it's easy for advertisers to place ads and where users are actively looking to buy products is a match made in heaven that should benefit Pinterest tremendously long-term. The runaway ahead for Pinterest is huge as they continue to support advertisers.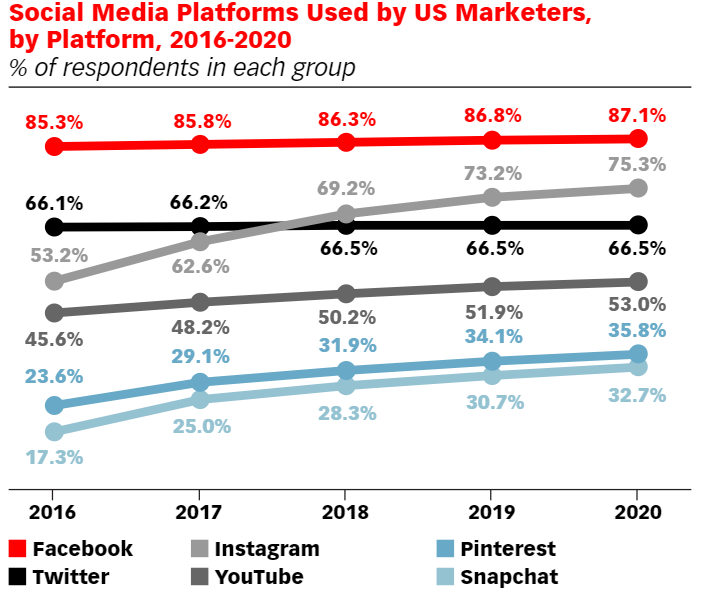 Pinterest/Shopify Partnership
Another match made in heaven is the Pinterest and Shopify (SHOP) partnership announced last year. The partnership allowed Shopify merchants (>1 million) to put their products in front of Pinterest's large user base. Pinterest makes money through merchants placing ads on its platform while Shopify merchants get the benefit of attracting new customers through Pinterest (win-win). Pinterest also gets exposure to small and medium-sized businesses offering unique items for purchase, further differentiating itself from other social media platforms. As Shopify continues to grow rapidly, so do its merchants. The more merchants on Shopify, the higher likelihood of merchants placing ads with Pinterest. I mean who doesn't want to grow their business? Especially through a platform where 47% of users come to shop for products!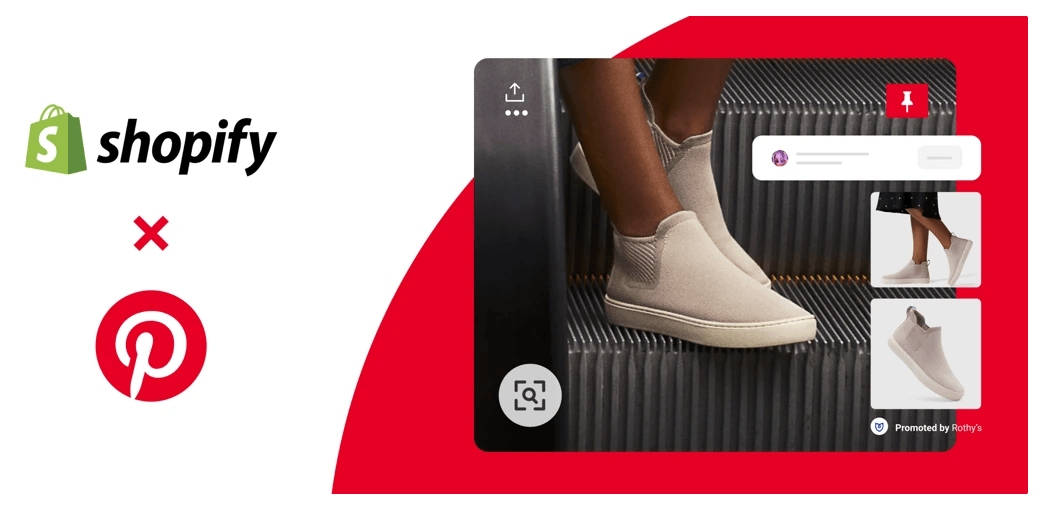 Pinterest Financials
Let's take a look at the most recent financials from Pinterest. Pinterest is firing on all cylinders as of 4Q20. Revenue growth accelerated in 4Q20 to 76% YoY at $706M with the US growing 67% and International growing 145%. Seasonally, the 4th quarter is the strongest for Pinterest, nonetheless, the company delivered incredible revenue growth.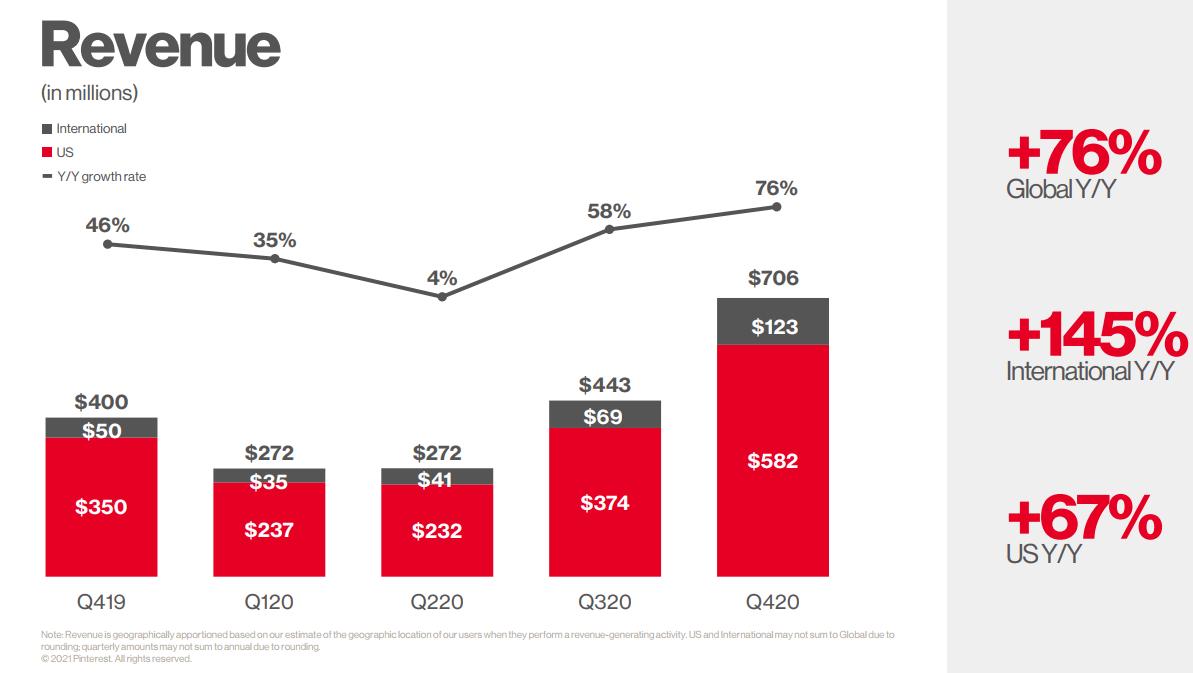 Monthly active users grew 37% YoY to 459M led by growth in International (+46% YoY) and followed by US (+11% YoY).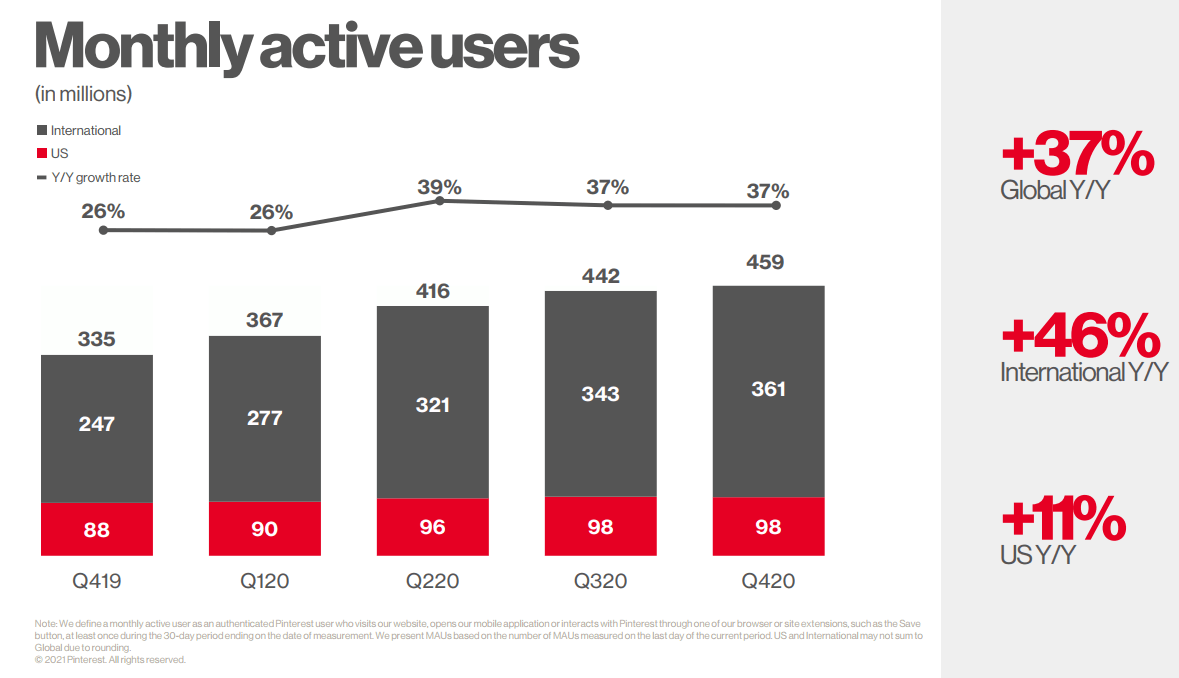 It's important to note that the acceleration in revenue and increase in monthly active users is partly driven by COVID-19 tailwinds and the company could face difficult YoY comparisons in the second half of 2021. However, comparisons could be favorable for the first half of 2021 as results in 1H2020 were weighed down initially by the pandemic.
Average Revenue Per User (ARPU) continued to appreciate in 4Q20 at $1.57 (+29% YoY), again led by International growth (+67% YoY) and followed by US (+49% YoY). International ARPU will be an important factor to watch moving forward as Pinterest has 263M more International monthly active users compared to the US as of 4Q20. Management believes that international ARPU remains in early stages. As Pinterest executes on its strategy to grow International ARPU, that should lead to higher International revenue contribution (currently at 17% of total revenue).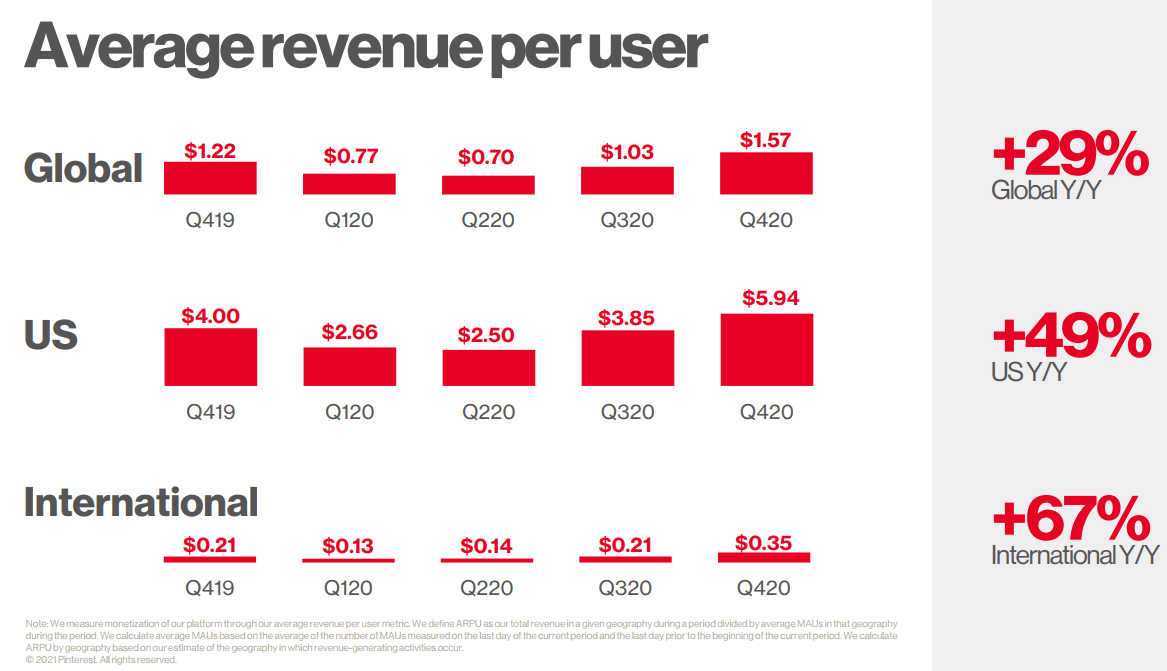 Not only is the top line growing robustly, but the company is also showing operating leverage as of 4Q20. Costs grew at a slower pace than revenue (except G&A, the smallest category) and S&M costs were slightly down YoY.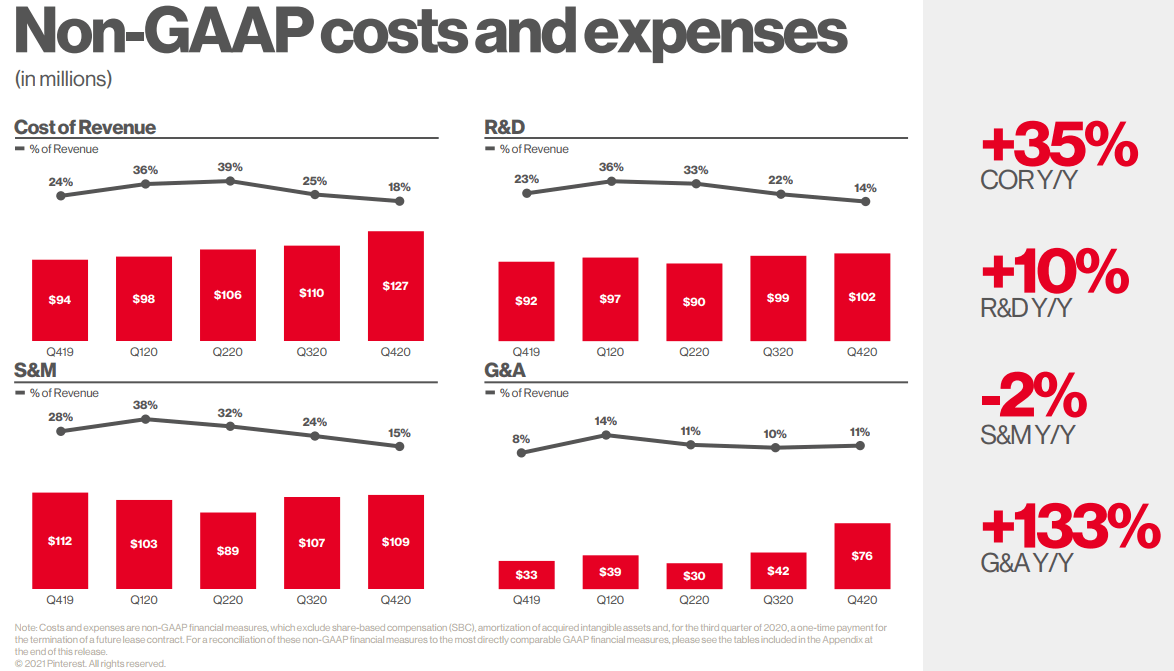 In addition, the company delivered impressive Adjusted EBITDA at $299M in 4Q20 compared to $77M in 4Q19. One thing to keep in mind is that Pinterest's Adjusted EBITDA includes stock-based compensation. On a GAAP basis, the company delivered profit of $208M vs $299M mainly due to stock-based compensation (still very impressive results).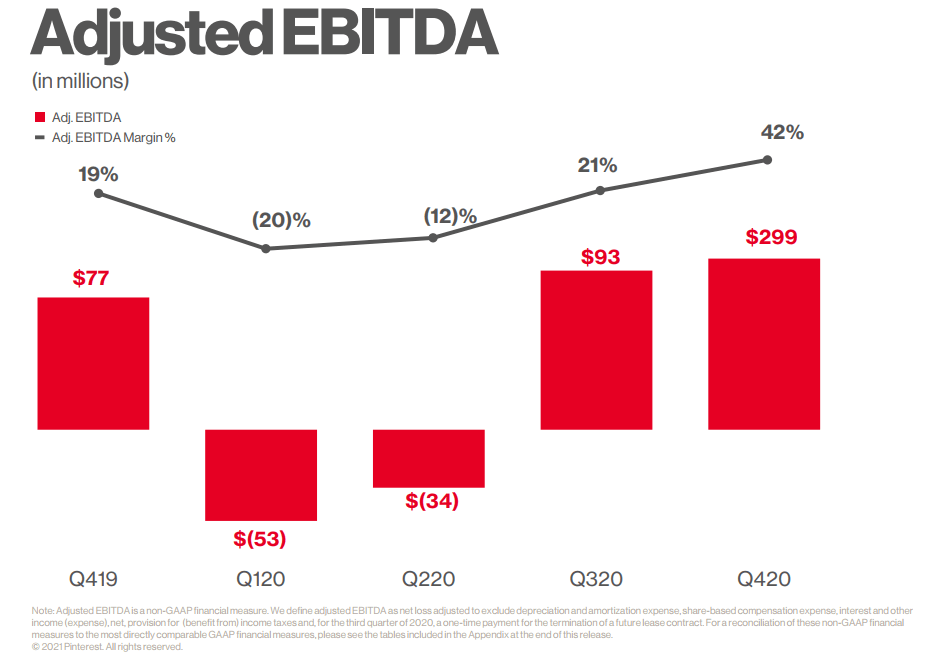 I believe behind all the outstanding financials is the bigger trend of social commerce and Pinterest's unique and inspiring platform. Pinterest continues to invest in its platform through augmented reality features such as trying on eyeshadow but is also investing to improve the advertiser experience. Take for example the introduction of automatic bidding over the last year, leading to a majority of automatic bid advertisers increasing budget allocations on the platform. 4Q20 saw momentum continue with approximately half of total advertising spend coming from automatic bidding. Management also highlighted their priorities for consumers and advertisers in 2021 and beyond:
Investing in the consumer: continuing investments in video, tools (Lens), product search (saw 20X increase in 2020) and building a creator ecosystem around Story Pins.

Investing in advertisers: Pinterest plans to improve automation, measure capabilities, and grow sales coverage for all types of advertisers. In addition, the big area of focus will be driving more relevant ads by growing the number of advertisers (win-win for advertisers and consumers looking for inspirational and shoppable content).
Competition
Pinterest competes with larger, more established companies like Amazon (AMZN), Google (GOOGL), Facebook (FB), and companies of similar size like Snapchat (SNAP), Twitter (TWTR), and TikTok (ByteDance). The company also faces competition from smaller players, including Allrecipes, Houzz, and Tastemade as noted in their 10-K. Due to the scale advantage and business nature of Amazon and Google, let's say Pinterest's main competitors are other public social media companies (Facebook, Snapchat, and Twitter). I highlighted what sets Pinterest apart in the competitive advantages section but let's take another look through a 2017 study. The study is a bit outdated when Pinterest had 216M monthly active users but the key takeaway remains to marketers, it's the quality of leads that matter, not the quantity. Pinterest drove 33%, 71%, and 200% more traffic to shopping sites than Facebook, Snapchat, and Twitter, respectively. While Facebook also has the advantage of scale, Pinterest users are more likely to buy products, ultimately leading to greater advertising revenue as users continue to grow.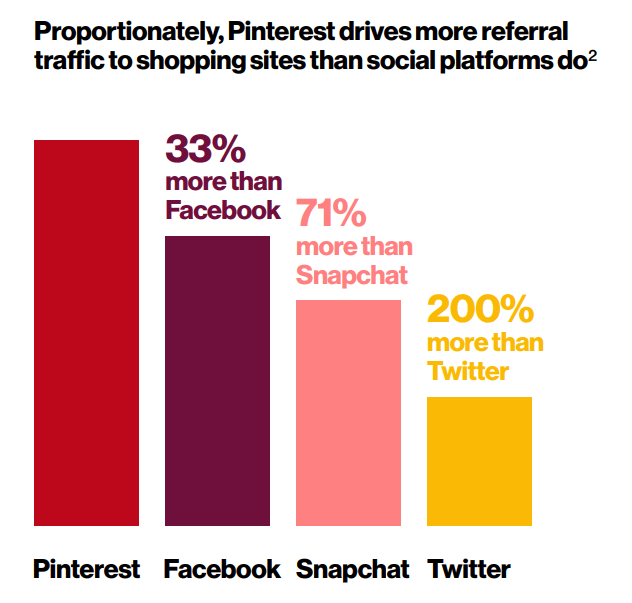 Valuation
It's tough to compare Pinterest to Amazon, Google, and Facebook due to their scale but Snapchat and Twitter are similar in size and scale and also rely on advertising revenue. Not only is Pinterest growing revenue faster than SNAP and TWTR but also boasts a higher gross profit margin than both. In addition, Pinterest trades below SNAP based on Next Twelve Months EV/Sales and EV/EBITDA multiples. Despite the huge run-up in stock price over the last year, I believe Pinterest is still favorably valued and if you're not convinced, just consider the fact that Microsoft reportedly tried to buy Pinterest recently.
Pinterest Quarterly Revenue Growth (YoY)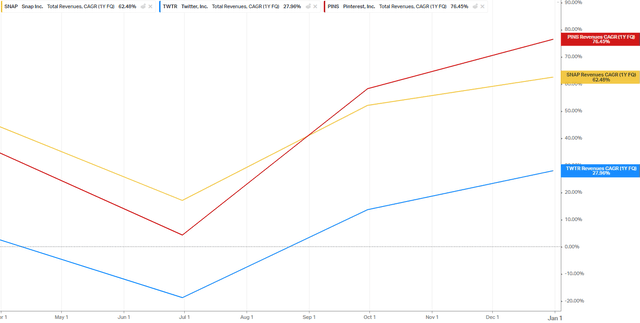 Pinterest Quarterly Gross Profit Margin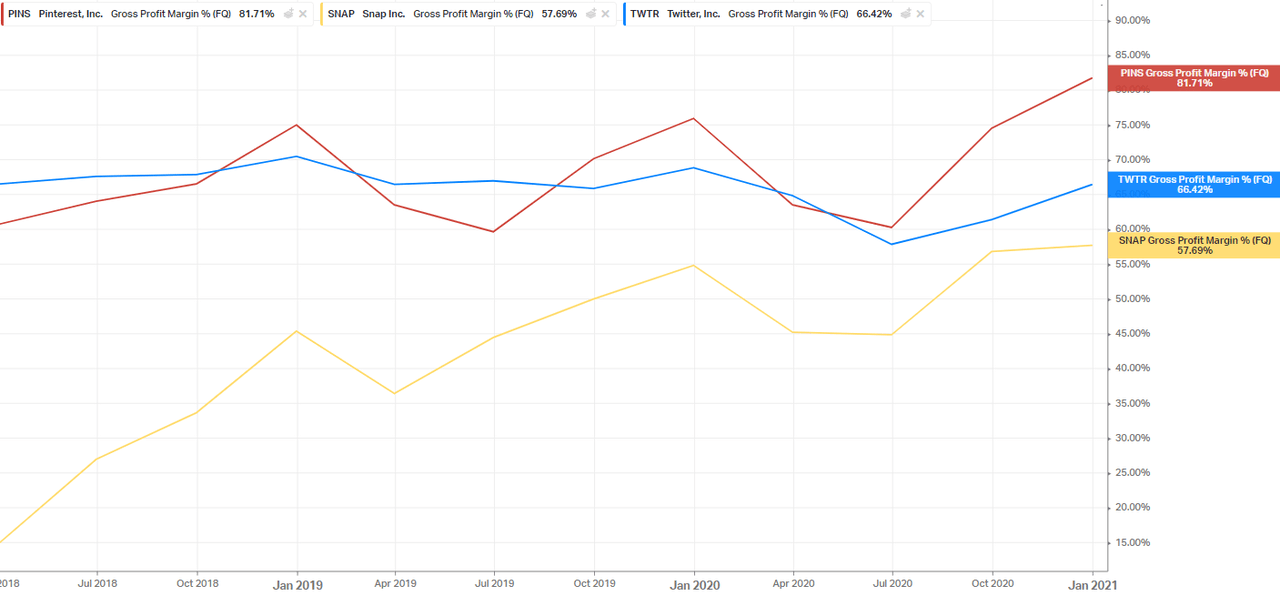 Pinterest NTM EV/Sales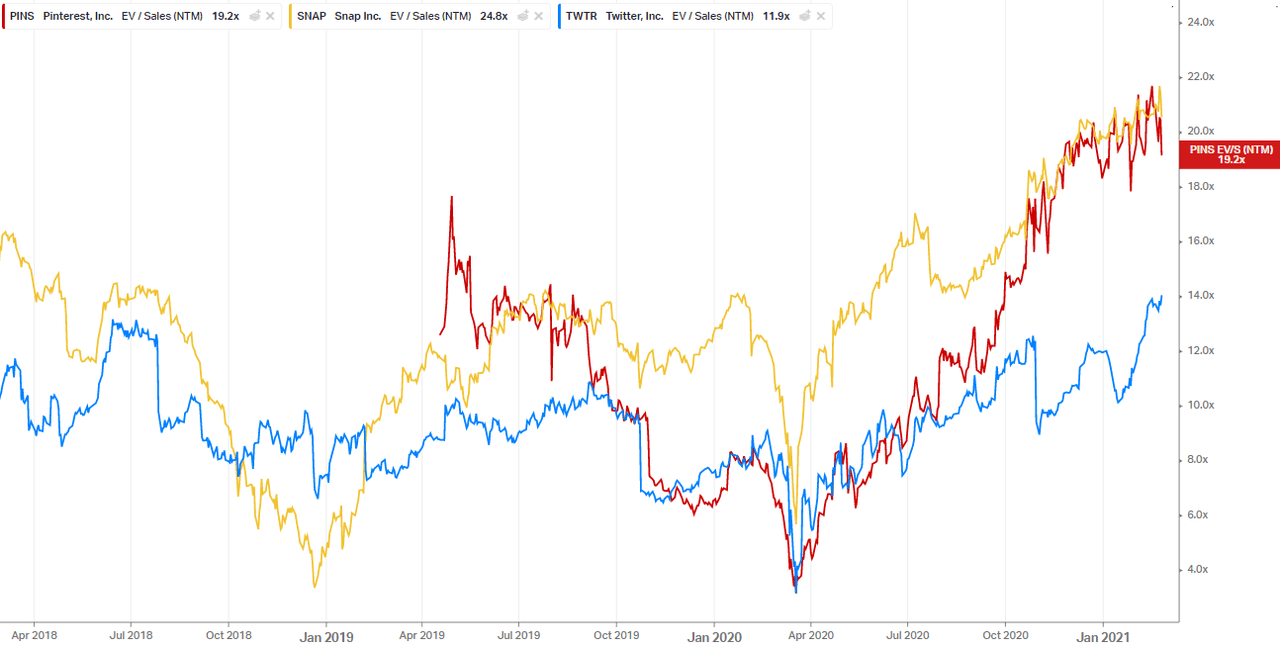 Pinterest NTM EV/EBITDA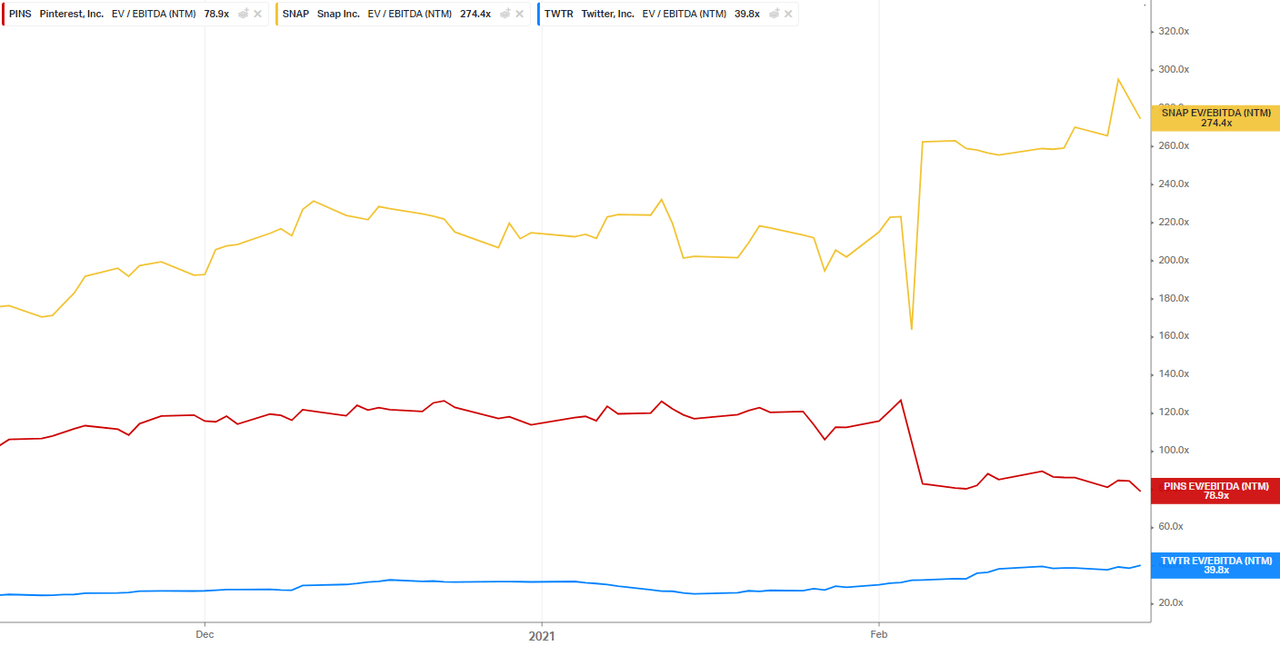 Risks
There are a couple of risk factors to consider with Pinterest:
Ability to scale the business - Pinterest has to continue attracting, growing, and retaining an engaged user base. The company is on the right path by providing users with great content, tools, and by partnering with companies like Shopify. If Pinterest does not continue to invest in its platform and tools, it could lose its edge over competitors.

Ability to monetize the user base - Pinterest will need to execute in monetizing its ARPU with International users, a big growth engine for the company in the future. Additionally, needs to invest in advertising to not only attract more advertisers to its platform but also provide them with the capabilities to succeed. They are currently doing so through automatic bidding and measuring the success of advertisers' campaigns.

Post-COVID outlook - Despite the initial drawdown on advertising budgets because of COVID-19, Pinterest rebounded in the second half of 2020 as highlighted in the Financials section. However, it is hard to say what the future looks like post COVID especially compared to the second half of 2021. The signs of advertiser spend are promising with the company guiding to 1Q21 revenue growth of low 70s YoY.
Conclusion
Pinterest is a unique and inspiring platform with a highly engaged user base looking to shop for products. With advertisers realizing the potential of Pinterest's platform and social commerce poised to grow tremendously over the next decade, Pinterest is in a great position to outperform the market.
This article was written by
I am a long-term investor focused on macro trends that are shaping the future of our world in the next decade. Within those macro trends, I carefully place micro bets keeping in mind patience and discipline required to fully tell the story of growing businesses.https://twitter.com/BullofStDisclosure:All contributions to Seeking Alpha are my opinion and should not be taken as investment advice. Please do your own due diligence prior to making any investment decisions.
Analyst's Disclosure: I am/we are long PINS. I wrote this article myself, and it expresses my own opinions. I am not receiving compensation for it (other than from Seeking Alpha). I have no business relationship with any company whose stock is mentioned in this article.
Seeking Alpha's Disclosure: Past performance is no guarantee of future results. No recommendation or advice is being given as to whether any investment is suitable for a particular investor. Any views or opinions expressed above may not reflect those of Seeking Alpha as a whole. Seeking Alpha is not a licensed securities dealer, broker or US investment adviser or investment bank. Our analysts are third party authors that include both professional investors and individual investors who may not be licensed or certified by any institute or regulatory body.