Verizon Finally Gets Serious About Midband
Summary
The US carriers have all pursued different 5G strategies. Verizon has focused on mmWave, while T-Mobile focused on midband.
As predicted by many, including me, T-Mobile's midband-first has proven to be the winner for right now, and Verizon has a lot of catching up to do.
While Verizon is catching up, they will be adding more debt to their already extraordinarily high pile.
They have long been the mobile brand of "Best Network" in the US, but T-Mobile has a chance to steal that from them.
What Does "5G" Even Mean?
"5G" is a marketing term, so what it means is in the eye of the marketing executive. Android Authority made this graphic that very simply describes the radio wave frequencies we are talking about:

Broadly speaking, three flavors of 5G have emerged:
"mmWave." These are the very high bandwidth frequencies that provide the super-high speeds and very low latency that has really propelled the marketing of 5G. You see that in the 24-100 GHz range in the graphic. This has been Verizon's (NYSE:VZ) main focus.
Multichannel LTE: This is AT&T's (T) "5G Evolution" product that has caused a lot of consternation, because it is the same bandwidth as "4G," which was also a marketing term in the eye of the beholder.
In between those two, and overlapping with the 4G frequencies, is what's come to be known as "midband."
This has resulted in a ton of consumer confusion in the US, and some broken promises from a few years ago that have mostly been forgotten. To understand the divergent strategies the carriers have pursued, we need to understand a few basics about radio waves. The best way to explain it is AM and FM radio, far lower frequencies than we are talking about with cellular.
AM was the first broadcast radio technology, eventually settling on bandwidths in the 530 kHz to 1700 kHz in the US. These were very low frequencies that could only carry a mono audio signal, so only a small amount of analog data. But if you've ever driven through the flat parts of the US, you know that these AM signals can travel for hundreds of miles, and even pass through physical obstacles like concrete.
FM came later, and was at higher bandwidths, 87.5 to 108.0 MHz, part of what was known at the time as "Very High Frequencies." In addition to modulating the frequency rather than the amplitude, which led to a better encode, the VHF frequencies eventually allowed stereo audio transmission, and the old standard definition color signal with stereo audio. But this signal could not travel nearly as far as the AM signal, and was knocked down by buildings and other obstacles.
So in half a century of US commercial radio transmission, you see the tradeoff. Higher frequencies carry more data at higher speeds and lower latency, but come with challenges of distance and penetration. Over time, technological advances in transmitters and receivers have opened up higher and higher frequencies to commercial use.
So now we are into extremely high frequencies, up to 1000x times the old VHF when we talk about mmWave. There is a reason this giant chunk of bandwidth was still available in the 21st Century. The problems with mmWave are big. Signals do not travel far - a couple of city blocks at the most. They are knocked down by just about anything except glass and plastic. That includes your hand, which is problematic for a technology whose current use case is a handheld device. mmWave frequencies are not only knocked down by solid objects, but by rain, fog, and a small slice around 60 GHz is absorbed by oxygen.
And those are the problems on the carrier side. mmWave has added a huge amount of complexity to handset design, which is why Apple (AAPL) waited until 2020. The biggest issue is that in the tight space of a modern smartphone, designers must accommodate 2-3 large antenna modules. If the iPhone 12 is any indication of everyone else's challenge, they also added 3 more front-end modules to the iPhone 12 for a total of 8 now. These chips filter radio signals.
On top of that, all the 5G radio chips, including Qualcomm's (QCOM) most popular one, are power-hungry heat monsters when using the mmWave signal. Verizon counted on people not noticing because they would so rarely have a mmWave signal available, but they have. Verizon's suggestion is that they turn off 5G so that it doesn't destroy battery life. That is sort of mind-bending from the company that has relentlessly promoted its mmWave network, Ultra Wideband.
Enter midband. These lower frequencies with more advanced network equipment than their neighboring 4G cousins have a lot of advantages over mmWave right now. Distance and penetration are more on par with 4G, but at much higher speeds than 4G. But it is not the revolution in experience that mmWave promises.
But that experience is wasted right now anyway, because we don't need it. Verizon likes to promote gigabit per second speeds, but the most demanding use case right now is 4K video. That is measured in megabits per second, not gigabits, 25 to be precise when it comes to Netflix's (NFLX) recommendation. If you are standing right next to a Verizon mmWave tower, you could likely download 40 4K simultaneous streams, but no device can do that, and it seems a little excessive anyway.
The point is this: midband is a far better solution for right now than mmWave. If you can get mmWave, which is not easy, you get a ton of bandwidth that is mostly just wasted, and will drain your battery quickly if you actually use it. Midband works, and it works well. Now.
The Divergent Strategies
The three US carriers have pursued widely divergent strategies here.
Verizon has prioritized mmWave in its buildout and marketing.
T-Mobile (TMUS) has focused more on midband first, and their marketing has focused on the network's reach rather than its speed. This is why the Sprint merger was so key for them. As much as they wanted Sprint's customers, they wanted Sprint's bandwidth for more midband buildout.
It's a little hard to describe anything AT&T is doing as a coherent strategy, but they are behind T-Mobile in midband, and behind Verizon in mmWave.
These were their strategies concocted years ago. I think the confidence each carrier has in where they are now is best shown to you as what carriers were willing to pay for trade-ins at the iPhone 12 launch, Apple's first 5G phone and a good opportunity for customers to switch.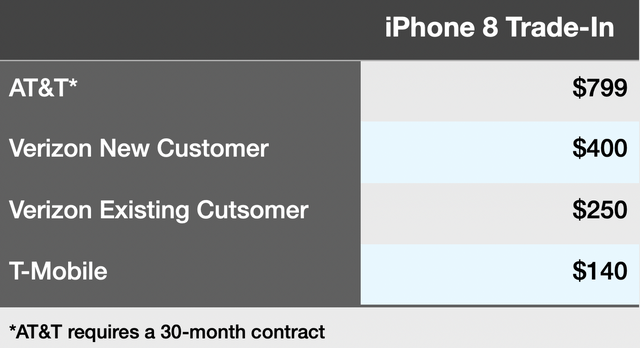 I had prepared Mrs. Trading Places for a switch to T-Mobile once we both got 5G phones, but that ended once AT&T started giving out free iPhones to keep us from switching for 30 months. That should tell you something about their confidence.
That T-Mobile decided to offer the least incentive to get us to switch over, $260 less than Verizon would have, tells you they know they have the best 5G network for right now, and that they made the right strategic choice to focus on midband, and the Sprint merger to jumpstart that.
OpenSignal does the best and most complete publicly available research on carrier signals throughout the world. Their January 2021 US report is just out. Beginning with 5G coverage:

OpenSignal
As you can see, T-Mobile is crushing the competition in the most important metric - availability. Verizon's 9.5% is a huge jump from 0.4% in the 2020 report, but they have a lot of catching up to do because they focused on a technology that covers very little area. AT&T's number is all their low- and mid-band, and trails T-Mobile there badly.
But because the very high speeds of mmWave are only available if you are right near the tower, T-Mobile also provides better average upload and download speeds.


Since Verizon's users are rarely near the mmWave network, they fall back to Verizon's midband "5G Nationwide" network.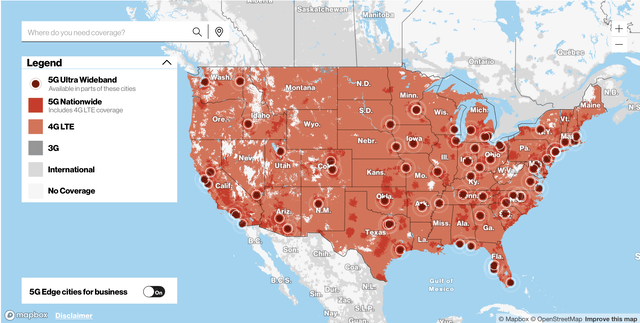 Verizon website screenshot
The dark red circles are the cities where their mmWave service is live, but when you zoom in you find it is only available in limited, mostly outdoor areas because of the distance and penetration issues.
The medium red is the 5G Nationwide network. It is hardly nationwide, even by their own accounting. They made a huge strategic error years ago to focus on mmWave first. Now, in 2021, with every handset manufacturer making 5G phones, Verizon still covers less than 10% of their customers with 5G. They are telling the ones who can get it to turn off 5G on their phones, because mmWave drains the battery too fast. This is what chickens coming to roost looks like.
Meanwhile, T-Mobile is reaching almost a third of their customers with 5G, and that is growing fast as they integrate the Sprint bandwidth and towers.
Enter The C-Band Auction
So Verizon was a little desperate coming into last week's C-band auction. These are frequencies between 1895–1910 MHz and 1975–1990 MHz, the part of that first graphic where 4G and 5G overlap. It's prime midband territory. Like those iPhone trade-in numbers, the amount spent by each company tells you where they think they sit with midband:

On the one hand, this is good news because it's finally some sort of acknowledgment from Verizon that they made a big strategic error on their biggest future opportunity. But it just highlights that they have a long road ahead and a lot of Capex and debt coming. They should have been building out both networks at once, and now they will have to climb the same towers twice. They are years from making this work.
Including lease liabilities, they had $151 billion in debt at the end of 2020, $17 billion of it new in 2020. Since then, they sold $6.6 billion in new bonds and secured a new $25 billion credit line from JPMorgan (JPM) and Morgan Stanley (MS). They are down the rabbit hole here.
So my bearish call is related to their long-term challenge of catching up to T-Mobile. While they are doing it, and crushing their balance sheet in the process, their brand, which has long been Best Network, will suffer. Meanwhile, T-Mobile, whose brand has been Hip Also-Ran, has the opportunity to take their place. At this point, AT&T's brand is Lost In The Woods.
This article was written by
Trading Places Research is a macroeconomics specialist with decades of experience identifying geopolitical factors that lead to market trends. With a focus on technology, he focuses on where the sector is headed as opposed to where investments are currently.
Trading Places is the leader of the investing group Long View Capital, where subscribers can expect explainers and portfolios on long-term secular trends in tech and regulation, a weekly newsletter, earnings coverage, macro coverage, and a lively chat partner. Explainer guides and portfolios in the group provide analysis for investing in AI, semiconductors, infrastructure, cybercrime, AR, the Metaverse and more. Learn More.
Analyst's Disclosure: I/we have no positions in any stocks mentioned, and no plans to initiate any positions within the next 72 hours. I wrote this article myself, and it expresses my own opinions. I am not receiving compensation for it (other than from Seeking Alpha). I have no business relationship with any company whose stock is mentioned in this article.
Seeking Alpha's Disclosure: Past performance is no guarantee of future results. No recommendation or advice is being given as to whether any investment is suitable for a particular investor. Any views or opinions expressed above may not reflect those of Seeking Alpha as a whole. Seeking Alpha is not a licensed securities dealer, broker or US investment adviser or investment bank. Our analysts are third party authors that include both professional investors and individual investors who may not be licensed or certified by any institute or regulatory body.