Biohaven: Exciting Times, Lots To Prove
Summary
Biohaven is working on three distinct approaches to advancing its therapies, its CGRP, its Glutamate and its MPO/UC1MT platforms.
Biohaven's sole approved therapy is NURTEC, from its CGRP platform for acute migraines. NURTEC has had a productive 2020 despite launching in 2020 during the pandemic.
Biohaven's CGRP platform has potential to grow into a powerful migraine portfolio beyond its NURTEC approved in the treatment of acute migraine.
Biohaven is financing its wide-ranging activities with several non-dilutive financings, including its Sixth Street financing and its Royalty Pharma agreement.
In my first Biohaven (NYSE:BHVN) evaluation, "Biohaven: Jumbo Opportunity," I advanced a cautiously optimistic stance on the company. I concluded the article by noting I had taken:
... a small placeholder position in this stock for my speculative biotech portfolio to assure that I continue to watch its progress.
I am continuing to watch. This article is my first report. At this point I see no reason to add to my placeholder position, although I will continue to monitor the situation. Let me explain.
Biohaven's pipeline includes three primary therapy platforms
Biohaven's website lists the following as its three drug development platforms:

Its CGRP Platform discussed in more detail below is shaping up to be its most productive on a near-term basis. Its Glutamate Platform product candidates include several shots on goal but none that seems overly attractive:

Troriluzole, (also known as BHV-437, trigriluzole) has also struggled in several indications. Its AD therapy is in a Phase 2/3 study that recently failed to meet its primary and key secondary endpoints. After reporting this disappointment, Biohaven's press release announcing the results went on to report that it was not yet giving up on troriluzole in this indication noting:
A subgroup analysis consisting only of mild AD patients did, however, reveal that troriluzole exhibited a nonsignificant numerical difference of a potential benefit at week 48 on both the ADAS-cog and hippocampal volumetric MRI. Troriluzole treated participants with mild AD (n=48) had a mean deformation change from baseline hippocampal volume of -1.1% versus -1.6% for placebo treated (n=49) participants [difference -0.5%, p-value = 0.2] at week 48. Although the numerical effects on the ADAS-cog and hippocampal MRI measured in mild AD patients suggests a potential biologic effect of troriluzole in patients with early stage disease, additional analyses and biomarker data will be informative and help determine whether any further study in early AD is warranted. Full study results, including additional secondary and exploratory outcomes, biomarker, and subgroup analyses, are expected in the coming months and will be presented at an upcoming scientific meeting.
It is bravely advancing troriluzole in a pair of 600 patient Phase 3 trials for adjunctive treatment of obsessive-compulsive behavior [OCB]. These studies have completion dates of 03/2023. It designed these studies using data from its Phase 2 which showed a clinically meaningful impact but was not statistically significant.
Troriluzole in treatment of hereditary Spinocerebellar Ataxia, an orphan indication, presents another near-term catalyst for Biohaven:
... Our Troriluzole program for SCA is on track and we expect topline at the end of 2021 with an opportunity to file in 2022.
Unfortunately, SCA has proven to be an exceptionally challenging indication to tackle and this opportunity should be considered in that light.
Biohaven is notching significant revenues from NURTEC, its first approved therapy
On a more positive note, Biogen's NURTEC™ ODT (rimegepant), a calcitonin gene-related peptide receptor antagonist [CGRP] for the acute treatment of migraine in adults, was approved by the FDA exactly 1 year ago as I write on 2/27/20. On 1/26/21 Biohaven filed an 8-K announcing its earlier press release in which it announced preliminary net product revenue of $35 million for NURTEC ODT (rimegepant) during the fourth quarter of 2020.
This reflected a ~98% increase over its Q3 2020 NURTEC revenues of $17.7 million for Q3, 2020. The 8-K showed that 2020 prescriptions totaled 337,000 issued by >24,000 separate prescribers. This reflects a therapy that meets a strong need, given that Biohaven launched NURTEC on 3/12/20, just as the US pandemic shutdown was starting.
I see this as a rather remarkably positive performance when one considers how crowded and diverse the existing migraine treatment landscape is. Take for example the Mayo Clinic's migraine relief site listing seven different therapeutic classes of medicine used to treat migraines.
It lists but a single oral CGRP therapy, Allergan's Ubrogepant (Ubrelvy) which was approved in 12/2019. Ubrelvy generated $125 million for AbbVie (ABBV) in 2020 (p.37). The Mayo clinic list makes no mention of NURTEC. As noted below there are an additional four CGRP biologics in preventive treatment of migraines administered by injection.
Ubrelvy and NURTEC look to be in a tight race for dominance in the oral CGRP migraine treatment space. Ubrelvy has a modest lead in terms of approval date and 2020 revenues. It also has the advantage of AbbVie's marketing muscle and financial resources.
In addition to oral CGRP therapies there is an additional group of four biologics administered by injection. These include:
Biohaven's CGRP platform offers opportunities beyond its approved NURTEC
Biohaven lists the following as its CGRP platform pipeline: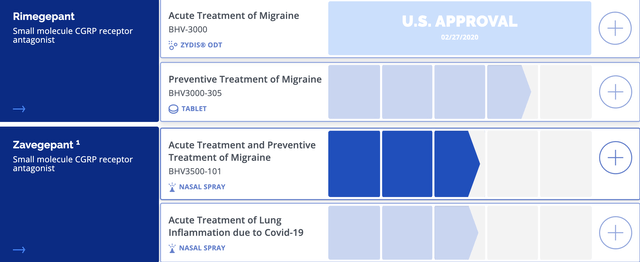 Its two shots at a therapy for both acute treatment and preventive treatment of migraine are its top prospects. As noted above, NURTEC in treatment of acute migraine is already off to the races. If it can score an FDA approval for preventive treatment of migraine it can significantly expand its label and its potential. Its sNDA for preventative treatment was accepted for filing by the FDA in 10/2020 with a PDUFA date in H2 2020.
Its EU MAA application for both acute migraine and migraine prevention is already filed. In Europe it will be known as Vydura. Biohaven is also expanding its potential reach across the globe:
In Japan, Biohaven has met with the Pharmaceuticals and Medical Devices Agency (PMDA) and plans a filing for acute and preventive treatment of migraine. BioShin's program supporting a filing in China and Korea is underway with a Phase 3 supplementary local trial that commenced in October 2020. The Company has filed for the acute treatment of migraine in Israel, the United Arab Emirates, Kuwait, and Bahrain. Approvals expected for some of these countries starting in 2021 and other global filings are also expected later in the year.
Biohaven is also advancing zavegepant to further its migraine portfolio. It characterizes zavegepant as a "a third generation, high affinity, selective and structurally unique, small molecule CGRP receptor antagonist in development for both migraine and non-migraine indications." Zavegepant is being tested in both oral and intranasal formulations.
Intranasal zavegepant is further along than the oral formulation, having:
... previously demonstrated superior efficacy as compared to placebo in a Phase 2/3 study for the acute treatment of migraine. A second Phase 3 trial of intranasal zavegepant for the acute treatment of migraine was initiated in October 2020. Intranasal zavegepant is also being studied in an ongoing double blind, randomized, placebo-controlled trial in COVID-19 infected hospitalized patients requiring supplemental oxygen.
Beyond its three platforms, Biohaven has wide ambitions; it is managing its fast growing expenses and its deals with two recent financings
Biohaven has entered into several recent deals which potentially expand its development reach including the following:
Biohaven's expense profile announced during its Q4 2020 earnings press release included R&D expenses of $73.5 million. Its SG&A expenses of $122.4 million ballooned up from Q4 2019's $69.0 million; this increase was primarily due to increased spending in support of its product commercialization.
Such $53.4 million jump in expenses resulting in quarterly revenues of $35 million tempers my enthusiasm for NURTEC's Q4, 2020 performance.
Biohaven has entered into several non-dilutive financings. These financings include a $450 million royalty funding agreement and a modification to a $500 million term loan, provide it with comfortable near-term liquidity as shown by its Q4,2020 earnings presentation slide below: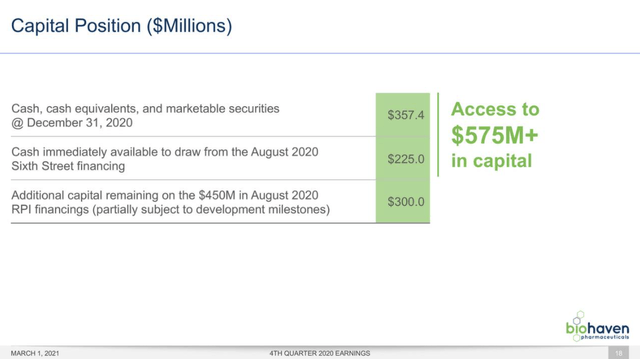 Conclusion
Biohaven has taken a giant first step on its road to biotech success with its encouraging launch of NURTEC. It dare not rest on its laurels, however. NURTEC revenues alone, even if it gets its approval as both an acute treatment and a preventive therapy, seem unlikely to be sufficient to carry Biohaven.
By my estimation there are just too many migraine treatment options; these not only nick the peak revenues NURTEC can claim, they also heighten its marketing costs.
Biohaven bulls, however, can point to its sanguine vision for the oral CGRP class. Biohaven's Q4, 2020 presentation slide 7 stakes it out as having blockbuster status.
Beyond NURTEC, Biohaven is expecting readouts on five late stage programs in 2021 and two in 2022. It lists an encouraging group of growth drivers in its Q4,2020 earnings presentation, including: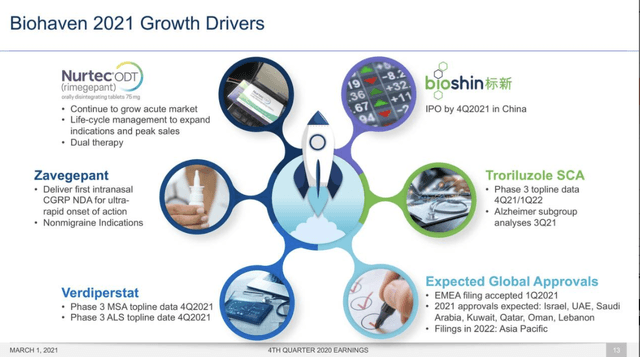 In order to support its plump >$5 billion market cap, it is going to have to harvest some positive results. I will be watching and expect to be reporting on its progress.
This article was written by
Writing under the pseudonym "out of ignorance", I very much regard investing as a learning process. Investing failures are tuition paid. Investing successes enter the trove of lessons learned. In my Seeking Alpha articles I share my experience from decades of investing and from ~5 years of focused research on a variety of stocks, in recent years with a primary emphasis on healthcare stocks. I greatly appreciate those who take the time to share their reactions to articles, particularly those who share relevant anecdotes and experiences.
Analyst's Disclosure: I am/we are long BHVN, ABBV. I wrote this article myself, and it expresses my own opinions. I am not receiving compensation for it (other than from Seeking Alpha). I have no business relationship with any company whose stock is mentioned in this article.

I may buy or sell shares in any stock mentioned in this article.
Seeking Alpha's Disclosure: Past performance is no guarantee of future results. No recommendation or advice is being given as to whether any investment is suitable for a particular investor. Any views or opinions expressed above may not reflect those of Seeking Alpha as a whole. Seeking Alpha is not a licensed securities dealer, broker or US investment adviser or investment bank. Our analysts are third party authors that include both professional investors and individual investors who may not be licensed or certified by any institute or regulatory body.