Thematic Funds For The Tactical Sleeve
Summary
Thematic funds for portfolio tactical sleeve.
Anchor with multi-theme fund, supplement with single theme funds.
LOUP, ARKK, XITK, KOMP, and MATFX are attractive multi-theme funds.
(This is a recent letter to QVM Clients):
In your tactical sleeve, most of you would probably be better served with actively managed (or "active" rules-based managed) multi-theme ETFs or mutual funds with good performance and a solid manager or attractive rules, rather than taking individual stock positions.
Funds have far less idiosyncratic (single security) risk than single stocks, and they can take more positions than you reasonably could. The funds, or the rules, are constantly evaluating the suitability of their holdings to their strategy for potential change, with a team of experts applying a level of scrutiny that neither you nor I could muster or apply.
The ETFs at least are more able to make changes within their portfolio in a tax efficient manner than is possible for you to do if you held the same individual stocks and made the same changes.
There has been a flood of new thematic funds released in the past few years. There are many single theme funds, and a smaller number of multi-theme funds. I believe that a thematic approach within a tactical sleeve should be anchored by multi-theme funds, and supplemented, if desired, by single theme funds. Just as individual stocks increase and decrease in appeal, so do themes. That makes multi-theme funds more likely to perform well. Of course, there are/will be individual theme funds that outperform multi-theme funds, but it is difficult to know which those will be.
Among the multi-theme funds, there is a small number of somewhat consistently top performers. There are five such funds that I believe are the better choices – all of which I utilize for myself. They are:
The funds have low overlap of holdings, apply distinctly different strategies and rely on different types of competency to do their work.
I recently closed my ARKK position due to a large percentage gain, that I wanted to protect from market volatility (also indications are perhaps too much hot money at the moment). I invested the gain portion of the proceeds into a real estate qualified opportunity zone fund. I am holding back the principal recovered for a better moment to reinvest in that particular fund.
I will close my MITEX position tomorrow, also because of a large gain, and invest that gain in the same real estate fund, and then the next day reinvest some of the principal recovered back into MITEX, and apportion the balance of the recovered principal to LOUP and KOMP to better allocate between the funds.
MITEX/MATFX is the most attractive Asia-only (ex Japan) fund investing in innovative and disruptive companies.
Among the other four (world authorized funds heavily biased to US companies), if I could only invest in two, today those would be LOUP and KOMP, if for no reason other than they are more reasonably valued at this time (see Figure 8), although they are all good long-term. They are also the most complementary in terms of number of holdings and diverse multi-themes versus tightly related themes, and because of a rules-based versus individual manager judgement approach.
The Figures that follow provide lots of information about each fund to help you see what they do and how they are different.
Happy to discuss any of these funds or the information below with you if they pique interest.
Figure 1:

XITK and KOMP are index funds (although the index methodologies create effectively rules-based active management).
The stocks for XITK are from categories defined by rules developed by FACTSET The stocks for KOMP are from lists developed by computer scans of the narratives in each SEC filing of each listed stock.
LOUP, ARKK and MITEX/MATFX are actively managed in the traditional sense of the word.
The stocks for LOUP, ARKK and MATFX are selected by basic research and manager judgement as to innovation or disruption impact.
Figure 2:

Figure 3: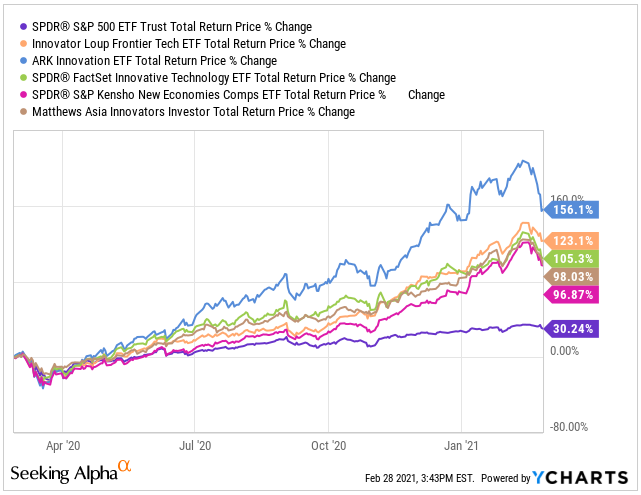 Figure 4: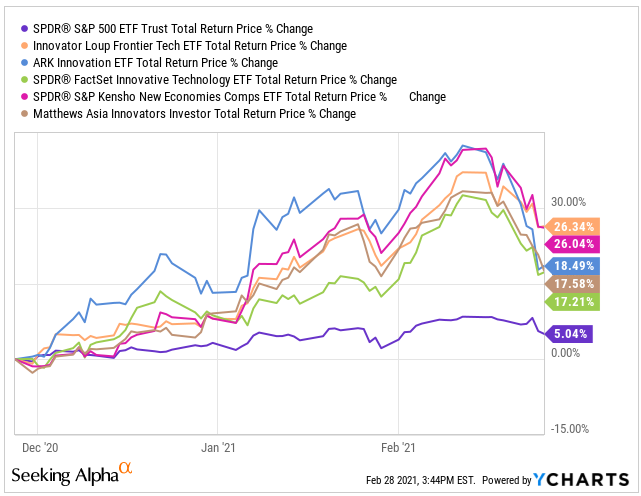 Figure 5: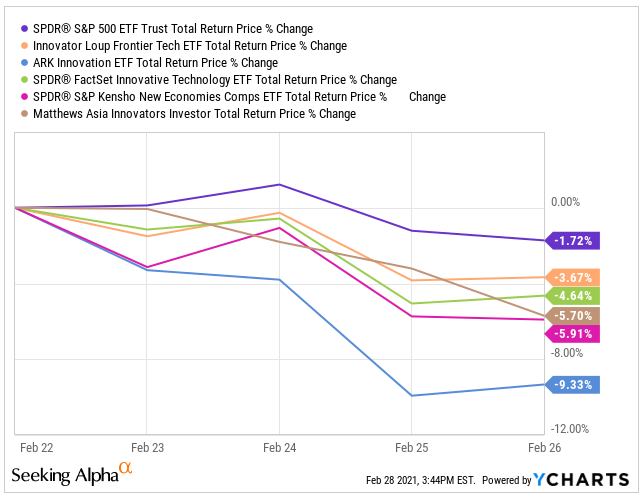 Figure 6:
Profiles of the Active Managers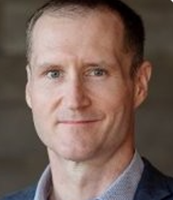 Gene Munster, Loup Ventures, Managing Partner (January 2017-present)
He was formerly Managing Director and Senior Research Analyst at Piper Jaffray July 1995 – December 2016. He specialized in US and China internet and Digital Media, including digital advertising, mobile social, social gaming, virtual reality and mixed reality. During his 21 years at Piper Jaffray, he received many acknowledgements including: Top Stock Picker from Forbes, Best on the Street from The Wall Street Journal.
He received a bachelor's degree in financial management and new venture strategies from University of St. Thomas (Minnesota)
Munster believes that 70% of jobs will become automated and that as a result, these categories will be the biggest areas of growth. He believes that in 10 years we'll look back and we could not imagine what life was like without robots.
Link to introductory comments about LOUP ETF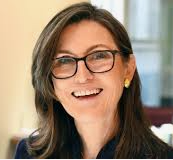 Catherine Wood | CEO and Chief Investment Officer ARK Invest
Prior to ARK, Cathie spent twelve years at AllianceBernstein as Chief Investment Officer of Global Thematic Strategies where she managed $5 billion. Cathie joined Alliance Capital from Tupelo Capital Management, a hedge fund she co-founded which, in 2000, managed $800 million in global thematic strategies. Prior to her tenure at Tupelo Capital, she worked for 18 years with Jennison Associates as Chief Economist, Equity Research Analyst, Portfolio Manager and Director. She started her career in Los Angeles, California at The Capital Group as an Assistant Economist. Cathie received her Bachelor of Science, summa cum laude, in Finance and Economics from the University of Southern California in 1981.
She emphasizes focus on the future, doubling down on innovation and disruption, and making sure you are on the right side of change.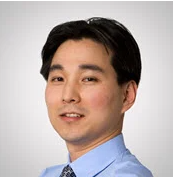 Michael J, Oh, Lead Manager, Matthews Asia Innovators Fund
Michael Oh is a Portfolio Manager at Matthews Asia. He manages the firm's Asia Innovators and Korea Strategies and co-manages the Asia Growth Strategy. Michael joined Matthews Asia in 2000 as a Research Analyst and has built his investment career at the firm. Michael was promoted from Research Analyst to Assistant Portfolio Manager in 2003. In 2006 and 2007, he was promoted to Lead Manager of the Matthews Asia Innovators Strategy and the Matthews Korea Strategy, respectively. From 2000-2003, Michael's research focused on the technology sector supporting multiple strategies managed by the founders of the firm. As a research analyst, he contributed investment ideas to the broader Matthews Asia investment teams. Michael received a B.A. in Political Economy of Industrial Societies from the University of California, Berkeley. He is fluent in Korean.
Figure 7:

Figure 8: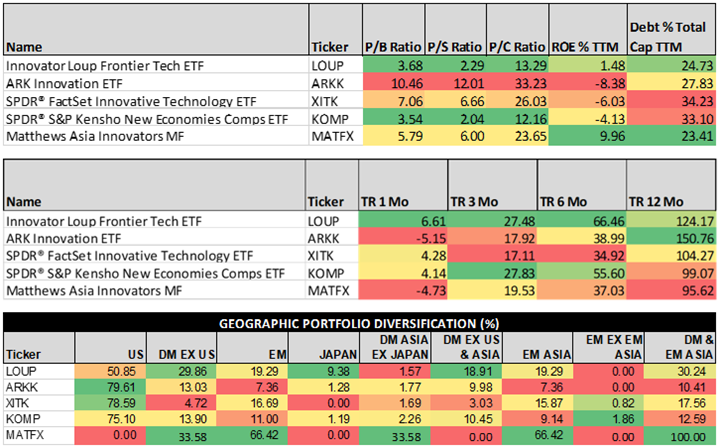 Figure(s) 9: Top 10 Holdings of Each Fund
Disclosure: I am/we are long LOUP, XITK, KOMP, MITEX.
QVM has positions in some of the securities identified in this article as of the publication date. We certify that except as cited herein, this is our work product. We received no compensation or other inducement from any party to produce this article, and are not compensated by Seeking Alpha in any way relating to this article.
General Disclaimer: This article provides opinions and information, but does not contain recommendations or personal investment advice to any specific person for any particular purpose. Do your own research or obtain suitable personal advice. You are responsible for your own investment decisions. This article is presented subject to our full disclaimer found on the QVM site available here.
This article was written by
Richard is the managing principal of QVM Group LLC, a fee-based investment advisor based in Connecticut, with clients across the country. . QVM manages portfolios uniquely designed for each client on a flat fee basis through the client's own accounts at Schwab; and provides investment coaching to "do-it-yourself" investors. The investment approach is based on value, asset allocation, expense control, risk management, customizing portfolios to each client's specific circumstances, and regular communication about strategy and absolute and benchmark performance.   Richard's extensive experience includes having served as a Board Director of Phoenix Investment Counsel, a U.S. pension and mutual funds manager, now Virtus Investment Partners (New York Stock Exchange: VRTS http://www.virtus.com); as Managing Director of Phoenix American Investment in London; and as a Board Director Aberdeen Asset Management PLC in Aberdeen Scotland (http://www.aberdeen-asset.com  then listed London Stock Exchange, now a subsidiary of Phoenix Group inthe U.K.).  He has been a Trustee of a $500 million pension fund, and was a charter investor and member of the Board of Directors of several internet companies, including Lending Tree (NASDAQ: TREE http://www.lendingtree.com) prior to its IPO.   He is a 1970 graduate of Dartmouth College.   QVM Group LLC is a Registered Investment Advisor.   Visit the QVM Group website (http://www.qvmgroup.com) or its blog (http://www.qvminvest.com).