VBL Therapeutics: A Speculative Play With An Enticing Risk-Reward Profile
Summary
While doing some speculative biotech window shopping, I came across VBL Therapeutics sitting on the sub-$100M market cap shelf. After a quick inspection, I am heading to the checkout.
The company's lead candidate, VB-111, is moving closer to the finish line in platinum-resistant ovarian cancer. So far, VB-111 has shown to have at least a 58% response rate.
I believe the VBLT's risk-reward profile favors a long position due to its potential upside and its current valuation.
I discuss my leading downside risks and will reveal how I plan to initiate a position in VBLT.
As we wait for the overall market to make up its mind, I have been on the lookout for speculative healthcare plays that could be worth a buy if the market decides to pick the "red-pill" and correct in the coming weeks. While I was rummaging through healthcare tickers, I came across VBL Therapeutics (NASDAQ:VBLT) and was impressed with their risk-reward profile. VBL is a late-stage clinical biopharmaceutical company that employs three innovative platform technologies to develop original oncology and immune/inflammatory therapies. The company's lead candidate, VB-111, is their "anti-cancer gene-therapy program," which has the potential to treat a broad range of solid tumors. VB-111 is moving closer to the finish line in platinum-resistant ovarian cancer, which if approved, will be a game-changing therapy for hard-to-treat cancer. In addition to VB-111, the company has advanced two ground-breaking antibody programs that are that utilize MOSPD2, which is a highly specific protein that has the potential to regulate directed cell movement of immune and tumor cells. In addition, VBL has developed "Lecinoxoids," which are orally available anti-inflammatory small molecules, for chronic immune conditions.

Figure 1: VBLT Pipeline (Source: VBLT)
After a few hours of snacking on 10-Qs and clinical trial data, I was convinced VBLT was going to find its way into my speculative portfolio.
I intend to review VB-111 and will present why I think the company has an enticing risk-reward profile. In addition, I discuss my leading downside risk and my strategy for entering a speculative position in VBLT.
VB-111 Moving Closer to the Finish Line
VB-111 has some interesting characteristics that could change the way we treat cancer. First and foremost, VB-111 is a gene therapy candidate that is administered via IV infusion every 6-8 weeks. So, not only will VB-111 target the diagnosed cancer, but it is possible it will work against other known or unknown tumors. How does it work? VB-111 has a dual mechanism of action that blockades the tumor's vasculature while stimulating the immune system to recognize and attack the tumor. Perhaps, the most important aspect of VB-111 is that it has the potential to work on any tumor mutation, so it has the potential to be operative against all solid tumors.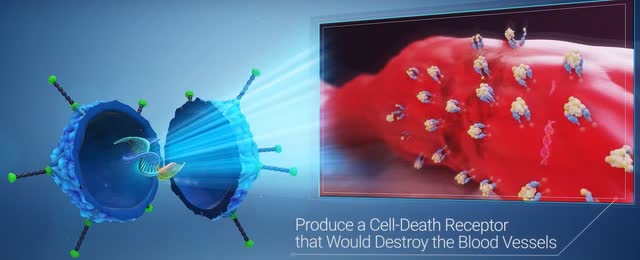 Figure 2: VBL-111 MOA (Source: VBLT)
VB-111 has received multiple designations from the FDA and the EMA, including an orphan drug designation in both the U.S. and Europe. In addition, it was granted Fast Track designation by the FDA for glioblastoma. Moreover, VB-111 has Orphan Designation ovarian cancer in the EU.
VBL Therapeutics is near the end of their Phase III OVAL study, a potential-registration study for VB-111 in platinum-resistant ovarian cancer. If successful, VB-111 has the potential to become a new standard-of-care in this setting. Back in 2020, the company announced a response rate in the VB-111 treatment arm to be 58% or higher, which is substantially higher than standard-of-care treatments for which response rate is usually sandwiched between 10% and 20%.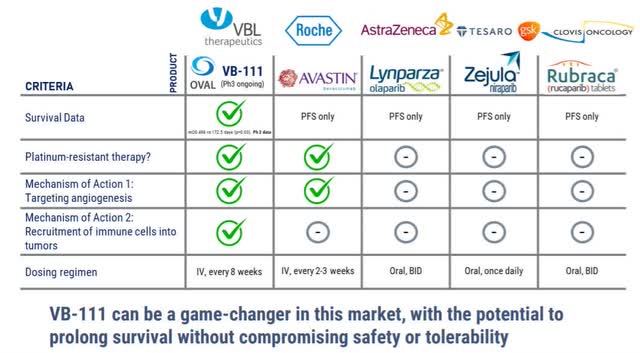 Figure 3: VB-111 vs. Ovarian Competition (Source: VBLT)
Recently, VBL announced the results of the DSMC review of the OVAL's numbers thus far. The DSMC saw "no safety issues with the trial and recommended its continuation as planned." The next DSMC review is expected to occur during Q3 of this year, with followed enrollment finishing at the end of this year or in early next year.
Additional VB-111 Programs
VB-111 is also being tested in a Phase II study in combination with Merck's (MRK) nivolumab for metastatic colorectal cancer. The company projects they will have their first results by mid-2021. In addition to metastatic colorectal cancer, VB-111 is taking aim at thyroid cancer is looking to move forward with a Phase III study for. What is more, the company also announced there is an investigator-sponsored study for VB-111 in recurrent GBM.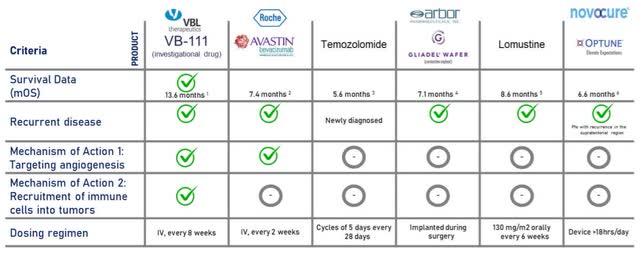 Figure 4: VB-111 vs. GBM Competition (Source: VBLT)
All these programs should expand the VB-111 story and validate its ability to be used in a broad array of tumor types. Moreover, we could see some data that reveals VB-111's ability to be an operative systemic treatment that might have a positive impact on metastatic patients.
VB-601 Will Provide Variety
VBL is developing monoclonal antibodies targeting MOSPD2 for immune-inflammatory diseases including multiple sclerosis. Personally, I would like to see how VB-601 will perform in the clinic. The company expects to submit VB-601's IND application for immune-inflammatory indications in the second half of this year, so we could see some data at some point in 2022. VB-111 might become a blockbuster therapy. However, I believe speculative biotech has to have at least one junior prospect that diversifies the pipeline just in case there are some regulatory setbacks or failures from their lead program. Looking at VBL's pipeline, I think VB-601 could be that program due to its platform technology and potential target indication.
Downside Risks
As with most pre-commercial biotech companies, VBL's financials are a concern. The company's comprehensive loss for Q3 was $5.8M, which isn't alarming. However, the company finished Q3 with $37.3M in cash, cash equivalents, short-term bank deposits, and restricted bank deposits. VBL management believes their cash and cash equivalents and bank deposits will be adequate to fund the company's operations into the Q3 of 2021. Consequently, investors need to accept that there is a strong chance the company will have to execute a secondary offering at some point in the near future. In addition, we don't know how much the company is going to have to raise, which could lead to extensive dilution. Indeed, the company could take on some debt or possibly sign a partnership deal to prevent mass dilution. Still, it is a looming threat, and I believe it will keep the lid on the share price until the funding issue is addressed.
Enticing Risk-Reward
I believe VBLT's risk-reward profile favors a speculative long position at these current prices. VB-111 has shown some impressive data thus far and could become a contender in several multi-billion dollar global markets (Figure 6).

Figure 6: VB-111 Markets (Source: VBLT)
Admittedly, we are probably at least a couple of years away from a potential commercial launch, but OVAL's final readout will most likely be the most significant binary event for the stock over the next few years.
If VB-111's numbers hold up through the completion of OVAL, the market will quickly gauge VBLT's worth. Looking at figure 7, we can see the Street believes the company will experience strong year-over-year growth in the coming years.

Figure 7: VBLT Revenue Estimates (Source: Seeking Alpha)
One analyst believes the company will bring in around $133M in 2026, which will be a forward price-to-sales of 0.65. Considering the industry's average price-to-sales is 5x, we can say VBLT is currently undervalued for its expected sales growth.
Admittedly, we don't know if VBLT will hit $133M in 2026, but it isn't absurd considering VL-111's commercial prospects. Assuming VBL is able to bring $133M in 2026, we should see the market quickly adjust VBLT's value to be in line with its peers. What would that be? Using the industry's average price-to-sales of 5x and $133M in estimated revenue, we would get a market value of $665M, or ~$13.70 per share. Again, we don't know if the company will hit those numbers, and we also have to expect there will be shareholder dilution. However, one must admit the risk-reward favors a long position considering the share price is around $1.80 at this point in time.
My Plan
Typically, I like to find a technical entry point and will start to add to my position as the company hits key milestones. Unfortunately, VBLT's daily chart (Figure 8) is not giving me a clear signal, so I am looking at the list of upcoming catalysts (Figure 9), and I am going to look for an entry in the coming days.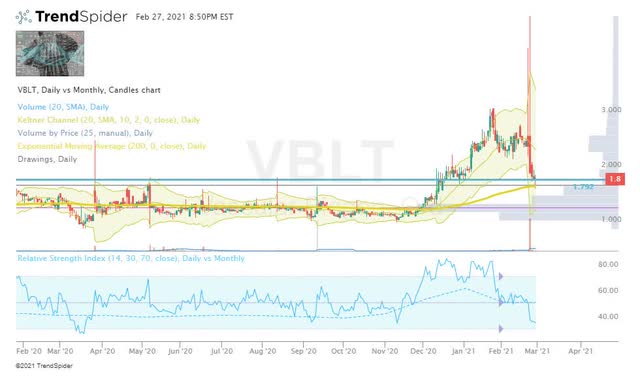 Figure 8: VBLT Daily (Source: Trendspider)
The OVAL study doesn't have a clear competition date, so I am going to have to rely on VB-111's other programs to help determine when I will add to my position.

Figure 9: VBLT Catalysts (Source: VBLT)
Despite my bullish outlook, I am not expecting to "load-up" at this point in time due to the lack of a clear completion date for OVAL and the looming threat of dilution. As a result, I am going to keep VBLT as a very speculative play column and will remain conservative until either OVAL is complete or the financial situation improves. Long term, I am willing to give VBLT at least five years to get VB-111 on the market for ovarian and at least two other oncology indications. On the other hand, if VB-111 fails to hit the OVAL endpoints, I will liquidate my position and will revisit the ticker after the company decides their next course of action.
This article was written by
Biologics is a full-time healthcare investor who developed a passion for biotech and life saving therapies after working in the medical field for years. His trade focus is around innovative companies developing breakthrough therapies and/or pharmaceuticals with catalysts for potential acquisitions.
He is the leader of the investing group
Compounding Healthcare
. Features of the group include: Several model healthcare portfolios, a weekly newsletter, a daily watchlist, and chat for dialogue and questions.
Learn more
.
Analyst's Disclosure: I/we have no positions in any stocks mentioned, but may initiate a long position in VBLT over the next 72 hours. I wrote this article myself, and it expresses my own opinions. I am not receiving compensation for it (other than from Seeking Alpha). I have no business relationship with any company whose stock is mentioned in this article.

I am/we are Long MRK
Seeking Alpha's Disclosure: Past performance is no guarantee of future results. No recommendation or advice is being given as to whether any investment is suitable for a particular investor. Any views or opinions expressed above may not reflect those of Seeking Alpha as a whole. Seeking Alpha is not a licensed securities dealer, broker or US investment adviser or investment bank. Our analysts are third party authors that include both professional investors and individual investors who may not be licensed or certified by any institute or regulatory body.