Baidu: Pivoting Towards Long-Term AI Growth Opportunities
Summary
Baidu is the leading search engine provider in China with almost three quarters of market share and derives the majority of its revenues from the booming digital ad market.
The company is seeking to diversify from digital ads as it is outpaced by Alibaba and Tencent which has gained share from the company.
It has ventured into the AI smart speaker market and attained a firm market leadership by leveraging its search engine capabilities.
It is also exploring the cloud market where it seeks to compete against Alibaba, Tencent and Huawei with a differentiated product offering based on AI capabilities as well as the nascent AV market with its Apollo AV software platform in partnership with major automakers and suppliers.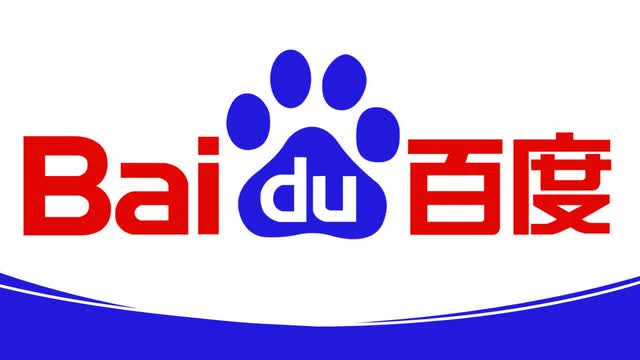 Source: Baidu
Baidu (NASDAQ:BIDU) is a Chinese Internet platform company best known as the leading search engine in China. The company has a market share of 74% of the search market handling 6 bln search queries per day. It derives the majority of revenues from its Baidu Core advertising segment which represents 62% of its revenues. Besides that, the company also has a strong presence in the Chinese video streaming market with iQIYI (IQ), one of the major video streaming providers in China with almost 105 mln paid subscribers.
Furthermore, Baidu is also seeking to diversify from these business segments by leveraging its search engine capabilities to explore the fields of AI with developments in AV, cloud and smart speaker devices. In cloud, the company is seeking to differentiate itself as a cloud AI-enabled solutions provider for consumers and enterprise with a suite of comprehensive product offerings for industry specific applications in big data and machine learning. Since the introduction of its low-cost smart speakers, the company has attained market leadership by leveraging its DuerOS intelligent voice assistant platform which harnesses the capabilities of its search engines. Moreover, the company is exploring the nascent AV market by partnering with major automakers and auto part suppliers to provide a comprehensive software suite for the development and commercialization of AV.
Digital Ad Market Growth Offset Market Share Erosion
Baidu derives the majority of its revenues from search and display ads from the Baidu Core platform. The platform features Baidu search plus feed, Baidu App, short video, knowledge & information products such as Baidu Knows, Baidu Wiki and Baidu Post. Through the Baidu platform, the company derives online advertising service revenues from search and display ads based on a pay-for-performance (P4P) model which entails that businesses may opt not to continue spending on ads if they are not performing up to expectation. This model is also very similar to that of Google's (GOOG) Adwords where the algorithms suggest ads based on the search queries. Baidu Core advertising represents the majority of its revenues at 61% or $10,160 mln in 2020.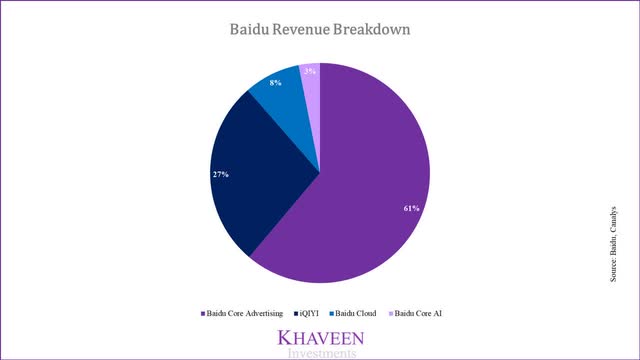 Source: Baidu
While Baidu is trying to reduce its reliance on digital ads, it remains a very significant part of their business. The overall health of the Chinese digital ad market has a major influence on the company's performance. The digital ad market in China was projected to grow at only 5% in 2020 which is below its past 5-year average of 20% as the pandemic led to economic weakness as seen with weaker GDP growth of only 2.3%. According to eMarketer, the digital ad market is expected to show stronger growth of 16% in 2021 as economic activity picks up across the country. Beyond 2021, rising Internet penetration and usage are expected to support digital ad market growth. The Internet penetration rate was forecasted to increase to 80% from 65% currently. As the leading search engine provider, Baidu is poised to benefit from this digitization trend as millions of users access Baidu's search platform. There are about 770 mln search engine users in China, Baidu commands between 70% to 80% of market share, translating to at least 539 mln users which is almost 40% of China's population. As its user base grows with rising Internet usage, the higher level of ad activity generated would contribute to its revenue growth.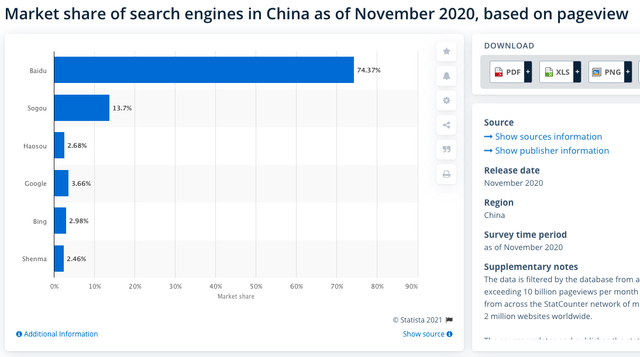 Source: Statista
The digital ad market is dominated by the BAT (Baidu, Alibaba and Tencent). Notwithstanding the robust outlook of the digital ad market and its search engine dominance, Baidu continues to face major competition from fierce rivals Alibaba (BABA) and Tencent (OTCPK:TCEHY). Both companies have outpaced Baidu to become the two largest digital ad market leaders reflecting their strength in e-commerce and social networking. Alibaba has consistently grown its market share by leveraging its sprawling online marketplaces which have over 1 bln active users and over 10 mln merchants. These merchants compete to reach the top of the platform and gain a wider market reach. On the other hand, Tencent has managed to pull advertisers because of its leading social network platforms which have over 1.2 bln users for WeChat and 900 mln users for QQ. Despite Tencent's ads being pricier than Baidu with an average CPM of at least 11% higher, Tencent's strength with the scale of its social networks and big data capabilities enables the company to create more targeted and personalized ads similar to what Facebook has been doing. This platform's immense user engagement draws advertisers to its platform.
As seen in the chart, Baidu's market share has consistently declined as it is outpaced by Alibaba and Tencent. We forecast its market share to remain suppressed by the strong growth of its competitors relative to Baidu's search engine growth. Notwithstanding, the company's advertising revenues could still grow strongly this year due to the anticipated uptick in the overall digital ad market.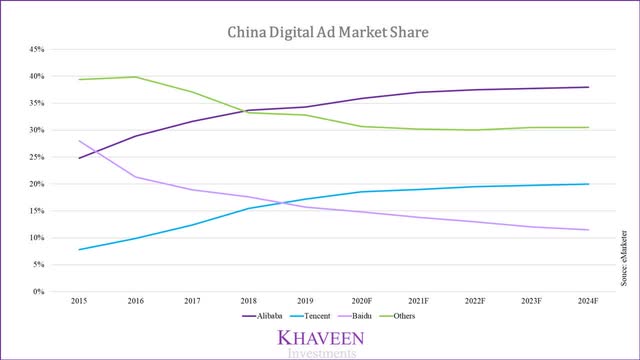 Source: eMarketer
Expansion into AI and Cloud
While Baidu is the market leader of Chinese search engines, the company is seeking to diversify from digital ads by exploring the promising fields of AI with cloud, AV and smart speaker devices. Cloud computing is a major area where the company is investing heavily. The Chinese cloud market is fastest growing in the world and is driven by Internet usage growth. According to Gartner, the cloud market is projected to grow at a CAGR of 35% to $95 bln by 2025 underpinned by robust demand for cloud storage and compute with the rapid digitization trend across the country supported by favorable government policy.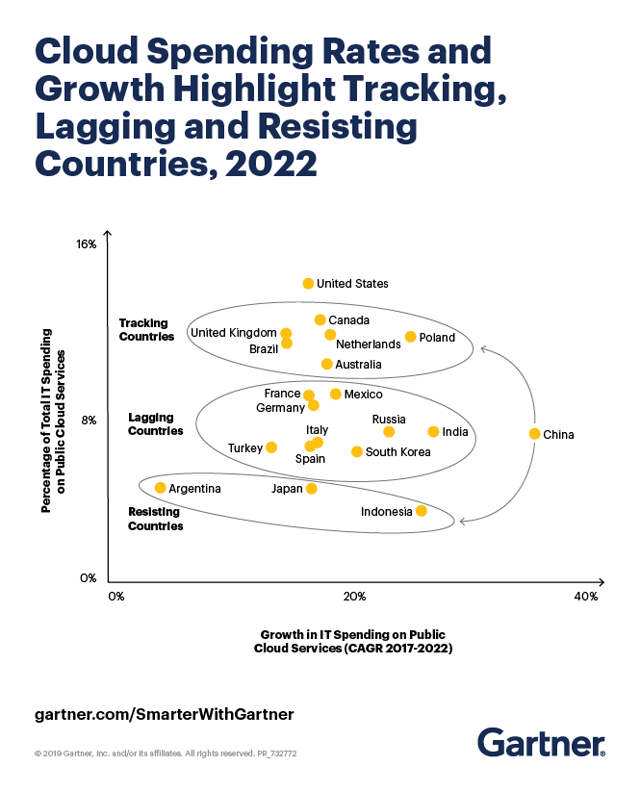 Source: Gartner
Baidu Cloud is highly promising despite the competitive cloud market environment in China. The company has a market share of 8% which trails behind Alibaba, Tencent and Huawei. Alibaba and Tencent's strength in cloud is attributable to their dominance in e-commerce, social network and fintech with their strong integration between platforms and ability to leverage their massive user bases. Whereas Huawei has also leveraged its strength as a mobile device leader with over 400 mln users on Huawei Mobile Services. While it has remained behind its competitors, the company is seeking to establish itself and grow its presence with differentiated cloud offerings based on AI capabilities. The company targets both enterprises and consumers with general and industry-specific AI solutions and cloud infrastructure. For example, the use of Baidu AI to automate customer call centers. Baidu's AI open platform built on Baidu Cloud offers over 270 AI capabilities, attracting a developer community of over 2 million. Compared to competitors, Baidu AI Cloud has the highest AI product capabilities in terms of recognition, image/video, voice, NLP technologies, conversational AI and machine learning applications.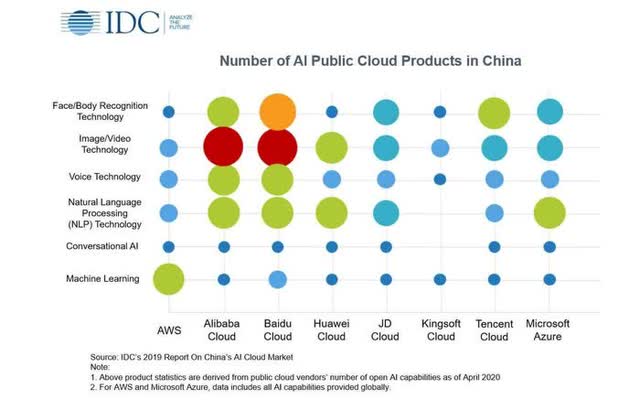 Source: IDC
The company is focusing on Baidu Cloud and is implementing its plan to expand Baidu Cloud in the next 10 years with increased investments. By 2030, the company targets to have over 5 mln cloud servers and is cooperating with more than 200 universities to train over 5mln AI experts in 5 years. Baidu's focus on this segment is could provide a key growth catalyst and enable it to capture market share as cloud AI is set to grow rapidly. The IDC projects the AI cloud services market in China to grow at a 94% CAGR to 2024. Baidu has also built partnerships with enterprises such as the Postal Savings Bank of China, the top consumer bank in China, to provide Baidu AI cloud capabilities as well as the Economic and Technological Development Zone in Guiyang, a major data center hub to provide its AI platform to over 400 enterprises in the economic development zone.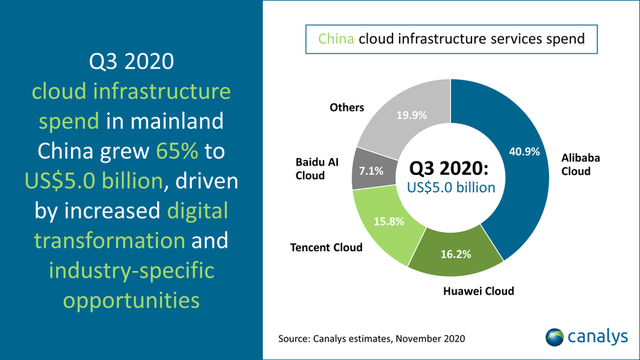 Source: Canalys
Exploring AI Integrated Smart Speakers
Besides AI cloud, Baidu has ventured into the booming smart speaker device market with its AI-enabled smart speakers featuring its DuerOS intelligent voice assistant platform. The company has seen rapid expansion since it introduced the platform and has an install base of over 400 mln devices handling 3.2 bln voice queries every month. Baidu's entry into the smart speaker market was marked by its acquisition of smart speaker market Raven Technology, but its success lies with its introduction of the low-cost Xiaodu speakers. It has grown to become the market leader ahead of Alibaba and Xiaomi (OTCPK:XIACF) and is third globally behind Amazon (AMZN) and Google.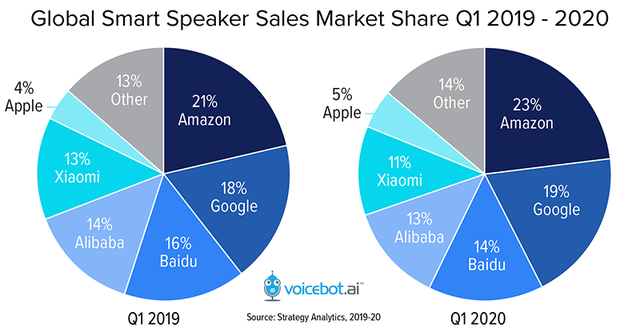 Source: Voicebot.ai
Baidu's market leadership is positive for the DuerOS platform which harnesses the capabilities of its core search engines. The growth of its smart speaker user base turn further enhances the platform capabilities by allowing the company to take advantage of the voice queries generated for big data and machine learning. This would enable Baidu to advance its strategy with enhanced AI capabilities.
Building up its smart speaker user base will be Baidu's biggest priority, to increase its touch points for its smart assistant - Canalys analyst Jason Low
The smart speaker market in China has taken off sharply since 2017 with users growing by 32 times to over 111 mln users in 2020. The smart speaker landscape has changed drastically in the past 2 years as larger players Baidu, Xiaomi and Alibaba dominate the market. According to Research and Markets, the Chinese smart speaker market is forecasted to reach a market size of $3.2 bln growing at a CAGR of 30.8% until 2027.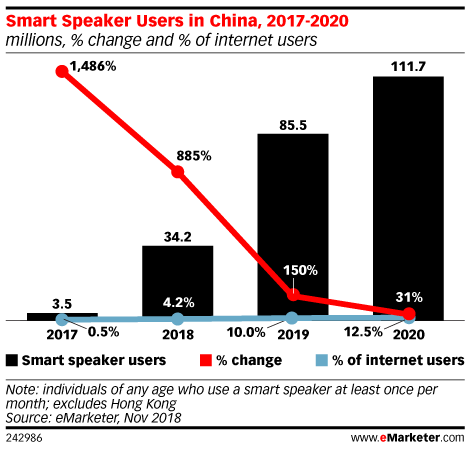 Source: eMarketer
Moreover, the company is seeking to expand into the automotive industry, particularly in AV with its Apollo open-source autonomous driving platform. The platform supports commercial production and the incorporation of autonomous driving capabilities garnering over 135 OEMs, Tier 1 auto part suppliers and strategic partners. This includes leading automakers such as Toyota (TM) which has joined Apollo where Baidu will provide the Apollo Minibus software for Toyota's e-Palette autonomous vehicle in the future. Another notable partner is Geely (OTCPK:GELYF) which has 6.6% of market share in the Chinese auto industry. The company is working with Geely to launch an EV with its AV software built in for building up its intelligent driving capabilities.
The Chinese AV market is one of the most promising globally with a sprawling landscape of companies and startups emerging buoyed by strong government support and initiatives to promote the development of AV. According to Research and Markets, the Chinese AV market is forecasted to grow at a CAGR of 28.4% by 2025 with 1.5 mln shipments of vehicles up to level 4 AV. The Chinese government is establishing a framework for the commercialization of AV and is expected to introduce official regulations by 2023. Besides Baidu, both Alibaba and Tencent are exploring AV with Alibaba's intelligent expressway expected to launch by 2038 and Tencent's connectivity platform to enhance AV software features.
We believe that AV could be a major catalyst growth catalyst for Baidu due to its early involvement in the development of AV in China. The Baidu Apollo fleet has nearly 500 AV in testing with a solid track record driving more than 7 mln kilometers (4.35 mln miles) with zero accidents. Baidu has also partnered with major Chinese cities of Beijing, Changsha, Hunan and Cangzhou, Hebei to deploy robotaxis and has rolled out a trial operation of 45 robotaxis to improve public transportation. Overall, we see this segment as a long-term growth driver for the company as it continues to develop its AV technology which could be widely deployed in the future as the technology performance gradually improves over time. Outside of China, the company has obtained approval from the California Department of Motor Vehicles to begin testing operations and the first company to obtain driverless test permits for two different vehicle models both car and vans. Over time as the company develops its AV software capabilities, it could become a leading player in the AV market in the long-term.
With each new generation of Apollo vehicles, the cost will be halved while performance will increase by tenfold - Zhenyu Li, corporate vice president of Baidu.
Recovery of iQIYI Subscriber Base on Increased Content Production
iQIYI is the final segment of Baidu which is its video streaming platform. The flourishing video streaming market is supported by the adoption of video streaming subscription among Chinese consumers is rapidly rising due to several factors including growing Internet penetration, faster connection speeds and shifting consumer preferences and willingness to pay for entertainment. The Chinese video streaming market is forecasted to grow to $11.9 bln in 2021 and exhibit a CAGR of 16.7% up to 2025. IQIYI was spun off from Baidu and had an IPO in 2018. It produces and distributes a wide variety of professionally produced content and is similar to Netflix. However, while Netflix only focuses on TV series and movies, iQIYI provides over 30 different types of content including sports, news, gaming and more. The platform derives revenues based on a membership subscription model as well as online advertising, it accounts for 27% of Baidu's revenues. The company has a large subscriber base of 101.7 mln paid subscribers as of 2020 but has declined by 5% YoY.
| | | | | |
| --- | --- | --- | --- | --- |
| iQIYI Subscribers | 2017 | 2018 | 2019 | 2020 |
| Subscribers (mln) | 50.8 | 87.4 | 106.9 | 101.7 |
| Subscribers Growth % | | 72.0% | 22.3% | -5.0% |
Source: Baidu, Statista
The decline in the subscriber base was attributed to a shortage of new content produced during the pandemic due to production constraints on the company. Production costs declined as well with content costs decreasing by as much as 24% YoY. However, management is optimistic for a recovery as it resumes production in 2021.
Most of our over 50 in-house studios will go into full production from the second half of next year. These studios are expected to largely improve both the originality and the diversification of content on our platform and ultimately drive continued growth in our membership business. - CEO Gong Yu.
Still, the segment is likely to remain unprofitable with a -32% operating margin and is weighing on Baidu's profit margins with an expected rise in content production costs which makes up three quarters of the company's costs. However, content costs are essential as content production remains a top priority for the company to differentiate itself against competitors. In terms of competition, Tencent Video leads while Alibaba's Youku is not far behind in terms of subscriber base. The company has produced high quality content in-house and maintains a high degree of control during the production process. It has a solid track record of producing blockbuster original content with popular titles such as The Mystic Nine, Burning Ice, Story of Yanxi Palace and The Thunder. Overall, we expect the segment to remain unprofitable as it aggressively expands its content production to compete against its rivals. Nevertheless, the margins are likely to improve over time as the company builds its subscriber base with the scalable platform.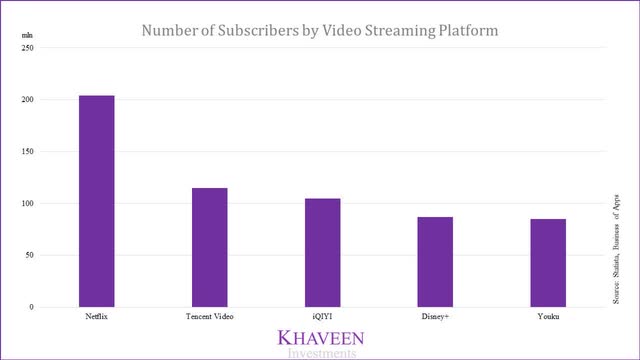 Source: Statista, Business of Apps
One strategy the company has planned is to expand outside of China with a focus on the Southeast Asian market. In 2019, it launched its international version of its app that offers content in multiple languages. It has established operations in major cities across Southeast Asian countries namely Singapore, Bangkok, Kuala Lumpur, Jakarta, and Manila. The Southeast Asian market is growing rapidly with 180 mln consumers streaming over 8 bln hours of content and is the market is projected to grow at a 15% CAGR with rising Internet and mobile coverage rising to 60% in 2022 from 45% in 2019.
Diminishing Core Business Growth Risk
Although Baidu's long-term potential with AI investments provides a highly compelling case for the company, it still only represents around 10% of revenues. Meanwhile, its core businesses and iQIYI which account for the majority of revenues faces several headwinds despite solid industry growth trends. The company's digital ad market share has been decreasing as it is faced with intensifying competition from dominant players Alibaba and Tencent who have larger scale and better monetization strategies. The expected recovery of the digital ad market should benefit its advertising revenue growth but it is likely to remain outpaced by Alibaba and Tencent which has attracted marketers towards their massive e-commerce and social network platforms. Overall, the company has good long-term opportunities with AI but its core business and main growth engine could be weakening unless it competes better with Tencent and Alibaba to prevent losing its grip of the digital ad market further. The company is acquiring live streaming platform Joyy's (YY) YY Live to expand into video streaming and boost ad monetization opportunities but the company was embroiled with subscriber fraud claims recently. If ad revenues slow down further, it would affect our revenue projections for the company.
| | |
| --- | --- |
| Ad Spending Growth % | 5-year Average |
| Alibaba | 30.6% |
| Tencent | 46.9% |
| Baidu | 3.9% |
| Others | 14.6% |
| Total | 19.9% |
Source: Alibaba, Tencent, Baidu, eMarketer
In addition, even its second largest segment iQIYI faces intense competition among the major video streaming players. Not only is iQIYI still dragging down the company's profitability, but the video streaming platform has also lost its growth momentum with subscribers decreasing by 5% in 2020 with price hikes while its rivals saw subscriber gains. Management believes that new content releases this year could see the company regaining subscribers but has little room for disappointment with a fiercely competitive market. If subscriber growth continues to disappoint, it may cause it to lose its market position and place it further behind market leader Tencent Video. Also, a slowdown in its growth momentum would see it continue weighing down on Baidu's profitability. It has tried to divest its stake in iQIYI to either Alibaba or Tencent, but regulatory concerns have put talks on hold.
| | | | |
| --- | --- | --- | --- |
| Number of subscribers (MLN) | 2019 | 2020 | Growth % |
| Netflix (NFLX) | 167 | 204 | 22% |
| Tencent Video | 106 | 115 | 8% |
| iQIYI | 106.9 | 102 | -5% |
| Disney+ (DIS) | 10 | 86.8 | 768% |
| Youku | 81.1 | 85 | 5% |
Source: Netflix, Tencent, Baidu, Disney, Alibaba, Content Commerce Insider, Screen Daily, Statista
Valuation
As the leading search engine and despite the loss in digital ad market share, Baidu has managed to consistently grow its revenues with a 5-year average growth rate of 10.5% on advertising revenues and iQIYI growth. In terms of profitability, the company's gross margins are weighed down by rising content production costs from iQIYI and has a 5-year average gross margin of 50.3% and a net margin of 17.2%.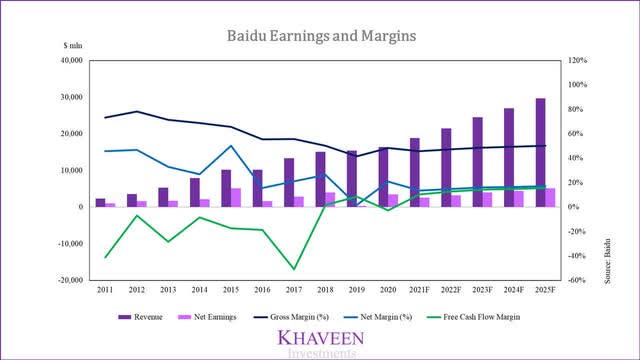 Source: Baidu, Khaveen Investments
In terms of free cash flows, the company has an average FCF margin of -12.4% in the past 5 years. Notwithstanding, the company's FCF margins are improving as it establishes itself with greater scale. Capex is fairly stable except in 2017 when the company had micro loan originations of RMB 63.5 bln ($9.7 bln). Also, the company invested in China Unicom for RMB7.0 bln ($1.1 bln).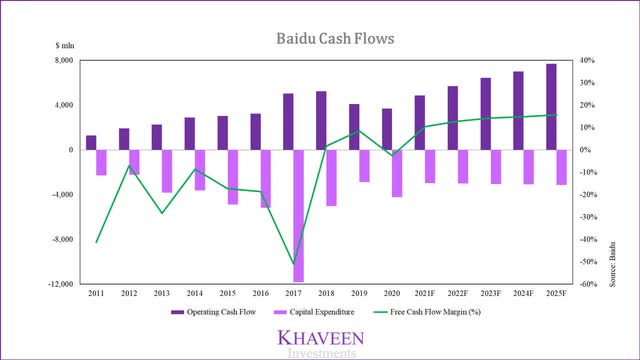 Source: Baidu, Khaveen Investments
We projected the company's revenues by its segmental breakdown. For Baidu Core advertising revenues, we assumed its market share would continue to be chipped away by Alibaba and Tencent. Despite that, the positive outlook of the digital ad market in China provides strong tailwinds especially heading into 2021 with the anticipated recovery in economic activity. Moreover, we believe iQIYI's growth could recover in 2021 with an incoming pipeline of exclusive content and a favorable video streaming adoption trend. As the company push towards its AI strategy, Baidu Cloud and Baidu Core AI in smart speakers and AV could become a key growth driver for the company supported by a rapidly growing Chinese market.
| | | | | | |
| --- | --- | --- | --- | --- | --- |
| Baidu Revenues ($ mln) | 2019 | 2020 | 2021F | 2022F | 2023F |
| Baidu Core Advertising | 9,721 | 9,200 | 9,941 | 10,488 | 10,795 |
| Baidu Core Advertising Growth % | | -5.4% | 8.1% | 5.5% | 2.9% |
| iQIYI | 4,165 | 4,373 | 5,104 | 5,956 | 6,951 |
| iQIYI Growth % | | 5.0% | 16.7% | 16.7% | 16.7% |
| Baidu Cloud | 880 | 1,379 | 1,862 | 2,514 | 3,393 |
| Baidu Cloud Growth % | | 56.7% | 35% | 35% | 35% |
| Baidu Core AI | 849 | 1,648 | 2,142 | 2,784 | 3,620 |
| Baidu Core AI Growth % | | 94.1% | 30% | 30% | 30% |
| Total Revenues | 15,615 | 16,600 | 19,048 | 21,741 | 24,758 |
| Total Revenues Growth % | | 6.3% | 14.7% | 14.1% | 13.9% |
Source: Baidu, Khaveen Investments
As the company is projected to achieve positive free cash flows, we applied a DCF analysis based on the industry average EV/EBITDA of 34.15x. We selected Tencent as it competes against the company on all fronts such as search engine, cloud and AV.
| | |
| --- | --- |
| Company | EV/EBITDA |
| Baidu | 30.47 |
| Tencent | 38.55 |
| Average | 34.51x |
Source: Seeking Alpha
Based on a discount rate of 12.2% (company's WACC), our model shows an upside of 16.63%.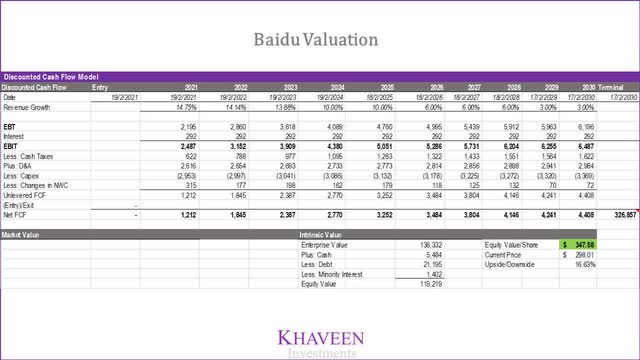 Source: Khaveen Investments
Verdict
Dubbed the Google of China, Baidu has a convincing market leadership over the Chinese search engine market with a dominant market share of over 70%. Its leadership in search has allowed it to achieve a strong market share of the Chinese digital ad market. However, rising competition from Alibaba and Tencent which both have tremendous scale over their e-commerce and social network platforms has led to Baidu being outpaced by these companies. Even in the video streaming market, iQIYI faces stiff competition from Tencent Video and Alibaba's Youku despite the robust market growth outlook supported by rising adoption of video subscription services by consumers. To diversify from digital ads, the company has embarked on an AI vision in cloud, AV and smart speakers.
In cloud, it seeks to differentiate itself against market leaders with a comprehensive suite of AI cloud solutions to support specialized applications and has partnered with various enterprises to deploy its commercial cloud offerings. Capitalizing on its leadership in search engines, the company has established market leadership in the smart speaker market processing over billions of voice queries to enhance its AI and machine learning capabilities. Furthermore, the company is exploring the nascent AV market with a software stack which boasts a strong track record and has strong support from government policy for the commercial deployment of AV in the country. Overall, despite the competitive threats and slowing growth from digital ads, its AI strategy is highly promising. Thus, we rate the stock as a Buy with a price target of $347.58.
This article was written by
Khaveen Investments is a Global Macro Quantamental Hedge Fund managing a portfolio of globally diversified investments. We have interests in 100+ investments across multiple asset classes, countries, sectors and industries. Our investment approach takes both a top-down and bottom-up approach encompassing macro-economic, fundamental, and quantitative analysis. We serve accredited investors throughout the globe, which include HNW individuals, SMEs, associations, and institutions. Our investment managers have decades of investment experience between them, with research expertise in emerging technologies such as Artificial Intelligence, Cloud Computing, 5G, Autonomous & ElectricVehicles, FinTech, Augmented & Virtual Reality and the Internet of Things.www.khaveen.com
Analyst's Disclosure: I/we have no positions in any stocks mentioned, but may initiate a long position in BIDU over the next 72 hours. I wrote this article myself, and it expresses my own opinions. I am not receiving compensation for it (other than from Seeking Alpha). I have no business relationship with any company whose stock is mentioned in this article.

No information in this publication is intended as investment, tax, accounting, or legal advice, or as an offer/solicitation to sell or buy. Material provided in this publication is for educational purposes only, and was prepared from sources and data believed to be reliable, but we do not guarantee its accuracy or completeness.
Seeking Alpha's Disclosure: Past performance is no guarantee of future results. No recommendation or advice is being given as to whether any investment is suitable for a particular investor. Any views or opinions expressed above may not reflect those of Seeking Alpha as a whole. Seeking Alpha is not a licensed securities dealer, broker or US investment adviser or investment bank. Our analysts are third party authors that include both professional investors and individual investors who may not be licensed or certified by any institute or regulatory body.