CF Finance Acquisition Corp II/View Inc: An ESG Prop-Tech Growth Story
Summary
CFII, a SPAC sponsored by Cantor Fitzgerald, is set to merge with View Inc. after the stockholder meeting on Friday, March 5, 2021 in a deal valued at $1.6B.
View manufactures ESG-friendly electrochromic smart windows used in workplaces and offices, hospitals, universities, and airports to improve the comfort/wellbeing of occupants while reducing energy consumption.
The existing $400M manufacturing facility is scalable to $1B+ sales capacity and is supporting growing sales and backlogs.
Strong investors in real estate and technology, including the PIPE investors, and market relevant director and advisory board members add to this prop-tech leader.
View is a leader in dynamic glass windows, a technology that now has significant tailwinds in ESG mandates, increasing focus on employee health and productivity, and lower demand for office space forcing landlords to add premium features.
Author's Note: This article is written to introduce readers to CFII, the SPAC, which is set to reverse merge into View, Inc. this Friday, March 5th, 2021. Since this will be under a new name and ticker next week, I plan to then write a more extensive article about View, Inc.
Business Description
View is the market leader in next-generation smart windows that use artificial intelligence and machine learning which will tint the glass to optimize natural light while controlling heat and glare to enhance mental and physical well-being for occupants, creating smart connected buildings which reduce energy consumption and greenhouse gas (GHG) emissions.

View serves diverse real estate segments including corporate office, airports, multifamily, education, and healthcare. Strong secular tailwinds of climate change, human health and smart buildings are driving demand for View's smart windows. Environmental, social and governance initiatives and growing government regulations require buildings to retrofit and become energy efficient and net-zero-energy dwellings.
Source: Company / PR Newswire
View, Inc.'s artificial intelligence algorithms can collect data from inside and outside the building to automatically control the response of the window tinting: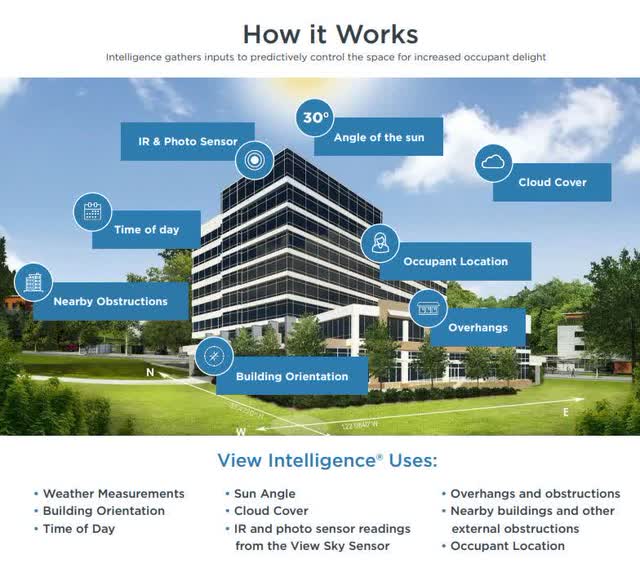 Source: Company website
Alternatively, users can control the dynamic windows from an app or manually in the building.
Because each smart window is individually addressable, the windows on one side of a building or in a particular room/space can each be tinted to different levels depending on needs.
And to up the cool factor, panels can also be HD touchscreen displays: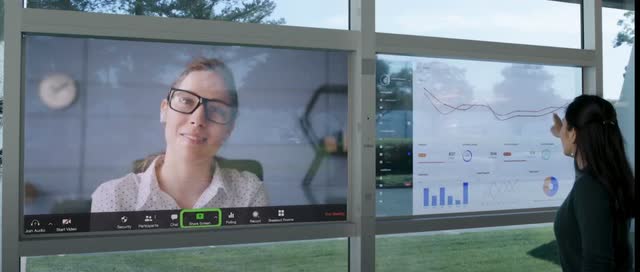 Source: company presentation
The system additionally provides sensors to monitor temperature, humidity, dust, and other elements of the building environment. It also adds 5G connectivity throughout the building and senses if a window is broken. Essentially, the network that is created by the cabling and control systems are capable of being updated to add even more features over time.
Current Operations
View, Inc. is a twelve-year-old company which has been developing and refining its products and ramping up its manufacturing facility with one production line running and a second line "substantially completed" with over $400M invested. The company believes that this will allow it to scale to $1B in annual revenue, which according to its investor presentation, it hopes to achieve by late 2024/early 2025.
The point is that this company is not "pre-revenue". They already have an extensive list of existing customers: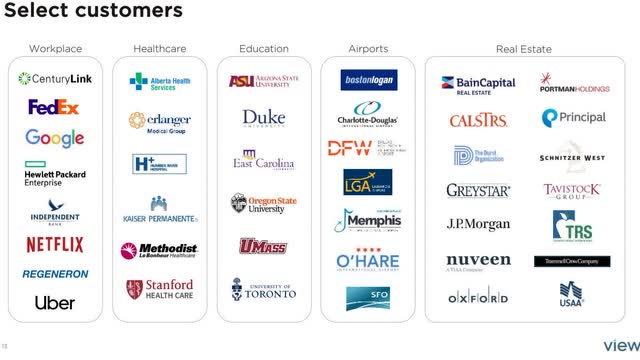 Source: Company
Management and Board Members
View, Inc.'s current management will continue to lead the company after the combination is complete.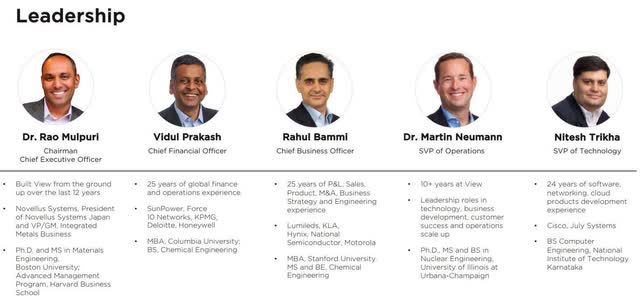 Unlike many current SPACs, the sponsor does bring complementary expertise to this deal. Cantor Fitzgerald's Chairman Howard Lutnick is also Chairman of real estate services company Newmark Group (NMRK). This can be mutually beneficial for Cantor, Newmark and View with the companies signing agreements for Cantor to provide financing for View's customers and Newmark to earn discounts or commissions on sales it generates for View.
In addition, View's Board of Directors includes representation from remaining investors including Softbank Vision Fund which had also invested $1B into View in 2018, and the New Zealand Super Fund.
View also has an impressive Advisory Board comprised of leaders in technology, health and wellness, environmental building, and key target markets for the company: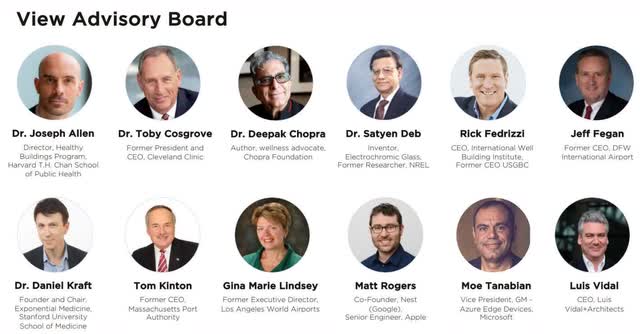 Deal Description
In November 2020, View, Inc. announced plans to go public through a merger with CF Finance Acquisition II (CFII), a SPAC sponsored by Cantor Fitzgerald, valuing the smart window maker at $1.6B. The original deal anticipated the $500M held in trust by CFII to be supplemented by a $300 million private investment in public equity ("PIPE") at $10.00 per share.
In January 2021, GIC, the Singapore government's sovereign wealth fund, agreed to purchase up to an additional $200M in additional PIPE shares at $11.25 per share. Note that GIC, two months after the initial deal, wanted an increased stake at a higher price than the original transaction and before the merger closed.
Existing investors in View, including Softbank Vision Fund, New Zealand Super Fund, and GIC are not receiving any cash proceeds from the merger and are investing more than $300M in the PIPE investments.

As can be seen from the above, the $1B being raised through the combination are being used to repay existing View, Inc. debt and add $670.5M to the proforma balance sheet which fully funds the company's business plan. The investor presentation on the company's website was released prior to the additional GIC PIPE investment. Updated for the additional GIC investment, the company will have $780M cash and only $15M debt at closing, assuming no shareholder redemptions prior to the merger and $610M cash assuming the maximum amount of redemptions.
The maximum number of redemptions that can occur without scuttling the deal is 40M shares or $400MM from the $500M CFII trust account because the merger agreement calls for a minimum of $100M to be available to fund View, not including the $500M from the PIPE investments. However, the company only needs 18,200,001, or 36.4%, of the 50M CFII shares in the public float to be voted in favor of the merger since Cantor and the CFII officers and directors have already signed agreements to vote in favor of it.
Competition or Oligopoly?
There are only a few dynamic glass companies currently serving the architectural market and their collective market share is still estimated to be about 1% of the total commercial market according to US Glass Metal & Glazing (November 2020).
In fact, I came across this article about the recent rising interest in smart glass which was linked from the SageGlass website. I found it interesting that SageGlass would link to an article whose cover photo is of the 825 Third Avenue, New York building which recently installed View Glass during renovations. The article featured interviews with representatives of View, Saint-Gobain's SageGlass, and Halio Glass manufacturer Kinestral Technologies that were supportive of increasing the adoption of smart glass so that the industry as a whole could grow. My take is that the potential market is large enough for at least several competitors to be successful and that there is more of a spirit of cooperation to educate the market than to try to undercut each other.
Conclusion
I believe CFII is a compelling speculative play, especially as it is currently trading right about the $10 per share redemption value of the shares. This could mean that the shares are signaling that either the deal does not go through on March 5th, or that the market expects them to trade even lower post-merger, as a number of de-SPACed companies historically have.
However, I believe that the $1.55B enterprise value (calculation: 231.8M shares including the additional PIPE shares times $10 per share and proforma $780M cash less $15M debt), below the $11.25 price at which the Government of Singapore is buying additional shares after doing private due diligence, and at about 1x projected 2025 revenues, is undervalued. I believe that this is due to the enormous number of SPACs currently vying for investor attention, especially in popular categories such as EV's and batteries, air mobility, and Fin Tech. View, Inc. is likely to attract greater attention once it is a public company and starts to gain analyst coverage.
These are just my opinions and I hope that this article generates thoughtful and helpful conversation. Thank you for reading.
I expect my research will continue after the merger. I have more work to do on valuation, competition, market acceptance, and company specific issues such as the 2019 product recall, potential risk of having a single source for glass, to name a few.
From comments I've seen elsewhere, there is a fairly steep learning curve for glaziers and installers, but the company has very good support in the field and troubleshoots and validates and commissions every installation.
This article was written by
Analytical investment and asset management professional, with 25+ years of progressive experience in overseeing and executing fundamental research in equity, high-yield, and emerging markets, developing innovative investment strategies, and performing complex investment analysis. Entrepreneur with experience starting and operating successful manufacturing and eCommerce enterprise.
Analyst's Disclosure: I am/we are long CFII. I wrote this article myself, and it expresses my own opinions. I am not receiving compensation for it (other than from Seeking Alpha). I have no business relationship with any company whose stock is mentioned in this article.
Seeking Alpha's Disclosure: Past performance is no guarantee of future results. No recommendation or advice is being given as to whether any investment is suitable for a particular investor. Any views or opinions expressed above may not reflect those of Seeking Alpha as a whole. Seeking Alpha is not a licensed securities dealer, broker or US investment adviser or investment bank. Our analysts are third party authors that include both professional investors and individual investors who may not be licensed or certified by any institute or regulatory body.