Hertz Just Filed Their Ch.11 Reorganization Plan Which Will Wipe Out Shareholders
Summary
Hertz Global filed their Ch.11 reorganization plan and disclosure statement on very early on March 2.
As expected, shareholders to receive no recovery under the plan, and the shares will be cancelled on the plan effective date.
Unsecured noteholders are getting either 70% cash recovery or for qualified institutional investors, new equity via a rights offer.
Hertz wants to exit bankruptcy by August.
Hertz lost $11.44 per share last year.
Hertz Global Holdings (HTZGQ) (NASDAQ:HTZ) filed their reorganization plan (docket 2912) and disclosure statement (docket 2913) early on March 2. The plan will wipeout current Hertz shareholders. Knighthead Capital and their co-investors have made up to $4.2529 billion new equity commitment, including their rights offer backstop. Hertz continues to lose millions of dollars per month and it will be interesting to see if they can create a smaller viable business model post bankruptcy.
Ch.11 Reorganization Plan
The Ch.11 reorganization plan includes a $1.9698 billion rights offer and a total of $4.2529 billion equity commitment from Knighthead/co-investors, including their backstop commitment. The plan also includes having a $1.5 billion credit facility, plus a $1.0 billion secured loan when they exit bankruptcy. There is a hearing scheduled for April 16 to approve the disclosure statement. Under the metrics in the recently approved Key Employee Incentive Plan (docket 2539), Hertz is expecting to exit bankruptcy before August 1. (The disclosure statement docket is 2913, but it has not been actually filed at the time of writing this article.)
Recoveries Under The Reorganization Plan
*Shareholders (Class 11)
No recovery under the plan. The company warned investors in various filings that there most likely would be no recovery, including when Hertz sold about 14 million shares at an average price of $2.09 to gullible investors last June-they bought effectively worthless stock. As per the plan: "Existing Hertz Parent Interests shall be cancelled and released without any distribution on account of such Interests". HTZGQ shares will continue to trade until the plan effective date, which is expected in August. They shares will be cancelled on the effective date.
*Unsecured Noteholders (Class 5)
Unsecured note claims will receive either receive a 70& cash recovery or "Reorganized Hertz Parent Interests pursuant to the exercise of its Pro Rata share of Subscription Rights." Because the rights offer is only open to qualified institutional investors, retail holders of the notes will not be allowed to participate and will, therefore, receive cash for 70% of their claims.
*Second Lien Noteholders (Class 4)
Get paid 100% cash for their claim.
Rights Offering and Stock Purchase
The rights offer is for $1.9698 billion. It is only open to qualified institutional investors who are holders of unsecured debt. The backstop commitment term sheet is listed in Exhibit B of the plan of reorganization. While Knighthead Capital is the "headline" investor, there is a group of other investment firms that will participate up to $2.9 billion of the total $4.2529 billion. I did not see any mention the new Hertz shares trading after the effective date. I am, therefore, assuming Hertz will remain, at least temporarily, a privately held company.
Items That Improved Unsecured Noteholder's Recovery
When Hertz filed for bankruptcy, I expected little or no recovery under a Ch.11 bankruptcy plan. There were some items that collectively had a major impact on unsecured noteholders' recovery for their $2.727 billion claim and ALOC Facility's $790 million claim:
*$700 million. The HVF ABS lenders agreed not to assert a $700 million administrative claim for the company's failure to pay contractual obligations. This was part of the negotiated extension of the temporary lease agreement (dockets 2364, 2365, and 2368). This $700 million administrative claim would have had a priority over unsecured noteholders.
*$325 million. I thought that the proceeds from vehicle sales would be less than they have received so far or are forecasting to receive. Under the temporary lease agreement from last summer they sold 199,000 vehicles for $4.25 billion and under the new lease extension they are disposing of 121,510 vehicles for an expected amount of $2.216 billion. My mid-point range when they filed for bankruptcy for proceeds from future vehicle sales was lower by $325 billion (about 5.4% lower).
*$75 million. When I looked at potential assets sales, my mid-point asset sale price for Donlon Corp. was lower by $75 than total final proceeds to be about $875 million.
*$29 million. This $29 million is from the sale of 14 million shares last June.
Total $1.129 billion. These items alone had a positive impact on unsecured noteholders for $1.129 billion. The reason why I am including this is to show how events and other changes impact the fulcrum securities. Fortunately for Hertz unsecured noteholders, they were mostly positive. In other bankruptcy cases, it is often negative.
2021 Financial Projections
The approved Key Employee Incentive Plan (docket 2539) from January provides some type of indication of expected 2021 financial results. (Note: the numbers are cumulative and not totals per quarter.)
Source: Docket 2539
A key metric is fleet utilization rate. It accounts for 30% of the incentive plan measurements and is equal to the collective milestone metrics. The parties associated with granting this key employee incentive plan clearly do not want the risk of having a large number of vehicles just sitting in some lot. They want a balanced approach to buying new vehicles based upon expected demand for vehicle rentals.
It seems that utilization rates are unrealistic because of the challenges to manage the fleet without a reliable forecasting model. Given the large changes in business travel and various local restrictions, the company can't use their historical models. The Q3 target of 81.8%, for example, is actually higher than the 79% in Q3 2019 during a more normal travel time period.
Key Employee Incentive Metrics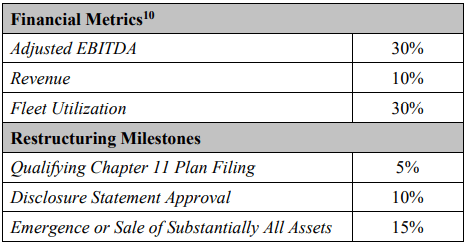 Source: Docket 2539
Latest Results
Hertz filed their latest monthly operating report (docket 2911) on March 1 for the month of January. Because of a very large depreciation expense, the loss for the month is almost impossible to adjust to compare to prior months. While January is usually a very slow month for tourist travel, the first days of January were part of a holiday traveling period. Even with more restrictions being lifted by local governments, this does not seem to be having a major positive impact yet on the vehicle rental business yet.
Monthly Hertz Corp Revenue ($million)

Conclusion - Impact On Investors
As expected, HTZGQ shareholders are getting no recovery, but I also expect continued irrational trading in the stock until plan effective when some traders will discover that their value for HTZGQ shares shows $0.00 on their brokerage account. HTZGQ remains a sell.
When I started writing this article a few days ago, I was expecting that the rights offer might be open to accredited unsecured noteholder investors. It is not. It is only open to qualified institutional investors. The result is that most unsecured noteholders do not have to decide if they want to participate in the rights offer or not. At this point, the near-term financial information contained in this article does not impact their decision. They can only sell before the effective date at market prices or wait until after the plan effective date to get 70% cash for their total claims.
This article was written by
B.A. in Economics; M.S. in Finance. I usually write about distressed companies and companies in Ch.11 bankruptcy. I am semi-retired after spending decades in investments.
Analyst's Disclosure: I/we have no positions in any stocks mentioned, and no plans to initiate any positions within the next 72 hours. I wrote this article myself, and it expresses my own opinions. I am not receiving compensation for it (other than from Seeking Alpha). I have no business relationship with any company whose stock is mentioned in this article.
Seeking Alpha's Disclosure: Past performance is no guarantee of future results. No recommendation or advice is being given as to whether any investment is suitable for a particular investor. Any views or opinions expressed above may not reflect those of Seeking Alpha as a whole. Seeking Alpha is not a licensed securities dealer, broker or US investment adviser or investment bank. Our analysts are third party authors that include both professional investors and individual investors who may not be licensed or certified by any institute or regulatory body.