For the investor, a too-high purchase price for the stock of an excellent company can undo the effects of a subsequent decade of favorable business developments - Warren Buffett
The Consumer Discretionary Select Sector SPDR ETF (NYSEARCA:XLY) looks to provide investors precise exposure to retail companies; hotels, restaurants and leisure; textiles, apparel and luxury goods; household durables; automobiles; auto components; distributors; leisure products; and diversified consumer services sectors.
There are many excellent characteristics of this ETF. XLY offers investors impressive liquidity, cost efficiency, and depth of exposure, making it one of the best available plays for investors looking for exposure to the consumer discretionary sector.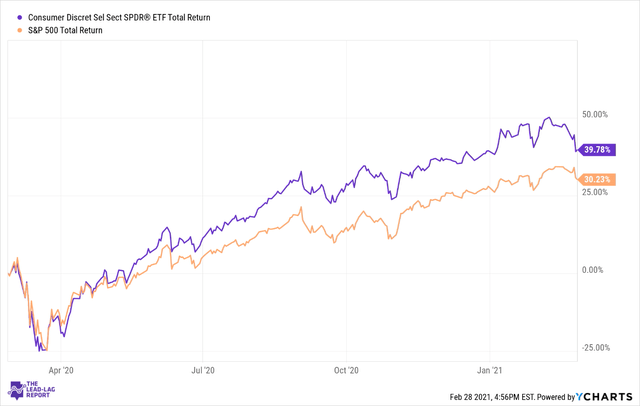 Even though the Fund got off to a shaky start in 2020, it made a strong turnaround in the latter half of the year and delivered returns of almost 40%, much higher than S&P's 30%.
As the global economy began to feel the government-imposed lockdown shocks, the restaurant, travel, and retail industries felt the brunt of containing the pandemic's spread.
On the positive side, XLY's holdings engaged in providing online services, such as Amazon (AMZN), prospered as consumers flocked to the website to order all their necessities.
Another strong performer in the consumer discretionary segment was the home improvement sector. As more Americans took advantage of stay-at-home orders to carry out home improvement projects, XLY holdings such as Home Depot (HD) & Lowe's (LOW) benefitted tremendously.
Constituent Holdings
The largest allocation is to internet and direct marketing retail firms (26.94%) in terms of segment exposure. There is also significant exposure to the Specialty retail segment (20.27%) and the automobiles segment (18.48%).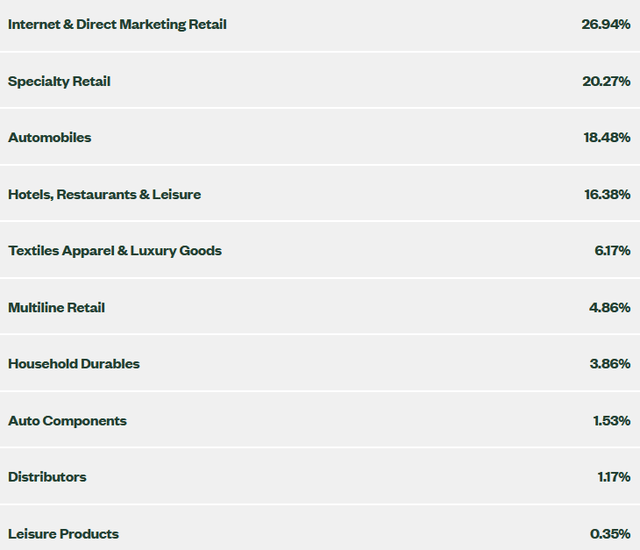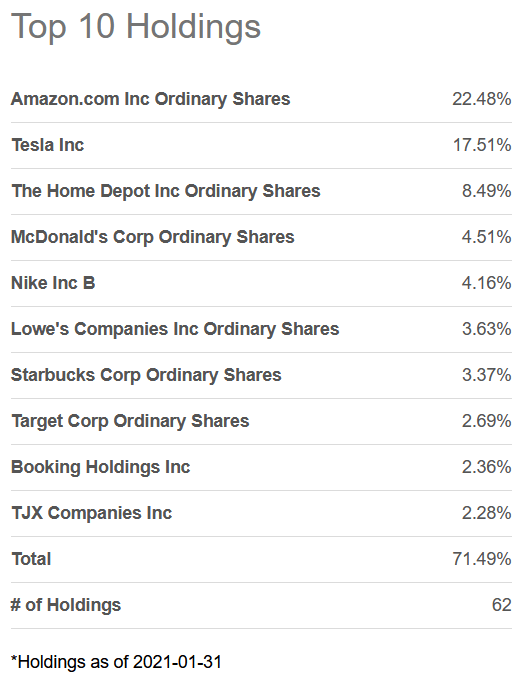 Source: Seeking Alpha
Let's take a look at some of XLY's Top 10 holdings which together, make up 71.49% of the ETF.
The most significant exposure is to Amazon, with a 22.48% allocation. This stock has performed exceptionally well over the last few quarters, and its stock price has jumped 64% over the previous year alone, an incredible feat for a large-cap company. Amazon benefitted immensely as demand for e-commerce skyrocketed amid government-ordered lockdowns. It's not only e-commerce, Amazon's Web Services division posted record profits for 2020 (see chart below, figure in US$ millions). In the future, Amazon will continue to capitalize on its position as the leader in public cloud computing.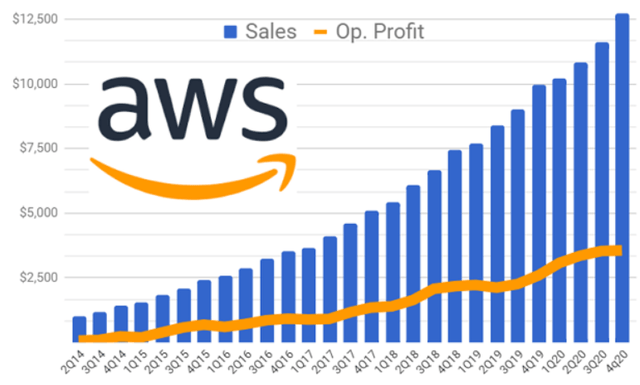 The second-largest allocation in XLY's portfolio is Tesla (TSLA), which makes up 17.51% of the Fund. Over the last year, the stock has rallied over 500% as more and more investors placed their bets on Tesla continuing to dominate the electric vehicle space. The Company has grand plans for the future, and it is rapidly expanding its manufacturing capacity to reach its goal of building 20 million electric vehicles annually over the next decade.
Also included in its portfolio are home improvement tools suppliers Lowe's & Home Depot, sportswear & apparel giant Nike (NKE), and fast-food major McDonald's (MCD).
Comparison With Other Consumer Discretionary ETFs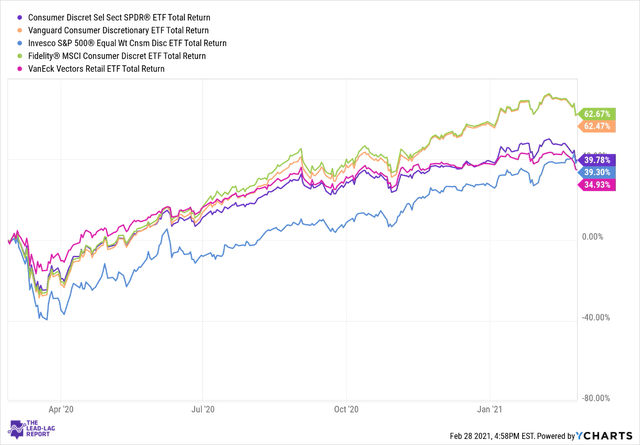 As we can see from the table below, XLY's valuation is on the higher end of its peer set spectrum. This can be attributed to holdings such as Amazon & Tesla, which are high growth stocks with high investor expectations. These two stocks together account for close to 40% of the entire Fund.
| | | | |
| --- | --- | --- | --- |
| | P/E | P/B | P/S |
| Consumer Discretionary Select Sector SPDR ETF (XLY) | 28.68 | 7.66 | 2.41 |
| Vanguard Consumer Discretionary ETF (VCR) | 27.68 | 6.33 | 1.95 |
| Invesco S&P 500 Equal Weight Consumer Discretionary ETF (RCD) | 16.92 | 3.51 | 1.52 |
| Fidelity MSCI Consumer Discretionary Index ETF (FDIS) | 26.94 | 6.15 | 1.95 |
| VanEck Vectors Retail ETF (RTH) | 22.09 | 6.31 | 0.70 |
Source: Morningstar
XLY

VCR

RCD

FDIS

RTH

Issuer

State Street

Vanguard

Invesco

Fidelity Investments

VanEck

Inception

12/16/1998

01/26/2004

11/01/2006

10/21/2013

12/20/2011

Expense Ratio

0.12%

0.10%

0.40%

0.08%

0.35%

AUM

$18.76Bn

$5.10Bn

$403.81Mn

$1.35Bn

$195.31Mn

Holdings

62

299

63

275

26

Assets in Top 10

71.49%

54.96%

19.37%

56.56%

72.16%

5 Year Price Performance

115.35%

142.16%

60.08%

149.91%

108.27%

TTM Dividend Yield

0.82%

-

0.74%

0.57%

0.65%
Source: Seeking Alpha
Compared with its peers, XLY is by far the most popular ETF tracking this sector on an AUM basis. It is also the oldest ETF in the space, having been incepted way back in 1998. XLY also has the highest dividend yield. Its expense ratio is one of the lowest amongst peers, making it a wise choice for investors looking for exposure to the U.S. Consumer Discretionary Sector.
What are the risks to be considered?
Asset concentration risk: XLY's Top 10 holdings make up close to 71.5% of the entire portfolio. This implies that it depends on a handful of stocks for its performance. This poses an asset concentration risk as a few companies' underperformance can harm the entire Fund's results.
Cyclicality risk: The majority of XLY's holding share vulnerable to the impact of recessions and slowing global economic growth. This means that during times of adverse economic conditions, these sectors, in particular, will be negatively impacted.
The Bottom Line
Despite the risks highlighted above, XLY has shown strong performance even in times of slowing economic growth. The Fund invests in high-quality consumer-driven companies. It should continue to outperform the broader market in the near future as we slowly begin to recover from the pandemic effects. As such, XLY could be an excellent addition to an investor's portfolio.

Anticipate Crashes, Corrections, and Bear Markets
Sometimes, you might not realize your biggest portfolio risks until it's too late.
That's why it's important to pay attention to the right market data, analysis, and insights on a daily basis. Being a passive investor puts you at unnecessary risk. When you stay informed on key signals and indicators, you'll take control of your financial future.
My award-winning market research gives you everything you need to know each day, so you can be ready to act when it matters most.
Click here to gain access and try the Lead-Lag Report FREE for 14 days.