Zoom (NASDAQ:ZM) may have reported amazing results and even better guidance, but still, it was just not good enough. The stock valuation is too high and the growth is not fast enough to achieve anything close to what the market has priced into the equity's $120 billion market cap.
The shares are down about 2% mid-day on March 2 following blowout fiscal fourth quarter 2021 earnings of $1.22, which was 50% better than analysts' consensus estimates, while revenue topped $822 billion almost 9% better than estimates. The company even provided better than expected fiscal 2022 earnings guidance of $3.62 per share at the mid-point of the range, better than estimates of $2.96.

(Refinitiv)
Not Enough Growth
Following the results, earnings estimates have started to rise, and analysts now see the company earnings around $3.15. But over time, consensus estimates for 2022 should climb to around $3.62 per share or another 15%. However, it doesn't help much. Even with the higher earnings guidance, the company still trades for 110 times 2022 earnings estimates, an insane valuation for a company forecasting earnings growth of just 8.3% versus fiscal 2021.
It doesn't get much better because analysts see earnings climbing to around $4.55 in 2024, leaving the stock trading around 90 times 2024 earnings estimates. Give that 2024 estimates a boost of another 15%, assuming not every analyst has boosted their estimates yet, and earnings would climb to $5.23 per share, a PE of 76.4.
It really gets worse because Zoom currently trades for 65 times 2024 EV/EBITDA, 22.4 times price to sales, and 63.3 times price to free cash flow. There isn't one metric that suggests Zoom's stock is even remotely close to fairly valued.
Currently, the company's earnings would need to soar to around $10 per share in 2024 to make this stock even remotely reasonably value, at a PE of 40. That would be a compound annual growth rate over the next three years, 2022, 2023, and 2024 of more than 40%. The company is off to a bad start, guiding to just 8%. It seems unlikely that Zoom can deliver that type of earnings growth over the next three years to maintain its current valuation.
This isn't to say this can't happen, but it's essential to understand just how much growth needs to occur over the next few years for the stock to be worth what it is currently and, more importantly, continue to appreciate it.
Not to mention the big tailwind of the pandemic is now coming to an end. That isn't to say people won't continue to use Zoom, but it seems likely that fewer people will be using it. It even suggests that Zoom's big growth is now behind it because what will drive top-line growth to a level above and beyond what we the company has just witnessed.
Trends Are Lower
In all, it suggests that multiples for Zoom need to compress, fall, and that should result in the stock price dropping. In fact, the chart shows that the stock failed to move beyond resistance at $450 on March 2, and that could be setting up a decline back to the lower end of its recent trading range at $325, a drop of more than 17%. A break of support at $325 would be extremely damaging and signal the potential to fall back to $275.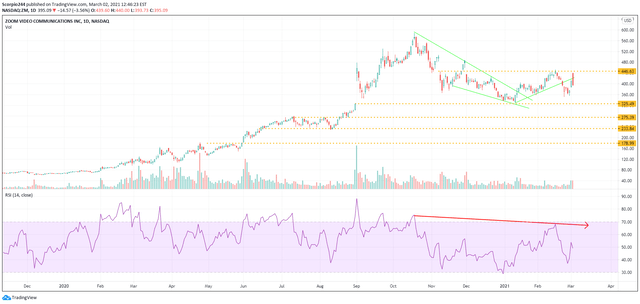 Source: TradingView
Even if the stock fell back to $275, it would still be trading for around 52 times the inflated $5.23 in 2024 mentioned previously in the article.
This isn't to suggest that Zoom is going away - it is not. It isn't even to suggest that Zoom does not have good technology - it does have good technology. The stock's current valuation doesn't fit with its fundamentals nor growth prospects. It's just not growing fast enough to maintain a $120 billion valuation.
Fundamentals do matter at some point. They always do. That time for Zoom may be now.
Reading The Markets is designed to provide members with a better understanding of the stock market and to provide stock ideas. Just like the free articles you have grown to love reading.
Or if you want to learn about how the markets function, I can teach you that too.
To Find Out More Visit Our Home Page