G1 Therapeutics - Brighter Days Ahead
Summary
G1 Therapeutics' first in class drug, Myelosuppression drug, Cosela has blockbuster potential.
Management has positioned the company to succeed in their commercialization efforts.
Massive sell-off after FDA approval has created a buying opportunity in the stock.
Investing in a start-up biotech company is an absolute roller coaster. Clinical trials can both bring highs and lows to excess in terms of stock price and subsequently investor interest / confidence. The industry is admittedly risky, but that should not deter anyone from looking for potential market beating investments.
I believe that the recent approval of oncology drug Trilaciclib (commercial name Cosela) in Extensive-Stage Small Cell Lung Cancer from company G1 Therapeutics (NASDAQ:GTHX) has made the company worth looking into, and the subsequent approval-led sell-off by short-term profit takers has brought the stock price to a level I feel makes a compelling investment long term. It looks to me that the market is pricing in massively sub-par performances from the drug, and anything more will produce a large increase in the stock price. The company is also not a one trick pony, as Cosela is undergoing multiple other clinical trials in different cancers with larger addressable markets. G1 also has another compound in clinical trials called Rintodestrant, an oral SERD that it expects phase 2 data on in the second quarter of 2021.
Story
The side effects of chemotherapy are well documented. A common side effect of high cycle chemotherapy is myelosuppression, which cancer.gov describes as "A condition in which bone marrow activity is decreased, resulting in fewer red blood cells, white blood cells, and platelets."
While decreased red blood cell production is serious and can potentially lead to Anemia, specific white blood cells called Neutrophils are especially important. If Neutrophil count reaches 1,500 per microliter of blood, a condition called Neutropenia occurs. This can be a severe problem in the chemo process, as it lowers the bodies' immune response to fight potential life-threatening infections. Neutropenia is a leading cause of the discontinuation of chemo treatments, which in turn derails a patient's chances of survival long term. Myeloablation, a severe form of Myelosuppression, can be potentially fatal.
Cue in Cosela, a newly FDA accepted first in class treatment for Myelosuppression. The drug is administered as IV infusion four hours prior to each chemotherapy treatment and is designed to prevent cell division during chemotherapy. Clinical trials show meaningful efficacy in combating Myelosuppression.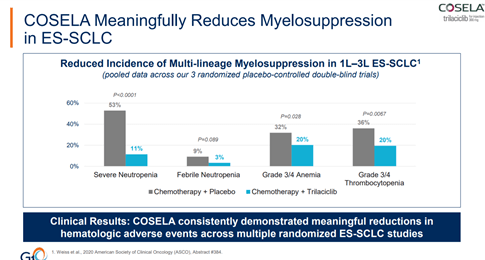 Source: G1 Corporate Presentation
G1 contends that Trilaciclib will be the standard of care in treating extensive stage Small-Cell Lung Cancer for a few reasons.
Because many patients end up stopping chemotherapy treatment due to myelosuppression, Cosela has the potential to extend treatment, therefore increasing patients chances of survival. ES-SCLC mortality rates are extremely slim with a five-year survival rate of 3%, and I firmly believe that diagnosed patients will take any chance they can get of increased survival. A study has found that 89% of patients enduring myelosuppression state that it has a moderate to major impact on their life. Cosela's clinical trials have shown that quality of life is drastically improved in the forms of fatigue, anemia, and functional well-being.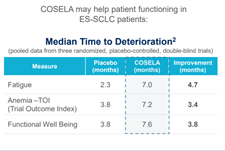 Source: G1 Corporate Presentation
Cosela may impact overall healthcare costs positively. Average costs of a patient with a high-grade hematologic event (Neutropenia, anemia, etc.) are quite large, and reduced events due to Cosela may drive hospital/payer savings.
Cosela's benefits are potentially broad based as well.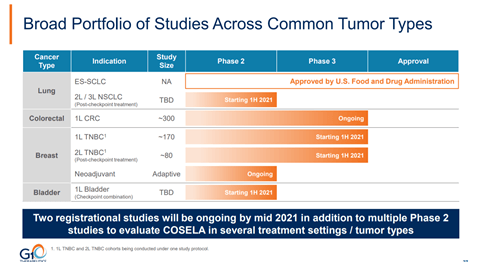 Source: G1 Corporate Presentation
Management believes that Cosela's usage base could be widely adopted and has multiple ongoing clinical trials in the works. Primary data from their stage two clinical trial in Triple Negative Breast Cancer was positive, and while not meeting its primary endpoint of treating myelosuppression, it showed an overall survival benefit of an impressive 7.2 months more when combined with traditional chemotherapy methods for TNBC. (Traditional chemo alone 12.6 months, chemo + Cosela 19.8 months) G1 expects initial data readouts from its registrational trial in TNBC in 2H2023.
Cosela Launch Prospects
Now that FDA approval is out of the way, the make-or-break moment for Cosela's success is undoubtedly initial drug launch. This is admittedly a big risk considering G1 has had no prior drug approvals, and Cosela is a first in class drug that is creating an entirely new market. While there are many variables at play, the most important things I look at to determine G1's probability of success are the quality of management, their sales plan to bring the drug to market, and overall prescriber optimism.
G1's management team is one I feel is top of class. Newly appointed CEO Jack Bailey was the long tenured president of US Pharmaceuticals and Vaccines at pharma behemoth GlaxoSmithKline (GSK) (OTCPK:GLAXF). He held the office for nearly eleven years, as well as having almost thirty years in the commercial pharmaceutical business.
Another position that should be stated is Chief Commercial Officer. Soma Gupta joined G1 in 2020 and also has had success in drug commercialization, most recently leading the charge of Tafamidis at Pfizer (PFE). Tafamidis (registered for use under the names Vyndaqel and Vyndamax) are first in class treatments for the rare disease Transthyretin Amyloid Cardiomyopathy. Tafamidis has made a huge impact for Pfizer since its 2019 FDA approval. The drug has had revenue growth of 170% in FY2020, generating a whopping $1.3 billion in sales. This is a tremendous comfort to me when investing in a company like G1 since Gupta not only has previous success in drug commercialization but also in drugs that are first in class.
Commercial launch will begin on March 3rd, and G1 has tapped Boehringer Ingelheim in a co-promotion deal through the first three years of Cosela's launch. While this will take away from sales (mid twenty percentage of net sales first year, decreasing to low double digit-high single digit percentage of net sales in two years after) it is absolutely critical that G1 taps a company that has an experienced sales force to bring this drug to market.
G1 seems to be firing on all cylinders prior to commercial launch and has brought in all the heavyweights needed to recognize Cosela's potential. I personally believe that Cosela will have a meaningful impact on the ES-SCLC market. Cosela's efficacy profile combined with the bleak prospects of the cancer has the potential to result in a robust launch. Oncologists/prescribers should push the treatment to try to give their patients the best chance at survival they possibly can. G1's initial market research of prescriber enthusiasm yielded results that confirms my opinions.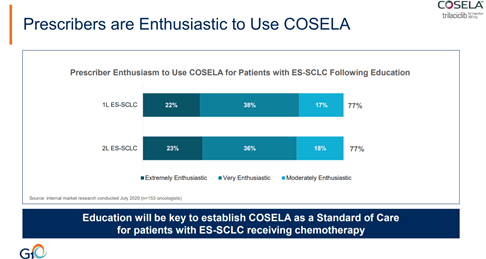 Source: G1 Corporate Presentation
Valuation/Sales Scenarios
The start of 2021 has been wild for G1. The stock initially had a fantastic start, increasing from $18 on the first day of '21 to $37 during pre-market trading on its PDUFA date.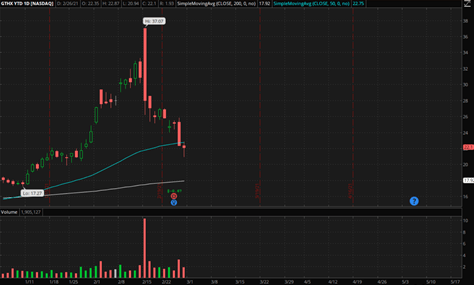 Source: Author
The price action following Cosela's PDUFA date has been absolutely abysmal. Simple profit taking has snowballed into a huge sell-off, with the stock dropping 40%. The company has been significantly de-risked following its FDA approval, yet the price action shows otherwise.
Cosela's price has been set at $1,417 per vial. G1 estimates that treatment will average roughly $34,000 per patient. Running the numbers by management's estimates of treatable patients gets us to peak sales estimates of around $1 billion per year. Because Cosela is a first in class drug, we can reasonably assume penetration rates will be large, pending commercial success. Because we have no idea what actual market penetration will be, I feel we should outline several scenarios.
Scenario 1: Best case scenario – 85-90% Market Penetration
Nothing is ever 100%, and not all ES-SCLC patients will want to undergo chemotherapy with mortality rates so razor thin. I feel that this most likely will be the top of the range for Cosela. $850-$900 million would be peak sales for this indication. Using Joseph Edelman's conservative peak sales multiple of 3x brings the valuation to $2.55-$2.7 billion, or a 175%-191% increase from today's market cap of $927 million.
Scenario 2: Middle of the road – 50% Market Penetration
In this scenario Cosela would generate roughly $510 million in peak sales. 3x Multiple would bring valuation to $1.53 billion, or a 65% increase from today's market cap.
Scenario 3 – Cosela Underwhelms – 30% Market Penetration
The third scenario is that Cosela falls short on commercialization and is only adopted by 30% of ES-SCLC patients. $306 million in peak sales. 3x multiple would bring valuation to $918 million, or a 1% decrease from today's market cap.
It is easy to see here that the market is pricing in Cosela drastically underperforming. Even if the worst-case scenario occurs, chances are that this will not be Cosela's only indication. The broadest general usage is by far Colorectal Cancer, which G1 has previously stated has a treatable patient base if approved of over 300 thousand, over 10x the addressable base of ES-SCLC. This cancer also averages almost 3x more chemotherapy cycles than ES-SCLC, meaning much higher revenue generation per patient if adopted at the same intervals. I am weary of estimating peak sales of the potential other indications of the drug at this time, due to clinical trial results being at least two years out, as well as other indications having different primary endpoints/potentially different dosage regimens. In 2019 however, G1 touted that Cosela has a roadmap to over $3 billion in global commercial opportunity. The stock price has some serious catching up to do if I put a 3x peak sales multiple on that….
Analyst estimates also show that the stock is relatively cheap on a P/S basis.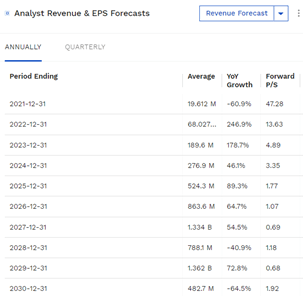 Source: Author
While this year should be taken with a grain of salt since it is launch year, I believe that paying roughly 5x 2023 sales for a small cap biotech with a potential blockbuster drug that has been de-risked on the approval side is a good bargain.
To make things even better, Cosela is not even G1's only shot on goal. They have a potential best in class oral SERD (selective estrogen receptor degrader) called Rintodestrant for ER+ breast cancer (roughly 80% of all breast cancer) Phase 1 data showed that the drug is well tolerated, and phase 1/2a data readout is expected in the second quarter of 2021.
I do believe that every drastic undervaluation needs a catalyst, and the next few earnings releases could very well be that for G1. Widespread adoption of Cosela should cause a hefty revaluation in the stock price, especially with the float being extremely low (roughly 33M outstanding) and short interest continuing to hover over 15%. The company's balance sheet also looks sturdy at the moment, with $207 million in cash. Management stated in G1's Q4 2020 earnings report that they expect their cash runway to last them until 2023, putting their foot down on any dilution until then. This stock has all the means necessary to what I feel will be a few years of outstanding returns for patient investors.
Risks
As I previously stated earlier on, all biotech companies carry a certain amount of risk. There is always the risk of Cosela underperforming, or serious side effects developing from widespread use. The market might not ever see G1's potential, and Cosela/other drugs in their pipeline could fail to meet endpoints in their ongoing clinical studies. Cosela is also used to support patients undergoing chemotherapy, so any pullback in the popularity of chemotherapy could potentially change the course of sales for the drug.
Conclusion
This is go time for G1 Therapeutics. Cosela has been approved by the FDA, but widespread commercial adoption is the next task on the horizon, and nothing is guaranteed. However, the stock is currently undervalued against peak sales for only one of its usages, and I feel that commercial success in the next few quarters will bring a revaluation in the stock price. I feel that management has itself positioned right and has the right group of leaders to really make a name for Cosela, as well as make G1 a market darling over the next few years.
This article was written by
I have spent the better part of the last 5 years learning everything I can possibly take in about equities. To say it is my life's passion would be an understatement. I try to find companies that I believe have a long road of growth ahead of them, and pay what I feel is a discount to their intrinsic value. Joel Greenblatt and Peter Lynch are my heroes.
Analyst's Disclosure: I am/we are long GTHX. I wrote this article myself, and it expresses my own opinions. I am not receiving compensation for it (other than from Seeking Alpha). I have no business relationship with any company whose stock is mentioned in this article.
Seeking Alpha's Disclosure: Past performance is no guarantee of future results. No recommendation or advice is being given as to whether any investment is suitable for a particular investor. Any views or opinions expressed above may not reflect those of Seeking Alpha as a whole. Seeking Alpha is not a licensed securities dealer, broker or US investment adviser or investment bank. Our analysts are third party authors that include both professional investors and individual investors who may not be licensed or certified by any institute or regulatory body.