Aclaris Therapeutics: A Potential Big Pharma Deal May Be In The Horizon
Summary
BiotechValley Insights is initiating coverage of ACRS with a "Bullish" rating.
ATI-450 is a novel oral MK2 inhibitor that demonstrated comparable efficacy and superior safety over Jak inhibitors during Ph2. The oral route of administration offers a superior convenience over biological DMARDs.
MK2 inhibitors may be scalable to numerous autoimmune diseases; the autoimmune disease market is projected to be US$65b.
2021 is a year where ACRS may have many potential catalysts lined up including potential big-pharma partnership/licensing-out and various data-readout for AD, CAPS, and COVID-19 trials.
Recommendation: Bullish

Source: Google Stock Price Data
BiotechValley Insights is initiating coverage of ACRS with a "Bullish" rating. ACRS recently had a remarkable rally after the phase 2 RA trial data readout. At this point, these are the bear and bull scenarios that can unfold during the next 6-12 months.
Bull Case:

Big Pharma Partnership/Licensing out/acquisition of ACRS: 1H-2H 2021: potential 30-50% upside
Positive AD, CAPS, COVID-19 data readout: Q1-Q3 2021: potential 20-30% upside
Positive RA data: Q4 2021 - Q1 2022: potential 50-100% upside

Bear Case:

Negative AD, CAPS, COVID-19 data readout: Q1-Q3 2021: potential 20-30% downside
Additional public offering diluting shares
Company Background:
Pipeline: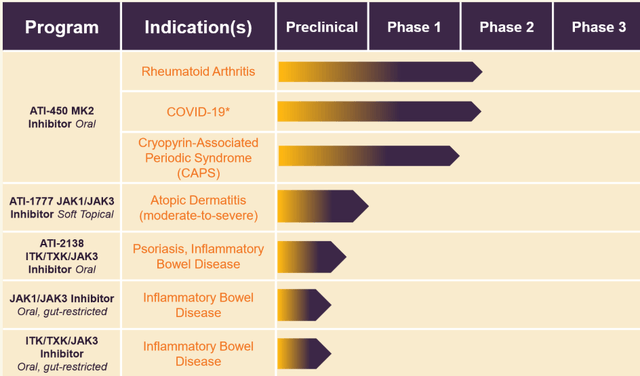 Source: William Blair Equity Research
Most of the value of the company is driven by the ATI-450 and ATI-1777. It is hard to develop conviction for ATI-1777 at this stage as it is only going through phase 1. I am going to focus primarily on ATI-450 in the report.
ATI-450
Mechanism of Action

Source: ACRS presentation
Targeting p38a was tried globally but constantly exhibited toxicity and lack of sustained efficacy in RA and IBD trials. The main reason for the toxicity was because P38a phosphorylates over 60 substrates and causes many unwanted side effects. To overcome this drawback, ATI-450 targets the MK2 directly.

Source: ACRS Presentation
ATI-450 has a higher selectivity toward p38a/MK2 complex than p38 or MK2 alone. In the nucleus, inactive MK2 and p38a dock in a high-affinity complex; this exhibits a binding pocket. ATI-450 binds to the wall of the pocket and prevents MK2 activation.
The scalability X-factor
MK2 drives many pro-inflammatory cytokine expressions (TNF-a, IL1B, IL6, IL8). By inhibiting the MK2 receptor, ATI-450 has a high potential to be scaled to many autoimmune diseases such as psoriasis, ulcerative colitis, Crohn's disease, and atopic dermatitis.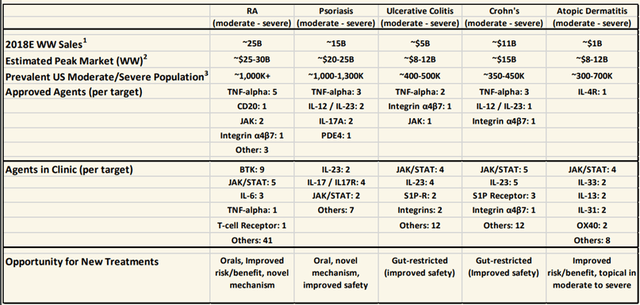 Source: ACRS presentation
ATI-450 has blockbuster potential in Rheumatoid arthritis:
ATI-450 is currently targeting three indications: RA, CAPS, and COVID-19.
Rheumatoid Arthritis: showed strong efficacy and safety data for RA. I will delve into its clinical data in this report.
COVID-19: I think the COVID-19 treatment party is over, and I ascribe no value

to this pipeline candidate.

CAPS: ultra-orphan disease, which offers a high-risk-high gain opportunity. It is hard to get a strong conviction based on its early clinical developmental stage.
I believe rheumatoid arthritis drives 80-90% of ACRS's value; therefore, in this report, I will focus on introducing ATI-450's clinical data on rheumatoid arthritis and share my thoughts regarding its future potential.
Rheumatoid Arthritis: Market
Inflammatory disease therapeutic is an attractive market; the global market size is close to $65B; rheumatoid arthritis accounts for 26% of the estimated market size.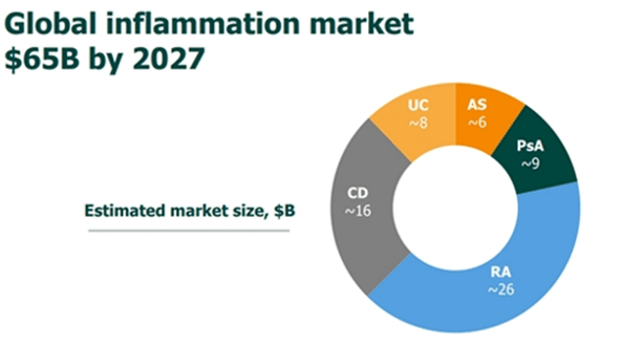 Source: SVB Leerink estimation
Rheumatoid Arthritis: Competitive Dynamics

Source: Graph created by the author compiling various clinical guidelines
For patients with ACTIVE RA, we initiate NSAID, Glucocorticoid with non-biological DMARD ((MTX)). Patients unable to take MTX may require an alternative agent, such as HCQ, SSZ, or LEF.
In patients resistant to initial DMARD therapy (e.g., MTX), we usually treat with a combination of DMARDs (e.g., MTX plus SSZ and HCQ, or MTX plus a TNF inhibitor) while also treating the active inflammation with anti-inflammatory drug therapy.
In patients resistant to initial or subsequent combination therapy or subsequent treatment that includes a biologic or targeted synthetic DMARD (i.e., a JAK inhibitor), we switch to an alternative biologic or targeted synthetic DMARD. Treatment with anti-inflammatories may also be required in such patients.
A various meta-analysis suggested that JAK inhibitors may be more convenient (oral dosing) and effective compared to TNF inhibitors. However, the JAK inhibitor's lackluster safety profile limits it from being used before TNF inhibitors. Another key reason is the biosimilar TNF inhibitor's cheaper price tag.
Market Positioning of ATI-450:
Investment Thesis: ATI-450 is a unique oral MK2 inhibitor that may offer superior efficacy and safety over JAK inhibitors and superior convenience over biological DMARDs.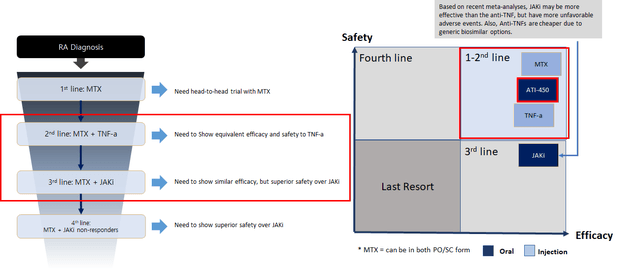 Source: Algorithm created by the author based on EULAR Guidelines and primary literature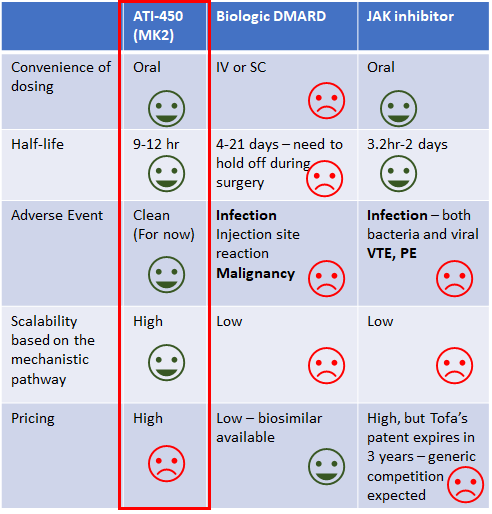 Source: MK2 inhibitor clinical profile scorecard - Data compiled from ACRS IR presentation
Phase 1 MAD extension trial data:

Source: Created by the author based on ACRS IR presentation
What I liked that there were no dose-limiting toxicities. ATI-450 demonstrated predictable pharmacokinetic responses; plasma level increases proportionally with a dose up to 80mg BID. ATI-450 showed a short half-life of 9-14 hours, which confirms the likelihood it can be dosed daily. This is beneficial for patients who may have to go through surgery. Many biologics have a long half-life, and because of this, it is tricky to take them off before the surgery.
The trial showed several interesting ex-vivo results; ATI-450 showed a broad and robust cytokine inhibition. The data shows that it can potentially inhibit LPS-induced cytokine production, including proinflammatory cytokines - TNF, IL1B, IL6, and IL8, but only reduce anti-inflammatory cytokine IL-10 expression by 30%.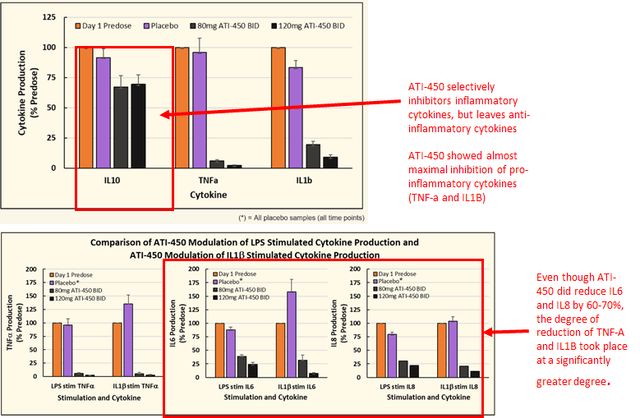 Source: Created by the author based on ACRS IR presentation - Red Comments are the author's comments
ATI-450 showed a stronger reduction for TNF-a and IL1B but a modest decline in IL6 and IL8. However, I still see a 60-70% decline in IL-6 and IL-8 strong and promising.
Phase 2a trial: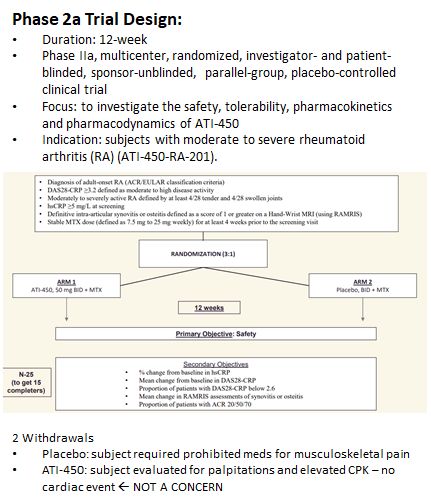 Source: Created by the author based on ACRS IR presentation
In the phase 2a trial, I would like to emphasize that the Phase 2a trial was designed to generate proof of concept. It was not powered to detect statistically significant outcomes on efficacy endpoints. Considering this, investors should keep in mind that it is hard to predict whether ATI-450 can deliver comparable data in the large phase 3 trial. However, I am cautiously optimistic based on the clean safety profile and strong efficacy level that ATI-450 delivered in phase 2a.
Study Population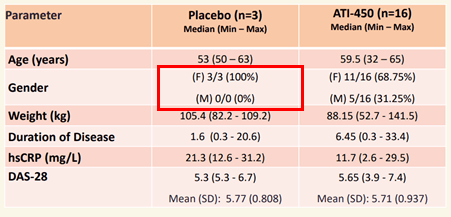 Source: Created by the author based on ACRS IR presentation
The trial had a small sample size (n=16) and a short follow-up of 12 weeks. Moreover, there are few limitations in the study population:
The placebo group had only 3 patients, and they were all female. RA is more prevalent in the female population; the prevalence of RA is 0.5-1%, with a woman to man ratio of 3:1. Also, age is another variable that needs a closer look at; the prevalence of rheumatoid arthritis is 4 to 5 times higher in women under 50 years, but after 60 years, the ratio becomes approximately 2 to 1. This may have contributed to reducing the placebo effect.
Efficacy
| | | |
| --- | --- | --- |
| Placebo | Treatment | ATI-4500 |
| Treatment Description | Placebo | ATI-450 |
| Number of Patients | 3 | 12 |
| Number of Evaluable Patients | N/A | N/A |
| Mean Change from Baseline in DAS28-CRP Score | 0.35 points | -2.0 points |
| Subjects with DAS28-CRP < 3.2 Score at Week 12 | 0 % | 40 % |
| Subjects with DAS28-CRP < 2.6 Score at Week 12 | 0 % | 20 % |
| ACR20 at Week 12 | 0 % | 60 % |
| ACR50 at Week 12 | 0 % | 33 % |
| ACR70 at Week 12 | 0 % | 20 % |
Source: Chart created by the author based on ACRS IR presentation
What really stands out to me reading the trial data was the ACR20/50/70 data.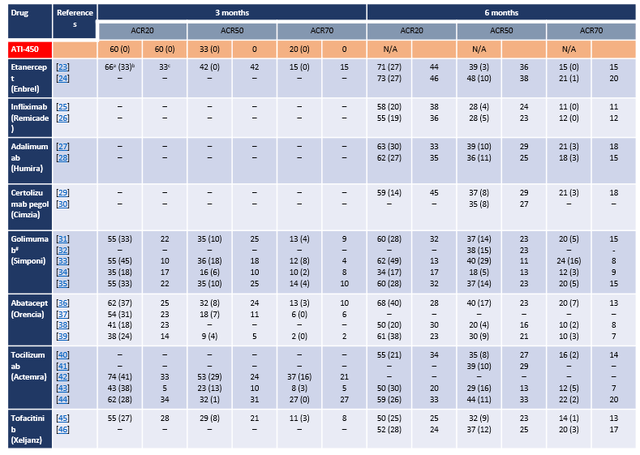 Source: Comparison table created by the author - RA Therapy Comparison
ATI-450 delivered impressive ACR data-points that are comparable to the standard-of-care treatments. However, it was interesting to see that the placebo-effect was zero for the placebo arm. As shown on the ACR20/50/70 comparison table below, most standard-of-care drugs showed some level of the placebo effect in ACR20. It was odd to see a 0% placebo effect.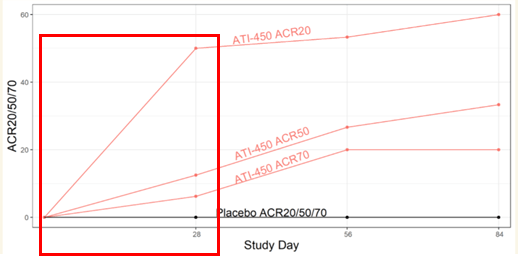 Source: Created by the author based on ACRS IR presentation
Moreover, ACR response ramped up by 28 days, which is a significantly faster response rate compared to biological DMARDs.
A potential limitation of the drug:
SJC, TJC, and physician VAS scores showed an impressive decline, but subjective patient pain VAS scores showed a mediocre decline of 10-20%.

Source: Created by the author based on ACRS IR presentation
The key question I have here is, is the drug inferior at reducing the pain level compared to another standard of care JAK inhibitors or Anti-TNFs? I do acknowledge that the trial was short and the sample size was small, but this doesn't explain the mediocre decline in the pain level. I believe that it is possible that ATI-450 doesn't demonstrate robust pain reduction in the larger phase 3 trial. This can be problematic because patients may choose to stick with the standard of care drugs with superior pain relief. For example, doctors could say all day that the patient's ACR has dropped and swelling of the patient's joints has subsided significantly. However, unless the patient can feel the pain reduction, it is hard for the doctors to push the drug long-term. If this happens, I think many patients may ask the doctor to put them back on JAK inhibitors. In other words, ATI-450 can gain physicians' acceptance, but not the patients' acceptance.
In contrast, the standard of care Jaki and TNF inhibitors showed a greater HAQ-DI improvement within the 6-month timeframe. Especially, JAK inhibitors showed superior symptom improvements within the first 3 months of treatment initiation.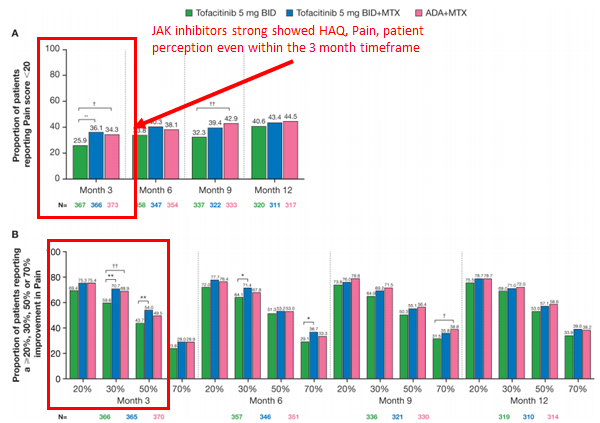 Figure: The proportion of patients reporting (A) Pain scores <20 mm over time, and (B) ≥20%, 30%, 50%, or 70% improvements in Pain at month 6 (FAS).
Source: RMD Open Study

Source: RMD Open study
Safety Data:

Source: Created by the author based on ACRS IR presentation
I liked the general safety profile of the drug. ATI-450 showed a clean safety profile without serious side-effects such as infection, VTE, PE that plagued SOC medications such as TNF-a and Jaki. However, I do believe ATI-450 needs a large-scale trial to be confident about its safety. Investors should keep in mind that this trial was tiny, and many unexpected adverse events may show up in the large-scale trial. In fact, I would be shocked if the company delivers the same level of safety profile in a large multi-centered phase 3 trial.
Potential partnership/licensing-out with big pharma?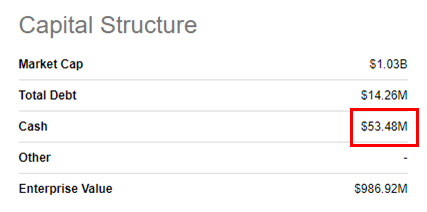 Source: Seeking Alpha - Capital Structure
Even after the recent public offering on Jan 20, the company doesn't seem to have a long cash runway. The management will have to choose if they want to raise more capital through the public market or find a partner/acquirer. At this point, I believe licensing-out of ATI-450 is a prudent decision as the company can raise cash through milestone payments and find a commercial partner to market the product. According to the street insider report, the company allegedly has hired two investment banks to consider a potential sale.
Investment Risks
An additional public offering can take place again, considering the company's low cash reserve and the large number of clinical trials that the company is holding.
Clinical risk: Atopic Dermatitis, CAPS, and Covid-19 trial failure can hurt the stock price. Moreover, phase 3 ATI-450 data may not deliver the same efficacy and safety data.
Commercial risk: even if ATI-450 delivers superior efficacy and safety over SOC, cheaper alternatives can limit ATI-450's prescribing volume. For example, generic Jaki (Tofacitanib's patent expires in 2 years) and biosimilar TNF inhibitors are a serious threat to ATI-450.
Conclusion:

Source: Google Stock Price Data
I believe positive phase 2a RA data has already been priced in. As suggested in the article, I am cautiously optimistic about its phase 3 success. However, considering the limitation of the phase 2 design, phase 3 success is not a foregone conclusion. Investors who are planning to enter at this price-level should be bullish on other indications (AD, CAPS, COVID-19) or speculate on catalysts such as M&A deals or licensing out deals with big-pharma. To me, CAPS and AD trials are a bit of a gamble at this point and may present a 20-30% volatility. I believe a bigger upside is in the deal-making with a big-pharma. I think ACRS has a high probability of striking a deal with a big-pharma considering ATI-450's unique clinical profile, ACRS's short cash runway, and limited commercial capabilities. If any deal occurs, I project the news can add 20-50% upside to the current stock price.
This article was written by
We publish unbiased long/short trade ideas. Please follow our Twitter page: https://twitter.com/biotechvalley_i
Analyst's Disclosure: I/we have no positions in any stocks mentioned, and no plans to initiate any positions within the next 72 hours. I wrote this article myself, and it expresses my own opinions. I am not receiving compensation for it (other than from Seeking Alpha). I have no business relationship with any company whose stock is mentioned in this article.

Biotechvalley Insights is not a registered investment advisor. The Content is for informational purposes only, you should not construe any such information or other material as legal, tax, investment, financial, or other advice. Nothing contained on our Site constitutes a solicitation, recommendation, endorsement, or offer by Biotechvalley Insights or any third party service provider to buy or sell any securities or other financial instruments in this or in any other jurisdiction in which such solicitation or offer would be unlawful under the securities laws of such jurisdiction.
Seeking Alpha's Disclosure: Past performance is no guarantee of future results. No recommendation or advice is being given as to whether any investment is suitable for a particular investor. Any views or opinions expressed above may not reflect those of Seeking Alpha as a whole. Seeking Alpha is not a licensed securities dealer, broker or US investment adviser or investment bank. Our analysts are third party authors that include both professional investors and individual investors who may not be licensed or certified by any institute or regulatory body.