BIGG Digital Assets: A Hidden Gem In The Crypto Business
Summary
Cryptocurrencies are showing intense volatility in their price actions.
Bitcoin (BTC-USD) last week reached a high of $58K and fell to $42K, crazier fluctuations are seen in altcoins such as Ethereum (ETH-USD) and Cardano (ADA-USD).
Investors unwilling to deal with this volatility may find it better to invest in a "Pick and Shovel" play in this industry.
One such hidden gem is BIGG Digital Assets that owns and operates a Crypto brokerage and a Crypto intelligence company.
The global cryptocurrency market has taken the world's financial sector by storm. Regardless of the underlying cryptocurrency going up or down, the crypto exchanges always make a profit. The more the volatility, the better it is for the exchange. These exchanges see an increased volume of transactions during such price fluctuations; thereby increasing profitability. BIGG Digital Assets (OTCQX:BBKCF) (CSE:BIGG) is one such business. BIGG owns two operating companies: Netcoins, a Canadian Crypto Brokerage; and Blockchain Intelligence Group, that offers programs bringing security and accountability to cryptocurrency.
Netcoins
Introduction
Netcoins is a crypto brokerage currently operating in Canada. This was founded in 2014 by group of businessmen with experience in the blockchain business. The President of Netcoins also founded the First Bitcoin ATM and the first physical bitcoin brokerage in 2013.

Netcoins markets themselves as a compliant crypto exchange open for regulation and oversight by the Canadian regulators. As a part of these efforts, Netcoins submitted a Restricted Dealer License Application to the BCSC and CSA in September 2020.

Netcoins revealed that their trading revenues exceeded CAD $100,000/day in Feb. 2021. In a recent investment conference, the CEO of BIGG said the company had cash on hand of over CAD $35 Million.
Investment Thesis
This brokerage has seen exponential growth in their revenues over the last few months. Trading Volumes increased 2733% year over year and 142% month over month and in Jan 2021, exceeding CAD $81 Million. A large part of the growth can be attributed to institutional buyers assigning a portion of their portfolio into cryptocurrencies, rather than gold as a safe haven asset.
It is obvious that retail investors also contributed to the growth in this company. In January 2021, Monthly Active Users increased by 5381% year-over-year and 75% month over month; Number of Monthly Transactions increased 5997% year-over-year and 119% month over month (characteristics largely shown by retail investors and traders). Netcoins has been actively advertising on Radio and Television stations across Canada, in an attempt to drum up traffic their way.
Another exciting reason to invest in this company is that it aims to be licensed as a "regulated and compliant" crypto exchange in Canada. Canadian regulators just granted licenses to 2 cryptocurrency ETFs in the last month. A Restricted License approval would drive significant business into Netcoins via these ETFs. Canadian authorities are also contemplating using Bitcoin as a reserve currency. If Canada moves ahead with these plans, Treasury buys would certainly be via a regulated exchange. In addition, one would also see a reduction in the number of other brokerages that are unable to keep up with the regulatory operating requirements. The idea is that regulation and oversight of the exchanges is imminent. Regulation is coming, so why not be ahead in the game, and be ready.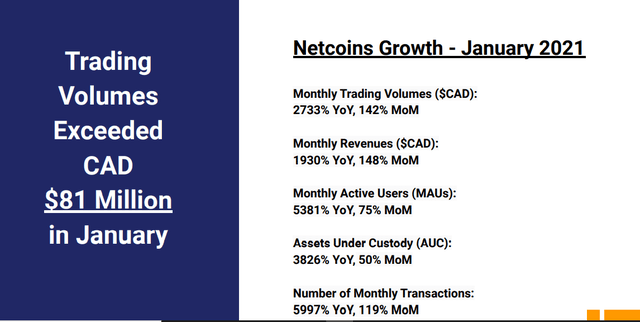 Blockchain Intelligence Group
Introduction
The company offers products and services that deal with security, data-analysis and risk-scoring capabilities for blockchain and cryptocurrencies. They have tools to mitigate the risk associated with cryptocurrencies; they sell these tools to institutions and to Law enforcement.
They have a product called QLUE™ (Qualitative Law Enforcement and Unified Edge) that visually tracks and reports on transactions in the blockchain. They market a risk scoring system called BitRank Verified® for all Bitcoin/Ethereum blockchain addresses/transactions.
They offer Forensic Services, Training and Certification courses for Cryptocurrency investigations.
Investment Thesis
As the demand for cryptocurrencies increases, it provides opportunities for criminals to hide behind the presumed privacy and anonymity. The criminal activities extend to tax evasion, money laundering, Ponzi schemes, and the theft of cryptocurrencies to kidnapping for ransom. Identifying these cryptocurrency-related crimes have posed challenges for law enforcement due to the cross-border nature of transactions and the use of evasion technology to mask the identity of users. This is the area of application that this company seeks to disrupt.
BIGG signed 2 contracts with United States Federal Government agencies in 2020 valued at CAD $715,000 and $320,000 respectively to deliver QLUE licenses. It's a start, but with US Treasury Secretary Yellen concerned about the illegal and criminal use of Cryptocurrencies, these starter contracts will only prove to be a conduit to breakthrough into other US agencies and institutions choosing to use and regulate Crypto.
The Financial Action Task Force (on Money Laundering) (FATF) is an intergovernmental organisation founded in 1989 on the initiative of the G7 to develop policies to combat money laundering. BIGG has partnered with Netki to integrate their Travel Rule solution (TransactID) into BIGG's Compliance suite of tools to meet the latest regulatory recommendations put out by FATF.
A virtual currency wallet provider located in Europe has signed a three-year contract with BIGG Digital Assets Inc.'s Blockchain Intelligence Group for BitRank Verified and QLUE (qualitative law enforcement unified edge). The contract is valued at approximately $355,000.
BIGG has seen a demand for these services not only by law enforcement, but also by other crypto brokerages, who want to ensure that the digital wallets that they are dealing with are not involved in criminal activities. With the exponential growth in the Crypto industry, the demand for these services is certain to grow.
EARNINGS AND VALUATION
The world cryptocurrency market cap today is around $1.5 Trillion, not to mention that this does not include the components and processes provided by companies such as BIGG. Estimates for CAGR from 2019 to 2026 for the currencies was projected to be around 11.2%, but with inclusion of the 'Crypto Component' and 'Crypto Processes' such as provided by BIGG, the CAGR is revised to be around 30%. These projections indicate that investing in a "Pick and Shovel" company providing such processes that are essential to the crypto industry might provide better returns than investing in the currency alone.
Valuation of Netcoins
BIGG's current growth rate per quarter is 50% (since Q4 2019). They have CAD $35 Million cash on hand. In February 2021, Netcoins crossed a revenue threshold of CAD $100,000 a day. Given a conservative estimate that this was not consistent throughout the quarter, these are my estimates regarding the revenues this year, with a 50% growth rate every quarter.
| | | | |
| --- | --- | --- | --- |
| Q1 2021 | Q2 2021 | Q3 2021 | Q4 2021 |
| CAD $5M | CAD $7.5M | CAD $11.25M | CAD $16.9M |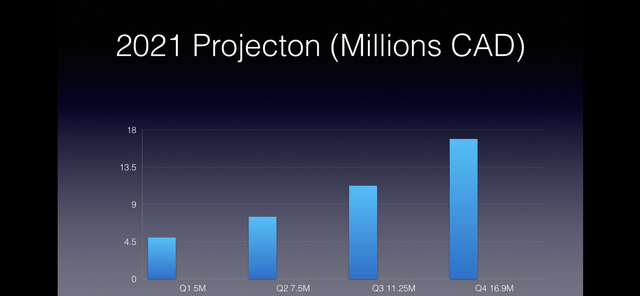 (Source)
In my estimate if Netcoins is able to continue this growth trajectory, the revenues for financial year 2021 should exceed CAD $40 Million. Kraken digital is asking for a $10 Billion valuation today. In 2019 it raised $100 Million based on a valuation of $4 Billion with estimated revenues of $32 Million that year. Coinbase (COINB) is trading Pre IPO with a valuation of more than $100 Billion. It reported a revenue of $1.1 Billion in 2020. These numbers give a valuation to revenue ratio of more than 100. If Netcoins were to make CAD $40 Million in revenues this year, this ratio would value the company at CAD $4 Billion.
Valuation of Blockchain Intelligence Group
The valuation of this company comes from its technology. Most of the revenues of this group are from Licensing of QLUE to Law enforcement and other agencies. This took about $15 Million to develop and has 660 Million Data points in it for the Bitcoin Blockchain alone. The competition on this group is very limited and a similar company Chainanalysis, was valued at $1 Billion on a private equity funding. Giving QLUE a very conservative, 1/10th the valuation of Chainanalysis would value it at $100 Million.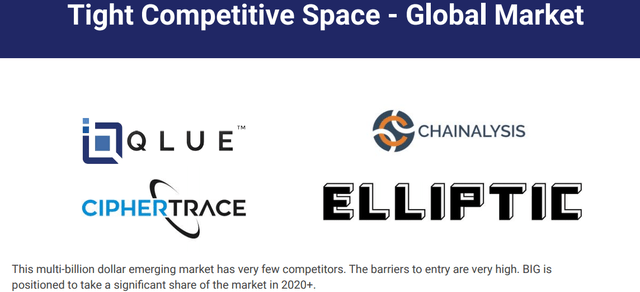 The current market cap of BIGG is a mere US$143 Million today. This appears undervalued, based on the revenues generated and the technology of QLUE alone. One of the reasons I believe is lack of awareness in the US market. The company was also focusing on growing their business in the past and is now making themselves more aware to investors.
Risks
The company is aiming high to capture the majority of the market share in Canada as a regulated and licensed exchange. The risk would be if the company is unable to execute transactions at an unprecedented high volume or have access to an increased number of coins/wallets and be unable to fulfill orders.
Another risk that could affect this company is the publicity that Coinbase receives from its IPO could take away some of the market share from Netcoins.
Regulatory risks are obviously another potential concern, but given the fact that Netcoins is marketing itself as a fully regulated and compliant exchange, this seems to be less of a concern.
As an OTC security, BIGG comes with the inherent risks that investing in any over the counter stock involves; however, they recently upgraded to the OTCQX from the OTCQB® Venture Market, showing that they met high financial standards, follow best practice corporate governance, and demonstrate compliance with applicable securities laws.
Upcoming Catalysts
In the short term, the "Restricted Dealer" license approval and approval of additional Canadian blockchain ETFs would drive business into Netcoins. In a recent interview the CEO also mentioned a phone app launch and addition of interest payments to coin holders which would incentivize people to use this platform for crypto purchases. Netcoins is actively advertising in Canada on Radio and Television stations, the CEO is actively promoting the company in investor conferences and social media. All this awareness could set up a short squeeze given the significant short interest in this stock.
In the medium term, up-listing to a major exchange in the US would give this company more exposure. (They recently uplisted to OTCQX from OTCQB). IPO of other Crypto brokerages such as Coinbase and Kraken Digital would boost the valuation of this company and bring it to par with its industry peers. Increasing demand for Crypto intelligence by governments and financial firms would definitely give a boost to its intelligence business.
In the long term, European expansion, US expansion and acceptance of cryptocurrency worldwide, being a big part of the portfolios of institutions, hedge funds, retirement funds, treasuries and so on would give a never-ending revenue stream to this business.
Conclusion
BIGG Digital Assets is an undervalued company that is seeing an exponential growth in an explosive sector. With a well-diversified business and excellent management team in place, this stock is undervalued and should see tremendous growth in the near future if the company keeps up the current growth rate.
"The house always wins" is a popular statement in the casino business; the crypto business seems to be the same. Investing in this "Pick and Shovel" company seems to be a better alternative than investing in the underlying crypto asset alone. This stock will likely see double digits before Bitcoin sees $500,000.
This article was written by
I took up investing as a hobby and a challenge. I had my retirement savings handled by a third company and barely saw any growth. When I left my job I moved my savings in a Rollover IRA and took charge of my finances. No one is interested in your investments as you are. With the vast plethora of resources available at your disposal, you can do ample research and due diligence from your home and make good investment plans. I enjoy healthy discussions about companies I invest in and always welcome comments and thoughts.
Analyst's Disclosure: I am/we are long BBKCF. I wrote this article myself, and it expresses my own opinions. I am not receiving compensation for it (other than from Seeking Alpha). I have no business relationship with any company whose stock is mentioned in this article.
Seeking Alpha's Disclosure: Past performance is no guarantee of future results. No recommendation or advice is being given as to whether any investment is suitable for a particular investor. Any views or opinions expressed above may not reflect those of Seeking Alpha as a whole. Seeking Alpha is not a licensed securities dealer, broker or US investment adviser or investment bank. Our analysts are third party authors that include both professional investors and individual investors who may not be licensed or certified by any institute or regulatory body.