Top Performer NextEra Energy Ready For New Challenges
Summary
Low-beta (0.19), $150 billion-market cap NextEra continues to attract investor interest for its country-largest renewables portfolio as well as its growing Florida utility.
Blackouts from the Texas arctic freeze and California 2020 summer 2020 require all utilities to consider stress-testing transmission durability and generation capacity, both baseload and intermediate.
While a high-performing company, NextEra faces exposure from its 3300 MW of Texas renewable generation capacity and the sector-wide concerns of potentially higher interest rates.
Looking for more investing ideas like this one? Get them exclusively at Econ-Based Energy Investing. Get started today »
Investors flock to NextEra (NYSE:NEE) for its globally-largest renewable unregulated power generation but stay for its healthy, growing Florida utility operation. These is why I have in the past and continue to recommend NextEra Energy.
NextEra Energy is a holding company for two (now merged into one) regulated retail utilities and an unregulated generation subsidiary. For 2020, the three operating segments were Florida Power & Light (FPL), a regulated utility serving 5.6 million customer accounts and the largest US rate-regulated retail electric utility; Gulf Power, a regulated utility serving 470,000 customers in eight counties in northwest Florida; and NextEra Energy Resources (NEER), an unregulated subsidiary that generates clean energy from solar, wind, and nuclear power.
On January 1, 2021, NextEra's Gulf Power division merged into the FPL division, with the FPL division as the continuing entity. However, Gulf Power's financial results are reported separately for 2020.
At a market capitalization of $148.8 billion and a beta of 0.19, NextEra Energy is less volatile than the overall stock market, a plus for investors seeking stability.
Risks include those of rising interest rates and an exposure as a power supplier to Texas during its forced, involuntary electric blackouts.
Implications of the Texas Arctic Blackouts
Texas, through the Electric Reliability Council of Texas (ERCOT) operates its own electrical grid. Starting in early February, the weather became worse and worse with over a week of sub-freezing and single-digit temperatures. Severe long-lasting cold led to high gas and electricity demand. However, the cold also froze machinery, pipes, water inlets and outlets, causing between a third and a half of Texas' 83,000 megawatts of electric capacity to fail. All types of generation were affected--wind, solar, but also baseload natural gas, coal, and even one of the state's two nuclear plants.
Natural gas is an even more layered case: it powers much of the state's generation but the lack of electricity caused west Texas gas wells and pipelines to freeze. Because natural gas is also used for direct heat, direct gas customers were prioritized ahead of electric utilities, adding to a vicious cycle in which less gas in the system meant less electricity could be generated.
As units went offline because of the cold, the imbalance between supply and demand and the resulting drop of grid frequency below 60 hertz came within a terrifying 4 and a half minutes of causing overwhelming damage to the entire Texas electric grid, from which it would take months to recover. Faced with Armageddon, ERCOT told more and more utilities to take increasing numbers of electricity customers offline, a situation that ultimately lasted several days for some. For millions, loss of electricity then led to loss of water as frozen pipes burst.
The deaths and damages resulting from the extreme cold are still being counted. Remedies are complex and months away.
Many gas and electricity companies operating in Texas such as CenterPoint Energy (CNP), Sempra's (SRE) Oncor, Vistra, (VST), NRG Energy (NRG), AEP (AEP), and Exelon (EXC) are thus involved. This includes NextEra. As the map below shows, NextEra's NEER division has 3113 megawatts of solar and wind capacity in ERCOT. Because it does not have gas generation in Texas, it did not face high natural gas prices, unlike Vistra and others.
Texas' largest energy cooperative, formerly-healthy Brazos Electric Cooperative, has already filed for chapter 11 bankruptcy, following receipt of immediately-due bills from ERCOT for $2.1 billion.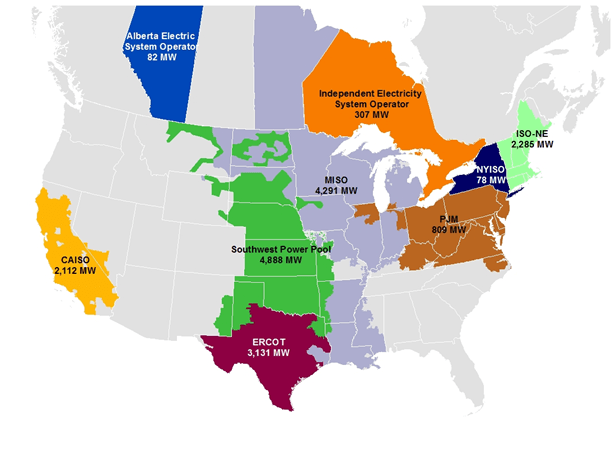 credit: NextEra 10-K for year ending December 31, 2020
2020 Results
For 2020 NextEra's financial reporting divides as: FPL, Gulf Power, and NEER. Net income contributions are shown below.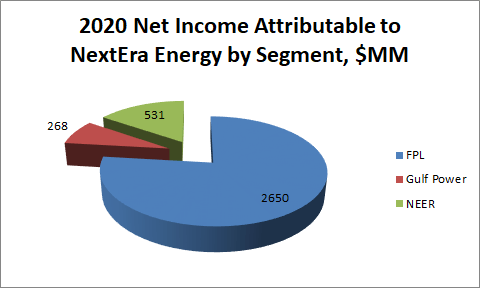 Credit: NextEra Energy and Starks Energy Economics, LLC
For full-year 2020, NextEra Energy's net income was $2.92 billion or $1.48/share compared to $3.77 billion or $1.94/share in 2019. It is important to put 2020 results within the context of Covid-19 shutdowns. While Florida never enacted severe shutdowns and in fact drew thousands of people relocating permanently, national and international travel halted, conventions canceled, offices closed, and gatherings stopped. This impacted the tourism-dependent state.
Big items for 2020 included NextEra Renewable's addition of 7000 megawatts to its backlog and commission about 5800 megawatts of renewables projects.
Natural Gas Prices
The Henry Hub (Louisiana) natural gas futures price for April 2021 closed at $2.78/MMBTU on March 1, 2021. Given the gyrations in mid-February when extraordinarily cold weather drove spot gas prices in Oklahoma and Texas to $400-$1000/MMBTU, this normal price looks heroic.
The first graph below shows the reported spot price at Henry Hub, with a huge spike for mid-February. The second graph shows the Henry Hub month-ahead futures price over five years for a view of the more typical pattern.
Electricity generators like FPL and NEER, rely on fairly low gas prices - or the ability to switch to coal in some units - to keep costs affordable. Thus, the great Texas arctic freeze is expected to have a short-term negative effect of natural gas purchasers and electricity wholesalers/retailers throughout the country, including FPL.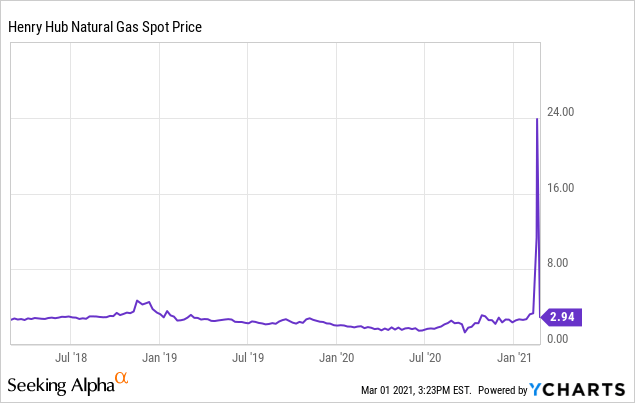 Futures prices show the more standard pattern of seasonality.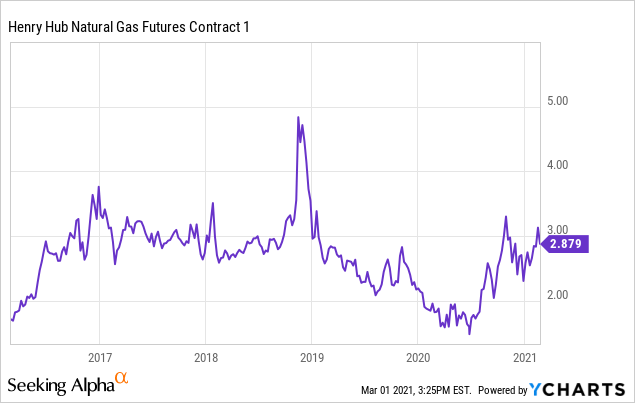 Florida Power and Light, FPL
NextEra Energy grew from a utility founded in 1925. The company is headquartered in Juno Beach, Florida.
The illustration below shows the FPL service area, the counties in Florida served by Gulf Power, and the location of FPL generation units in Florida. Apart from NEER's renewables, FPL itself owns 28,400 megawatts of generation capacity.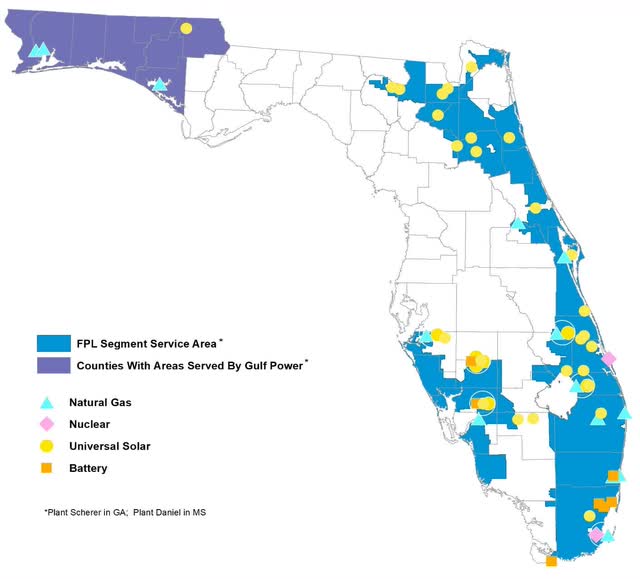 Credit: NextEra 10-K for year ending Dec. 31, 2020
Of FPL's customer accounts, 89% are residential and 11% are commercial. As of July 2020, the company's average residential 1000-kWh bill of $94.38 compared favorably to the national average 1000-kWh bill of $136.52.
FPL's 2020 mix of (again, its own, not NEER's) actual generation was 73% natural-gas-fueled. Similarly, nuclear-fueled generation was 22% of FPL's mix, despite being only 12% of capacity. FPL owns four nuclear plants in Florida. One is scheduled for refueling and maintenance each quarter in the next twelve months.
Zero emissions nuclear and inexpensive low-carbon natural gas as reliable baseloads provide a good environmental match for Florida.
After over two decades of unconventional hydrocarbon exploration and delineation, the U.S. has a huge 495 trillion-cubic-foot supply of natural gas that results in low, steady long-term gas prices. Like other gas-fired utilities, FPL can essentially - via its capital investment in generation - arbitrage between the low price of natural gas and the competitive, but higher, price of electricity.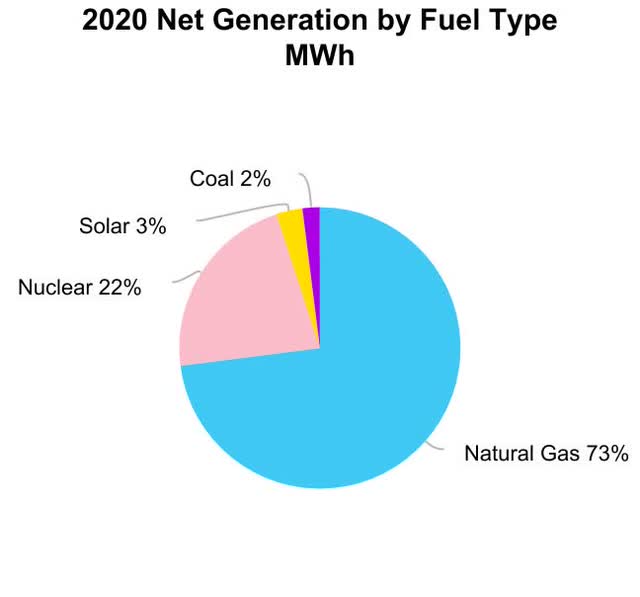 credit: NextEra 10-K for year ending Dec. 31, 2020
NextEra Energy Resources, NEER
NextEra Energy Resources owns many renewable generation units, illustrated in this map.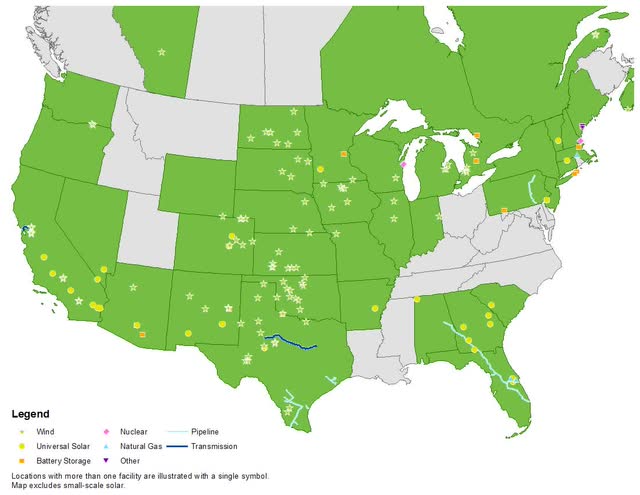 According to the company, long-term contracts cover virtually all NEER's generation capacity and/or output. Contracted generation assets at December 31, 2020 are about 22,000 MW of total net generating capacity.
By comparing generation capacity to actual generation, it is apparent the nuclear facilities see more sustained use.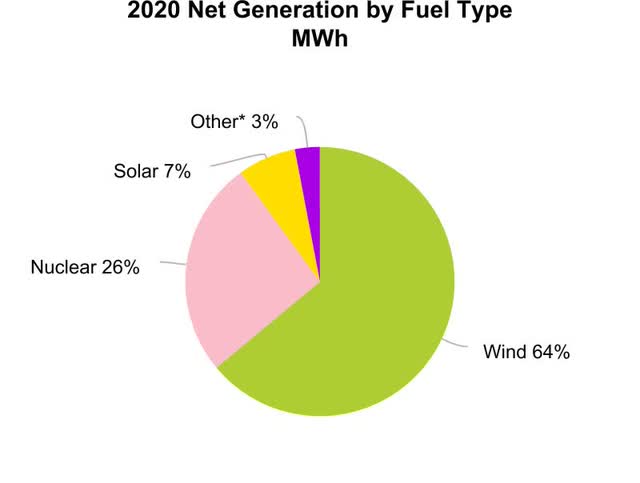 credit: NextEra 10-K for year ending Dec. 31, 2020
NextEra Energy Competitors
NextEra is part of the 15-stock, price-weighted Dow Jones Utility Average Index (DJU). Although regulated utilities have their own geographic territories and business lines (electricity, gas, water, steam, or a combination) and so don't compete directly, they do compete for investment.
Exelon - which, with nuclear plant capacity that makes baseload ESG-specified clean (nuclear + renewable)-sourced electricity and so is a close competitor to NextEra--has just announced it will split into two companies, a regulated utilities company and an unregulated power generation company.
Other utilities in the index are AES (AES), American Water Works (AWK), CenterPoint Energy, Consolidated Edison (ED), Dominion (D), Duke Energy (DUK), Edison International (EIX), First Energy (FE), NiSource (NI), Pacific Gas & Electric (PCG), Public Service (PEG), and Southern Company (SO).
Strategy and Growth
As the pandemic and shutdowns wound on in 2020, Florida became a desirable relocation destination, and indeed, the company's customer base has increased by hundreds of thousands.
Through NEER, NextEra expects to construct about 23,000-30,000 megawatts of renewable power in the 2021-2024 time frame.
Regulators
The company has oversight from and reporting responsibilities to the Florida Public Service Commission. With its ownership of Trans Bay Cable NextEra is also subject to national Federal Energy Regulatory Commission (FERC) rate setting.
Governance
As of December 2, 2020, Institutional Shareholder Services ranked NextEra's overall governance as 3, with sub-scores of audit (1), board (8), shareholder rights (2), and compensation (5). On the ISS scale, 1 represents lower governance risk and 10 represents higher governance risk.
As of February 2021, NextEra's ESG ratings from Sustainalytics were "medium" with a total risk score of 29 (54th percentile). Component parts are environmental risk 14.7, social 8.8, and governance 5.6. The negative factor noted is the company's use of thermal coal. Controversy level is 2, or "moderate," on a scale of 0-5, with 5 as the worst.
At February 12, 2021, shorted shares were 1.2% of floated shares.
Insiders own a negligible 0.16% of stock.
NextEra's beta is a low 0.19: its stock moves directionally with the overall market but to a far smaller extent (less volatility).
Stock and Financial Highlights
NextEra's March 1, 2021 closing price was $75.91/share, 87% of its 52-week split-adjusted high of $87.69/share. (NextEra did a four-for-one stock split in 4Q20.) Market capitalization is $148.8 billion.
Trailing price to earnings ratio is a steep 51 given 2020's earnings per share (EPS) of $1.48. Analysts' average estimate for 2021 EPS is higher at $2.51/share for a forward price/earnings ratio of a still-high 30.2.
Company management forecasts adjusted EPS:
* $2.40-$2.54 for 2021;
* $2.55-$2.75 for 2022;
*$2.77-$2.97 for 2023.
At Dec. 31, 2020, NextEra had liabilities of $82.8 billion and assets of $127.7 billion, giving it a liability-to-asset ratio of 65%, standard for a utility and lower than many.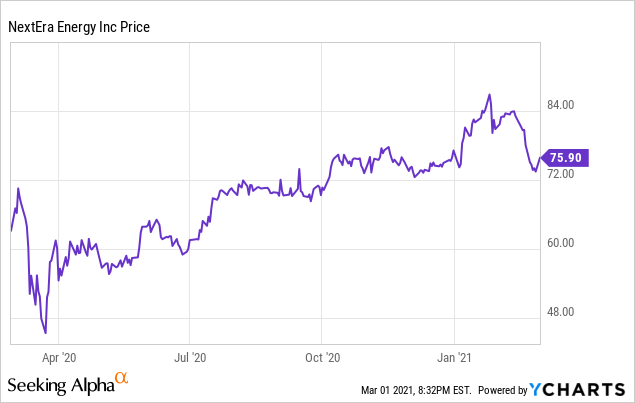 With a dividend of $1.54/share, at the March 1, 2021 closing price the stock yields2.0%.
NextEra has an average analyst rating from fifteen analysts of 1.8, or "buy" leaning toward "strong buy."
Notes on Valuation
The ratio of enterprise value to EBITDA is 20.2, far above the preferred ratio of 10 or less: the stock price is out of bargain range.
The company's market value per share is four times book value of $18.63/share, indicating very positive market sentiment.
Positive and Negative Risks
If interest rates increase further, this may impact NextEra and all utilities whose debt costs could rise and who compete for dividend-hunting investors. Florida growth could slow, and weather - like a California summer, the Texas arctic freeze, and Florida's own experience with hurricanes - remains a big risk factor.
Gas prices - so important to FPL - could rise despite abundant supplies as production is pulled away to an improving economy, cold weather like what was just experienced, and growing liquefied natural gas exports.
A positive risk is the continued growth of the Florida population. The state's quality of life compared favorably to that of other states. This is especially true during the Covid-19 pandemic, when workers have discovered not only an enhanced ability to work from home, but that "home" can be anywhere.
Recommendations
NextEra's results, even in the face of Covid-19 slowdowns, continue to prove out its business mix of renewables projects and a high-growth utility. The steep price-earnings ratio and small dividend are offset by management's expected EPS increases of 6-8%/year: growth investors may continue finding this stock of interest.
I recommend NextEra to investors who, understanding the risk of potentially higher gas prices, the interest rate risk to all utilities, and the potential exposure of NEER's Texas-located generation units (mostly wind) to the Texas blackout costs, nonetheless like its position as the country's largest renewable power generator coupled with healthy, growing, consumer-friendly (less expensive) retail operations in the attractive Florida market.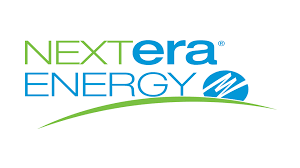 I hope you enjoyed this piece. I run a Marketplace service, Econ-Based Energy Investing, featuring my best ideas from the energy space, a group of over 400 public companies. Each month I offer:
*3 different portfolios for your consideration, summarized in 2 articles, with portfolio tables available 24/7 to subscribers;
*3 additional in-depth articles = 5 EBEI-only articles;
*3 public SA articles, for a total of 8 energy-related articles monthly;
*EBEI-only chat room;
*my experience from decades in the industry.
Econ-Based Energy Investing is designed to help investors deal with energy sector volatility. Interested? Start here with a 2-week free trial.
This article was written by
Long ideas for energy investors
Do you want to understand and invest in volatile energy markets? We bring fundamentals-based insights to oil, gas, utilities, renewables, and gasoline companies for real-world investors.
Analyst's Disclosure: I am/we are long NEE, VST, SRE. I wrote this article myself, and it expresses my own opinions. I am not receiving compensation for it (other than from Seeking Alpha). I have no business relationship with any company whose stock is mentioned in this article.
Seeking Alpha's Disclosure: Past performance is no guarantee of future results. No recommendation or advice is being given as to whether any investment is suitable for a particular investor. Any views or opinions expressed above may not reflect those of Seeking Alpha as a whole. Seeking Alpha is not a licensed securities dealer, broker or US investment adviser or investment bank. Our analysts are third party authors that include both professional investors and individual investors who may not be licensed or certified by any institute or regulatory body.