Growth In Marketing Spend Won't Rescue Vipshop
Summary
Vipshop's market share and average unit prices have been declining year-by-year with no recovery in sight.
The company is gradually losing consumers in low-tier cities, and the increase in marketing expenses has not returned new active users.
Diverse new businesses, including finance, logistics and offline outlets, have not brought meaningful revenue and have even increased costs.
Vipshop has arguably the weakest long-term prospects among its peers in the Chinese market.
The Chinese e-commerce industry has recently fallen into a storm. After Alibaba Group (BABA) was involved in an anti-monopoly investigation and JD.com (JD) was fined, in January 2021 the State Administration also fined Vipshop (NYSE:VIPS) CNY 3 million for 'market regulation.' The reason is that the company used the technical means provided by the supplier platform system to obtain the information of the brand operators whose products are on the shelves of Vipshop and other companies at the same time. This affects the choice of users and limits the sales channels of the brand operators.
This is not the first time Vipshop has violated terms and been warned by the local regulatory authorities. In December 2020, it was also fined CNY 500,000 due to consumer complaints about the company's online shopping schemes. Misinformation plagued the company, including price increases and discounts, false promotions and induced transactions. From these occurrences, the company has been facing development dilemmas for a while. Although Vipshop has consistently emphasized its profitability for 30 consecutive quarters, it is still under tremendous peer pressure.
As an online discount platform, Vipshop uses its 'flash' sales as the most significant selling point. The company launches new sales activities in a limited time every day, selling selected fashion brands and limited quantities of high-quality discount products.
Speaking of the user profile, female users accounted for 69%, as discounted genuine products have a stronger appeal to them than to men. Female consumers are willing to spend more time browsing products online. Besides, around 58% of total users are aged between 25 and 34 and mainly reside in coastal areas with convenient transportation. These regions tend to have more shopping centers with logistic hubs and more emphasis on brand and quality.
The revenue generated by Vipshop app users accounted for more than 90% of the company's total revenue in 2019. The clothing sales accounted for 38%, followed by cosmetics, luggage and home products.
Financial performance is weakening
As a discount sale website, Vipshop does not have substantial thresholds and technical barriers. For example, Alibaba, JD.com and Pinduoduo (PDD) are all engaged in the same sales model. This well explains why Vipshop has been doing worse in recent years. Its market share dropped from 3% in 2015 to 1.8% in 2019, and the revenue growth rate has been declining from 2016 to 2019, accounting for 40.76%, 28.84%, 15.93% and 10.02% respectively.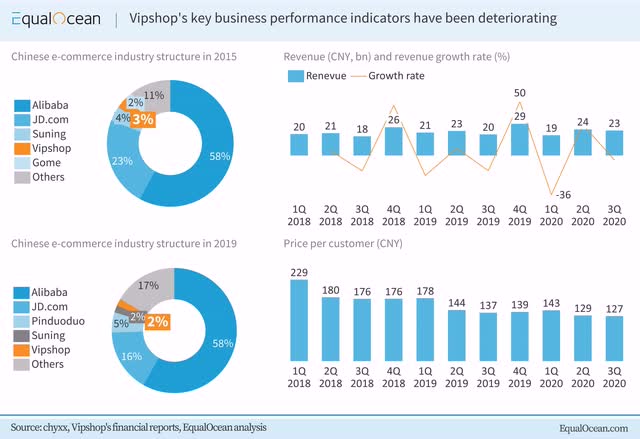 Also, during the coronavirus pandemic, most people followed the social distancing principle. The number of active users of Vipshop dropped by approximately 100,000 year-on-year. The unit price per customer decreased from CNY 229 to CNY 127 in the third quarter of 2020, mainly due to a highly competitive e-commerce market. The e-commerce market increased in sales promotion and reduced the number of goods with free shipping.
Moreover, increased inventory may draw an escalated price war for merchants to keep lowering product prices during the pandemic, resulting in a sequential decline in customer unit prices.
Inability to attract users in low-tier cities
According to the third-quarter financial report of 2020, the company's marketing expenses reached CNY 1.1 billion, a year-on-year increase of more than 50%, accounting for 4.9% of net income. The total number of active users only reached 43.4 million, a year-on-year increase of 36%, slower than the growth in marketing expenses
Since 2017, Vipshop's monthly active users have increased in high-tier cities but decreased in low-tier cities. In more impoverished regions, the decline rate has increased accordingly. As customer acquisition costs continue to rise, Vipshop will urgently need to seize the sinking market to cope with the heavy pressure imposed by Pinduoduo, another e-commerce platform in China.

Logistics and financial business cannot bring foreseeable income
In 2013, Vipshop set up its logistics and financial systems. Pinjun Express, a wholly-owned subsidiary, was established and undertook 80% of Vipshop's distribution.
However, in 2019, the company chose to terminate the brand and entrust all express delivery services to SF Express to reduce fulfillment costs. This may enable Vipshop to refine financial results in the short term.
In the same year, Vipshop established a financial division. In 2016, 2017 and 2018, the number of Vipshop Finance users was approximately 2.4 million, 5 million and 6.4 million respectively, accounting for only about 8% of Vipshop's total active users.
In 2018 and 2019, Vipshop's Internet finance business revenue was approximately CNY 210 million and CNY 300 million, accounting for about 0.3% of its total revenue. Therefore, neither Pinjun Express nor Vipshop Finance have brought positive financial results to Vipshop but further weakened its vital operating indicators.
The new offline business has not improved yet
In December 2020, Vipshop deployed offline outlet projects. More than 80% of these projects are self-owned brands, but the proportion of high luxury is lower than traditional outlets. As with a self-operated e-commerce platform, offline self-operated products are combined with online platforms and shipping options from the nearest warehouses.
However, the self-operated model has considerable expenses in shopping guides and product inventory, which may bring new operational risks to Vipshop. Moreover, the ability of Vipshop's online channel diversion is inherently weaker than that of e-commerce giants such as Alibaba and JD.com. The competition from offline shopping malls such as Wanda Plaza and Vientiane City has also put tremendous pressure on Vipshop's long-term customer growth.
Bottom line
We hold a bearish opinion on Vipshop. The fierce competition in the e-commerce industry has pushed Vipshop out of the list of giants. Coupled with the company's declining market share, marketing output ratio, and customer unit price, Vipshop's financial results have been deteriorating. The newly opened diversified businesses, including logistics, finance and offline outlets, have not brought high returns. Therefore, Vipshop does not offer an attractive enough risk/reward for investors.
This article was written by
EqualOcean is an investment research firm and information service provider focusing on China's Technology, Automotive and Consumer Internet sectors. With unique research and due diligence methodology, we provide tailored insights into a wide range of Chinese equities, empowering our clients' value-added decisions. Founded in 2014, EqualOcean is headquartered in Beijing and has offices in Shanghai, Shenzhen and New York.For more information, contact us at contact@equalocean.com.
Analyst's Disclosure: I/we have no positions in any stocks mentioned, and no plans to initiate any positions within the next 72 hours. I wrote this article myself, and it expresses my own opinions. I am not receiving compensation for it (other than from Seeking Alpha). I have no business relationship with any company whose stock is mentioned in this article.
Seeking Alpha's Disclosure: Past performance is no guarantee of future results. No recommendation or advice is being given as to whether any investment is suitable for a particular investor. Any views or opinions expressed above may not reflect those of Seeking Alpha as a whole. Seeking Alpha is not a licensed securities dealer, broker or US investment adviser or investment bank. Our analysts are third party authors that include both professional investors and individual investors who may not be licensed or certified by any institute or regulatory body.