Gold Panda's OTC Short Ideas - Asia Broadband Is Mysterious And Overvalued
Summary
Asia Broadband is a gold mining company that is venturing into the cryptocurrency space with a gold-backed coin.
It recently sold its only producing project for $82 million, so it's unclear how the company is going to source the gold needed for the launch of its cryptocurrency.
The remaining projects in its portfolio are small and I think Asia Broadband's business should be worth around $130 million.
Introduction
I've wanted to start a new series on SA ever since I ended my previous one, which was called "Best Drill Interceptions In The Metals Mining Sector For The Week Ended X".
During February, I covered several OTC companies that are popular with retail investors, such as Tesoro Enterprises (OTCPK:OTCPK:TSNP), Viper Networks (OTCPK:OTCPK:VPER), Healthier Choices Management Corp (OTCPK:OTCPK:HCMC), Artificial Intelligence Technology Solutions (OTCPK:OTCPK:AITX) and Ozop Energy Solutions (OTCPK:OTCPK:OZSC).
These articles seem to generate significant interest among SA subscribers and I therefore think that it's worth focusing my attention on this type of company. It seems most of these popular OTC companies are overvalued, so I'll be approaching these from the bear perspective.
For my first article in this new series, I'm returning to my forte and covering a Mexico-focused gold miner named Asia Broadband (OTCMKTS:OTCPK:AABB). The latter is valued at $464.9 million as of time of writing and I think its business shouldn't be worth more than $100 million. In my opinion, Asia Broadband is a sell.
Overview of the business
Asia Broadband says on its website that it's a mining company focused on precious and base metals that are sold in Asia.
In January, it sold its main mining operations for $82 million. According to the company, this gold mine is located in the Guerrero Gold Belt in Mexico and its subsidiary Asia Metals generated a gross profit of $16 million in 2020.
I managed to find very little information about this project. Its exact location is unclear as Asia Broadband doesn't provide a map and the property doesn't appear in any of the presentations of gold mining companies with operations in Guerrero Gold Belt that I checked. Also, there is no available mineral reserve or technical report and Asia Broadband hasn't provided production figures.
Looking at the latest financials, we can see that the company generated mining revenues of $10.7 million and a gross profit from mining operations of $6.93 million for the first nine months of 2020. There are also brokered mineral sales totaling $4.47 million, which brings the gross profit from operations to $11.4 million. Such high profit margins would put to shame many Tier 1 gold mines.
However, it's unclear from the financial report what's included in the line "brokered mineral sales".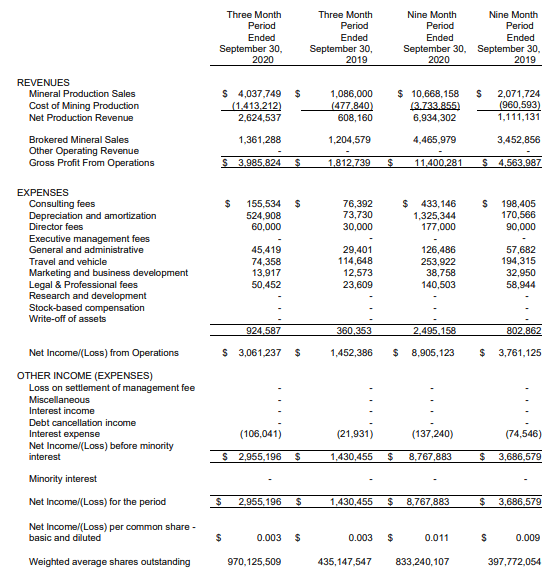 (Source: SEC)
Following the sale of the Guerrero Gold Belt project, Asia Broadband has a development-stage gold project in the Mexican state of Colima. The company plans to invest $10 million in the initial phase development program for the property. In October 2020, Asia Broadband announced the purchase of a property in Colima for $1.1 million, so this is a pretty small project. According to the company, the project is named San Palmar and is located around 25 km east of the Pena Colorada iron ore mine of ArcelorMittal (NYSE:MT) and Ternium (NYSE:TX).
Asia Broadband has given the coordinates of the project and they are 19°18'47.3"N 103°53'49.9"W. Here's what you get when you search for these coordinates on Google Maps.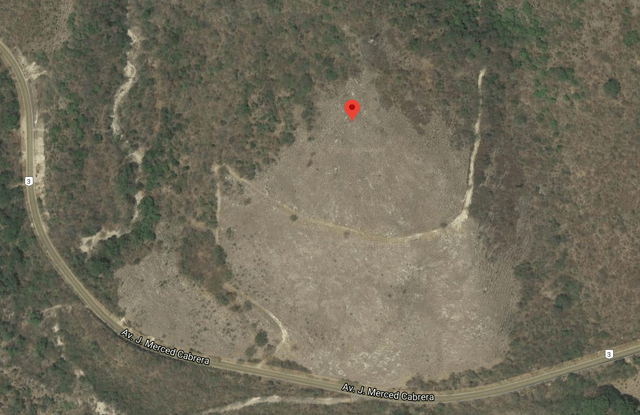 (Source: Google Maps)
Asia Broadband also has minerals concessions with an area of 912 hectares in Colombia, but I couldn't find much information about them.
Outside of mining, the company is developing a white label gold-backed cryptocurrency coin with a company named Core State Holdings. Asia Broadband plans to target high-growth markets including India and China. The new coin is named AABB Gold (AABBG) and is expected to be launched this month.
Core State is also developing a cryptocurrency exchange which will allow holders of AABB Gold tokens to exchange them for popular cryptocurrencies such as Bitcoin, Ethereum, and Litecoin.

(Source: aabbgoldtoken.com)
Valuation and retail investor interest
Just like the other five OTC companies I've covered in the recent past, Asia Broadband has attracted significant interest from retail investors. Every few minutes, there's a new tweet with the $AABB hashtag as well as a new post on Stocktwits.
On YouTube, Asia Broadband is covered by several channels such as Sej Investing, Money Maker, Insider Financial, and PJ Daniels. However, some retail investors have been expressing concerns about the company's business, with examples here and here.
The trading volume and share price started soaring around a few weeks ago.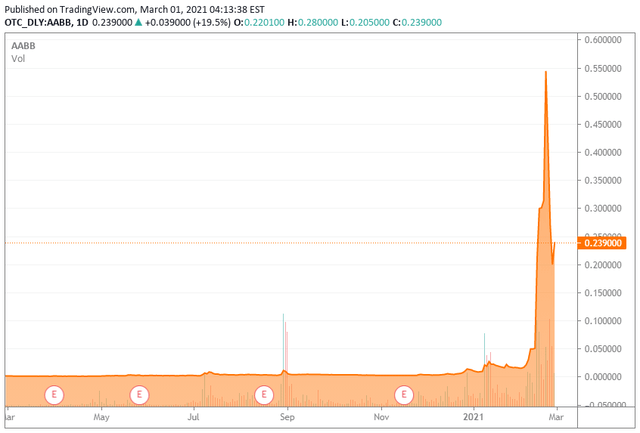 (Source: TradingView)
What I find interesting here is that Asia Broadband had just 61 shareholders as of September, yet there were tens of thousands of posts about the company across message boards on the internet before retail investor interest gathered pace.
Also, the public float was 756.8 million shares and there was a day in August when the trading volume surpassed 300 million shares.

(Source: SEC)
According to OTC Markets, Asia Broadband currently has 1,945,125,509 shares outstanding, which means its valuation stands at $464.9 million as of February 26.
Considering Asia Broadband currently has no mine in the production stage, I think it's unclear how the company is going to source the gold needed for the launch of its gold-backed cryptocurrency coin. Sure, the sale of the Guerrero Gold Belt project included $30 million of gold bullion as well as the assignment of a 28% equity interest back to the company, but this wouldn't be enough if demand for the cryptocurrency is high. After all, the maximum supply of AABB Gold is 500 million tokens, which is around $2.86 billion.
As of September 2020, Asia Broadband had $8.76 million in cash and debts of just $0.62 million. The Guerrero Gold Belt project generated a gross profit of around $4.6 million in Q4 2020 before being sold for $82 million at the start of 2021.
The remaining mining projects are small and I don't think they're worth much at this stage, so I think Asia Broadband should have a valuation that's close to its cash reserves plus the 28% Guerrero stake. The cash reserves plus bullion should stand at just below $100 million at the moment ($8.76 million plus $82 million plus 4.6 million). Based on the price for the Guerrero transaction, that 28% interest should be worth around $32 million.
Investor takeaway
Asia Broadband is a gold mining company that is launching its own cryptocurrency and there's little information regarding its operations.
Following the sale of its Guerrero Gold Belt project, it doesn't have producing assets and its cash reserves plus bullion should be around the $100 million mark. I think the company should be valued close to this level plus the remaining 28% Guerrero stake, which puts the valuation at around $130 million. Investors can take advantage of this by shorting the shares, but keep in mind this is somewhat dangerous due to the high share price volatility. According to data from Fintel, the short borrow fee rate currently stands at 15.68%.
There are two major risks I see for the bear thesis. First, it's possible for Asia Broadband to develop one of its new projects into a profitable operation like the Guerrero Gold Belt project. Second, the price of the new cryptocurrency could soar far beyond its intrinsic value due to retail investor interest.
This article was written by
I have been investing in stocks since 2007. I have no preference for sectors or countries - I'm as comfortable owning a part of a cement miner in Peru as holding shares in a wheat farming firm in Bulgaria. If it's a value stock - great. If the dividend or share buyback yield is high - even better.
- Disclosure: I am not a financial adviser. All articles are my opinion - they are not suggestions to buy or sell any securities. Perform your own due diligence and consult a financial professional before trading.
Analyst's Disclosure: I/we have no positions in any stocks mentioned, and no plans to initiate any positions within the next 72 hours. I wrote this article myself, and it expresses my own opinions. I am not receiving compensation for it (other than from Seeking Alpha). I have no business relationship with any company whose stock is mentioned in this article.

I am not a financial adviser. All articles are my opinion - they are not suggestions to buy or sell any securities. Perform your own due diligence and consult a financial professional before trading.
Seeking Alpha's Disclosure: Past performance is no guarantee of future results. No recommendation or advice is being given as to whether any investment is suitable for a particular investor. Any views or opinions expressed above may not reflect those of Seeking Alpha as a whole. Seeking Alpha is not a licensed securities dealer, broker or US investment adviser or investment bank. Our analysts are third party authors that include both professional investors and individual investors who may not be licensed or certified by any institute or regulatory body.