Weedmaps: A Rare Combination Of Cannabis, Tech And SPAC
Summary
Weedmaps announced that it will go public via a SPAC called Silver Spike Acquisition Corp in a $1.5B deal.
Weedmaps is a popular listing service for local cannabis shops and it is also building out a suite of software products for the cannabis sector.
We are bullish on the business overall but would await better entry points after the recent rally that pushed valuation to 17x 2021E revenue.
Welcome to our Discover Cannabis series, where we publish in-depth research to introduce new cannabis companies to our coverage.
Introduction
A specialty purpose acquisition vehicle, or SPAC, called Silver Spike Acquisition Corporation (SSPK) is taking Weedmaps public in a transaction that values the online cannabis listings marketplace and software provider at $1.5B post-money. We think Weedmaps is very likely to attract strong interests from investors as it sits in the crossover between software and cannabis, two of the hottest sectors nowadays. The SPAC has risen ~140% since the deal was announced and we think investors could wait for better entry points given the lofty valuation.
Business Overview
Weedmaps began as a listings marketplace for cannabis dispensaries and has expanded into offering SaaS-based business software for cannabis companies. Together with Leafly (privately-held by Privateer, the original owner of Tilray (TLRY)) Weedmaps is one of the two most popular online portals for cannabis retailers and users. Based on online reviews, users generally prefer Leafly for cannabis-related education including product details, using, growing, etc. However, Weedmaps seems to be the better place for finding dispensaries and placing orders for cannabis products. Weedmaps was founded in 2008 and its primary business is its listings service that connects 10 million monthly active users with over 4,000 paying merchants through its portal. If you go to weedmaps.com the home page is filled with local dispensaries, then information on different strains, and lastly educational materials. Users can then order products from the dispensaries displayed. The listings business was created because cannabis users often had difficulty finding retailers in their local areas prior to the wave of state legalization that began in 2012 in Colorado and Washington. Similar to Google and Yelp, Weedmaps was one of the most popular ways for consumers to find cannabis retailers and vice versa. Weedmaps also provide useful guides and product information to educate and help users improve their cannabis consumption experience.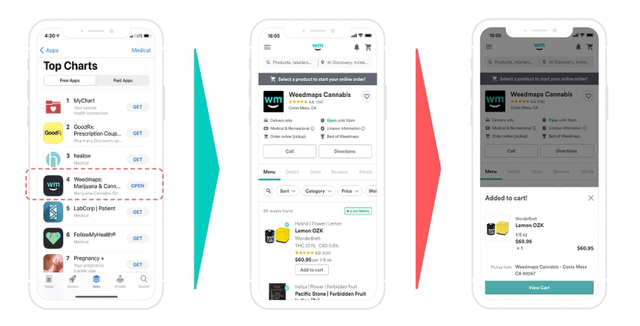 (Source: Company Filings)
In the last three years, Weedmaps developed the second part of its business which provides SaaS offerings of business software designed for cannabis companies called "WM Business". These softwares include integration with the listing page, online ordering and reservation for pickup, retail POSs, analytics, and APIs to integrate with other software. The enterprise software space is highly competitive with a large number of players in each category such as Salesforce (CRM) for CRM, Shopify (SHOP) for eCommerce, and Lightspeed (LSPD) for retail POS. However, Weedmaps is uniquely positioned to capture most of the cannabis growth due to its roots in cannabis listings services and its ability to provide compliant software in each state with different regulations. The cannabis industry is highly complex and it is imperative for software vendors to provide compliance functions such as GPS logs, inventory tracking, age verification, record retention, and taxes.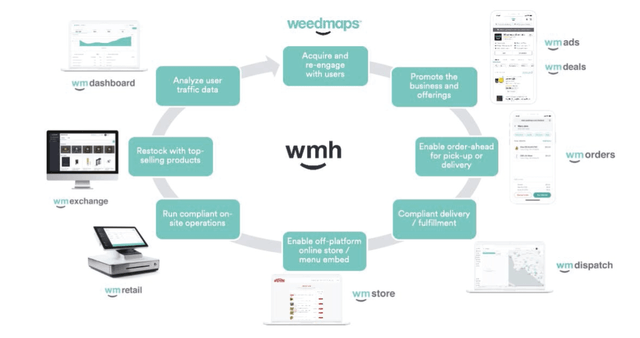 (Source: Company Filings)
Weedmaps currently charges a base monthly subscription fee for listing service that comes with a few free software. Users could also purchase premium offerings including featured listing, deal promotions, etc. The company has achieved strong revenue growth during the last 5 years as revenue grew at a 40% CAGR and remained EBITDA positive consistently. The company has low capital expenditure requirements and has spent heavily to accelerate growth. We think the 40% top-line growth rate and positive EBITDA is a rare combination in the software world given the rule of 40.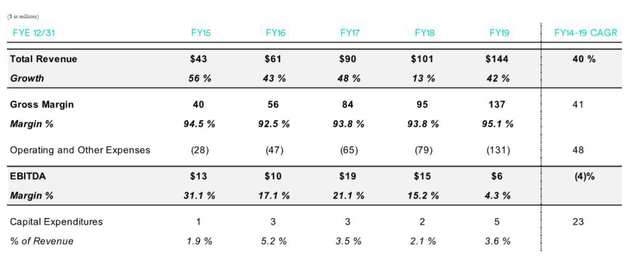 (Source: Company Filings)
One of the unique aspects for SPACs is that they could provide forward-looking statements to investors; IPO companies are restricted from doing so. Weedmaps provided four-year guidance that calls for 40% revenue CAGR and expansion of EBITDA margin to 30%. The forecast seems to be based on high-level aspirations given the nice rounded numbers (40% CAGR, 30% margin); however, the company is well-positioned to ride a few tailwinds that could expand its addressable market meaningfully. First of all, the continued growth in cannabis consumption across the different state markets will drive the overall growth of Weedmaps. Secondly, the company could enter new states that recently legalized cannabis such as Arizona and New Jersey. It is worth noting that California still represents the single largest market for Weedmaps and will remain its main market due to its largest number of cannabis retailers. Many other states have limited licenses which means there is less of a need to use Weedmaps services when you are the only game in town.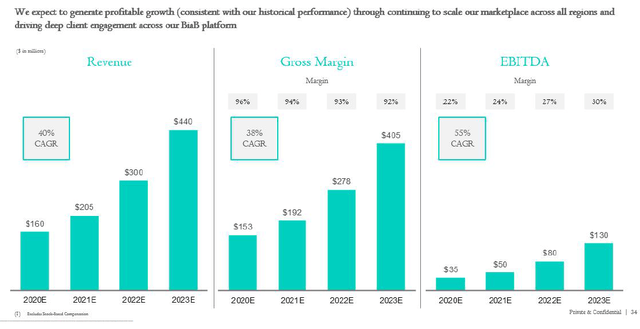 (Source: Company Filings)
SPAC Transaction
Silver Spike will take Weedmaps public in a transaction that values the tech firm at $1.5B assuming a $10 share price. However, the SPAC is trading at $24 at the time of this writing which implies $3.6B of market cap and 17x 2021 revenue. Therefore, we think the stock is too expensive and reflects the hype around this rare combination of cannabis and technology. Investors should be patient and wait for better entry points. The cannabis sector is in another bull market and the valuation in this deal has been inflated further by the SPAC and software factors. At 17x 2021E revenue, the stock is expensive.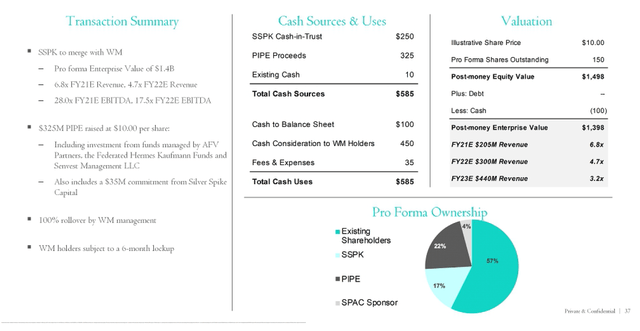 (Source: Company Filings)
While one could find plenty of high-flying technology stocks that trade north 20x in today's markets, we think Weedmaps does have a few uncertainties that investors need to watch out for including:
Weedmaps was forced to cut ties with unregistered dispensaries in 2019 which reduced its revenue from $144 to $115 million. Therefore, 2020 estimated revenue of $160M represents only 11% growth from the prior year. Excluding the impact from account closures, the business is on track to grow ~40% in 2020 which is very strong. However, the company will continue to face the risks of having business relationships with illegal outlets that might result in unnecessary legal woes.
Weedmaps is highly dependent on the California market which is a very competitive and fragmented market with hundreds of stores and thousands of growers. However, California's model is rare as most states have adopted a highly regulated limited license model. For example, Florida only has 20 licenses in the state and only ~10 that are active which means that there will be less of a need for Weedmaps listing service.
Competition from other software vendors could increase exponentially upon federal legalization. The two biggest competitive advantages for Weedmaps are its existing relationships with vendors using its listing service and the complicated regulatory backdrop for cannabis companies. Due to the federal prohibition, most software vendors are not keen to jump into the cannabis industry just yet. Think about this, all legal cannabis businesses still do not have access to traditional banking and credit cards and they are still using cash registrars in their daily operation! If Congress enacts federal legalization bills in the coming years, traditional software vendors with vastly more resources could come in and cause big problems for Weedmaps. For example, it would be an insurmountable task for Weedmaps to compete with Salesforce on CRM and Shopify on eCommerce. The best bet for Weedmaps is to deepen its ties with cannabis businesses through its popular listing service and refine its sector-specific functions such as compliance and inventory tracking that are unique but critical.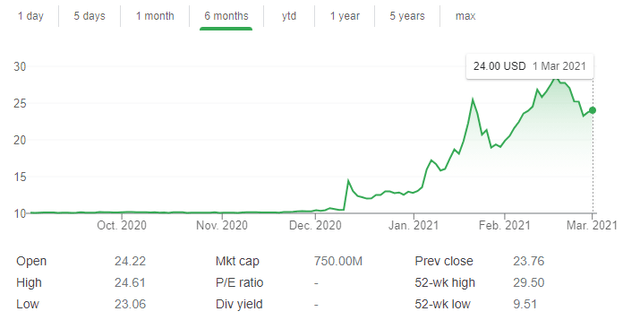 (Source: Google)
Conclusion
In summary, we think Weedmaps represents a rare technology play within the cannabis sector and the asset is likely to garner premium multiples due to a convergence of the three most popular sectors: cannabis, technology, SPACs. Given that SSPK shares have soared more than 140% since the deal was disclosed, we would stay on the sidelines for now. The implied valuation for Weedmaps at the current valuation is 17x 2021E revenue which is a hefty multiple. However, if shares were to come back to ~10x forward sales we think the growth potential of Weedmaps could support such multiples. We are bullish on the business overall but await better entry points after the massive rally recently. There is also a small deal risk given you are buying the SPAC, not Weedmaps, at this point. If the deal were to fall apart for whatever reason, we expect SSPK shares to see large declines.
This article was written by
We are your best guide to cannabis investing. Read our 2021 Cannabis Sector Outlook here. We also provide in-depth industry analysis and coverage of 70+ cannabis stocks to help you get started.
Analyst's Disclosure: I/we have no positions in any stocks mentioned, and no plans to initiate any positions within the next 72 hours. I wrote this article myself, and it expresses my own opinions. I am not receiving compensation for it (other than from Seeking Alpha). I have no business relationship with any company whose stock is mentioned in this article.
Seeking Alpha's Disclosure: Past performance is no guarantee of future results. No recommendation or advice is being given as to whether any investment is suitable for a particular investor. Any views or opinions expressed above may not reflect those of Seeking Alpha as a whole. Seeking Alpha is not a licensed securities dealer, broker or US investment adviser or investment bank. Our analysts are third party authors that include both professional investors and individual investors who may not be licensed or certified by any institute or regulatory body.