Jumia Technologies (NYSE:JMIA) is an e-commerce and digital payment business with strong interests in Africa. The company was founded in Lagos, Nigeria back in 2012 and is now active in 11 African countries.
The company is based out of Germany but has outperformed bigger e-commerce brands like Amazon and Alibaba for the highly coveted African e-commerce market.
Jumia stock soared off its March 2020 lows from around $2 to $60+ in early January 2021 until much of the hype faded during its February peak.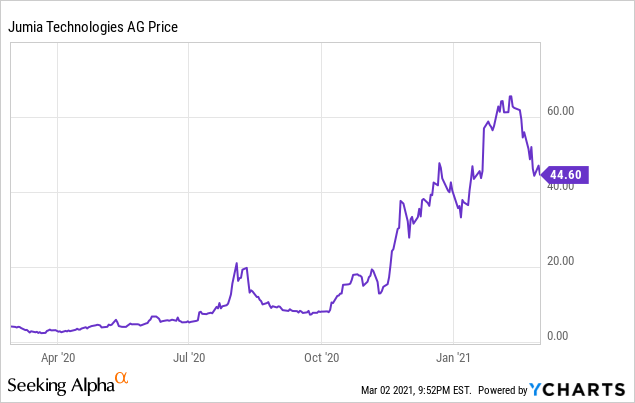 While JMIA stock is down a bit from its 52 week high, I think long term investors will be rewarded for having a long term perspective on the e-commerce jewel of Africa.
Jumia's Business Model
Jumia focuses on 3 core businesses: e-commerce, food delivery and digital payments.
While most e-commerce companies in developed countries saw soaring profits during the pandemic, Jumia struggled to grow due to logistic and supply challenges.
The global pandemic hurt Jumia's business and I expect GMV to improve once pandemic worries ease.
In the latest Q4 2020 report, Jumia GMV was 231 million euros, up 23% QoQ.
The company recently changed its business model from a 1st party direct seller to a 3rd party model like Amazon uses.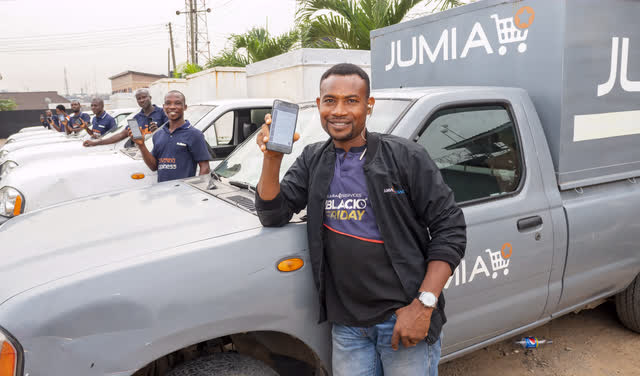 Source: Jumia.com
Jumia Food delivery is a fast growing business that now makes up around 20% of overall transactions on the platform.
Jumia completed 5 million food deliveries in 2020 and the company recently expanded in Egypt after the exit of Uber Eats.
The 3rd party e-commerce model allows Jumia to facilitate more transactions on its platform and generate seller fees like Amazon, eBay, and many other e-commerce platforms.
Even though Jumia is experiencing some short-term challenges, there is no denying that Jumia's userbase continues to grow.
Annual Active Consumers reached 6.8 million as website & app traffic increased. That's up 11.9% YoY from 6.1 million in 2019.
The African continent has well over 1 billion people, giving Jumia plenty of long term growth ahead as the company pursues a bigger digital footprint in Africa.
Jumia makes it easier for people to purchase on its platform with a digital payment solution that's similar to PayPal.
Jumia Pay TPV reached 59.3 million euros, up 30% YoY.
The exciting part about Jumia stock is that investors gain exposure to 3 fast growing trends in Africa: e-commerce, food delivery and digital payments.
The Bullish Case for Jumia
Jumia Technologies currently has a market cap of less than $4 billion but is one of the top e-commerce and digital payment players in Africa.
It's incredible to compare Jumia to some other larger e-commerce companies like Amazon (AMZN), Alibaba (BABA), and MercadoLibre (MELI).
Let's take a look at these market caps compared to Jumia:
Amazon: $1.56 trillion
Alibaba: $634 billion
MercadoLibre: $81 billion
Jumia: $3 billion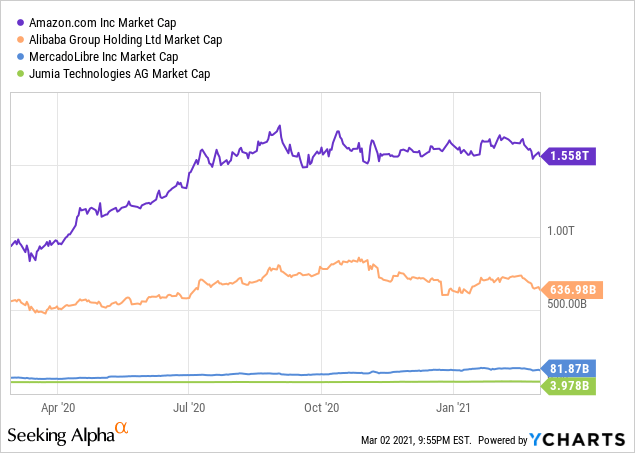 Africa has been ignored by the investment community for far too long.
When compared to other e-commerce companies, Jumia stock looks massively undervalued.
The African continent has over 1 billion people who want to buy and sell products online. Countries like Nigeria, Ghana, and Kenya embrace digital technologies with a keen interest in e-commerce and digital payments.
It's only a matter of time until Jumia's market cap catches up with the competition.
6.8 million users is a small drop in the bucket, which should be exciting to growth investors.
Jumia has tons of upside but it could take a few years until the rest of the market sees the value in Jumia stock.
Risk Factors: Logistic Challenges, Lack of Internet Adoption, and Increased Competition
African e-commerce businesses struggled during the pandemic due to supply chain issues.
I've personally visited several different African countries and understand that the infrastructure doesn't compare to North America or Europe.
Many African countries don't have easy access to internet, transportation and delivery solutions.
The global pandemic also forced social distancing in Africa that hurt Jumia's overall growth.
Many Africans pay for online purchases in cash and the COVID-19 pandemic made doing business more difficult.
Luckily, Jumia should experience an explosion in users and business once pandemic fears ease.
Lack of internet adoption is also another challenge in the African market. Many African communities lack internet access or only have slower internet speeds.
Jumia's business will grow as internet connections become more widespread through the continent.
Increased competition is another headwind although Amazon and Alibaba have struggled to gain market share in Africa.
Why?
Africa is far different from North America or China.
Jumia understands its core market better and offers more flexible services like cash on delivery, same day package delivery, and a better sounding brand name.
The brand "Jumia" appeals much better to the African consumer than Amazon does.
Jumia's success in Africa reminds me of how Roku (ROKU) gained leading market share in the content streaming race over Amazon, Google, and Apple.
Anytime a smaller player is outrunning huge tech companies with multi-trillion dollar market caps, I'm definitely paying attention.
Massive Upside for Jumia Stock
E-commerce stocks trade at high stock prices compared to the broader market.
Amazon, Alibaba, and MercadoLibre all trade for at least $200+ so I'm using these e-commerce kings as a future blueprint for Jumia.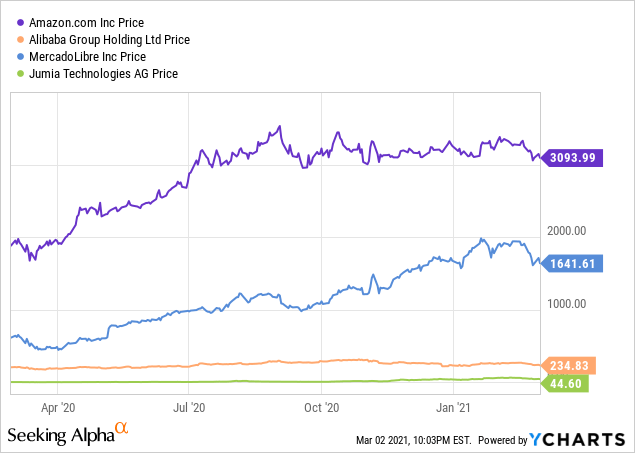 As long as active users grow over time, I think Jumia will hit over 1 billion euros in revenue and that will attract a lot of institutional and retail investors.
Jumia generated 139 million euros in revenue in 2020 so I think there is 8 to 10x upside here.
Jumia stock could hit $300 to $400 and trade alongside the biggest e-commerce companies in the world.
There is risk in owning the stock and investors will require more patience as the e-commerce market in Africa evolves.
Conclusion
Don't miss out on the next Amazon or Alibaba. E-commerce will soar in Africa during this decade and Jumia stock looks a lot more attractive at lower prices.
E-commerce, food delivery, and digital payments gives Jumia a well-diversified business that will grow as Africa matures into a world leading digital landscape.