Sibanye Stillwater: Sailing Away
Summary
Revenues for 2020 were $7,739.5 million compared to $5,043.3 million in 2019.
US production 2E/PM was 603,067 2E Oz up from 593,974 2E Oz in 2019 and recycling delivered 840,170 3E Oz, down 1.5% from 2019.
2020 gold production was 982,560 Au Oz, up 5.4% from 2019 (including Marikana operations). 4E PGM production was 1,576,507 4E Oz, down 2% from 2019.
SBSW is a great company for the long term.
Looking for a helping hand in the market? Members of The Gold And Oil Corner get exclusive ideas and guidance to navigate any climate. Get started today »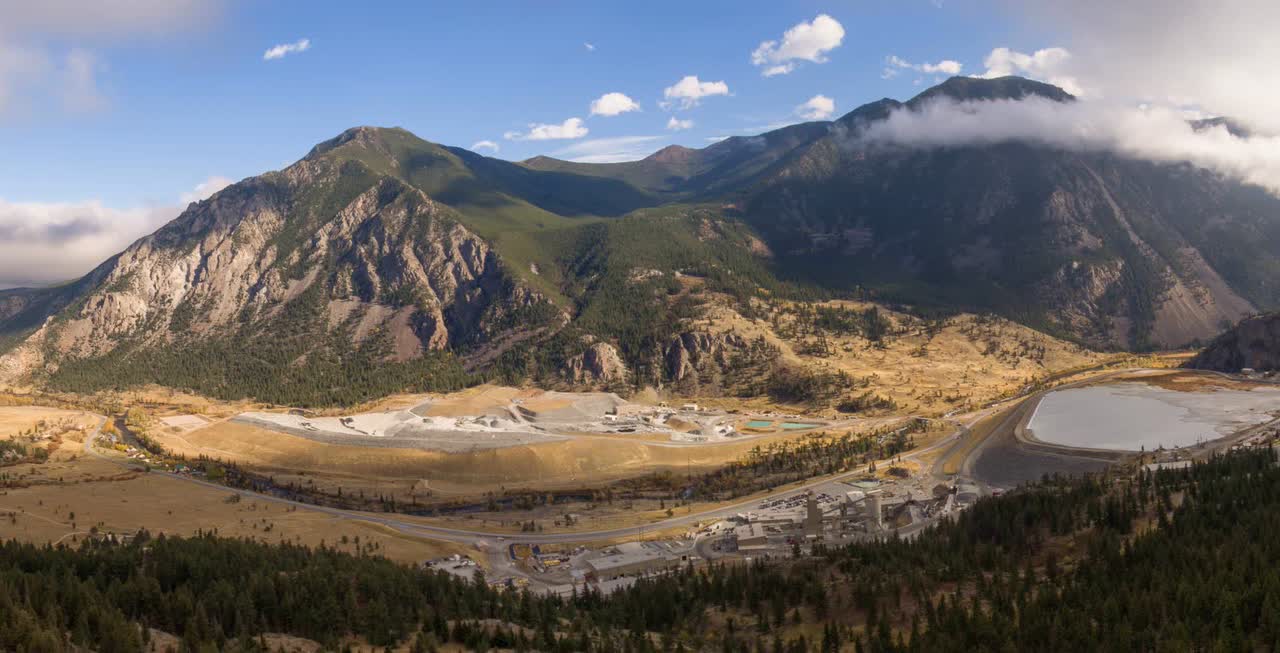 Stillwater mine, near Nye, Montana. (Image courtesy of Sibanye Stillwater)
Investment Thesis
Johannesburg-based company Sibanye Stillwater (NYSE:SBSW) released its six-month and full-year 2020 earnings results on Feb. 18, 2021.
Sibanye Stillwater's 2020 results were very impressive.
Sibanye's balance sheet is very complicated and requires some focus and concentration to figure out what is going on. As many of you know, the company produces palladium, platinum, and rhodium in the USA (with a little gold) from direct mining and recycling (which provides a much lower profit margin).
However, South Africa continues to be the most significant in terms of PGM and gold production.
The investment thesis is clear with Sibanye Stillwater and has not changed. The company should be considered an excellent long-term investment, and I recommend adding SBSW to your long-term premium portfolio.
SBSW can be used as a gold play and as a PGM play with palladium, platinum, and rhodium. Furthermore, Sibanye Stillwater is paying a dividend that is now 4.98%, well above the average yield in the gold industry.
One crucial element that should be factored into your investing strategy is the currency fluctuation between the US dollar and the SA Rand ZAR.
While I consider SBSW an excellent long-term miner, it is also imperative to trade short-term about 30% of your long position to take advantage of the weekly or monthly fluctuation.
CEO Neal Froneman said in the conference call:
So for the record, we made a record ZAR 19.9 billion free cash flow, that's $1.2 billion. We achieved earnings of ZAR 49 billion, which is about $3 billion. And as I said, from a deleveraging point of view, we're now in a net cash position. So very pleasing to see the transition of the company.
Below is the 1Y chart comparison between the VanEck Vectors Gold Miners ETF (GDX), the Aberdeen Standard Physical Palladium Shares ETF (PALL) Sibanye Stillwater. We can see that SBSW has outperformed the two ETFs significantly and is up now 137%.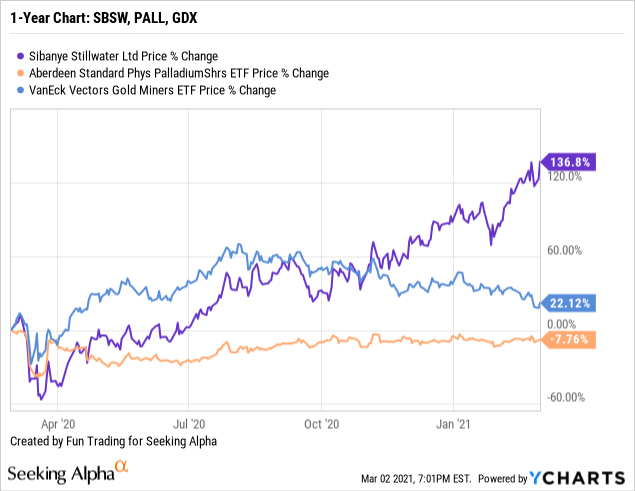 The company indicated in its recent press release:
The commodity and mining sectors have largely recovered from the initial demand shock in H1 2020, as global economic recovery has been more rapid than initially expected, with murmurings of another commodities "super cycle" recently growing in volume. This positive outlook is supported by continued stimulus and expansionary monetary policy being maintained by many countries.
Sibanye Stillwater ADR - 2020 - Balance Sheet history And Trend - The Raw Numbers
Note: The numbers below are indicated in US$.
Important: Each Sibanye Stillwater ADS represents four (4) Sibanye Stillwater Ltd. Shares. The Sibanye Stillwater ADRs trade on the New York Stock Exchange under the symbol SBSW.
Sibanye Stillwater ADR

6/2019

(6 months basis)

12/2019

(6 months basis)

6/2020

(6 months basis)

12/2020

(6 months basis)

$US vs. ZAR
14.20
14.69
16.67
16.26
Total Revenues in $ Million
1,657.4
3,385.9
3,300.5
4,439.0
Basic Net Income in $ Million
-12.2
16.7
583.8
1,217.8
Adjusted EBITDA $ million
141.9
892.4
990.4
2,010
EPS in $/share/ per ADR
-0.01/-0.04
0.06/0.24
0.21/0.84
0.43/1.72
Operating Cash flow in $ Million
93.6
560.8
863.2
786.2
Capital Expenditure in $ Million
181.9
351.0
248.0
335.9
Free Cash Flow in $ Million
-88.3
209.80
615.2
450.3
Cash and cash equivalent $ Million
423.0
401.4
694.0
1,377.8
Borrowings including current in $ Million
1,905.5
1,615.8
1,520.1
1,116.8
Net debt (excluding Burnstone debt) in $ million
1,470.4
1,427.1
930.0
-
Shares outstanding (diluted) in Million
585.4
685.4
736.7
730.9
Production Au Oz
6/2019
12/2020
6/2020
12/2020
US 2E PGM Production
284,773
305,202
297,740
305,327
US recycling Oz
421,450
431,681
397,472
442,698
US AISC 2E/Oz Stillwater
772
795
866
882
SA 4E PGM
627,991
980,342
657,828
918,679
SA AISC 4E/Oz
932
1,074
1,156
1,082
Gold Production Au Oz
344,734
587,908
403,621
578,939
Average gold price $/oz
1,308
1,432
1,613
1,850
AISC Gold
1,904
1,347
1,493
1,347
Source: Company 2020 release analysis.
Note: More historical data are available to subscribers only.
One crucial element that influences earnings is the exchange rate ZAR/$US:
The Rand versus the US dollar is now R16.46/US$ for 2020.
1 - Total Revenues were $7,739.5 million in 2020

Note: I have indicated the year 2020 and year 2019 results in the table, and you can see it in the graph. You can get the yearly revenue by adding the two six months revenues.
Revenues for 2020 were $7,739.5 million compared to $5,043.3 million in 2019.
Also, Sibanye Stillwater's earnings per share are $0.64 per share (for ADR share, multiply the EPS by 4) compared to $0.05 per share in 2019.
The company declared a 2020 dividend of $0.888 per ADR.
2 - Free cash flow increased to $1,065.5 million in 2020

Note: Generic free cash flow is cash from operations minus CapEx.
2020 free cash flow is now $1,065.5 million, with free cash flow in H2 2020 of $450.3 million.
3 - Debt was down to $1,116.8 million in December 2020

2020 Cash and Cash equivalents are now $1,377.8 million, and LT debt, including current (excluding non-recourse debt), is $1,116.8 million.
The company has an excellent debt profile.
4 - 2020 production analysis
Sibanye Stillwater is producing Gold and PGM in both South Africa and the USA from Stillwater. It isn't an easy task.
In the US, the company operates the East Boulder and Stillwater mines, which produce platinum and palladium. Also, the company is recycling platinum/palladium/rhodium.
A - US PGM Production 2E PGM Oz and Recycling 3E PGM Oz. ("USA")
The chart indicates the quarterly production and six months of production as well.

Total US Production and recycling in 2020 were good considering the COVID-19 disruptive effects.
US Production 2E/PM was 603,067 2E Oz up from 593,974 2Eoz in 2019 and Recycling delivered 840,170 3E Oz, down 1.5% from 2019.
B - South African PGM Production 4E PGM Oz and Gold Production.

2020 Gold production was 982,560 Au Oz, up 5.4% from 2019 (including Marikana operations). The average gold price was $1,747 per Au Oz from $1,395 in 2019. 4E PGM production was 1,576,507 4E Oz down 2% from 2019.
Also, the company indicated $2,227 per Oz for the 4E PGM Price.
There are three different AISCs for the miner.
| | | |
| --- | --- | --- |
| AISC type | 2020 | 2019 |
| AISC 2E PGM | 874 | 784 |
| AISC 4E PGM | 1,111 | 1,027 |
| AISC Gold | 1,406 | 1,544 |
5- Solid 2020 Reserve.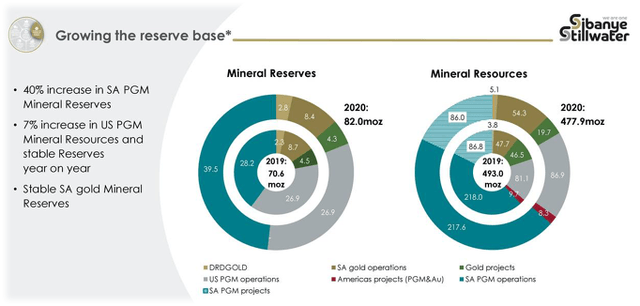 Source: Presentation
Part of operational excellence is certainly growing the reserve base. And as you can see, we've also put out recent announcements regarding this. There's been a 40% increase in the South African PGM mineral reserve base, a 7% increase in the U.S. PGM mineral reserve base. And then, of course, our South African gold ore reserves have stayed pretty stable. Said CEO Neal Froneman.
Conclusion And Technical analysis
Sibanye Stillwater is an excellent proxy for gold but also platinum. Platinum is turning bullish after a long period of neglect. However, it is about to change, according to Barron's.
Bulls argue that platinum could head back toward its old high in the next five years because of supply constraints, resilient automotive demand, new uses such as hydrogen fuel cells, and investment interest.
Platinum is now generating more interest because of its role in the green economy and its relative scarcity.
What I really like is that the company is giving a 4-year production outlook.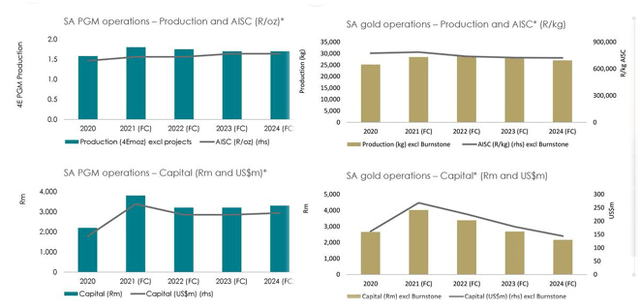 From the presentation (montage).
Technical Analysis (short term)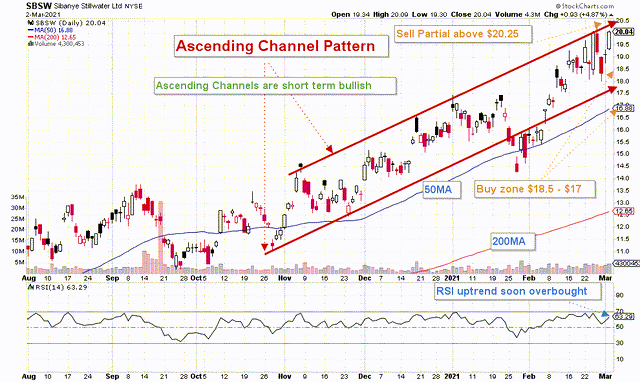 SBSW forms a bullish ascending channel pattern with resistance at about $20.20-$20.50 and support at $17.75.
The trading strategy is to sell about 20% of your position at $20.25 or above and wait for a retracement below $18.5 to buy again.
Ascending channels are generally short-term bullish, which means that SBSW could eventually cross the resistance and trade above 22-23. The stock is highly correlated to the PGM prices, and any trading decision should be made after a thorough analysis of the metals price.
Author's note: If you find value in this article and would like to encourage such continued efforts, please click the "Like" button below as a vote of support. Thanks!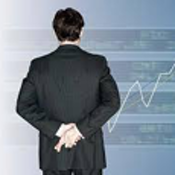 Join my "Gold and Oil Corner" today, and discuss ideas and strategies freely in my private chat room. Click here to subscribe now.
You will have access to 57+ stocks at your fingertips with my exclusive Fun Trading's stock tracker. Do not be alone and enjoy an honest exchange with a veteran trader with more than thirty years of experience.
"It's not only moving that creates new starting points. Sometimes all it takes is a subtle shift in perspective," Kristin Armstrong.
Fun Trading has been writing since 2014, and you will have total access to his 1,988 articles and counting.
This article was written by
As an experienced investor, I will help you stay on task more efficiently.
I am a former test & measurement doctor engineer (geodetic metrology). I was interested in quantum metrology for a while.
I live mostly in Sweden with my loving wife.
I have also managed an old and broad private family Portfolio successfully -- now officially retired but still active -- and trade personally a medium-size portfolio for over 40 years.
"Logic will get you from A to B. Imagination will take you everywhere." Einstein.
Note: I am not a financial advisor. All articles are my honest opinion. It is your responsibility to conduct your own due diligence before investing or trading.
Analyst's Disclosure: I/we have no positions in any stocks mentioned, and no plans to initiate any positions within the next 72 hours. I wrote this article myself, and it expresses my own opinions. I am not receiving compensation for it (other than from Seeking Alpha). I have no business relationship with any company whose stock is mentioned in this article.

I trade short term the stock frequently.
Seeking Alpha's Disclosure: Past performance is no guarantee of future results. No recommendation or advice is being given as to whether any investment is suitable for a particular investor. Any views or opinions expressed above may not reflect those of Seeking Alpha as a whole. Seeking Alpha is not a licensed securities dealer, broker or US investment adviser or investment bank. Our analysts are third party authors that include both professional investors and individual investors who may not be licensed or certified by any institute or regulatory body.