Editor's note: Seeking Alpha is proud to welcome Brendan Graniez as a new contributor. It's easy to become a Seeking Alpha contributor and earn money for your best investment ideas. Active contributors also get free access to SA Premium. Click here to find out more »
Revolve (NYSE:RVLV) is a leader in online retail for premium and luxury clothing as well as beauty products. The company is the go-to shopping destination for the Millennial and Gen Z consumer and has a very strong social media and influencer presence. Influencer marketing is still very much in its infancy and Millennial and Gen Z consumers are still early in their careers. Discretionary spending for these generations is much higher for items such as clothes and beauty products.
The addressable luxury apparel market is already large at $72.13 billion in 2020 and will continue to grow as these consumers continue in or begin their careers. Revolve's recent expansion into beauty products unlocks an even larger addressable market with the global cosmetics market valued at $380.2 billion in 2019 and growing 4.5% per year. Revolve has consistently grown sales and leverages 17 years of data to sell a vast majority of its products at or near full price, capturing close to as much revenue as possible. This leads Revolve to have gross margins that are much higher than competitors and has consistently enabled the company to operate at a profit. The company has also begun to cost-effectively expand outside of the United States with limited investment and will continue to tap into markets in Europe, Australia, Canada, and Asia Pacific.
With ~1.5 million active users, Revolve has built a loyal following and is still at the beginning of capturing a sizeable position in these markets. Revolve presents an attractive opportunity to tap into a subset of the population with an increasing amount of disposable income as well as the growing luxury apparel market.
About Revolve
Revolve was founded in 2003 by Michael Mente and Mike Karanikolas. The company was ahead of its time in its vision to leverage digital channels to transform the shopping experience. It is the go-to online source for discovery and inspiration for the millennial consumer. Their offerings include a curated selection of premium clothing with Revolve, iconic and emerging luxury brands through their Forward line, and a wide range of beauty products. The website selection is more targeted than department stores while offering a greater selection than boutique stores.
There are over 750 emerging and established brands, including 24 owned and developed by Revolve, and 300 brands with Forward. Beauty was launched in 2016 and has been a rapidly growing segment for the company. Currently, the website mostly targets women; however, Revolve is constantly adding men's selections. On its S-1 filing, Revolve cites making decisions in a data-first, customer-centric manner by leveraging 17 years of proprietary data that spans millions of customer interactions and hundreds of thousands of styles, creating "a strategic asset of hundreds of millions of data points." Over 1000 new styles are added each week through a custom platform which manages inventory, pricing, and trend-forecasting. This platform is successful in adding a constant sense of newness to the site while reducing inventory risk. In 2020, Revolve reported 77% of sales being at full price, defined as not less than 95% of full retail price. The company's ability to capture a majority of its sales at full retail price sets it significantly apart from its competitors. Its efficient platform combined with a robust logistics infrastructure enables free express shipping and free returns in the U.S., U.K., European Union, Australia, New Zealand, Singapore, and Canada. Revolve has effectively expanded out of the United States with "limited investment and no physical presence" and will continue to focus on Europe, Australia, Canada, Middle East, and the Asia-Pacific over the long-term.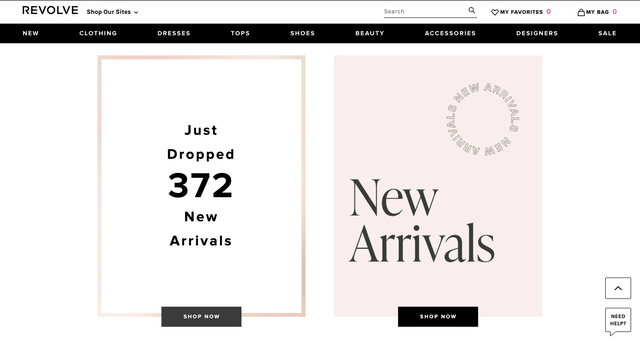 A sample of new arrivals in just one day
Revolve utilizes a strong brand with many different forms of outreach through networks of influencers, branded festivals, and traditional advertising. Revolve was a pioneer in social media and influencer marketing, with a majority of traffic derived from organic sources. Influencer marketing is a strength for Revolve. They are the preferred partner of influencers as Revolve's association enhances influencers' personal brands. Due to this cache, they have a distinct advantage in this space over many other companies. Influencer marketing is still in its infancy with social commerce expected to nearly quadruple in the next five years. In 2019, 56.2% of Revolve's total orders were placed through mobile. As social commerce continues to grow, the brand recognition of Revolve on social media will create a seamless integration between influencer marketing and mobile sales. The company will be a leader in the sale of premium and luxury products through social media channels.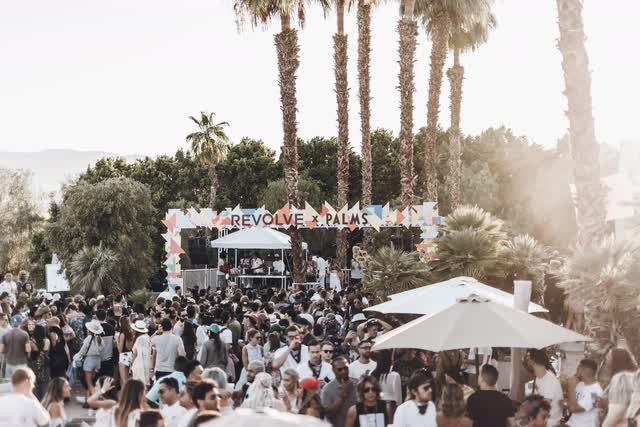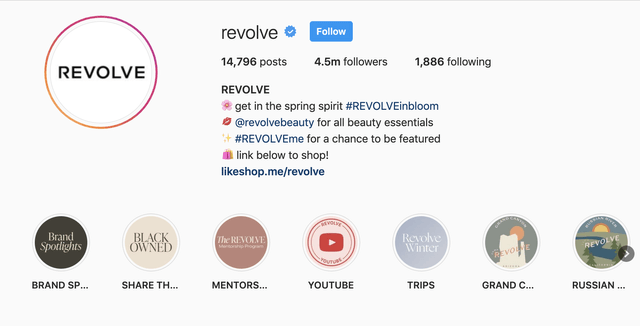 Like all companies, Revolve has been challenged by COVID-19, which still presents an element of risk, especially to their supply chain, which has caused a delay in orders from manufacturers. However, Revolve has always been led by a very strong management team, and the pandemic has further highlighted this. During the onset of COVID-19, management took aggressive measures to mitigate the pandemic's effects by reducing non-payroll related operating expenses, reducing payroll costs, deferring non-essential capital expenditures, and extending payment terms to vendors. Out of precaution, Revolve took a line of credit of $30 million in March 2020 which was subsequently paid back in full during the following three quarters. The company is now debt free. By the end of the third quarter, all employees were brought back to their pre-COVID compensation levels. Cash and cash equivalents are expected to be sufficient for at least the next 12 months and Revolve has a strong history of financing operations through cash flows generated by operations, sales of equity, and minimal incurrence of low-cost debt. Improving trends have led to a ramp up in inventory purchases for future periods, however due to the delays in their supply chain there is risk that inventory may not meet demand. Management has thus far navigated COVID-19 effectively and it is my belief that they will continue to do so.
Revolve, at its core, is a fantastic business with gross margins of 52.6%. The luxury apparel market was estimated to be worth $72.13 billion in 2020 with an expected compound annual growth rate of 3.5% per year through 2025. The company is still in the early stages of penetrating this market as well as the beauty market valued at $380.2 billion in 2019 and growing 4.5% per year. However, with a growing number of active customers (~1.5 million), an average order value of $236, hard to mimic brand recognition, and a very strong infrastructure setup, it is well poised to continue doing so. The company is a strong bet on a subset of the population with an increasing amount of disposable income. The purchasing patterns among millennials show that 69% of millennials buy clothes for reasons beyond basic necessity. Trends seen on social media are mimicked and multiplied across millions of people and Revolve is a leader in tapping into this. With an end to COVID-19 seemingly near, a surge in discretionary consumer spending is likely as restaurants and hotels open again and consumers increase their purchases of clothes and beauty products for these occasions. Australia, which has had a very successful response to the pandemic, is already providing a glimpse into Revolve's post-COVID future, with in-person events already scheduled and net sales in the country up more than 30% year over year for the company. Revolve is positioning itself successfully to capture increased demand as more cities around the world reopen in 2021. The management team has identified 5 key areas of focus:
Accelerate brand building investment to position for in-person events. These historically have been Revolve's key differentiator and growth accelerator. In-person events such as branded influencer festivals drive social media traffic and brand growth. With the pent-up demand already visible in Australia, Revolve will continue to see improvements to its net sales.
Pursue continued success in activewear and beauty. These categories were critical to Revolve's success during 2020 as it pivoted to meet changing consumer demands. The company will continue to listen to its customers and provide new categories to meet their needs. Long-term this will create a loyal customer base who will spend a greater portion of their discretionary income on the platform.
Further develop owned brands. Owned brands cannot be copied or sold on other platforms and Revolve will use its strong network of influencers to create partnerships and products unique to Revolve.
Build upon momentum in international markets. Western markets where investments have already been made are very strong. The company will further invest in newer regions such as China and the Middle East that have been performing very well. International sales have increased by 24% as Revolve continues its expansion outside of the United States.
Leverage technology to enhance the customer experience through website personalization, the introduction of new payment methods, and upgrades to the mobile app.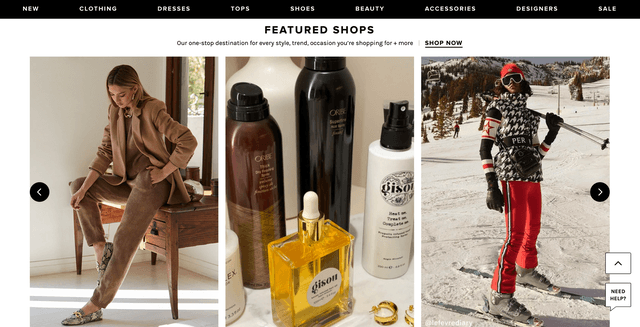 Revolve Homepage
Financials
As mentioned above, the management team at Revolve has always been prudent with managing capital. They have consistently generated an increasing amount of profit, while also financing growth with little to no incurrence of debt. In 2020, Revolve generated $580.6 million in net sales, a 3% decrease from 2019. This is easily explainable as more expensive items, such as formal wear, were not as in demand given the "Stay At Home" orders enforced around the world. Prior to the COVID-19 pandemic, the company had consistently grown net sales 20-25% per year since 2016. Despite the uncertainty still surrounding the pandemic, I believe that Revolve will emerge from the pandemic and resume its normal pre-COVID growth. Net income was up 59% in 2020 to $57 million and the company generated $71 million in free cash flow, a 113% increase. This combined with an already healthy cash balance, enables the company to pursue future growth opportunities. Beauty continues to be a strong performer with net sales increasing over 100% for the second consecutive quarter in Q3. Adjusted EBITDA margins continue to improve and are up 37% year over ye`ar to 13.3%. I believe that the consumers who currently use the platform while staying at home, will continue to do so and broaden their purchases to other categories causing an increase to average order value. The company's strong customer retention, with 45% of active customers having purchased from the site in prior years, highlights this.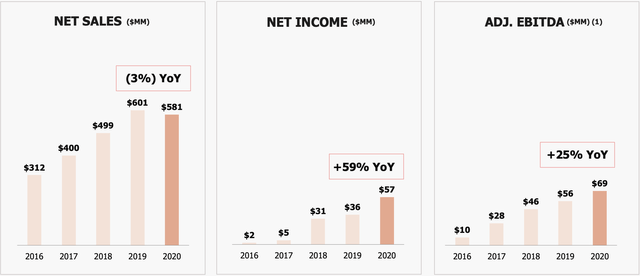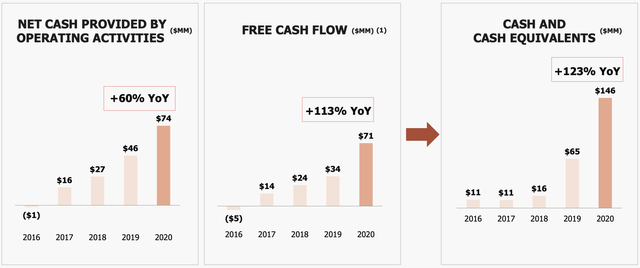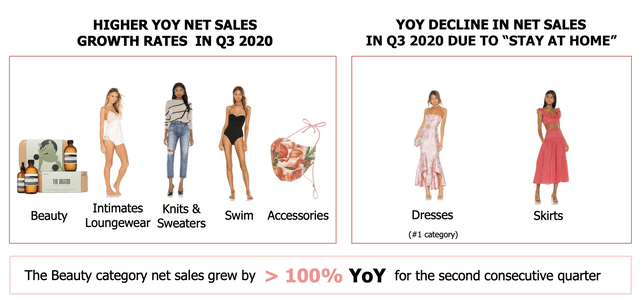 Competition
The premium and luxury clothing market is highly fragmented with most brands selling direct to consumer. There are only a handful retailers curating collections of these brands for the customer, like Revolve. There are the traditional department stores, such as Macy's (M) and Nordstrom (JWN), which have been slow to transition to online sales and are burdened by their physical store presence. They sell almost everything available in the space, leading to high inventory costs and too much choice for the customer. It is my belief that the customer does not want to scroll through thousands of pages of products. For companies with a platform, brand recognition, and forward-thinking comparable to that of REVOLVE, I have focused on three companies: Net-a-Porter (OTCPK:CFRHF), Stitch Fix (SFIX), and Urban Outfitters (URBN).
Net-a-Porter
Revolve's main competitor is Net-a-Porter, part of the larger YOOX Net-a-Porter group, acquired in 2018 by Richemont. Richemont is one of the world's leading luxury goods holding companies with €14.23 billion in sales in 2020 with €2.427 billion coming from online distributors, of which Net-a-Porter is a contributor. Net-a-Porter sells beauty products along with luxury clothing, which Revolve is targeting with its Forward line. It is hard to determine Net-a-Porter's exact contributions; however, since its inclusion in Richemont, sales from online distributors have been consistently growing year over year. Net-a-Porter will continue to leverage the support of Richemont's network, which extends to over 180 countries.
Stitch Fix
Stitch Fix is not a directly comparable business to Revolve, however it presents another option to which consumers can allocate their disposable income reserved for clothing. It is a different shopping experience compared to Revolve, which does not assign a stylist to curate clothes individually for each buyer. Rather, Revolve curates the selection available and then allows the buyer to decide. Revolve does have the option to submit a styling request, but it is not a core component of each sale. Stitch Fix also does not offer beauty products, which have become a core revenue generator for Revolve. Stitch Fix has more than double Revolve's active users and roughly triple the net sales in the most recent quarter with $490.4 million compared to $140 million for Revolve. However, Stitch Fix's employment of over 5000 stylists leaves the company with significantly lower margins, generating only $9.5 million in net profit compared to $19.0 million for Revolve. With an equity market capitalization roughly 3x that of Revolve, Stitch Fix is at a much steeper valuation.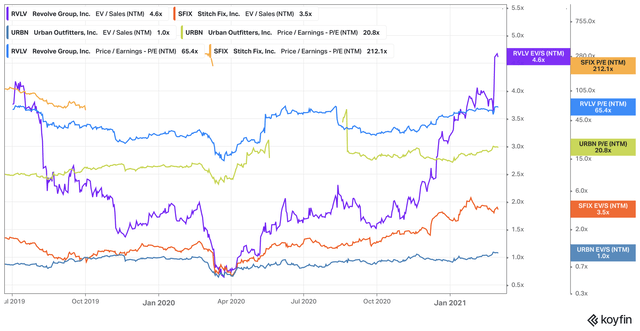 Koyfin
Urban Outfitters
With several hundred stores worldwide, Urban Outfitters presents more of a traditional shopping experience than that of Revolve. Revolve and Urban Outfitters do not have much, if any product overlap. Like Revolve, Urban Outfitters also caters to the trendy millennial consumer, but one who is most likely shopping in the bracket just below what is offered on Revolve. The stores also offer a large selection of home goods, an area which currently Revolve does not offer much in. However, these stores have been a massive detriment during COVID-19 and will continue to be a hamper on the business as more shopping transitions online. Urban Outfitters has slowly pivoted to embrace digital sales, but with gross margins only around 25-30%, they capture much less than Stitch Fix or REVOLVE. In a world, where much of the shopping experience is conducted online, Urban Outfitters is a step behind. But, with $625 million of cash on hand, and a management team who has shown aptitude, they could be well poised to remedy this in the next 5-10 years.
These three companies have strong similarities to Revolve and in the case of Net-a-Porter, may even offer some of the same products. However, the strength of Revolve's logistics infrastructure is the large differentiator. The ability to order something, try it on, and keep it or return it, all in the span of one week is an advantage that no other company currently in the space offers. Also, Revolve's leading presence in social media and influencer marketing gives it a distinct advantage over its competitors. As sales through mobile devices continue to rise along with explosive growth of social commerce, Revolve is positioned to become a dominant player in the space.
Risks
E-commerce in general is a very competitive space with ever-evolving companies and offerings. In such a dynamic area, there is always the potential for a change that would cause me to reassess my thesis around Revolve. As a company founded with digital-first principles, Revolve is well positioned in this space, especially in premium and luxury apparel, however, there are still significant risks. Aside from the competitors listed above, I will touch on other risks Revolve may face. Revolve's expansion into beauty products and activewear now warrants direct competition from companies it has not historically competed against such as Amazon (AMZN), Lululemon (LULU), and Sephora, owned by LVMH (OTCPK:LVMUY). However, these companies do not offer the same array of products and, in the case of Amazon, their sourcing can oftentimes be questionable. An order from Revolve guarantees authentic products delivered quickly and easily. There is also the possibility that Amazon begins selling premium and luxury apparel and leverages its own impressive infrastructure to offer the same delivery and returns timing as Revolve does. This would create significant headwinds for all online clothing retailers, not just Revolve. I believe though that if Amazon were to have a real presence selling these products, the situation would then become analogous to the department stores and retailers that Revolve was able to successfully compete against when it was first founded in 2003. During that time, Revolve efficiently grew its own brand and loyal customer base. Revolve is also continually developing its own in-house brands which cannot be sold on other platforms.
Future Outlook
Revolve's offerings of a large, yet curated collection combined with fast shipping and easy returns make the company the go-to shopping destination for the millennial and Gen Z consumer. It is poised to continue its growth and the shift to influencer-led marketing and mobile sales creates the perfect storm for Revolve to build upon its success in that space. This may already be baked in as the price has had a large run-up in the last 3 months. A pullback soon is possible, and I would look to add to my position if the price dips below its 10 day SMA/EMA. However, I do not view Revolve as just a near-term holding. While the company is certainly not at a cheap valuation at 4.6x EV/Sales for the next 12 months and a P/E ratio of 65, I would argue that for the strength of the platform and the company's leverage of data and technology, you are paying a relatively fair, maybe even cheap, price for a sophisticated tech platform that happens to sell clothing and beauty products. Rapid growth in international markets gives Revolve the potential to carve out a sizable share of the $72.13 billion luxury apparel market as well as the $380.2 billion beauty market. Revolve's great margins, prudent management, strong logistics infrastructure, and growing customer base give me confidence in the long-term return potential of the company.
Revolve presents a fantastic opportunity to tap into the Millennial and Gen Z population with demonstrably different spending patterns than their parents and grandparents. This, coupled with Revolve's leading presence in social media advertising, a trend still very much in its infancy, makes this company a strong candidate to generate outsized returns in the next 10 years.