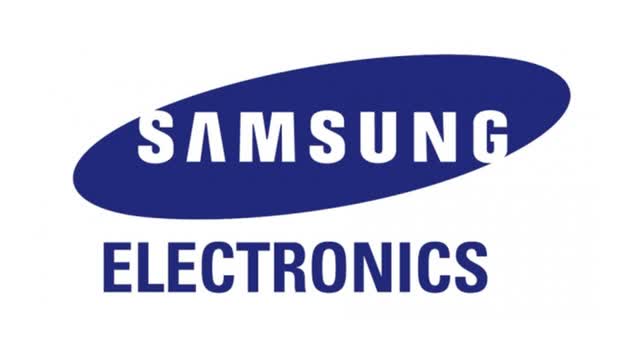 Source: Samsung
Samsung Electronics (OTCPK:SSNLF) is a global leader in technology with relentless innovation across many product lines such as TVs, smartphones, home appliances and semiconductors. The key drivers of the company in 2021 are the robust semiconductor market outlook benefiting its memory segment and foundry capacity expansion as well as continued growth in its adjacent segments notably in smartphones with the launch of its next gen 5G flagship series and the potential of Harman to leverage its influence of its parent company to secure more contracts from leading automakers for 5G-enabled automotive connectivity solutions.
In our previous analysis, we anticipated a recovery in the memory market which is a key contributor accounting for three quarters of Samsung's semiconductor business. In 2020, the semiconductor segment recorded a growth rate of 12% on rising demand for memory products. We believe its growth momentum is intact in 2021 as memory supply continues to normalize and demand for HPC rises. VLSI Research forecasts DRAM to grow 28% in 2021 as supply tightens and demand catches and NAND to grow at 9% as capacity increases with incoming supply. Moreover, Samsung maintains a tech lead as it accelerates its migration to 1z-nm DRAM and 6th gen V-NAND to enhance cost competitiveness. Besides memory products, we analyzed the foundry business where it is stepping up its presence in the foundry market with capacity expansions in its Pyeongtaek facility as the industry faces supply constraints with high demand for leading edge nodes for HPC, 5G and IoT applications. As Samsung expands its foundry market presence, it could provide diversification and additional growth potential to its overall semiconductor segment.
Apart from semiconductors, we also looked at the company's largest segment which is the mobile communications segment. It has declined by 7% in 2020 but we expect a recovery in line with the market as the company rolls out its new product launches to capitalize on 5G with flagship devices featuring the new Exynos SoC boasting higher performance and lower power consumption compared to the previous gen. Its product launch signals its commitment to grow its market share and compete against 5G market leader Apple (AAPL). Moreover, we analyzed its Harman segment which it acquired in 2016 and discuss the massive opportunities in the EV market with 5G enabled infotainment systems and potential to leverage the influence of its parent company to secure deals with leading automakers. Overall, the company's segments are poised to grow with the trend of 5G, HPC and EV, though, corporate governance is a major issue the company has faced which explains the large conglomerate discount. Amid increasing pressure by the government and activist hedge funds, we discuss the possibility of its conglomerate discount narrowing as it implements reforms with its management structure.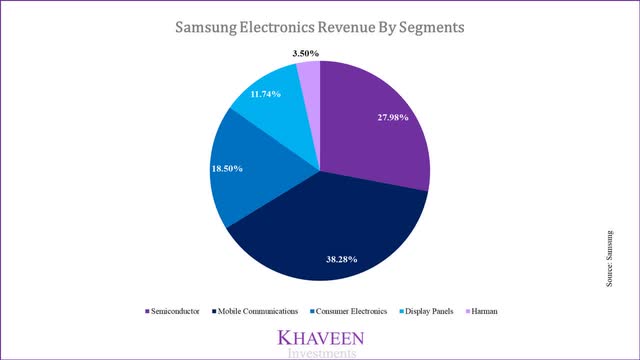 Source: Samsung
Capacity Expansion Boost within the Tight Foundry Market
Samsung's semiconductor business is rather unique as it not only manufactures its own semiconductor products but also has foundry business with major chipmakers. The strong level of integration between its foundry unit supports its memory and mobile segments. Overall, Samsung is the second largest foundry by revenue only behind market leader TSMC (TSM) but both companies have competitive technology as the only companies with EUV-based process nodes to produce leading edge chips. The adoption of EUV lithography technology is becoming more crucial as it enables the scaling down of complex patterns on wafers to achieve shrink for advanced technology applications.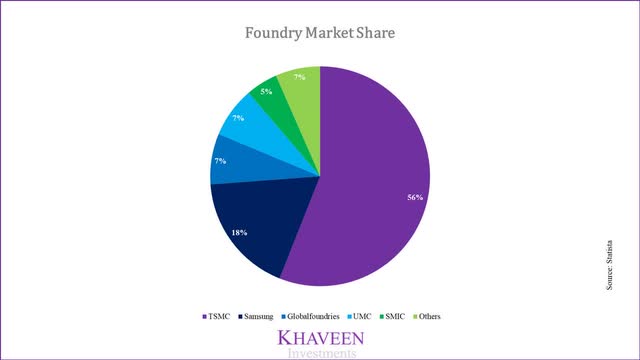 Source: Statista
Industry analysts believe that the foundry market would enter an upcycle in equipment spending with growing demand for HPC, 5G and IoT. Leading foundries Samsung and TSMC are expected to remain the leaders in the next 2 years as they expand domestic production and in the US.
In terms of production capacity, Samsung has the largest installed wafer capacity with 3.06 mln wafers per month which represents 14.7% of total capacity globally ahead of TSMC at 13.1%. Its capacity has grown by 4% in 2020 as it increased production for its memory line but we anticipate stronger capacity growth in 2021 as Samsung is accelerating expansion and has spent $10.5 bln of its $28.1 capex in Q4 2020. By the second half of 2021, Samsung is expected to commence operations for the P2 production line in the Pyeongtaek facility which has a total budget of $25 bln and a capacity of 200,000. We expect capacity to be filled up quickly due to the supply crunch faced within the industry. TrendForce expects the industry tight supply to persist at least until the first half of 2021 with a utilization rate of around 85% to 90% for competitor TSMC. Moreover, the company has begun construction work on P3 which will be its largest production line at almost 6 times larger than P2 with mass production expected to start in 2023.
| | | | |
| --- | --- | --- | --- |
| Wafer Capacity ('000s) | 2019 | 2020 | 2021F |
| Samsung | 2,935 | 3,060 | 3,260 |
| Growth % | | 4.3% | 6.5% |
| TSMC | 2,505 | 2,719 | 3,000 |
| Growth % | | 8.5% | 10.3% |
| Micron | 1,841 | 1,931 | 2045 |
| Growth % | | 4.9% | 5.9% |
| SK Hynix | 1,743 | 1,878 | 2040 |
| Growth % | | 7.7% | 8.6% |
| KIOXIA | 1,406 | 1,598 | 1830 |
| Growth % | | 13.7% | 14.5% |
Source: EENewsEurope
In 2021, the company expects growth in its foundry business to exceed the industry's growth as it plans to increase production capacity and diversify across HPC, consumer and network products. The company's management also expects demand to remain strong as supply shortages continue to persist for the time being.
Samsung doesn't disclose its customers but some of the companies reported to be its customers include Qualcomm (QCOM), Nvidia (NVDA), NXP Semiconductors (NXPI) for mobile, HPC and IoT chips. Besides TSMC, Intel (INTC) was also reported to be in talks with Samsung to outsource some of its production to the company. A report suggested that Intel might have been appealed to select Samsung due to its attractive price offer which was about 60% lower than TSMC. This is part of Samsung's aggressive sales strategy to expand its foundry business and client base. Previously in 2017, the company aimed to triple its market share within the next 5 years to 25%. Over the long-term, Samsung is highly committed to expand its foundry business with an announced investment plan of $116 bln through 2030 and challenge TSMC's dominance. We believe Samsung's commitment to expand its foundry business could support stronger semiconductor growth over the long term with additional capacity additions down the line.
5G Transition Supporting Strong Growth in Galaxy Smartphones
Its mobile segment includes the sale of the company's smartphone products. According to the IDC, worldwide smartphone shipments are projected to grow by 11.4% to 1.5 bln units in 2021 on expectations of a recovery in global consumer spending after an 8.6% decline in 2020 as the world gradually returns to normal with the undergoing vaccination campaign. The company is expecting double digit revenue growth for this segment by expanding shipments and a roll out of its next gen flagship product line. In 2021, Samsung has targeted to ship 300 mln units from 267 mln in the previous year.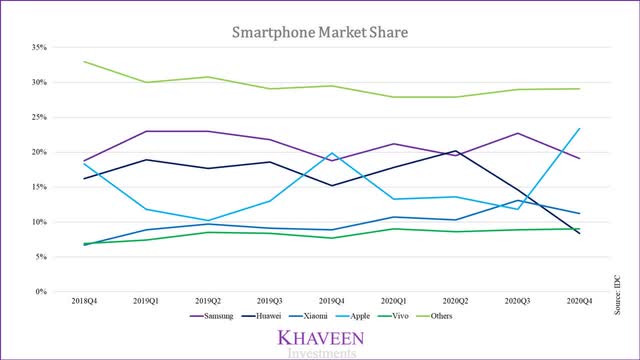 Source: IDC
Moreover, the 5G transition is a major tailwind for the company. Qualcomm recently increased its forecast for global 5G smartphone shipments. In 2021, the company forecasts 500 mln 5G shipments compared to 270 mln in 2020 representing a growth rate of 83%. Samsung was a first mover in the 5G market and has shipped 41 mln 5G smartphones in 2020 and has a 15% market share behind Huawei and Apple at 29% and 19% respectively. In 2021, the company is rolling out new product launches to maintain its shares in the 5G market. Its flagship S21 features the new Exynos 990 SoC with significant improvements over the previous generation. Strategy Analytics predicts Samsung to grow its market share to 16.8% of the 5G market in 2021 with its new product launch. Over time, as 5G becomes more economical and Samsung expands its 5G product mix in the mid-range, Samsung could challenge Apple's market share in the future on cost competitiveness.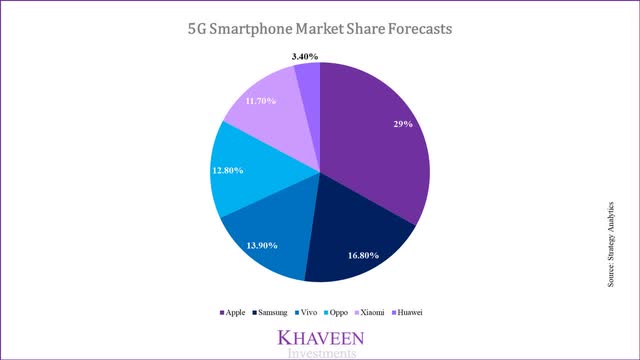 Source: Strategy Analytics
If the company manages to achieve its shipments target of 300 mln, it represents a growth of 12.3% in 2021 which is in line with management expectations of double-digit growth and slightly higher than industry growth of 11%. As Samsung ramps up its 5G Galaxy product line, the company is projected to achieve a market share of 17% of the 5G market which translate to 84 mln 5G smartphone shipped.
| | | |
| --- | --- | --- |
| Smartphone Shipment Forecast ('mln') | 2020 | 2021F |
| 5G Smartphones | 41 | 84 |
| Non-5G Smartphones | 226 | 216 |
| Total | 267 | 300 |
| Total Shipment Growth % | | 12.3% |
Source: Samsung, Strategy Analytics, SamMobile
Additionally, the smartphone market is facing saturation and a longer replacement cycle attributed to a lack of differentiated features which has led to stagnant growth even prior to the pandemic. This highlights the importance of competitive hardware and software and services to enhance the value proposition to customers. Samsung's differentiates its flagship models with industry leading hardware features such as AMOLED displays, Edge displays, Infinity Displays, triple cameras, the S-pen, water- and dust-proofing, high-speed and wireless charging, wireless power sharing, and ultrasonic finger print-on-display (FoD) among others.
Another advantage of Samsung is its mobile processor capabilities with 75% of its Galaxy devices powered by Exynos chips, increasing from 61% in the previous year. Samsung's mobile processor capabilities have generally lagged Qualcomm but have improved significantly with the Exynos 2100 with 22% more performance and 34% higher efficiency than the previous Exynos 990. Samsung's latest processor is closing the gap in terms of performance and power consumption but is trailing behind Qualcomm's latest Snapdragon 888 processor but ahead of Huawei's Kirin SoC.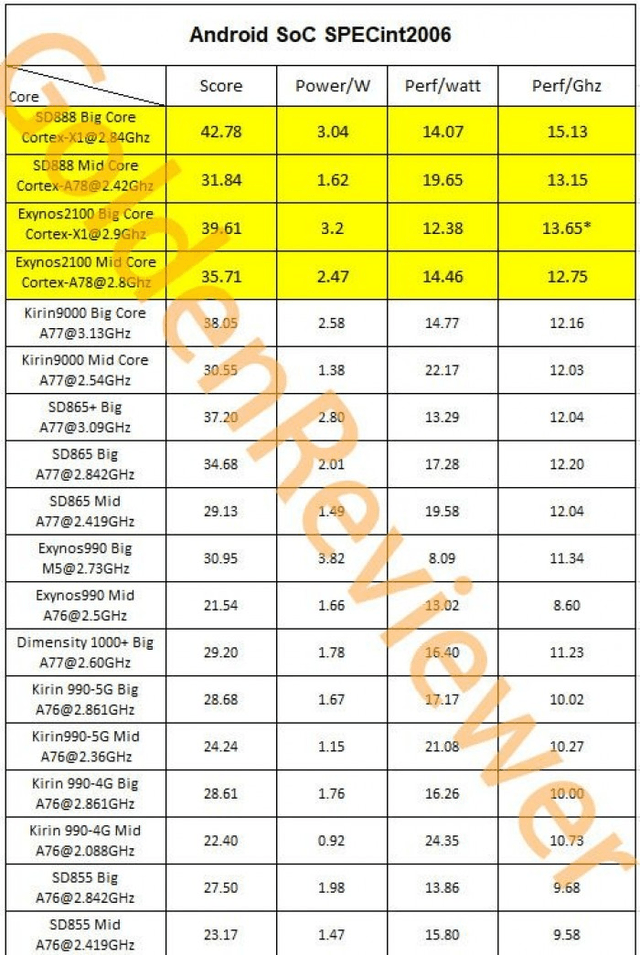 Source: Gsmarena
In addition, the company has introduced services including Samsung Pay, Samsung Health, Bixby, and SmartThings. The new and improved Bixby provides users with another way to increase convenience and personalize information and services. Samsung Pay is a mobile wallet offering that competes against the likes of Apple Pay and Google Pay (GOOG) (GOOGL). According to Statista, its users are projected to almost double from 51 mln users in 2018 to 100 mln in 2020. When introduced, Samsung Pay was not intended to be a revenue stream for the company but to maintain its user base and attract consumers to purchase its smartphones.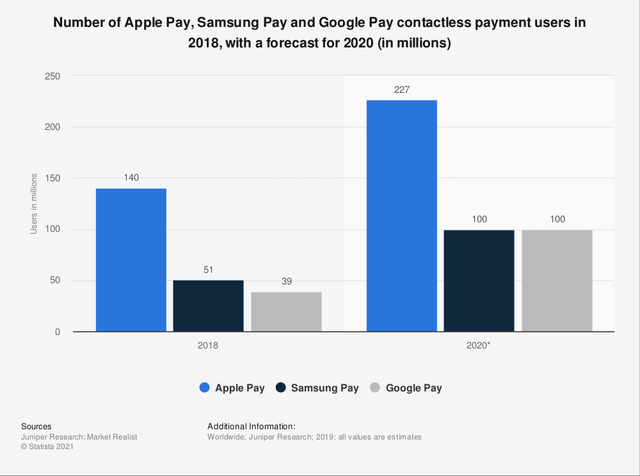 Source: Samsung
Harman Partners with Leading Automakers
Lastly, Samsung expects strong growth for its audio and auto electronics unit Harman. It is the smallest segment of Samsung which acquired it recently acquired in 2016 for $8 bln and represents only 3.5% of revenues. The deal gave it a presence in the large and rapidly growing automotive electronics industry which is a strategic priority for Samsung. It is focused on telematics which are embedded onboard systems in vehicles and are an essential item in connected-car services, allowing drivers to get real-time information related to their vehicles. The automotive infotainment telematics system is highly competitive. In terms of market share, Harman has a market share of 13.3% which places it behind Continental AG (OTCPK:CTTAF) and LG Electronics at 20.3% and 18.4%.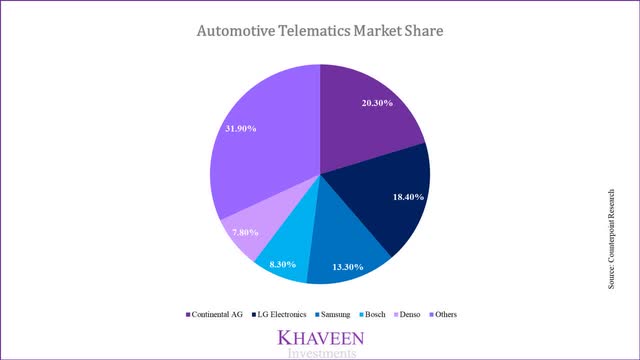 Source: Counterpoint Research
The overall market outlook of the global telematics markets is strong with a CAGR of 14.4% projected until 2025 with a market value exceeding $6.3 bln. To capitalize on the growth opportunities, Samsung and Harman has developed a 5G enabled telematics control unit and is scheduled for mass production in 2021. Harman is seeking to leverage the influence of its parent company to win contracts. A competitive advantage of Samsung is that it also introduced the Exynos automotive chip platform used in Tesla (TSLA) and Audi vehicles to date as well as supplies batteries for EV via Samsung's SDI affiliate which has a market share of 6%. This provides a unique advantage to Samsung for cross-selling opportunities with a complete stack of technologies to power EV and AV.
The company is seeking to enter partnerships with leading automakers such as BMW and Hyundai to supply these technologies. BMW (OTCPK:BMWYY), the ninth largest automaker by sales, will use Harman's products for its iNext electric SUV 5G-capable car launching in June 2021. In addition, Hyundai (OTCPK:HYMLF) was reported to be in discussions with Samsung to supply Exynos chip powering infotainment systems and digital dashboards and EV batteries and could tap the company for other car connectivity components from Harman. Hyundai plans to launch 44 eco-friendly cars by 2025 with 23 of them purely electric models. We believe that Samsung and Harman will continue to collaborate to secure more contracts from its existing customer base with Toyota (TM), Volkswagen (OTCPK:VWAGY), Ford (F) as the company aims to become the largest automotive supplier of 5G connectivity globally by 2022 beating Continental and LG.
Tackling Corporate Governance Issues
Samsung has always had corporate governance issues as the conglomerate is tightly controlled. Due to this, the company has a huge conglomerate discount applied to its valuation of 42.5%. To date, corporate governance reforms remain a top priority with pressure mounting on the company from regulators and activist hedge funds. Below is a timeline of the series of events which has unfolded in the company's corporate governance history.
| | |
| --- | --- |
| Milestone | Event |
| 2007 | Samsung's former chief lawyer admitted to being involved in bribing and fabricating evidence on behalf of the group's chairman, Lee Kun-hee, and the company |
| 2016 | Political and business scandal that gripped South Korea and sparked a series of trials that led to prison sentences handed down to former president Park Geun-hye and Samsung vice-chairman Lee Jae-yong |
| 2018 | Since 2018, investigators have interrogated and arrested high-ranking employees of Samsung over an accounting fraud involving Samsung's biopharmaceutical affiliate, Samsung BioLogics. The fraud revolved around the artificial inflation of BioLogics' subunit, Samsung Bioepis, by a value of $3.9 bln in 2015. |
| 2020 | Samsung's Lee Jae-yong said he will lead the changes needed to the group's web-like holding structure, vowing not to pass on the management to his children. |
| 2021 | Samsung vice chairman and heir Lee Jae-yong has been sentenced to two and a half years in prison for his role in a national bribery scandal |
Source: Koreatimes
Over the past few years, corporate governance reforms have been on the agenda of the company, it has reviewed its management structure with the addition of independent directors and the creation of a new governance committee comprising of independent board members. While steps have been taken to improve its corporate governance image, it still has work to do to implement sweeping changes to shore up confidence of its corporate governance.
There are increasing calls for the company to implement stronger reforms from various parties. For example, the government is advocating for Chaebol reforms which entails improving minority shareholders' rights and ability to nominate board members and improve corporate decisions. Another factor is activist hedge fund Elliot Management who also has an 11.6% stake in Samsung C&T. Elliot is known for advocating the company's management to implement changes as seen with Softbank. Elliot has in the past requested that the company pay a special dividend and to streamline its group of businesses and management structure. It has also filed an arbitration suit for $670 mln against the company for its alleged damage from the merger between Samsung C&T and Cheil Industries. As vice chairman Lee pledged to implement wider reforms with the management structure and diluting the family's power by promising not to hand down management roles to his children amid increasing pressure, we view the possibility of the conglomerate discount narrowing and reduced the conglomerate discount applied to 35%, from the 42.5% we applied in 2020.
Valuation
Samsung's financial performance has seen a dip in 2018 with the crashing of memory prices. The company has a 5-year revenue growth of 3.7% with operating margins and net margins of 17.7% and 13% respectively.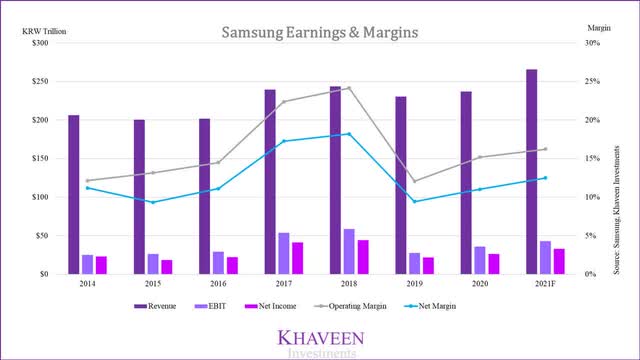 Source: Samsung, Khaveen Investments
For the revenue projections, we have broken down the semiconductor segment based on the product categories. In 2021, we are overall positive on its semiconductor prospects with the growth of DRAM and NAND projected to grow by 28% and 9% by VCSL Research. We see the foundry segment growing by 6.5% based on increased capacity expansions. Other semiconductors include image sensors and are projected to grow based on the industry growth rate of 10%. For mobile communications, we based its revenue growth rate on shipments forecast of 300 mln which is a growth of 12.3%. Whereas the display panel, consumer electronics and Harman segments are based on industry growth rates.
| | | | | |
| --- | --- | --- | --- | --- |
| Samsung Revenue Forecasts (KRW tln) | 2020 | 2021F | 2022F | 2023F |
| Foundry | 16.6 | 17.6 | 18.8 | 20.1 |
| Foundry Growth % | | 6.5% | 6.8% | 6.8% |
| NAND | 20.4 | 22.2 | 23.5 | 24.9 |
| NAND Growth % | | 9.0% | 5.9% | 5.9% |
| DRAM | 33.3 | 42.6 | 44.9 | 47.3 |
| DRAM Growth % | | 28.0% | 5.4% | 5.4% |
| Other Semiconductors | 2.6 | 2.9 | 3.2 | 3.5 |
| Other Semiconductors Growth % | | 10% | 10% | 10% |
| Total Semiconductors | 72.8 | 85.3 | 90.4 | 95.8 |
| Total Semiconductors Growth % | | 17.1% | 6.0% | 6.0% |
| Display Panels | 30.5 | 33.7 | 37.2 | 41.2 |
| Display Panels Growth % | | 10.5% | 10.5% | 10.5% |
| Mobile Communications | 99.6 | 111.9 | 119.7 | 128.2 |
| Mobile Communications Growth % | | 12.3% | 7.1% | 7.1% |
| Consumer Electronics | 48.2 | 50.8 | 53.4 | 56.3 |
| Consumer Electronics Growth % | | 5.3% | 5.3% | 5.3% |
| Harman | 9.1 | 10.4 | 11.9 | 13.6 |
| Harman Growth % | | 14.4% | 14.4% | 14.4% |
| Intersegment Sales | -23.4 | -26.3 | -28.1 | -30.1 |
| Total Revenues | 236.8 | 265.8 | 284.6 | 304.9 |
| Total Revenues Growth % | | 12.2% | 7.1% | 7.1% |
Source: Samsung, Khaveen Investments
To value Samsung, we applied a sum of the parts valuations for its major operating segments. We first obtained the industry average multiples for each of Samsung's business segments. We then computed the company's equity value based on the valuation multiples to obtain an average of KRW1,230 tln, which we discounted with the company's weighted average cost of capital ('WACC') of 6.78%. For our base case, we further applied a conglomerate discount of 30% and derived a share price valuation of KRW102,774 which represents a potential 23.53% upside.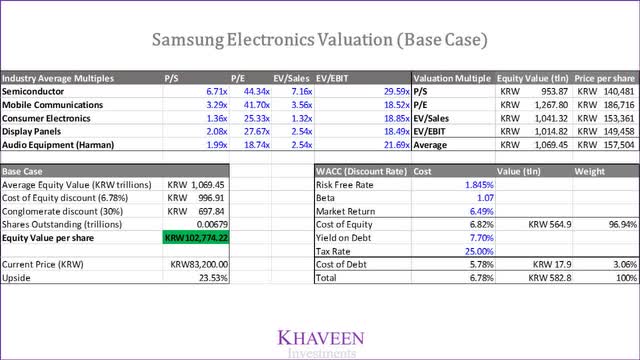 Source: NYU Stern, GuruFocus, Finviz, CSIMarkets, Khaveen Investments
For our bull case, we assumed the company implements reforms faster and further narrowed the conglomerate discount to 20%. Our model for the bull case shows a valuation of KRW 117,456 with potential upside of 41.17%.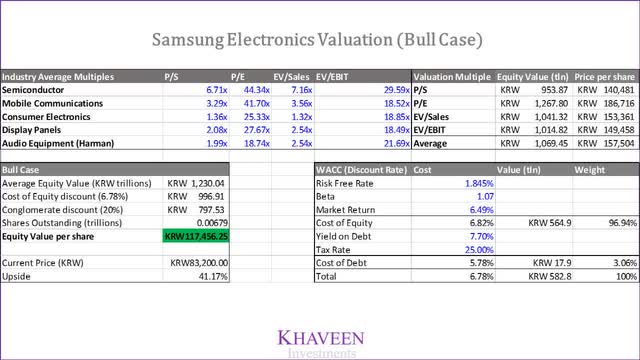 Source: NYU Stern, GuruFocus, Finviz, CSIMarkets, Khaveen Investments
Verdict
Samsung Electronics has topped the year marked by a recovery in semiconductor revenues growing 12% YoY on the improved memory market supply and demand dynamics but was weighed down by the decline in the mobile communications segment. We expect the memory market recovery will roll over into 2021 with forecasted growth of 28% for NAND and 9% for DRAM to benefit Samsung as it also seeks to maintain its tech leadership with the migration to leading edge nodes. Additionally, its semiconductor segment is also supported by its foundry business expansion with estimated capacity growth of 6.5% from its Pyeongtaek facility expansion set for the second half of the year amid a supply crunch faced in the industry as demand for HPC, 5G and IoT ramps up. For its other business verticals, the mobile communications which is its largest segment by revenue is poised for a recovery in shipments while it ramps up the product launches of its 5G flagship smartphone device targeting total smartphone shipments of 300 mln this year.
Beyond that, 5G could also benefit its Harman business which it acquired in 2018 to expand into the automotive industry in 5G-enabled automotive connectivity and infotainment systems. Harman is in a unique position to leverage its parent company's influence with robust automotive product offering in EV to secure partnerships with automakers such as BMW and Hyundai. In the long-term, these partnerships could enable the company to benefit from the emerging EV industry. Overall, we rate the company as a Buy with a price target of KRW102,774.