The Downtrend Is Finally Broken For Altria
Summary
Altria has been going in a very structured downtrend for nearly four years.
It seems it has finally broken out of this range, and it makes the company viable to bounce back hard.
Growth stocks have had their day in the sun for quite a while now. I see 2021 as a great time to be defensive.
I doubt Altria (NYSE:MO) needs any introduction, but just in case you don't know, it is basically the king of American tobacco, owning the rights to Marlboro, Copenhagen, Skoal and Black & Mild in the US. It has also diversified by having large minority stakes in the brewing giant Anheuser-Busch InBev (BUD), the large cannabis company Cronos Group (CRON), and the e-cigarette maker Juul.
Altria had been stuck in a firm downtrend for almost four years now. It looks like it has just broken out of that very tight downtrend within the last six months. This makes it a perfect time to visit it as an investment and see how it would fit into a portfolio overall. Here are those declines the stock price has seen for several years now: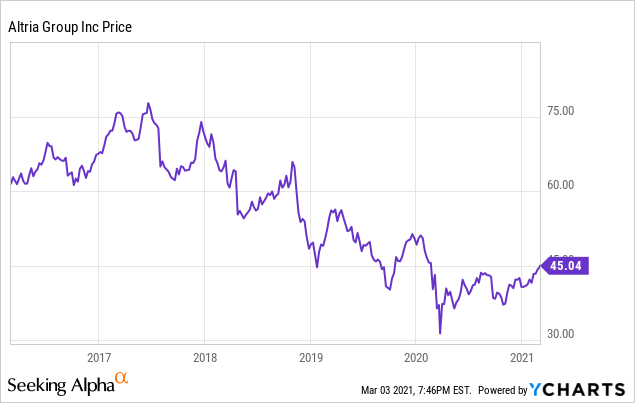 The most impressive part about Altria is their free cash flow growth through all parts of the business cycle. Here is the free cash flow over the last 10 years: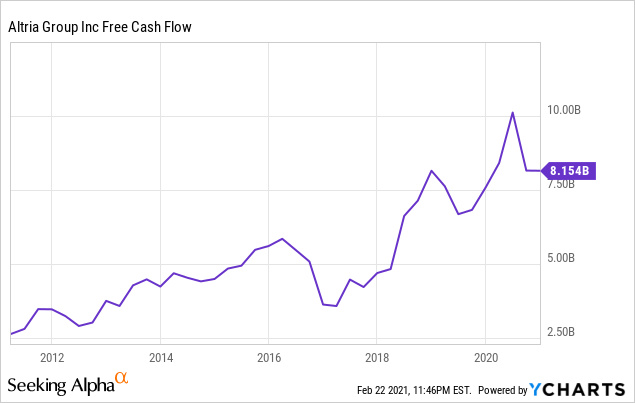 You'll notice that Altria went from around $2.5B in FCF back in 2011, up to $10B in mid 2020. That is much, much more than any inflation. And that is all happening when the market has been worried about cigarettes falling further and further out of the mainstream. At least I assume the market has been worried about that, because the price of Altria has been dropping for the last 4 years, despite free cash flow continuing to impress. Let me show these overlaid for a more stark contrast: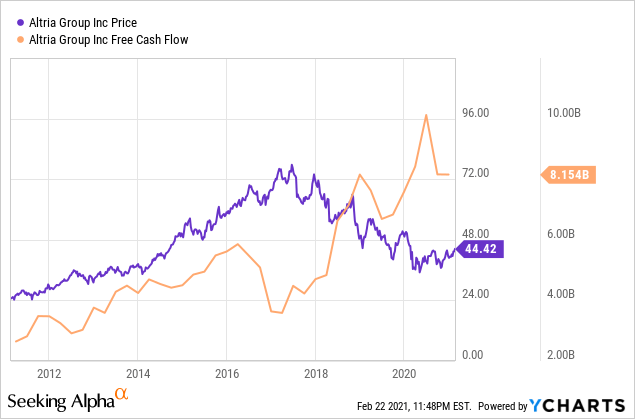 So what happens when you take a business that churns out continually increasing cash flows and send the stock price lower for 4 years? You of course get a deep value situation. Some could argue that Altria was overvalued in early 2017 or that they have had a lot of missteps (see the timing of their stake in Juul).
Even with those both possibly being true, the price has dropped too far considering the free cash flow just keeps climbing. Assuming you don't think Altria is going bankrupt, the price can only go lower for so long. At some point you end with a deep value situation. I believe we are at that point now.
How much would you pay for a company that continues to churn out higher free cash flows through each cycle? To me the best comparable companies have to be behemoths that have similarly continued to reinvest and become cash flow compounding juggernauts. I'm going to compare to Walmart (WMT), Johnson & Johnson (JNJ), Microsoft (MSFT), and Nike (NKE), but feel free to compare to any other company that continues to churn out more money and I think you'll find Altria to be at an extremely attractive price. This first graph shows how Altria has actually increased their free cash flow by a larger percentage than any of these other companies over this time frame: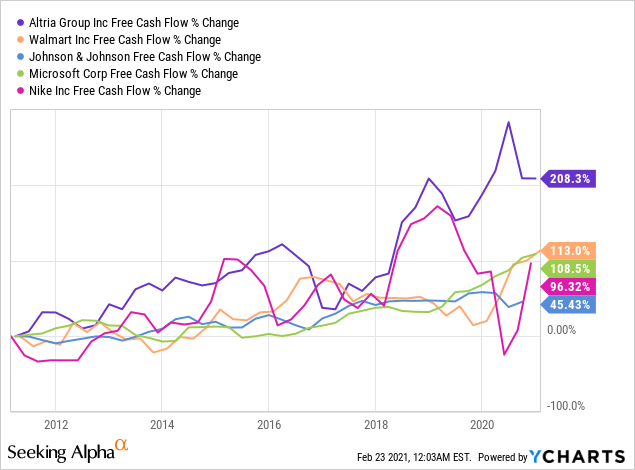 And here's a graph to show how Altria used to trade in the same range of EV/FCF multiples as these other stalwarts, but has fallen far from grace: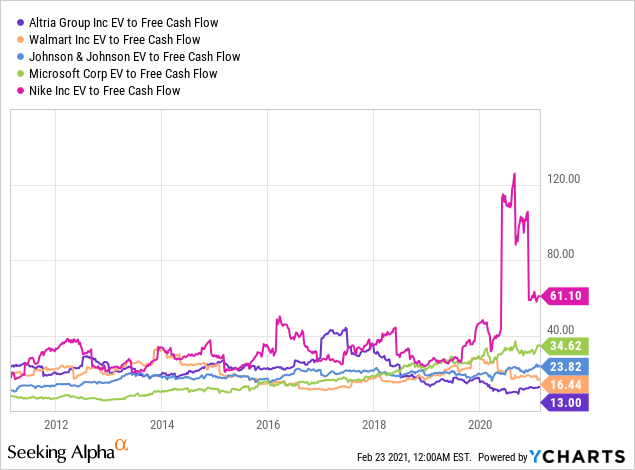 I can see the arguments for Microsoft, Nike, and maybe even Walmart trading at premiums, but does Altria really deserve to trade at so much lower than JNJ? They are both slow growth businesses that are very mature and as the free cash flow growth has illustrated over the past decade, Altria still holds a lot more control on pricing power.
The Dividend
You of course can't have an Altria article without talking about that juicy, almost 8% yield. You'd think a mature company that has an 8% yield must not be able to grow it any longer. Why else would people not be buying it up left and right and sending the yield lower? Well they certainly have been able to keep growing the dividend. Here are both charts to show the absolute amount of the quarterly dividend and the percentage it has risen over the last 10 years: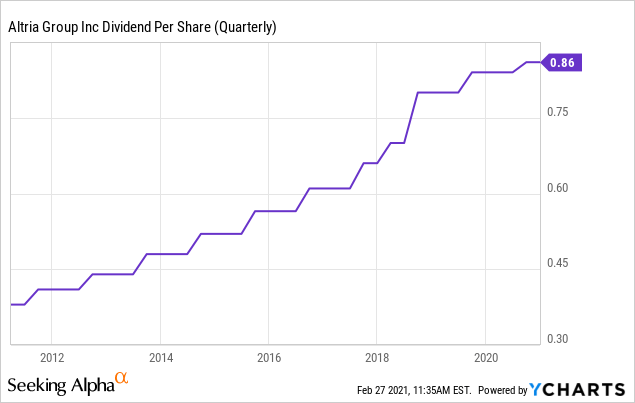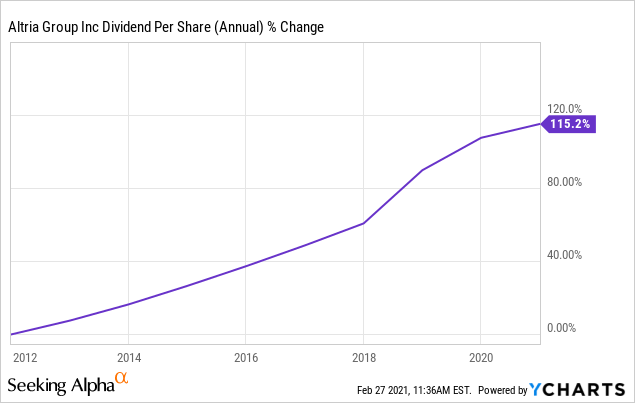 So you take an 8% dividend that has been growing at an 8% CAGR over the last decade and to me you have a wonderful investment. But is there a catch? Have they been raising the payout ratio over the years to achieve this sort of dividend growth?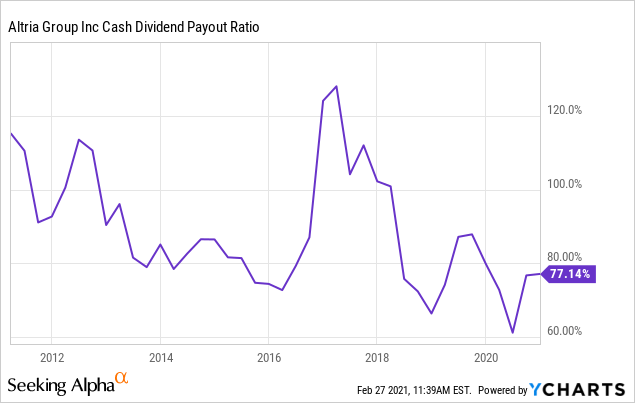 No, it looks like they have actually improved their payout ratio over the last decade due to their cash flows growing even faster than their dividend. So how could Altria have gotten to this deep value territory in the first place? It's not like they are an unknown company that people just weren't paying attention to. My guess is that their steady share price declines have been linked to 3 main reasons.
How Did Altria Become So Cheap?
The first big reason for Altria's share price decline the past 4 years is that value stocks started underperforming growth stocks starting around 2017. Typically over the years, the battle between growth and value has gone back and forth some. However, for the last 4 years straight, and especially in 2020, growth stocks started vastly outperforming their value oriented cousins. Here are some numbers put together by Morningstar:
As you might have expected, growth names had their best year in 1999 and value names were a safe haven for people over the next 3 years as people realized they bet too much, too fast on growth. Then basically until 2016 there was some back and forth year to year, but fairly even overall. In 2016, there was one last hurrah for value names and ever since, growth names have reigned supreme.
A mature company like Altria in an industry that has seen decreasing consumption since they peaked in the 1960s certainly can't be called a growth stock. They are a value stock through and through, and I believe it to be a very big reason they have done so poorly since 2017. There just haven't been many new investors in defensive names in general in recent years. There have been plenty that have held steadily for years or even decades, but not enough new investors.
Reason number 2 for Altria's years of poor performance, in my opinion, is the drastic increase in Environmental, Social, and Corporate Governance (ESG) investing that has been happening the last few years. A fellow SA Author has already done the work of showing this trend in the article ESG Investing Growing Popularity in Focus. Cigarette companies have been a poster child for what ESG investors are trying to get away from. The social ramifications cigarettes have had on humans over the last 6 decades is vast.
While I understand why many people don't want their money to be helping out big tobacco companies, I just don't see it as helping them at all. A company doesn't benefit from their stock price being higher unless they go to equity markets to raise funds. Basically when a company goes public, that is usually the big moment in which they raise funds from the general populous in order to quickly expand their operations and beat out competitors. Then there are certainly times over the early years of companies that they may go back to public equity markets to continue raising more funds, like say Tesla (TSLA) has done recently.
For a mature company like Altria, the only other time that their share price would really matter to tap equity markets is for acquisitions. Many times acquisitions need to be funded by a mix of new share issuance and debt. In the case of Altria, they funded their large stake in Juul with debt, so they did not tap equity markets at all. Their share price was inconsequential to that deal happening.
So while some people may not like the idea of investing in big tobacco, it hardly helps them stay in business. The share price is just a reflection of what people are willing to pay for a small piece of the company and the right to a quarterly payout in the form of a dividend. Even if ESG investors continue to unite and manage to drive the price down, Altria will still go right on operating.
Still I understand the sentiment of why there are many out there that don't want to benefit from a company that harms its customers over the long term, even if their investment or lack of investment doesn't really affect that company from operating in any way. I think this trend will continue for quite some time too. This has had a very similar effect to the shift away from value investments in that both have caused many to pull money out of Altria as well as fewer new investors to fill in that gap. I think ESG investing will be a headwind that will continue to pressure shares, probably forever.
The third reason I think Altria's shares have suffered so much of late was the large stake they took in Juul that I mentioned a couple times. Due to this stake, their debt load just about doubled from the end of 2018 to the end of 2019: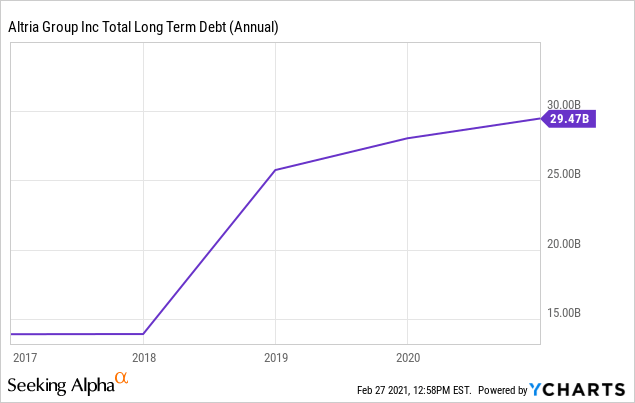 In hindsight, it was a not so great investment at best and a terrible investment at worst. They really put a lot of money into e-cigarettes/vaping basically at the absolute height of that movement. Still, how much punishment can the stock price take for a bad investment?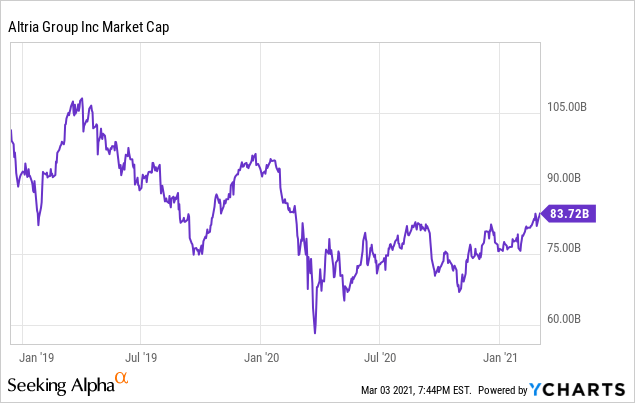 As you can see, just a few days before the announcement of acquiring a 35% stake in Juul was made, they had a market cap of right about $100B. With a market cap of almost $84B now, the $12.8B stake they took is more than accounted for in the $16B of market cap they've lost since then. I think this is especially true because there is still some value in that stake, even if it has been diminished greatly with them already taking $4.5B and $4.1B write downs on that investment. To me this investment was a very real part of why their stock price has dropped for so long, but I consider this part over. It has more than been priced in.
Best Investment Case for Altria
Outside of the dividend, which is covered in almost every Altria article ever (so I won't dwell on it too much), I think there are 2 other very good reasons to invest in this stock. The first reason I have talked about some- Altria has fallen into deep value territory after 4 years of dropping to half their share price from top to bottom. I think the fact that they have been falling for so long coupled with the fact that they technically have broken out of a very precise downtrend means they are poised to bounce back higher for years to come.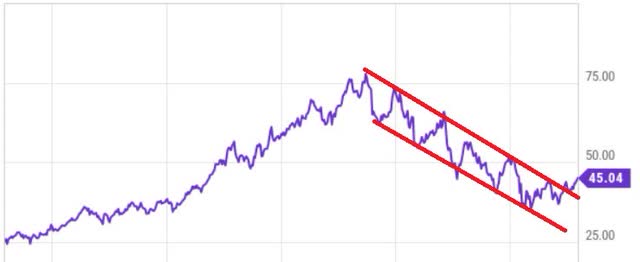 Author Graphic using YCharts data
Here's an example of what can happen to a really strong company that has traded lower for too many years straight. Boeing (BA) was trading lower for almost 3 years starting in the early 2000s, but then the markets realized they had misjudged and they sprung higher for the next 4 years: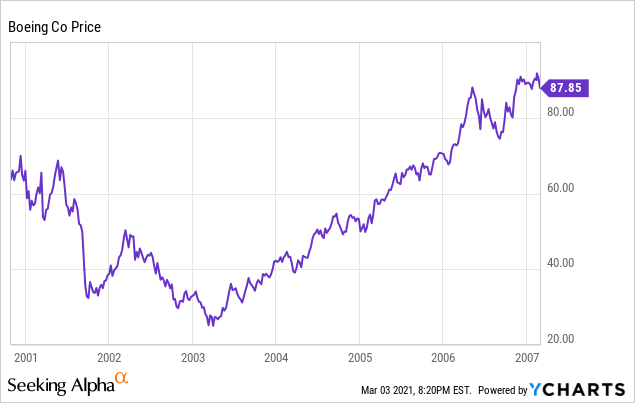 Now I'm not saying it is smart to catch a falling knife. It would have worked out poorly to buy Altria at most times during the last 4 years, unless it was for some short-term trading. But now that it seems like they have broken out of that strict downward trading range, they could easily go higher for the next 3-5 years.
The second big reason to invest in Altria is that they are a safe haven stock during times of high inflation. There's talk that inflation could start going up quite a bit from so much government stimulus in the last year. I don't know if this will play out for sure, but I would like at least a portion of my portfolio to deal with inflation well. I think Altria fits that ticket because of their extreme pricing power. They have shown again and again that they can keep raising prices and people will still buy their product.
In general I think majority of stocks are overpriced, with some out there still being fairly priced, and very, very few being underpriced. With interest rates rising and there surely to still be some aftermath from how this pandemic will affect some businesses forever, I just don't see a ton of upside in most stocks. I'd like to keep a lot in cash, but with higher inflation than normal being a real possibility, I certainly can't keep it all in cash. Gold has its own problems too, as it may be supplanted by bitcoin as the go-to place to park money. And bitcoin is a little too volatile for me to put much money into (I haven't dabbled at all yet).
That leaves defensive sectors like consumer staples, telecoms, and utilities as a very good place to park money right now in my eyes. Altria is a fantastic defensive stock and it trades at crazy high yields compared to its history: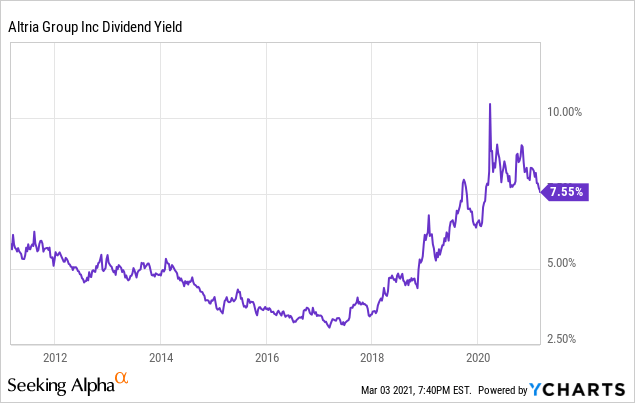 So in summary, I'd say I like Altria because it is a great place to park money right now for safety and has some upside because of it going lower for almost 4 years. At the worst, I expect it to keep paying a solid dividend and hold fairly steady on share price. At best I expect the demand for defensive stocks like this to go on the rise and for the yield to get driven down. This would lead to multiple expansion and even larger gains.
Risks
The debt they have taken on for the stake in Juul and the extra little bit of debt taken on since then are something to be mindful of, but not something I'm very concerned about. Their debt rating did get downgraded by the major debt firms from the A- to BBB when they took the stake in Juul. This is still a very strong, investment-grade rating and it was the cost of trying to diversify their business. The stake in Juul was an insurance policy in case too many people switched from traditional cigarettes to e-cigs. If they can keep their cash flows going higher, like they have for the past decade, they won't be in any trouble at all.
Although the debt is a very long way from being in the danger zone, it could be dangerous if coupled with the main risk - that smoking trends continue to drop so far that Altria can't keep up by raising its prices anymore. If smoking trends continue to drop forever, Altria's free cash flows will eventually reverse course and that's when the debt would actually be an issue. The way I see it though, smoking trends will likely even out eventually. I think there will always be people with all sorts of vices and I don't think smoking is one that will be omitted altogether.
It truly is a triumph for the United States to get smoking numbers down from 42.6% of Americans in 1965 to 13.7% in 2018. The numbers have dropped steadily as Americans started to realize how unhealthy it is and campaigns to stop teenagers from smoking have largely worked. It is no longer the glorified pastime that it was, but there will always be people that want to smoke.
The real question is if the numbers will drop so far that Altria can't keep raising prices to keep up. Where the equilibrium lies I don't know; it could end up at 10% of all Americans smoking in the end just as easily as 1%. This is the main risk for Altria. A big component to mitigate that risk is that you don't have to stay invested in Altria forever.
I personally like Altria right now both because they have fallen into deep value territory in my eyes and because they should be a safe haven to park money if interest rates continue to get back to more normal levels. If interest rates do indeed steadily rise back from their pandemic lows, it should drive most highflying equity valuations back down to earth. This would likely push money toward other value and safe-haven investments.
Conclusion
I see 3 main reasons that Altria stock has gone down over the last few years. I think 2 of these were temporary and 1 will remain. The temporary ones are one, the Juul investment and two, the fact that growth has been a much better investment than value for around 4 years. The headwind that will likely remain is that ESG investing will likely keep picking up steam. There could be a larger portion of money out there that won't even look at Altria when considering investments.
A lot of my arguments are ones you may have heard for an investment in Altria before, between the dividend and the free cash flows. What makes mine any different? The biggest reason is that we are finally at that point where the very clear downtrend has been broken. Also the fact that I think 2 of the 3 headwinds it was facing should be stopping right about now should hopefully help them go a lot higher.
Basically Altria has fallen at such a steep rate over the last 4 years that it can't go on much longer. This leads it to be prone for a correction much higher. That fact along with it being a great time to batten down the hatches and find defensive names means that Altria is a stock for me. I recommend all readers do their own due diligence and only make investments that work for your situation. This should not be construed as investment advice.
This article was written by
I was taught the value of investing and the power of compounding money at a young age by my dad and aunt. My dad helped me start a CD when I was about 10 to get better returns off my Christmas and birthday money. I started investing in the stock market when I was in grad school for Computer Science in 2008/2009. Stocks had dropped so far, it seemed like too good of a buying opportunity to me to pass up. I hardly knew anything about individual stocks, but luckily my timing was good and I saw multi-bagger returns on almost all my stock picks over the next few years. I've been interested in the stock market ever since and have done research on Seeking Alpha the last 5 years, as well as taking a couple online business/finance courses.A farting horse will never tire; a farting man is a man to hire.
Analyst's Disclosure: I am/we are long MO. I wrote this article myself, and it expresses my own opinions. I am not receiving compensation for it (other than from Seeking Alpha). I have no business relationship with any company whose stock is mentioned in this article.
Seeking Alpha's Disclosure: Past performance is no guarantee of future results. No recommendation or advice is being given as to whether any investment is suitable for a particular investor. Any views or opinions expressed above may not reflect those of Seeking Alpha as a whole. Seeking Alpha is not a licensed securities dealer, broker or US investment adviser or investment bank. Our analysts are third party authors that include both professional investors and individual investors who may not be licensed or certified by any institute or regulatory body.