Bubble Talk: Time To Sell Charles Schwab
Summary
Charles Schwab could peak with the online retail trading frenzy of early 2021, propelled by the Federal Reserve's emergency response to fight coronavirus recession.
A multi-year stock market bust, following the record S&P 500 rise of 90% over eleven months, could be disastrous for Schwab's stock valuation and business results.
Rising interest rates and the possibility of a larger financial transaction tax in 2021 are worrisome developments for the company's AUM business model.
I remember well several decades ago when Charles Schwab (NYSE:SCHW) dropped "self-service" discount trading commissions to a flat $44 rate per transaction on common stocks, when you used an automated phone ordering system (TeleBroker in 1989). Revolutionary at the time vs. full-service firms like Merrill Lynch in the $100-150 range for an expense on the same order, talking directly to your dedicated personal banker/broker. Fast forward to 2020-21. The entire self-directed online trading business is at ZERO for upfront commissions, even at Merrill (although you do pay pennies per share through the current broker bid/ask process behind closed doors, and account minimums may apply). The world has changed, and now Wall Street is closer to a gambling casino on your smart phone than ever before. Ask the GameStop (GME) short squeeze trading crowd how the game has changed, with numerous stories of "rags to riches" and "riches to rags" over a matter of days saturating mainstream media reporting.
And, if you believe we are in a boom or bubble in the U.S. stock market (like many of us old-timers do), when the music stops, you don't want to be left holding the bag (owning any bubble-focused financial services company). How could the next bear market unfold? Possibly soon, the Federal Reserve could be forced to remove the punchbowl of free liquidity to protect the dollar's value.
Believe it or not, the early 2021 brokerage experience of record daily trading activity and popularity in your lifestyle routine may have run its course. From my vantage point trading the 1987 stock market boom and crash, the dotcom tech bubble popping in the year 2000, the Great Recession bear market of 2007-09, and the coronavirus meltdown of 2020, the next bust could be even scarier than its predecessors.
Why is the 2021 stock market game something to worry about? Namely, the Federal Reserve has run out of policy tool ammunition to keep both equity prices high and confidence in the dollar's value strong, when the next recession or black swan hits. It can support one, but not the other going forward. Since 1982, the FED has been able to lower interest rates significantly and inject new money into the financial system without major blowback by foreign investors. Treasury bond yields were able to keep pace with CPI-reported inflation, or nearly so. However, today we still have next to zero for savings rates on T-Bills with CPI running close to 2% YoY.
The problem is the FED wants to run inflation rates hotter than experienced economists are comfortable with, while holding interest rates at emergency, suppressed levels. If this is our future, real interest rates (adjusted for inflation) could reach record extremes of negativity for debt holders. Considering the U.S. has $28 trillion in sovereign debt to finance (refinance), and a structural deficit around 10% of GDP ($2 trillion annually), we require foreign capital like never before. What if foreign and domestic savers refuse to be guaranteed investment losers, given the Federal Reserve's promise of vast purchasing power reductions on savings and bonds through inflation?
If foreigners instead decide to withdraw funds from American financial markets to protect themselves from rising inflation (devalued dollars on the currency exchange market), all that's left to combat the next recession is banana republic money printing, which debatably is already taking place. All told, given a serious stock market downturn and/or recession appears later in 2021, the FED cannot "save" Wall Street with honest bank policy. While even greater record money printing (beyond the all-time high M-1 increase of +70% the past 12 months) could help generate a rebound in stocks, it would also usher in massive inflation through a dollar confidence crisis, instantly devaluing America's wealth in the world. The dollar's exchange rate would tank like a rock in a deep pond, with retirees/pensioners and the hourly working classes in this country suffering the worst economic effects. 2020's horrific economy would actually look desirable vs. this hyperinflation scenario.
My argument is the FED is boxed into raising rates very soon to protect the dollar exchange value, an effort to encourage foreigners stay involved in American capitalism. Surprise rate increases, perhaps in a month or two, will puncture the market euphoria of March 2021, and cause some unwinding of leverage throughout the economy. If the FED fails to raise rates, a dollar confidence crisis with a huge spike in both inflation and interest rates into 2022 could become reality. There are no easy options left for U.S. monetary policy.
Schwab Reaching for a Peak?
The best time to sell Charles Schwab, or a list of big banks, brokers, insurance companies and financial service firms, is when optimists are playing music loudly (times seem like they cannot get any better). Often in past cycles, Schwab peaks months before the final Dow Industrial or S&P 500 record print is reached. For me, the time to sell retail-focused stock/bond brokers is about now, based on decades of trading experience.
Schwab just completed its acquisition of TD Ameritrade toward the end of 2020. The company is now the largest online broker, accounting for $6.7 trillion in total custodian assets at the end of January 2021, with 30+ million active accounts (privately owned Fidelity is #2). Below is a table from the company incorporating TD Ameritrade accounts at the end of last year (October), highlighting the incredible growth phase since 2019.

Image Source: Schwab January Activity Report
But like everything else in life, all good things must come to an end. One day, perhaps soon, the stock market will hit the skids. An old Wall Street adage is "bear markets return shares to their rightful owners." Typically near stock market peaks, a rush of new retail interest creates a class of share "renters." They own shares, sure, but they don't understand they will be quickly shaken from their "long-term" buys when prices turn south. In effect, they are renting shares from experienced traders/investors who sell positions in an expensive stock market. Unknowingly, the newbies buy shares from the smartest players in the market, and then after renting shares with an eventual loss of capital, they return shares (selling for a loss) back to their rightful owners. In fact, early 2021's market is perhaps the MOST overvalued in history vs. trailing company sales ratios and overall GDP economic output, Warren Buffett's favorite valuation gauge.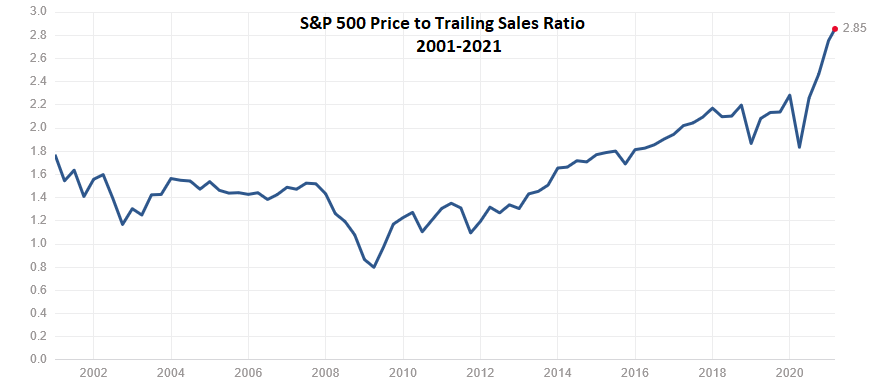 Image Source: Multpl Website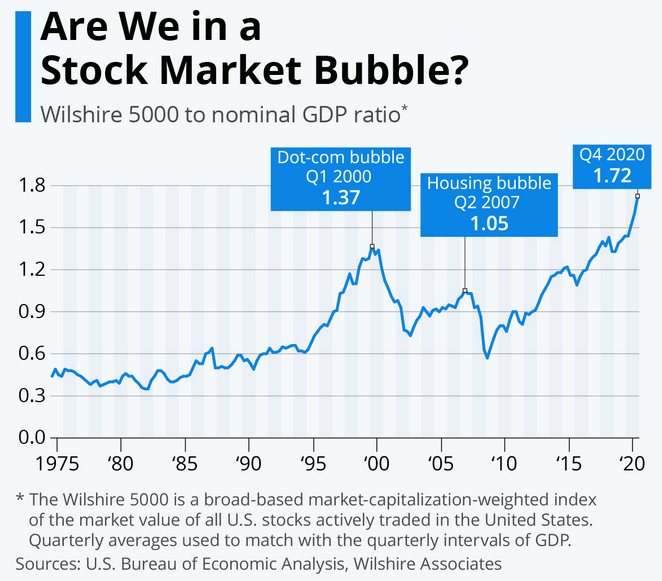 Image Source: Statista Website
Logically, if we are near the final phases of the largest bull market boom in U.S. equity trading history (80-100% price rise over eleven months, depending on your index of choice), it's not a leap of faith to think the "mother of all busts" could be next. An optimist will hope for a decade or two of flat prices like the 1960s and 1970s. Something like the original technology bust of 2000-09 is also possible, essentially a lost decade for American stockholders. The Nasdaq 100 fell an incredible 90% between early 2000 and late 2002! A stock market crash of 80%, like the 1929-33 Great Depression is not out of the question. And finally, a never before experienced hyperinflation scenario, with a market crash followed by a massive price rebound (similar to the 2020 coronavirus ride but even wilder) has outlier odds of playing out.
While the odds of a huge bear market or period of stagnation are getting closer to 100%, why on earth would you want to continue holding Charles Schwab? A substantial drop in the value of U.S. stock/bond assets is the must avoid scenario for brokerage business owners. While excessive investor trading and margin activity have been earning big fees and interest income during early 2021, the opposite business results appear in a long-term bear market. If one is approaching, it means the company could be enormously overvalued in March 2021. The degree of overvaluation depends on the shape and speed of an unfolding bear.
Past Bear Market Experiences
The easiest way to explain how Charles Schwab's stock quote may decline in a bear market (or complete bust scenario) is to illustrate some past trading examples.
1987 Crash
After selling the firm in 1983 for $55 million, Charles Schwab (the person) led a group of investors buying back his namesake brokerage firm from Bank of America (BAC) in March 1987 for $280 million. Then in September, just weeks before the sharpest Wall Street decline in modern times, the company offered shares to the public. Peaking in August, the Dow Industrials fell 40% into an intraday crash low on October 19th, about six weeks later.
Warren Buffett preaches investors should be prepared for a 50% haircut in any stock position they own. Well, the whole market got buzzcut in 1987. To a degree the macroeconomic setup in 2021 is similar to 1987. Sky-high money printing pushed the 1987 stock market straight up (50% over eight months), at the same time as the value of each U.S. dollar crumbled from all the monetary nuttiness. Eventually foreign investors had enough of the daily bludgeoning on the currency exchange and dumped U.S. bonds and stocks en masse.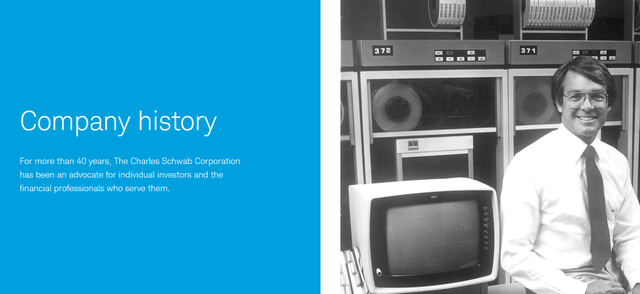 Image Source: Schwab Website
Below I am pulling rank on many readers, who weren't around in 1987 trading equities. I just scanned a Daily Graphs chartbook I have in my library from 1988, with a Schwab entry inside. You can see the straight down action with the market crash, after its $16.50 IPO (before future splits). A good 65% in price was lost through December 1987.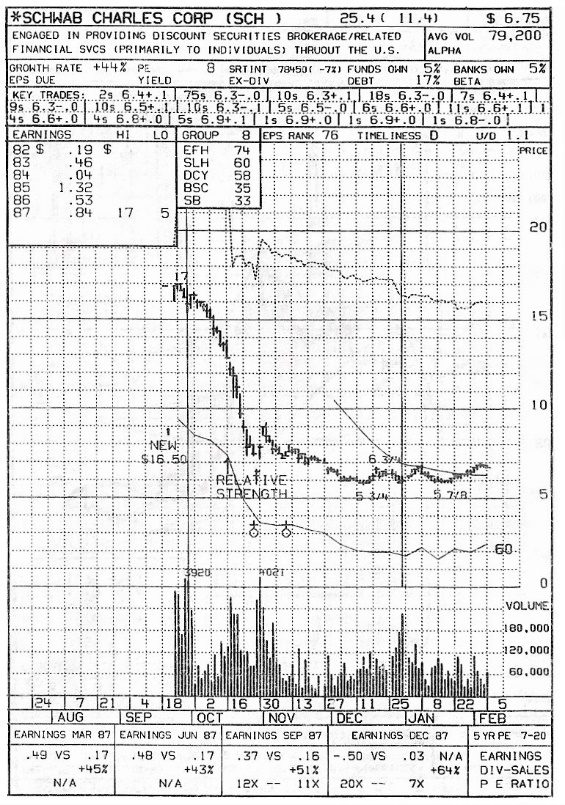 Image Source: Daily Graphs Chartbook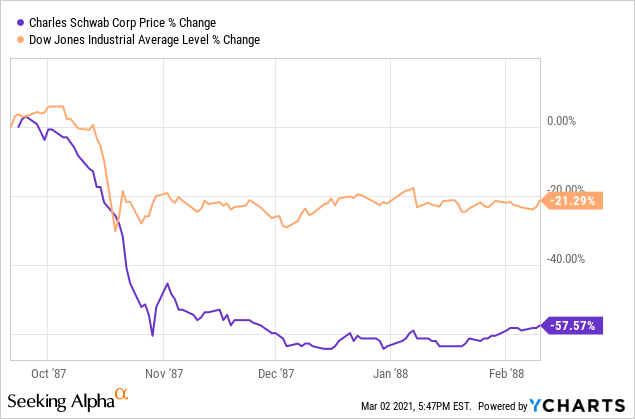 2000-03 Dotcom Bust
Schwab actually peaked in April 1999, almost a year ahead of the first-half 2000 trading highs in the general market averages. The stock quote fell 75% from nearly $40 (dividend adjusted) to $6 in March 2003. Although the blue-chip Dow Industrials survived better than the crashing Nasdaq 100 index over this span, brokerages followed the drop in trading euphoria and activity tied to the tech boom.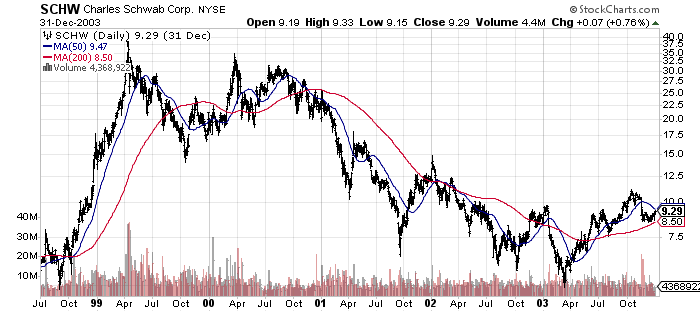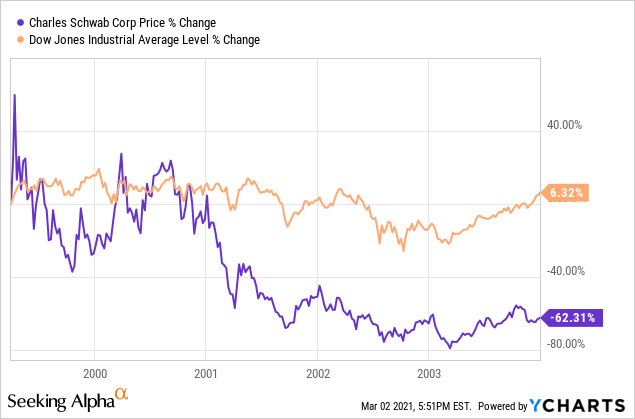 2007-09 Great Recession Bear
Technically, Schwab peaked intraday during September 2008, about a year AFTER the Dow Industrial high was outlined in 2007. Actually, the stock made a rough double-top with its late 2007 high around $21 (dividend adjusted), then fell 55% into March 2009, approaching $9 a share. This is the rare, outlier instance of a brokerage stock not heading lower before the general market. 80-90% of the time, financial services, banks and brokers find their price pinnacle when the bullish music is still playing loudly. Forward-looking traders and investors usually dump their positions in anticipation of a market top, then patiently wait for the next bargain opportunity to appear.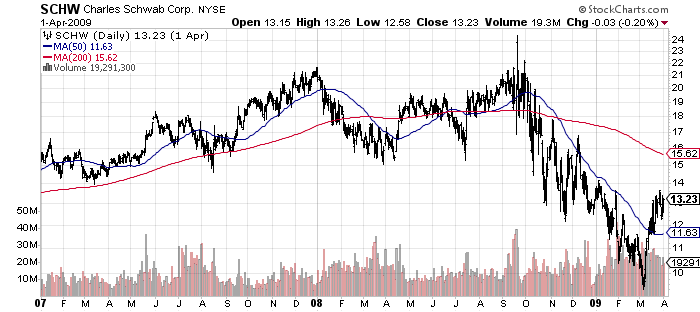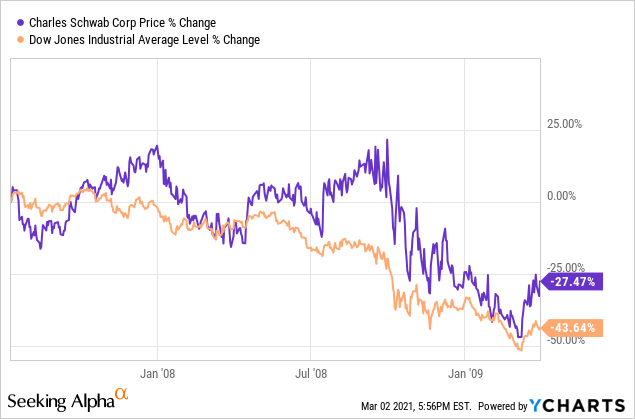 2020 Coronavirus Meltdown
Schwab's price topped in May 2018, a good 18 months before the coronavirus disruptions started in the U.S. Into the March 2020 panic selling low of $27, the stock declined 50% over 20 months. Again, exiting Schwab early was a great idea. In 2018, few were preparing for a steep market correction or slackening interest in trading by investors. Conversely, the best time to buy Schwab is when "blood is in the streets" and the mass media is reporting on stock market losses as the lead story for weeks on end. That was our place in the investment cycle last March, when panic selling and fear was all over the news. Lesson learned: if you cannot handle a 50% haircut in this name, we may have reached an inflection point in March 2021, where the risk of owning the leading online broker could be detrimental to your portfolio's value 6-12 months down the road.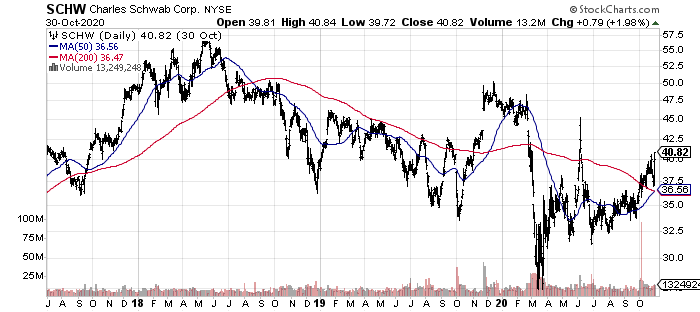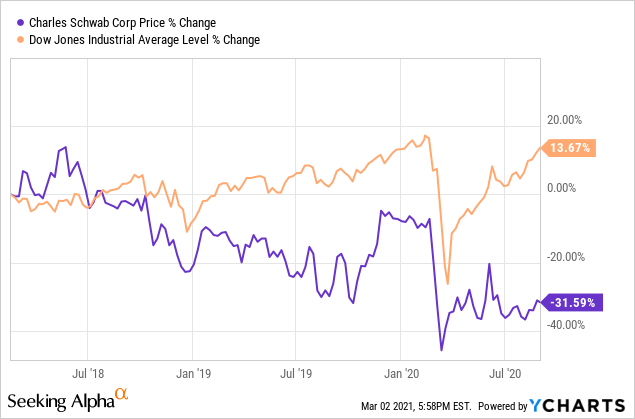 2021 Momentum Fading
Charles Schwab's intermediate-term trading momentum seems to have already peaked. Below I have drawn an 18-month chart of daily price and volume action. Notice the 14-day Average Directional Index reversed from a high 50 number in January, circled in red. This setup is quite similar to the December 2019 ADX momentum trend top. It was followed by several months of consolidation, before price declined sharply with the coronavirus pandemic panic.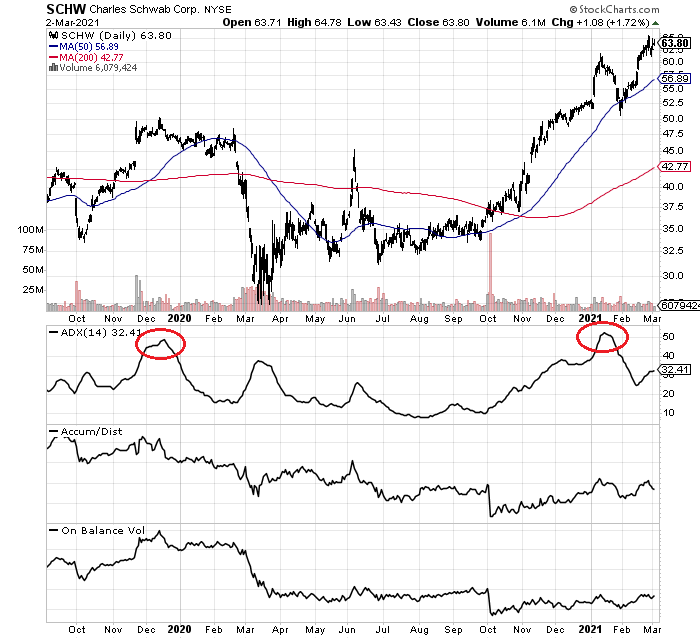 The Accumulation/Distribution Line and On Balance Volume reading have been screaming a non-confirmation vote of disapproval in the all-time highs during 2021 also. Translation: there have been plenty of intraday sellers during most sessions (after opening higher), and more sellers on down days in price vs. up days the last year and a half. If not for the retail trading frenzy, it is quite probable Schwab's quote would still be under $45 today. In contrast, nearly all of the blue-chip buy picks I have talked about on Seeking Alpha since the 2020 market bottom have rising ADL and OBV lines.
Final Thoughts
For traders, speculators, plus buy-and-hold investors, Charles Schwab may be a stock to avoid, if not sell right now. At the very least, a stretch of "underperformance" vs. the blue-chip Dow Industrial and S&P 500 indexes could become reality in 2021-22. It's sitting in the exact opposite sentiment and investment cycle position as March 2020. If the pandemic fear slide was a smart setup to purchase Schwab, selling shares during the retail account euphoria of early 2021 is the clear course of action. Today, almost no investment expert is willing to predict a massive drop in trading activity, and asset pricing on Wall Street. The FED will not allow a stock drop! That's what I hear, over and over again in the financial press. Yet, the FED has used all of its regular monetary easing tools to combat coronavirus disruptions and recession.
What if the currency markets start to punish the dollar exchange rate mercilessly into summertime? The pandemic is nearly over and inflation is starting to spike. Consumer demand will rise dramatically with another round of $1.9 billion in deficit stimulus, about to pass Congress. What if foreigners cannot stand high rates of real estate, stock market and commodity inflation with next to ZERO for short-term interest rates? They could eventually dump U.S. financial assets like 1987, trying to front-run an even bigger dollar swoon than the 15% U.S. Dollar Index decline over the past year.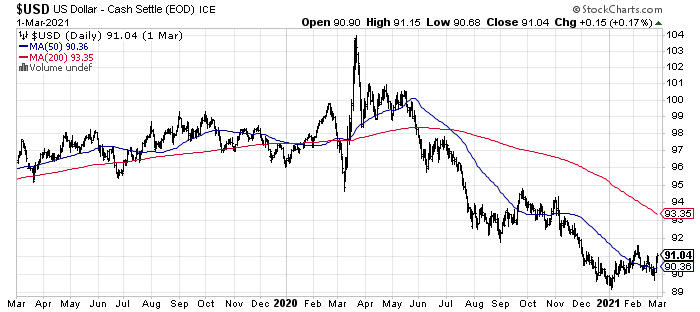 Anyway you slice it, the hyperdrive trading frenzy by retail investors in late 2020 and early 2021 cannot continue at the same pace forever. Already, talk of a larger financial transaction tax on stock trades is making the rounds. The new proposal is a $1 federal tax on each $1,000 in underlying trade value, up from $5.10 per $1,000,000 currently. The effort would try to raise hundreds of billions in revenue over a decade to help pay for $5-6 trillion in COVID-19 relief. Plus, it would calm the overextended gambling by hedge funds and retail investors drunk on ultra-low trading costs. Reduced market volatility in names like GameStop would be a positive side effect. Such a tax program would absolutely hurt Charles Schwab's growth future. Don't say it cannot happen. On January 15th, the Wall Street Tax Act was officially and quietly introduced as legislation in the U.S. House of Representatives.
I am in the process of considering Schwab as a short candidate in my large, diversified long/short portfolio. Shorting Schwab in early March represents an intelligent market hedge against calamity. A major bear market for the remainder of 2021 could easily send the stock back to $30-35 a share, especially if it is tied to passage of the proposed 0.1% financial transaction tax. The stock's 1.1% trailing dividend yield is easy to cover on borrowed shares in a short trade. Plus, if your broker does not require a borrowing fee or margin interest rate on the cash balance, the cost of this "hedge" idea is much cheaper than an index put option or more exotic strategies.
The downside risk of a Schwab short trade is the U.S. equity bubble keeps getting bigger before it pops. The odds of another $10-20 in upside for the stock in coming months cannot be ignored. However, keeping the position as a small portion of the hedge-side of your portfolio design will limit the risk of huge losses. Another risk to consider is a major money-center bank decides it wants to buy the leading online brokerage firm to diversify operations. The odds of such a combination are low, but clearly not impossible. Boom thinking and greed can get the best of any manager, no matter what the price or intermediate-term prospects of paying too much.
If you are new to shorting stocks, or just want to hold any potential trading loss to a minimum, this position is a great candidate for a straight 10% or 20% buy-stop level on your short transaction price. If the stop-loss price is hit, you can calmly reevaluate the idea for a spell. Given it still makes sense for your risk-appetite and portfolio construction, you can always reenter a short sale order. Otherwise, you can move on to different hedges without losing your shirt.
Food for thought at least, especially if you are new to the Wall Street game or believe trees will continue to grow to the sky, uninterrupted. Charles Schwab at $64 a share is more than double its low trade of last March. Plenty of risk is part of the equation. Don't kid yourself, as the 2021 bubble eventually gets popped.
Thanks for reading. This article should be a first step in your due diligence process. Consulting with a registered and experienced investment advisor is recommended before making any trade. Shorting involves greater risk than a regular long purchase, as losses are theoretically open-ended and unlimited in a squeeze or takeover premium situation.
This article was written by
Nationally ranked stock picker for 30 years. Victory Formation and Bottom Fishing Club quant-sort pioneer.....Paul Franke is a private investor and speculator with 37 years of trading experience. Mr. Franke was Editor and Publisher of the Maverick Investor® newsletter during the 1990s, widely quoted by CNBC®, Barron's®, the Washington Post® and Investor's Business Daily®. Paul was consistently ranked among top investment advisors nationally for stock market and commodity macro views by Timer Digest® during the 1990s. Mr. Franke was ranked #1 in the Motley Fool® CAPS stock picking contest during parts of 2008 and 2009, out of 60,000+ portfolios. Mr. Franke was Director of Research at Quantemonics Investing® from 2010-13, running several model portfolios on the Covestor.com mirror platform (including the least volatile, lowest beta, fully-invested equity portfolio on the site). As of April 2023, he was ranked in the Top 5% of bloggers by TipRanks® for stock picking performance on positions held one year. A contrarian stock picking style, along with daily algorithm analysis of fundamental and technical data have been developed into a system for finding stocks, named the "Victory Formation." Supply/demand imbalances signaled by specific stock price and volume movements are a critical part of this formula for success. Mr. Franke suggests investors use 10% or 20% stop-loss levels on individual choices and a diversified approach of owning at least 50 well positioned favorites to achieve regular stock market outperformance. The short sale of securities in overvalued, weak momentum stocks as pair trades and hedges is also a part of the Victory Formation long/short portfolio design. "Bottom Fishing Club" articles focus on deep-value candidates or stocks experiencing a major reversal in technical momentum to the upside. "Volume Breakout Report" articles discuss positive trend changes backed by strong price and volume trading action.
Analyst's Disclosure: I/we have no positions in any stocks mentioned, but may initiate a short position in SCHW over the next 72 hours. I wrote this article myself, and it expresses my own opinions. I am not receiving compensation for it (other than from Seeking Alpha). I have no business relationship with any company whose stock is mentioned in this article.

This writing is for informational purposes only. All opinions expressed herein are not investment recommendations, and are not meant to be relied upon in investment decisions. The author is not acting in an investment advisor capacity and is not a registered investment advisor. The author recommends investors consult a qualified investment advisor before making any trade. This article is not an investment research report, but an opinion written at a point in time. The author's opinions expressed herein address only a small cross-section of data related to an investment in securities mentioned. Any analysis presented is based on incomplete information, and is limited in scope and accuracy. The information and data in this article are obtained from sources believed to be reliable, but their accuracy and completeness are not guaranteed. Any and all opinions, estimates, and conclusions are based on the author's best judgment at the time of publication, and are subject to change without notice. Past performance is no guarantee of future returns.
Seeking Alpha's Disclosure: Past performance is no guarantee of future results. No recommendation or advice is being given as to whether any investment is suitable for a particular investor. Any views or opinions expressed above may not reflect those of Seeking Alpha as a whole. Seeking Alpha is not a licensed securities dealer, broker or US investment adviser or investment bank. Our analysts are third party authors that include both professional investors and individual investors who may not be licensed or certified by any institute or regulatory body.