U.S. Leads Global Economic Expansion In February
Summary
Global economic growth led by the US as PMI rises to highest in six-and-a-half years.
COVID-19 restrictions limit service sector growth in Europe and Japan.
Solid growth continued to be recorded in Australia and Russia, albeit with rates of expansion capped in particular by weakened service sector expansions, in turn often limited by COVID-19 related restrictions.
Global economic growth accelerated in February, according to the worldwide PMI surveys conducted by IHS Markit, led by the US. However, further efforts to contain the coronavirus disease 2019 (COVID-19) pandemic meanwhile continued to limit service sector growth, especially in Europe and Japan.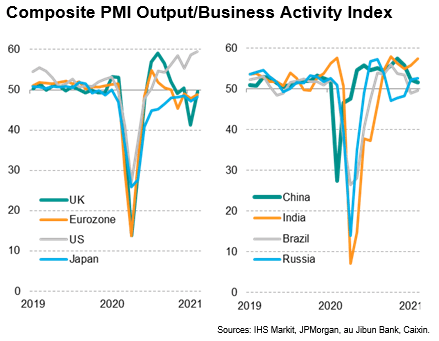 US leads overall global expansion
Of the 12 major economies covered by IHS Markit's PMI surveys, the US recorded the fastest expansion, leading all other countries in terms of service sector growth and also recording a robust manufacturing expansion. The overall pace of US growth was the sharpest since August 2014.
India reported the second-fastest expansion, reporting a rate of increase exceeded only twice over the past nine years. India's manufacturing expansion was the sharpest of the major economies covered by the PMIs, while its service sector expansion was beaten only by that seen in the US.
Solid growth continued to be recorded in Australia and Russia, albeit with rates of expansion capped in particular by weakened service sector expansions, in turn often limited by COVID-19 related restrictions.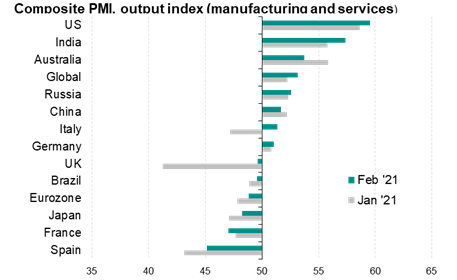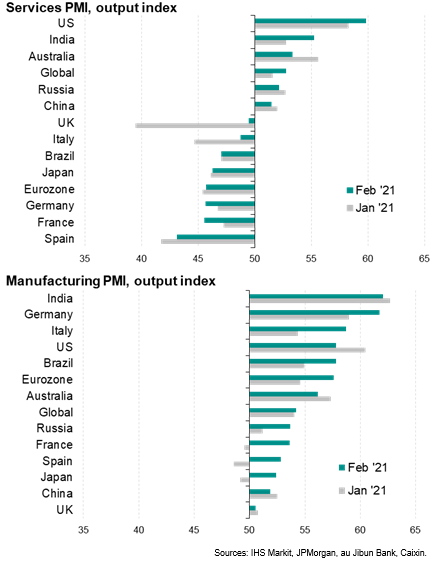 Growth in China meanwhile slowed to the weakest since in the current ten-month sequence of expansion, as rates of growth cooled in both manufacturing and services. At least some of the moderation could be explained by transportation shortages, though anecdotal evidence from survey respondents also hints at some of the slowdown having been due to tighter COVID-19 related travel restrictions.
While business activity also grew in Germany and Italy thanks to strong manufacturing performances, the eurozone as a whole suffered a fourth successive monthly decline in output due to falling levels of service sector activity in all four largest member states. The steepest downturn of all major economies was in fact seen in Spain, followed by France.
Japan and Brazil also reported falling output as service sector downturns offset manufacturing output growth. The former notably reported the largest factory output gain for over two years while the latter saw a continuation of the strongest manufacturing upturn seen over the past decade, albeit with the rate of expansion cooling from recent highs.
Finally, the UK reported a second successive monthly fall in output, though the rate of contraction eased markedly compared to that seen in January, when a harsh national lockdown was instigated to fight off rising virus infection numbers. However, manufacturing output almost stagnated for a second month running, registering the weakest performance of the 12 largest economies, as Brexit-related disruptions added to the challenges presented by the pandemic.
PMI readings and COVID-19 containment
Our chart below illustrates the change in COVID-19 containment measures so far this year compared to the fourth quarter of 2020, plotted against the average composite PMI reading so far this year. The UK and Germany have so far seen by far the most severe degrees of tightened virus restrictions, though Germany has fared much better than the UK, enjoying modest growth of output while the UK has seen a steep decline.
Only three countries have seen COVID-19 containment measures eased so far this year, though of these only the US has enjoyed strong growth.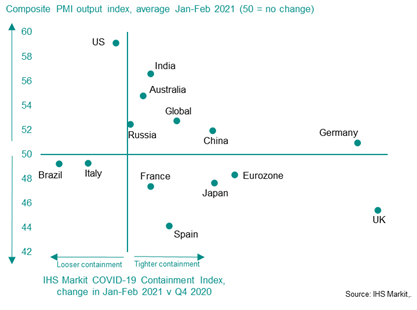 If we restrict PMI coverage to just the service sector, which tends to be more heavily affected by COVID-19 restrictions than manufacturing, the relationship becomes clearer, with weaker PMI readings more common among those countries were containment measures have been tightened this year.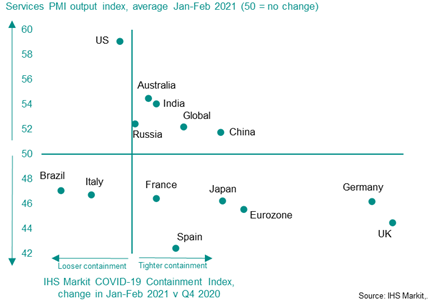 Notable outliers are Brazil and Italy, where faster growth would have been expected given the loosening of COVID-19 containment measures, especially in the former where restrictions are considerably below the global average. Spain has also underperformed somewhat given the relatively modest tightening of restrictions seen so far this year.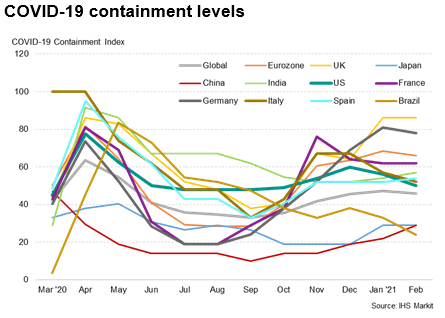 Editor's Note: The summary bullets for this article were chosen by Seeking Alpha editors.
This article was written by
IHS Markit (Nasdaq: INFO) is a world leader in critical information, analytics and solutions for the major industries and markets that drive economies worldwide. The company delivers next-generation information, analytics and solutions to customers in business, finance and government, improving their operational efficiency and providing deep insights that lead to well-informed, confident decisions. IHS Markit has more than 50,000 key business and government customers, including 80 percent of the Fortune Global 500 and the world's leading financial institutions. Headquartered in London, IHS Markit is committed to sustainable, profitable growth.