Global Factory Output Growth Close To Decade High Despite Export Fall From China
Mar. 04, 2021 11:12 AM ET
VNQ, PTY, PFF, RQI, PDI, BND, EWZ, AGG, XLI, AWP, RNP, JPS, IYR, FFC, PGX, VNQI, BNDX, PFFA, RSX, VGK, EWJ, RFI, INDA, SRET, FAX, XLRE, HPI, MUB, VNM, EWY, KBWY, DXJ, TUR, NVG, YINN, IGR, JPC, PDT, PCN, NRO, EWG, FPF, SCHH, TDF, RCS, GREK, BIT, EPI, BOND, EWS, NEA, FREL, PFXF, BRZU, BTZ, GXC, EWU, JRI, EWT, REET, SRVR, EWA, EVV, JRS, FEZ, VIS, FLC, PFFD, SCHZ, VTEB, RUSL, INDY, YANG, PCM, CXSE, HEDJ, ETV, SPFF, NAD, PML, PSK, PFFR, NZF, INDL, ERUS, FPE, VGI, EIDO, DRN, PIN, DAX, PSF, EUFN, HPF, IIM, EWM, VPL, ERC, THD, EWI, BHK, EWP, DBL, USRT, ICF, PGJ, AIA, NUV, EVN, PMF, RWR, PPT, PFO, RWX, EPHE, EZU, FTF, GIM, PFD, BRF, EWL, PMX, FIDU, KGRN, SMIN, IUSB, EPOL, IIF, AAXJ, BKN, EIM, RSXJ, NXP, FCO, DSM, WPS, KORU, DRV, IDX, PAK, EWQ, FXP, MMT, IAF, IEV, IAE, CHN, VMO, FAM, LEO, SRS, EWZS, DFE, URE, SEVN, VGM, IEUR, ENZL, PMO, BWG, EWD, EPP, CN, BNDW, TFI, BZQ, MCR, IYJ, BFK, EEMA, DMB, KTF, HIPS, RWO, AFB, PZA, BLE, DMF, SWZ, PMM, GMF, IQI, OIA, INCO, IFGL, MYI, PFFL, BBK, EURL, MYD, MGF, TOTL, EWN, MEN, SPAB, WEA, MVF, NMCO, XMPT, MQY
Summary
Global manufacturing PMI buoyed by further strong gains in production.
Robust growth seen in the US, Eurozone, India and Brazil despite supply chain delays close to record high.
Expansion limited by further slowdown in China, in turn linked to shipping and logistics problems.
UK close to stalling amid Brexit disruptions.
Global manufacturing output growth accelerated in February to reach one of the fastest rates of expansion seen over the past decade. The improvement occurred despite near-record shortages of inputs, in turn linked to a second successive month of sharply falling exports from mainland China. Deteriorating exports from China were in part due to shortages of shipping capacity, which should prove temporary, meaning China should start to act as less of a drag on the global economy once these logistics issues, mainly stemming from COVID-19 related disruptions to transportation, are resolved.
While China's exporters struggled, other economies, notably the US, Eurozone, India and Brazil continue to report strong manufacturing gains, though the UK has become something of an outlier as Brexit-related issues led to a near-stalling of production growth for a second month running.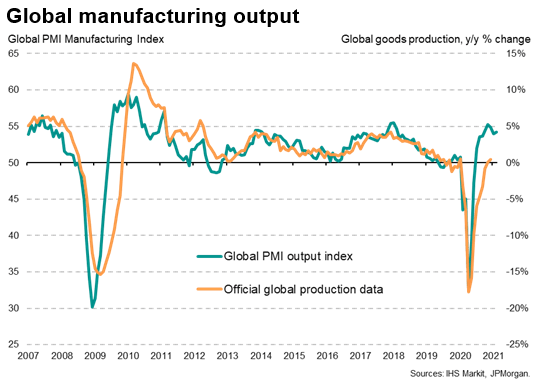 Production rises for eighth straight month in February
The JPMorgan Global Manufacturing PMI, compiled by IHS Markit from its proprietary business surveys, showed worldwide factory output growing for an eighth successive month in February. The output index rose from 54.1 in January to 54.2, indicating that the rate of increase picked up marginally to one of the highest seen over the past decade, albeit down from the peaks seen at the end of last year. Official data, available up to December, have meanwhile shown manufacturing output regain levels of a year ago, underscoring the sector's swift recovery from the COVID-19 related downturn in the first half of 2020.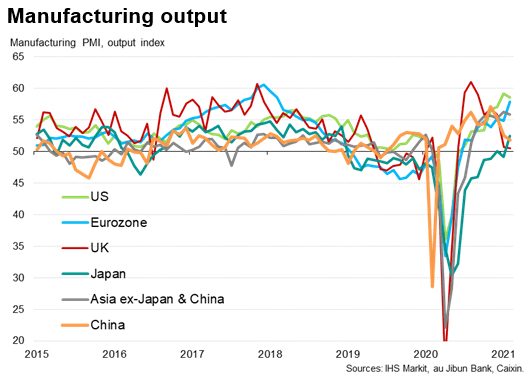 Of the world's major economies, the strongest expansion was recorded in India, followed by Germany. Along with robust gains in Italy and the Netherlands, Germany's strong expansion helped propel eurozone growth to the fastest since October and the second-fastest for three years.
The US nevertheless again outperformed the eurozone as a whole in February, despite seeing growth moderate slightly from January's six-and-a-half year peak.
India's surging expansion meanwhile helped sustain output growth in Asia excluding Japan and China at one of the highest rates seen over the past decade, registering the second-fastest expansion since April 2011.
Japan, which has lagged the global upturn, also continued to see its recovery gain momentum, enjoying the largest monthly rise in production since December 2018.
It was a different picture in China, however, where production growth slowed to the weakest since last April, having already moderated markedly in January. In fact, excluding China, global production growth hit a three-year high in February.
The UK also bucked the wider trend of strong production growth seen in the US, Eurozone and much of Asia, reporting the slowest expansion of manufacturing growth since the recovery from the initial lockdowns began last June. A near-stalling of UK production growth has now been seen in both January and February, linked by many companies to Brexit-related disruptions to supply chains and exports, which exacerbated COVID-19 related restrictions.
Global export growth subdued by China
Much of the underperformance of China and the UK could be linked to under-par export growth.
So far this year, US manufacturers have reported the strongest goods export growth for six-and-a-half years, while Eurozone and Japanese producers reported the strongest export sales for three years in February.
In contrast, the IHS Markit-compiled Caixin PMI for mainland China showed a second successive monthly decline in exports, which are now in the steepest period of decline since June.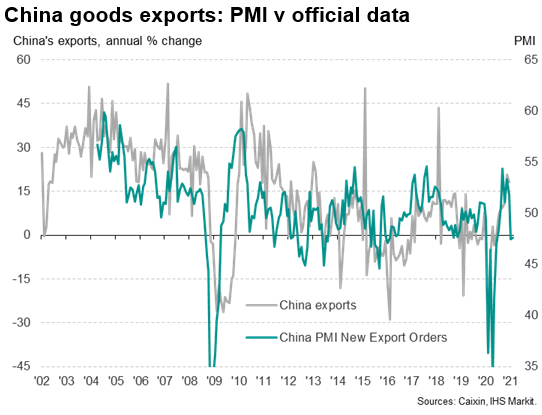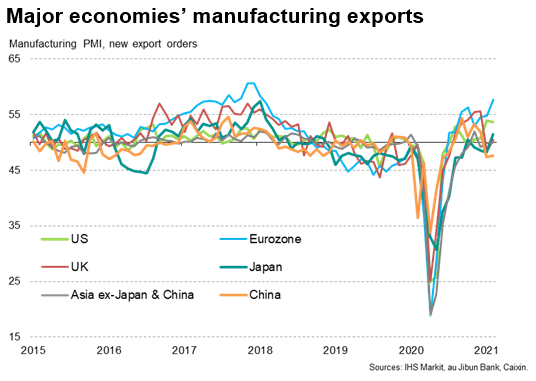 Supply delays causing temporary weakness
This loss of export trade out of China may in part be due to an unusually strong seasonal impact from the Lunar New Year spring festival holidays, but also reflects logistical issues.
Note that the preceding analysis uses the output index from the PMI survey rather than the headline PMI. This is because the latter is a blend of five different survey indices, shown in the following chart. The components are weighted according to their ability to lead the economic cycle, hence new orders and output are accorded the highest weights and employment, lead times and inventories are given the lowest weights, and usually all five components move in the same cycle.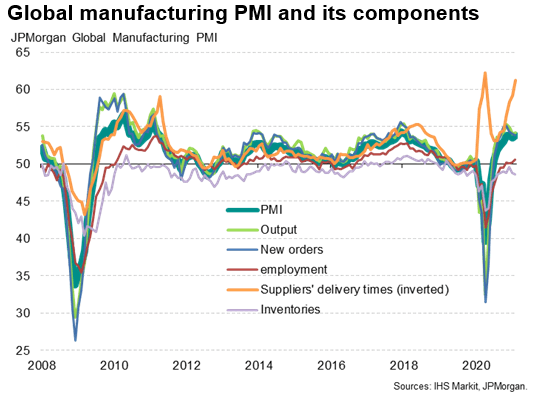 One component index, suppliers' delivery times, has diverged from the other components during the COVID-19 pandemic, distorting the picture presented by the headline PMI to some extent. Most notably, factory closures during the height of the pandemic - especially in China - led to a record lengthening of average global supplier delivery times, normally associated with strong economic growth but in this case reflecting a supply shock.
So far this year supply chains have again reappeared, reaching near-record highs again. This in part reflects an imbalance of supply and demand: demand has revived quickly as economies recover from lockdowns but supply and logistics capacity has been slower to follow suit. A lack of shipping containers in particular has curbed the amount of goods that have been shipped out of China.
Anecdotal evidence from survey respondents also suggests there may be a larger than usual impact on supply chains from New Year holidays in China.
Encouragingly, both of these effects should prove temporary, meaning China should start to contribute further to the economic recovery in coming months rather than acting as a drag, as has been seen in the opening months of 2021.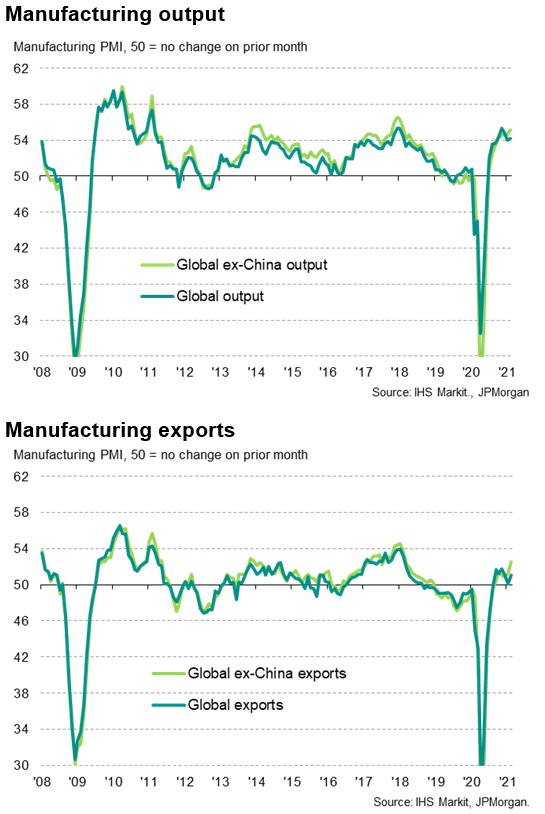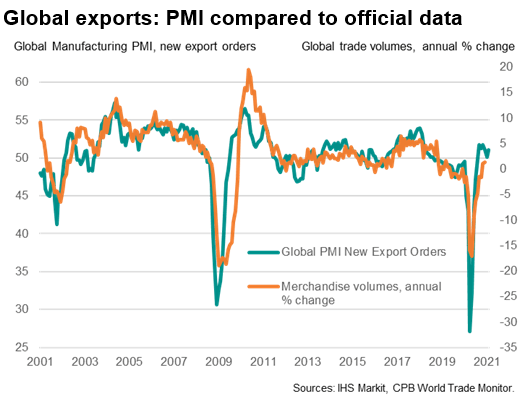 This article was written by
IHS Markit (Nasdaq: INFO) is a world leader in critical information, analytics and solutions for the major industries and markets that drive economies worldwide. The company delivers next-generation information, analytics and solutions to customers in business, finance and government, improving their operational efficiency and providing deep insights that lead to well-informed, confident decisions. IHS Markit has more than 50,000 key business and government customers, including 80 percent of the Fortune Global 500 and the world's leading financial institutions. Headquartered in London, IHS Markit is committed to sustainable, profitable growth.