Cassava Sciences Can Get To Market Early In Alzheimer's
Summary
Simufilam should receive Breakthrough Therapy Designation in Alzheimer's disease soon.
That could mean a number of bullish outcomes.
Whatever the case, with continued good data, the drug is much closer to market than it would seem.

Earlier this year we wrote that Cassava Sciences (NASDAQ:SAVA) could be the best performing stock of 2021. Cassava is starting Phase 3 trials in Alzheimer's Disease with its drug simufilam, which has a unique method of action and unprecedented data. Things are playing out very well, and we think the stock has a long way to run. Here is a summary to get caught up:
Alzheimer's is one of the largest unmet medical needs in the world, with no disease-modifying drugs approved, and no approvals at all since 2003
Simufilam has 12 years of directional data demonstrating consistently superb safety and efficacy: in-vitro, pre-clinical, Phase 1, Phase 2 open-label, Phase 2b placebo-controlled, and Phase 2 open-label extension
Cassava is fully funded for two Phase 3 trials with Special Protocol Assessment starting in Q3 and Q4
Simufilam stacks up very well to Eli Lilly's (LLY) donanemab

- it is a pill not infusion (needle at clinic), has much better safety data, and much better efficacy data

Its unique MOA targets a misfolded protein and is not attempting to clear amyloid plaque
Simufilam is complemented by SavaDx, a simple blood test for the misfolded protein that has tested very well in diagnosing AD
Cassava just raised cash at $49 and has about $280 million on hand, NIH has been giving them grants since 2017 and their projected burn is just $25 million this year. There is large insider ownership from executives, esteemed Salesforce.com director Sanford Robertson is a director and one of the largest owners, and Blackrock just reported a stake as well.
Is Simufilam a Breakthrough Therapy?
We have been writing that simufilam has an excellent chance to get to market early under the FDA's Breakthrough Therapy Designation program.
Alzheimer's disease is a one way street, it's always fatal and millions of patients and their families are desperate. Simufilam has a remarkably clean safety profile, with more adverse events in placebo group than either of its drug groups, and no safety concerns to speak of in any of its studies.
Breakthrough Therapy Designation was enacted precisely for such a case. BTD was part of 2012's FDA Safety and Innovation Act, and has two conditions:
intended alone or in combination with one or more other drugs to treat a serious or life threatening disease or condition and
preliminary clinical evidence indicates that the drug may demonstrate substantial improvement over existing therapies on one or more clinically significant endpoints, such as substantial treatment effects observed early in clinical development
AD is always fatal, about as serious and life-threatening as a disease can be. And preliminary clinical evidence absolutely indicates that simufilam may demonstrate substantial improvement over existing therapies on one or more clinically significant endpoints.
We had written that we thought Cassava would announce that it had applied for and received BTD along with its End of Phase 2 meeting press release. This event came and went with no mention of BTD. But on March 1st when CEO Remi Barbier interviewed on Facebook he was asked about BTD (at 22:13):
Interviewer: What is the timeline for this? Could it be considered breakthrough therapy?

CEO: We're a public company, so I have to be a little careful on what I say on a live show, but the short version is yes, yes, and yes. We're very, very conscious, more than anyone we've been focusing on Alzheimer's 24/7 for about twelve years now. We know the damage it can do, and the FDA has told us, they are working with us and will continue to work with us to make this available to patients as soon as it's proven its basis.
"Yes, yes, and yes" is not too wishy-washy.
And the EOP2 press release did not mention BTD, but it did mention that the meeting was attended by Dr. Robert Temple, Deputy Center Director for Clinical Science and Senior Advisor in the Office of New Drugs. This is quite notable - Dr. Temple was one of the architects of BTD, and is likely the most senior person at FDA overseeing accelerated programs. At the time of BTD's creation he had this to say:
"I think it does represent an important change," he said. And while the concept of faster drug approval is not new, the legislative mandate for the breakthrough drug designation "makes us think collectively in a systematic way about this. We are going to be held accountable; that is a change. Fast-track didn't quite do that.
Simufilam looks like a perfect fit for BTD in the first place. Add Dr. Temple's attendance along with "yes, yes, and yes", and simufilam getting BTD should be a question of when, not if.
So when should we expect it, then? FDA has 60 days to respond to application. If Cassava was guided to apply at the January 14th EOP2 meeting we should be hearing sometime in the near future.
With Good Data, Simufilam Will Be Held to Aricept's Six Month Standard
Cassava will run two concurrent placebo-controlled Phase 3 trials beginning in the second half of 2021. The first is approximately 1,000 patients and set to last 18 months and begin in Q3, the second is approximately 600 patients for 9-12 months and begins in Q4.
The trial designs are not yet finalized - Cassava received Special Protocol Assessment for the trials and will meet with the FDA again (this time we think with BTD in hand). SPA means that Cassava will meet with FDA to ensure that its trials are designed to lead to approval if outcomes are met.
We believe these meetings will produce trial designs that contain interim look-ins that allow placebo patients to move to compassionate use after six months. Trials will be designed to allow good data to end each trial at six months - not 9, 12, or 18 months.
What makes us so sure? Aricept is the last drug approved by FDA for Alzheimer's in 2003. According to its New Drug Application, aricept demonstrates effect at 24 weeks. The effect is terrific - in a disease of continual decline aricept did not just slow decline, it actually provided improvement. From a baseline Alzheimer's Disease Assessment Scale-Cognitive Subscale (ADAS-cog) test score of 26 aricept provided about 1-1.5 points of improvement, or 3.8%-5.8%: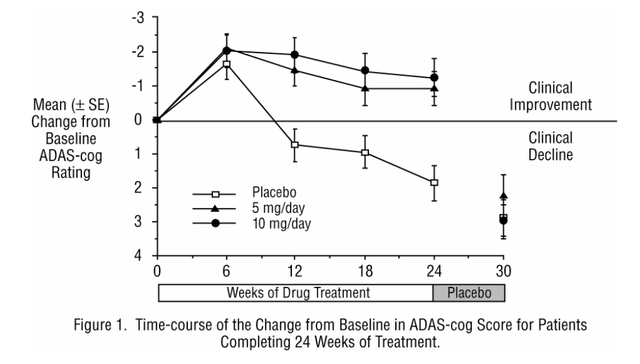 The studies are not apples-to-apples, but simufilam just reported even more impressive numbers - 10% improvement in ADAS-cog (1.6 points over lower baseline score than aricept's baseline scores).
So if it is good enough to approve aricept, which simply treats cognitive symptoms by increasing acetylcholine levels and saturating receptors, it should be good enough to approve simufilam, which addresses the disease at its root.
What about safety? Aricept is very safe, perhaps the most important reason it was approved with just 24 weeks of good efficacy data (from the NDA):
The rates of discontinuation from controlled clinical trials of ARICEPT® due to adverse events for the ARICEPT® 5 mg/day treatment groups were comparable to those of placebo-treatment groups at approximately 5%. The rate of discontinuation of patients who received 7-day escalations from 5 mg/day to 10 mg/day, was higher at 13%.
That's good, but simufilam should have no problem replicating this either. In more than a decade there have been no safety signals, including both treatment arms having fewer adverse events than equally-sized placebo group in its 2b study. It does not get much better than that.
Simufilam was safe and well-tolerated. There were no serious adverse events. Adverse events were mostly mild; none caused discontinuation; none were noted likely to be drug related. Total adverse events were 20, 9 and 15 in placebo, 50 and 100 mg arms, respectively. Adverse events that occurred in 3 or more patients were headache (3, 1 and 2), fatigue (2, 1 and 0), nausea (2, 0 and 1), and upper respiratory infection (1, 2 and 2) for placebo, 50 and 100 mg, respectively.
Click the above link for the brand new pre-printed 2b results being peer-reviewed for publishing in the journal Alzheimer's Research and Therapy. An interesting item includes describing the drug's ultra-high affinity for target altered filamin A (580 femtomolar) and helps account for its remarkable safety profile. We also learned from last week's SVB Leerink conference that this 2b study showed a virtual 100% response rate - the two non-responders had trace and zero drug detected in samples.
So simufilam should be able to replicate safety and efficacy data from aricept at 24 weeks. There is little rationale to hold simufilam to a higher standard for approval than this, and it could be argued the FDA should have a lower bar for the disease-modifying simufilam.
There is also the mandate of 2011's National Alzheimer's Project Act now, again pointing to a lower bar for simufilam. The baby boom generation is two decades older as well, and the Alzheimer's epidemic is about to get much worse. In addition, some think the new administration may help speed along treatments. And in this age of social awareness it is also notable that AD disproportionately affects women and minorities, again possibly supporting a lower bar for approval.
And very notably, simufilam had tremendous effect on behavior in the same study that showed ADAS-cog improvement:
In these same patients, simufilam also improved dementia-related behavior, such as anxiety, delusions and agitation, by 1.3 points on the Neuropsychiatric Inventory, a 29% mean improvement from baseline to month 6.
This is not to be understated, as was underscored by the Facebook interviewer on Monday (9:40):
I think one of the things before you experience Alzheimer's you don't realize how complex a disease it is in the sense it's not just memory loss - in fact I've come to believe that memory loss is the easier part to deal with when you are caring for someone. It's complicated in the behavioral aspects.
Cassava CEO Remi Barbier agreed, and having seen our grandmother go through it, we completely agree as well. And simufilam has shown dramatic improvement in this area, something that aricept has not done.
So there is no reason for simufilam to be held to a higher standard than aricept, and there are numerous reasons to think simufilam could be held to an easier one.
And if you need any more reason to believe that with good data patients will discontinue placebo and be offered simufilam effectively ending the studies after 6 months, here is the linchpin - aricept ran longer studies, and it failed: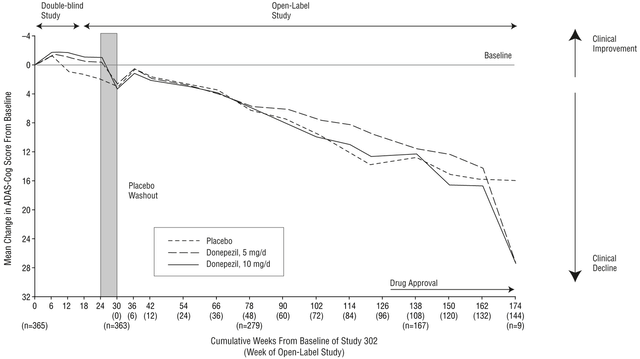 And it was approved anyway. There is no logical rationale - and no ethical underpinning - to keep patients on placebo for 18 months when it is not even a requirement for approval, and not necessary to establish long-term safety data of patients taking the drug.
With good data, there is no way Cassava Sciences two Phase 3 studies last longer than six months.
BTD Could Mean Further Studies Are Run As Post-Approval Confirmatory Studies
All of the reasons above point to a low bar for simufilam's approval, and don't even take into account Breakthrough Therapy Designation. Will all of this plus BTD simply mean that simufilam is treated the way a symptom-modifying drug was treated, and no better?
It could be a little more significant than nothing at all. Another possibility is that the interesting design of the about-to-begin Cognition Maintenance Study points to a chance for conditional approval pending confirmatory Phase 3 trials:
patients who complete one year of open-label treatment will subsequently be randomized (1:1) to simufilam or placebo for six months. The CMS is designed to compare simufilam's effects on cognition and behavior in patients who continue with drug treatment versus those who discontinue drug treatment. For ethical and other reasons, patients who successfully complete the six-month CMS will have the option to receive open-label simufilam.
There is virtual compassionate use built in that points to an unwillingness of the FDA to knowingly deprive patients of drug for more than six months. Placebo groups are a necessary evil, but no one is clamoring to see what happens to still more AD patients after 18 months of not getting treatment. We are pleased that the FDA seems to be very thoughtful with this study design, and think it points the way forward for the design of the Phase 3 studies, and could lead to conditional approval itself.
One could get more optimistic than that. The FDA could say enough is enough - the drug seems to work and if the mid-year data read-out of the currently running open-label study shows a full year of continued safety, it could lead to approval based on Breakthrough Therapy Designation with the balance of the studies being run as confirmatory.
We think two things are clear: BTD is in the offing with a mix of very positive potential outcomes, and (with good data) no placebo-controlled study will last longer than six months.
Buyout
We think simufilam will receive BTD sometime soon, and be approved sometime next year. But we don't think it will be Cassava Sciences that gets the drug across the finish line. The CEO from the Facebook interview (46:00):
We probably will hand this drug over to someone who has all the infrastructure in place, who specializes in distribution and getting the drug from the warehouse to the patient.
And for quite a price tag we think. As we have said, this drug compares quite favorably to Lilly's donanemab, and the AD market is enormous, growing, and bereft of disease-modifying treatments. It is not hard to translate the value of a drug like simufilam to $45 billion in market cap, which puts the stock at $1,125 per share.
Conclusion
Breakthrough Therapy Designation seems to be in the offing for simufilam. This could mean a number of things, but they are each quite bullish. Whatever the outcome, given the historical low bar of the last drug approved and the numerous reasons outside of BTD to think simufilam could be treated with more leniency, simufilam seems much closer to market than many are thinking. And Cassava Sciences is closer to being discovered for its blockbuster treatment and realizing its full value than the market is realizing.
This article was written by
Joe Springer was the number 1 ranked stock analyst in the world by tipranks.com, and enjoys teaching about the stock market as well as crushing it. Watch Joe every day on Multi-Baggers Club on Youtube: https://www.youtube.com/channel/UCEUlfh3c9ltiB6nFUq5JPJAJoin the free newsletter:https://tendiesclub.substack.com/welcome
Analyst's Disclosure: I am/we are long SAVA. I wrote this article myself, and it expresses my own opinions. I am not receiving compensation for it (other than from Seeking Alpha). I have no business relationship with any company whose stock is mentioned in this article.
Seeking Alpha's Disclosure: Past performance is no guarantee of future results. No recommendation or advice is being given as to whether any investment is suitable for a particular investor. Any views or opinions expressed above may not reflect those of Seeking Alpha as a whole. Seeking Alpha is not a licensed securities dealer, broker or US investment adviser or investment bank. Our analysts are third party authors that include both professional investors and individual investors who may not be licensed or certified by any institute or regulatory body.