Thesis: Twitter Is About To Monetize Its Gold Mine
In a previous article, I mentioned that Twitter (TWTR) has a gold mine of valuable content. Its problem historically has been the inability to come up with new products to leverage its strong base of support. After reviewing the late February 2021 Analyst Day presentation, I believe Twitter has a strong product roadmap and the executional focus to make it possible. Therefore, I am no longer bearish on the stock.
Ashley Mayer said it best on Twitter. She tweeted, "It's like Twitter had its entire product roadmap in drafts for years and finally hit send all." Twitter mentioned in its presentation that it previously needed to get its backend ready (it rebuilt its core ad server & improved its entire technical stack) and hire the right workers to get to the current place where it can ship products quickly. Furthermore, it helps to have the platform safer and healthier before new products ship. For example, getting rid of targeted harassment can make creators feel safer to share their personal lives on the new "Fleets" feature.
The roadmap Twitter unveiled has a massive addressable market because it is simultaneously going to go after Substack, OnlyFans, Patreon, and Clubhouse. Twitter is now allowing creators to launch newsletters through Revue. Plus, it will allow users to subscribe to exclusive posts along with tipping creators for good content. Being able to directly make money from Twitter will increase the quality of content on the platform. Furthermore, I believe there will be fewer personal attacks because people will treat the platform more seriously. That's a nice incentive to combine with Twitter's increased efforts to lower harassment.
Twitter Spaces is going to be a great way for influencers to discuss the latest news publicly with greater depth and engagement that text tweets (launched public beta in December). I think of it as a live audio-only podcast that gives listeners the ability to jump in. It's social media's version of a radio show. Clubhouse's popularity has come from Twitter's social graph. Twitter will have the leg up here since it controls the platform. Furthermore, it will be a big win if it can bring Spaces to Android users before Clubhouse.
Finally, Twitter is considering charging influencers a subscription for TweetDeck and advanced analytics. Once influencers start making money on the platform, I see this as being something they have no trouble buying. If an influencer makes $500 per month selling premium access to tweets, they will have no problem paying Twitter $9.99 for extra services. It becomes a business expense.
Spaces Versus Clubhouse
Clubhouse is a live audio conversational app which has exploded in popularity in the past few months. Top influencers like Elon Musk and Vlad Tenev (CEO of Robinhood) have been on it. It has done so well that Instagram (FB) announced it will be introducing "live rooms" where users can do live broadcasts with up to 3 people. As you can see from the chart below, Clubhouse reached 10 million users in February 2021. That's even though it doesn't have an Android app.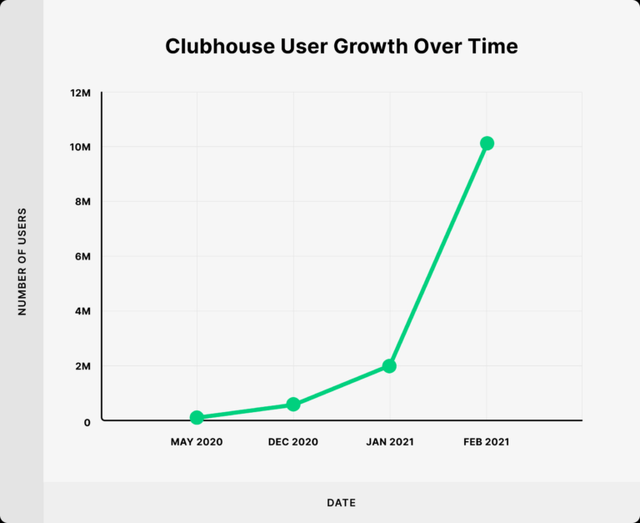 As you can see from the App Annie chart, Clubhouse has been one of the top 100 apps on the iOS App Store for most of the past 90 days. On Tuesday, it was the 71st most popular app. Clearly, this is a large enough market for Twitter to enter.

This situation reminds me of video livestreaming a few years ago. Blab was a conversational video livestreaming website that let the audience join in. Clubhouse is almost the same thing as Blab except Blab included video. Blab never got as popular as Clubhouse is now. It peaked at 3.9 million users in 2016. Martin Shkreli was the biggest influencer on its platform.
Meerkat was a very popular livestreaming app with nearly 2 million users in 2015. It only became popular by using Twitter's social graph similar to Clubhouse now. Once Twitter bought Periscope, the popularity of Meerkat quickly waned. While Twitter's Periscope outlasted both Blab and Meerkat, it didn't win the battle in the long run.
BIGO is the biggest livestreaming app. It has over 100 million downloads in the Android Play Store (64th most popular app). As you can see from the chart below, it's the 246th most popular app on the iOS App Store. That's while Twitter is shuttering Periscope this month. Of course, I can't ignore YouTube (GOOG) livestreams. YouTube released the Super Chat function to let viewers pay creators and connect with them during streams. That's still going very strong. Twitter will probably create a tipping feature on Spaces to match that. This creates a flywheel effect where the quality of Spaces improves which boosts usage.

This history lesson implies Twitter can outlast Clubhouse with Spaces, but it might not be the final victor. It's extremely tough to gauge who will be the final victor. I remember how the media fell in love with Meerkat which only lasted a short time. Blab was shuttered because only 10% of Blab users came back to the platform every day and they weren't watching archived streams on replay. Hopefully, Twitter Spaces can learn from its challenges with Periscope. Twitter maintained its employment of Kayvon Beykpour who was Periscope's founder. He is now the Product Lead at Twitter.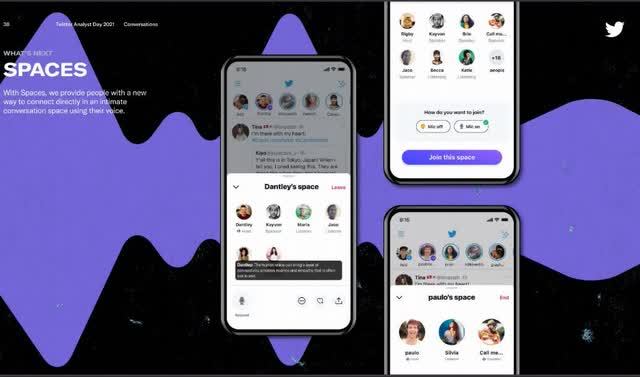 Source: Twitter Analyst Day 2021
At least for now we can say Twitter is taking a step in the right direction with this launch; it will leverage its social graph. In a Twitter poll, Gavin Baker asked his followers who would win live audio in the next 3-5 years. 54% chose Twitter Spaces, 29% chose Clubhouse, and 17% chose Instagram (2,074 votes). If people think Twitter Spaces will win in the long term, they will use it over Clubhouse even if Clubhouse has better features (Meerkat had better features than Periscope). Of course, his poll is flawed because it doesn't include an unknown competitor. Companies like Spotify (SPOT) or Alphabet (through YouTube) might enter the fray.
Some pessimistic observers believe audio conversations have only become popular because of the pandemic. That would mean once the pandemic is over, people will switch from apps like Clubhouse to talking to their friends in real life. This will probably catalyze at least a small hit to this category of apps. All social media apps face this risk, but newer concepts risk flaming out.
Revue Versus Substack
The situation with newsletters is very similar to live audio. Substack is the newsletter upstart which has used Twitter's social graph to gain early success. Twitter bought Revue in January to compete with Substack similar to how it bought Periscope to compete with Meerkat. This business might have more potential than live audio chats because Substack has a much longer track record of success than Clubhouse and it has paying users. As you can see from the chart below, from March 2020 to February 2021, Substack's writers collectively grew from 100,000 total paying subscribers to over 500,000.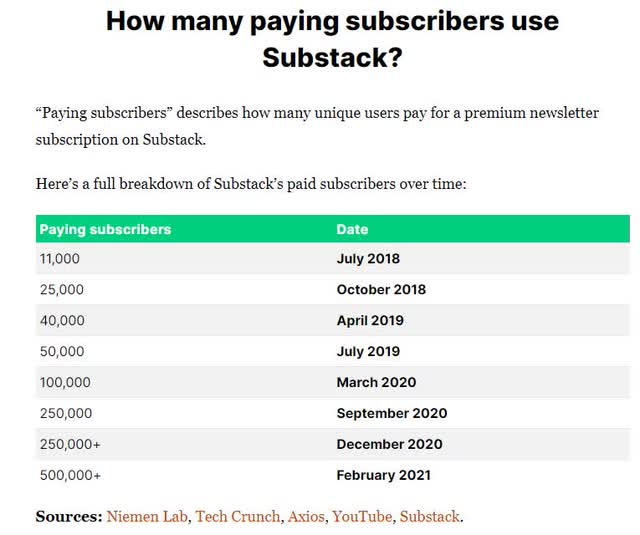 I know power users and contributors on Substack will scoff at the notion of Revue taking it on successfully because Substack has a great platform. Unfortunately for Substack, having the best service doesn't matter as much as having the greatest reach. Substack writers use Twitter as the premier way to generate new leads. This means Twitter has a big edge. Not much stops creators from posting on both platforms. I've witnessed a newsletter creator on FinTwit who has a Substack test Revue. That's how the shift to Revue will start.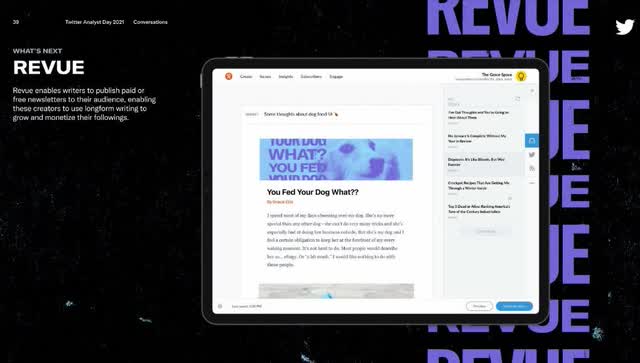 Source: Twitter Analyst Day 2021
If Twitter better allows creators to promote their Revue newsletters, they will move to it. Furthermore, Twitter will be launching the ability to tip creators and subscribe to exclusive posts natively. It makes more sense for creators to use Revue if they already make money from Twitter other ways and are already power users. That's just like how YouTube creators prefer livestreaming on YouTube where they already built up their audience.
Twitter Takes On Patreon/OnlyFans
Twitter is painfully behind other social apps in monetizing its platform. In 2018, YouTube lunched $4.99 paid subscriptions to channels which grant subs extra perks. Twitter will be 3 years late if it launches Super Follows and tips later this year. That being said, this is a huge market which I think will also help the platform grow. It's also notable that YouTube is only set to release "viewer applause" this year which lets users tip creators on traditional videos (outside of just livestreams). On Twitter's Analyst Day call, management stated,
"Audience-funding models, by virtue of allowing talented content creators to earn from their audience, motivates them to continue creating great content that their audience loves. But our focus is also to ensure that we're evolving our product so that it incentivizes and amplifies healthy and positive discourse, and that it disincentivizes toxic and jerk-like behavior."
If you can make money on Twitter, you aren't going to want to take any risks by attacking other creators. It incentivizes strong content creation and encourages healthy discourse.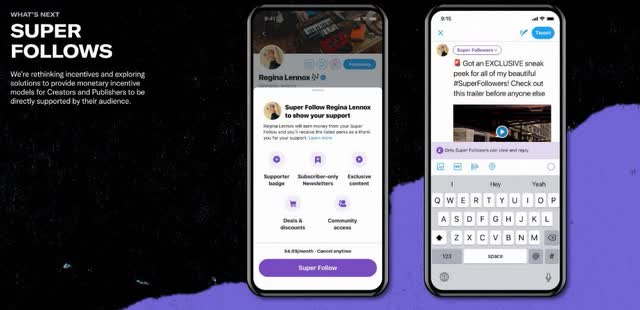 Source: Twitter Analyst Day 2021
It's a very ineffective model to post advertisement tweets under viral tweets. It will generate creators much more money if they can accept tips natively. Users will be less likely to promote their services on platforms such as Patreon and OnlyFans if they can sell Twitter subscriptions. Twitter acts as the top of the funnel for a myriad of subscription services. This new paid model will vertically integrate the company and increase the conversion rate for creators.
Once again, the addressable market is very large. As of last September, Patreon was valued at $1.2 billion. Patreon has over 200,000 creators on the platform with 6 million subscribers collectively. In its 7-year history, creators have earned $2 billion. OnlyFans has 90 million registered users and over 1 million creators. Since 2016, creators have earned $2 billion. In December, the platform received over $300 million in payments which was up from $64 million in December 2019.
Improved Execution (Health, Lists, Fleets, & Topics)
Twitter is about to enter large markets. Its key advantage over other platforms is its strong user base. The main question mark which has dogged Twitter for years is its ability to execute quickly. The company believes it has turned the corner. A few years ago, it took Twitter 6 months to 1 year to launch a new product or feature. Its goal is to get that to under a few weeks. In the past couple years, Twitter has improved its product development speed. As you can see from the slide below, monetizable daily active user (mDAU) growth directly driven by product improvements grew almost 3x from 2018 to 2020. Twitter's goal is to double the number of new features per employee that directly drive mDAU or sales by 2023.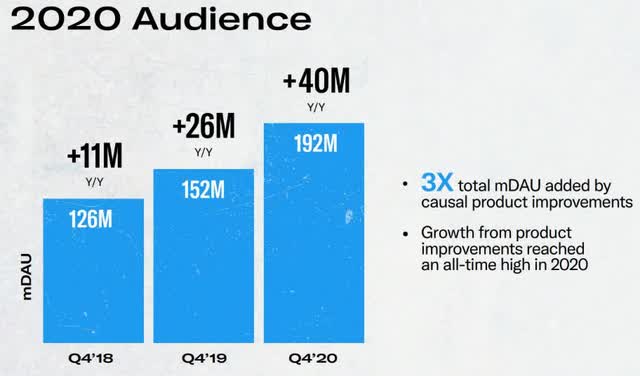 Source: Twitter Analyst Day 2021
Let's look at Twitter's latest new products to better understand the trajectory of the company's shipment speed. Twitter has made great strides in improving the health of the platform. 50% of its rule enforcement is now done proactively through machine learning-based automation. This means users don't need to experience the harm before Twitter does anything. Those who have received harassment, have had an 85% reduction in toxic and abusive replies by using Conversational controls. Twitter is also working on better blocking capabilities to help people defend themselves from mobs of angry users. Lowering the probability of getting attacked on the service will encourage more people to share content.
Twitter has improved its Lists feature which is where users can create a group of accounts based on a certain interest. Twitter made it easier create and share Lists. The biggest advancement is the ability to pin a List on your feed. Now you can swipe left from your home feed to access your Lists. The number of users following Lists has doubled in the last year. 25 million people are subscribed to Lists now.
Fleets is another new feature Twitter has recently released. I don't see many of the accounts I follow on FinTwit using it. However, it does provide an avenue for more video and image sharing which means it grows overall posting. 85% of Fleets are images or videos which is more than regular tweets. Twitter mentioned this drove posting for people who don't usually tweet which means power users like me and the accounts I follow might not be the target audience. Twitter didn't give much data on Fleets other than saying there were more net conversations. That doesn't mean anything. Literally 1 new conversation via Fleets means there have been more net conversations. I don't think this has been a homerun for Twitter, but it does prove they are executing quickly.
Topics is the final major new release in recent months. This is where users can follow conversations around certain subjects rather than following accounts. This is amazing for new users because it makes it easier to find interesting content. Just typing in your interests is easier than having to search for great accounts to follow.
Furthermore, learning about users' interests improves targeted advertising. Twitter plans to grow from 6,000 Topics to hundreds of thousands in a few years. Users can alter the amount of the Topic and the amount of certain accounts in that Topic they see in their feed which improves customization. Some Topics can be pinned like Lists. Unlike with Fleets, Twitter gave concrete data that proves how well Topics are doing. Topic-based tweets have an 8.2% engagement rate versus the 3.8% engagement rate for Tweets from account-based follows.
Future Potential Product Improvements
Twitter plans to grow its mDAU base by 20% per year until 2023. This plan was announced in Q4 2019 when it had 152 million mDAUs. This means its Q4 2023 goal is at least 315 million. Furthermore, it wants to double its total annual revenue from $3.7 billion in 2020 to $7.5 billion in 2023. In this section I will review Twitter's plans and ideas I have that Twitter might pursue to achieve its lofty goals.
Twitter is finally going to foster the communities on its website/app. This has been a long time coming. Most FinTwit users consider themselves part of this community over being Twitter users (it's like being a New Yorker over being an American). Each community has strong connections and different norms. Starting later this year, Twitter Communities aims to makes it easier for people to form, discover, and participate in communities.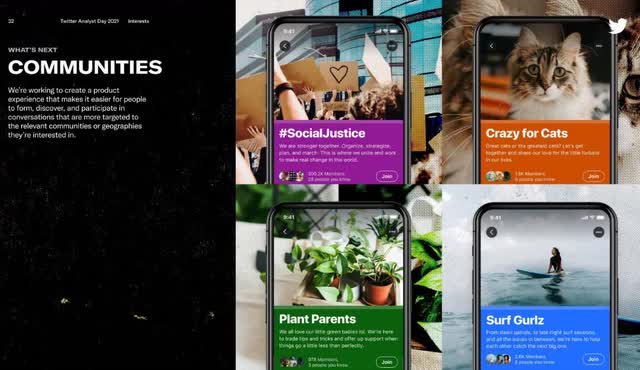 Source: Twitter Analyst Day 2021
Plus, Communities will have customization which includes setting and enforcing social norms. This reminds me of subreddits which have moderators. I hope the creators of Communities don't become too stringent like Reddit mods. I could be wrong to be excited about this new service because communities on Twitter are vague. Not everyone in FinTwit is on the same page on what is acceptable. There are a wide range of opinions in this group which is what makes it so great. That might make it tough to coordinate.
My Ideas
The great part about this section is it's not as large as it once was because Twitter has finally gotten around to improving itself. That was on full display during its Analyst Day presentation. My best idea is to improve search on Twitter. Jack Dorsey stated,
"The most important of those problems was being able to see relevant tweets without having to scroll endlessly to discover them. A singular focus on this worked, and is a key reason we were able to grow our usage again, and provided a strong foundation with which to build new features and products."
Some of my followers disagreed with his assessment in my poll (71% disagreed out of 31 voters). I understand Twitter has made a myriad of improvements to the Home feed, but search hasn't gotten much better in years. It's very difficult to find Tweets. Plus, you can't search through your Bookmarks or your direct messages (you can on Facebook Messenger). Enrico Caradhras pulled no punches in his criticism of Twitter search.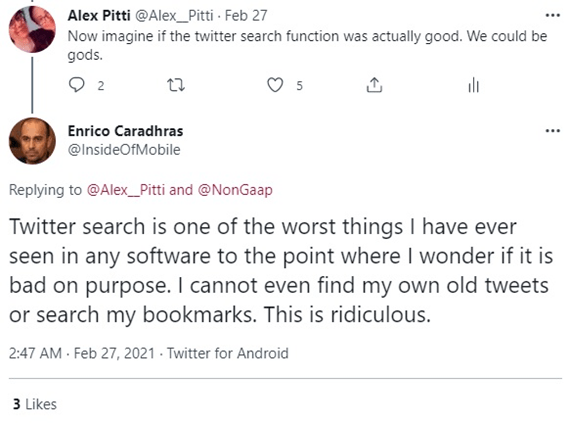 The biggest criticism most users have is Twitter refreshes the timeline automatically. This is a problem when you are at a certain point in your feed because your place disappears. That makes it difficult to find tweets. It directly opposes Jack's claim that it's easier to discover tweets.
I think Twitter should make a meme maker feature in its app because right now users need to leave the app to create memes. This is such an obvious way to keep users on the platform. Twitter is miles behind where it should be on this concept. It introduced Stickers for photos in June 2016. That's almost 5 years without major improvements to image sharing. Twitter clearly cares about memes because in its Analyst Day presentation, management mentioned the popularity of the Baby Yoda meme.
My final suggestion is to allow users to prioritize seeing accounts they follow over others. Right now, users need to either set up notifications, search the account, or wade through their feed to find their favorite accounts. I want to have the ability to make specific accounts always pop up at the top of my feed.
Conclusion
I continue to think Twitter is a gold mine. The company has increased its execution speed and has a strong product roadmap. That's why I am no longer bearish on the stock. I want to see some initial success from Communities, Revue, Super Follows, and Spaces before I turn bullish on the company.